Have you ever found yourself in a situation where you needed to reinstall your Windows operating system but lost or misplaced your product key? Don't panic; we have a solution for you! In this article, we introduce you to two super practical software options that allow you to recover your product key for Windows 11, Windows 10, or other versions without hassle. So, let's discover them right away!
ShowKeyPlus: The simple and effective tool to find your Windows 11 and 10 product key
If you want free, easy-to-use, and user-friendly software to find your Windows product key (Vista, 7, 8, 10, and 11), ShowKeyPlus is for you. With its intuitive interface, even beginners can use it without any worries. You can download and install ShowKeyPlus for free with just a few clicks from the Microsoft Store.
Once ShowKeyPlus is installed on your computer, launch the program and let it scan your system. In no time, it will display your current Windows product key and other helpful information about your operating system. You can even export this information to a text file to back it up if needed.
In addition to recovering your product key, ShowKeyPlus offers other handy features, such as the ability to check your Windows edition and the type of product key you have (OEM, Retail, etc.).
Finally, ShowKeyPlus can find license keys for Microsoft Office versions 2010, 2013, 2016, 2019, and 2021.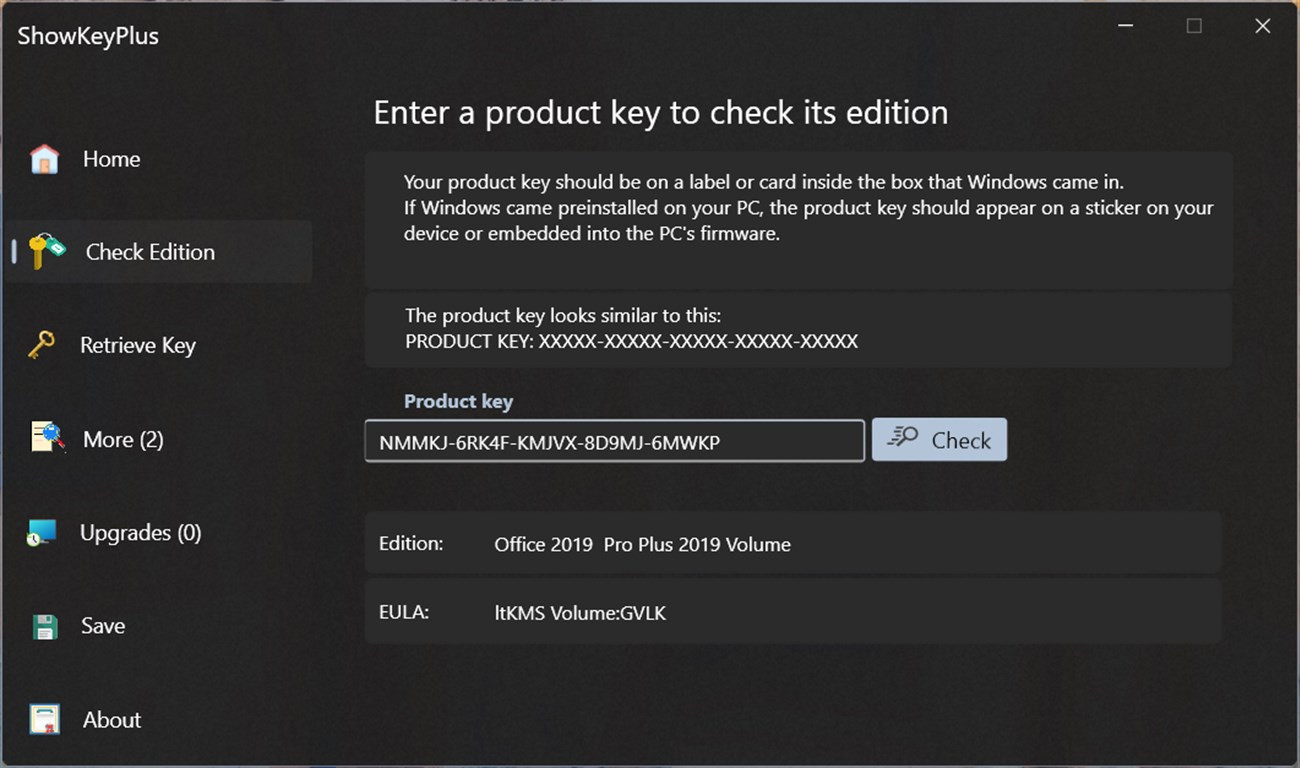 Lazesoft Windows Key Finder: Recover your Windows product key in one click!
If you are looking for a specialized solution to recover your lost or forgotten Windows product key, then Lazesoft Windows Key Finder is the tool for you. This free and open-source software focuses only on recovering Windows product keys (2000, XP, Vista, 7, 8, 10, 11, and Windows Server 2003, 2008, 2008 R2, 2012, 2012 R2, and 2016).
Once you download and install Lazesoft Windows Key Finder on your computer, you will be impressed with its easy use. Launch the program and let it scan your system. It will instantly show you your current Windows product key at a glance.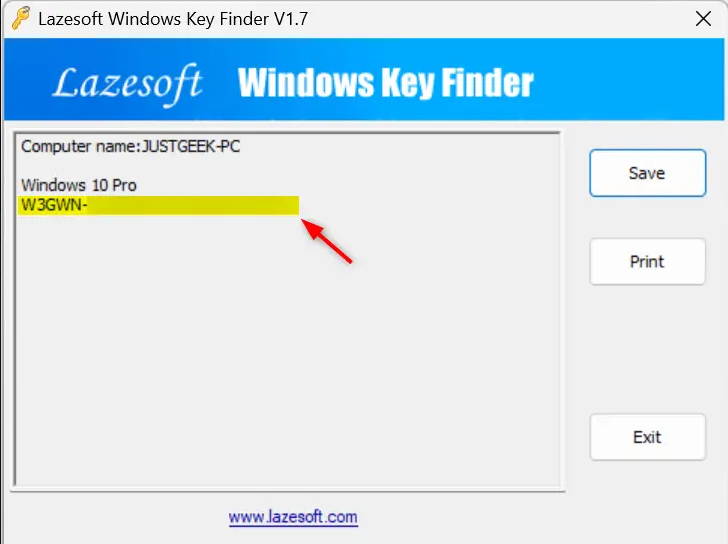 Lazesoft Windows Key Finder can export your license key to a text file or print it directly. You can easily save them. Moreover, it can also find product keys for Office 2000, 2003, 2007, 2010, 2013, and 2016 packages.
Although Lazesoft Windows Key Finder specializes in recovering Windows product keys, it does not offer as many additional features as ShowKeyPlus. However, if you are looking for a simple solution to recover your product key and have it in printed form, this reliable software will be perfect for you.
What you must remember:
Whether you've lost your Windows product key or need to find it, ShowKeyPlus and Lazesoft Windows Key Finder are potent tools that can help.
Finally, don't forget to save your product keys in a safe place. These tools can help you get them back if needed, but it's always best to have them handy (or just a click away).