Screen recording tools allow users to capture video and audio from their computer screen. They are commonly used to create tutorials, demo products, record gameplay, and more. Loom is one of the most popular screen recording tools, known for its simplicity and ability to instantly share videos.
However, there are many viable Loom alternatives available as well. In this comprehensive guide, we will cover the top 5 Loom alternatives for screen recording and examine their features, pros and cons, and ideal use cases.
Overview of Screen Recording Apps
Before diving into the specific Loom alternatives, let's first understand what screen recording apps are and what features they typically offer:
Recording screen activity – The core function is to record video and audio of on-screen activity. Some apps record the full screen while others can capture a specific region.
Webcam recording – Many tools allow simultaneously recording from your webcam to include a picture-in-picture view or split screen view.
Annotations – Drawing, highlighting, entering text, and adding stickers over the recordings to call attention to certain areas.
Audio recording – Recording system audio and microphone audio. Some apps allow separate audio tracks.
Cursor highlighting – Emphasizing mouse clicks and movements for software demos.
Trimming videos – Cutting unwanted content from the start or end of recordings.
Branding and watermarks – Adding logos, watermarks, and video intros/outros.
Sharing and embedding – Sharing videos via links, social media, YouTube uploads, or embedded on websites.
Security – Features like password protection, user management, integration with single sign-on systems.
Analytics – Track viewing metrics like plays, viewers, drop-off rates, and engagement.
Integrations – Integration with systems like Slack, Google Drive, Dropbox, Asana, etc. to simplify workflows.
Collaboration – Commenting, task assignment, approvals, and version controls.
With an understanding of common screen recorder capabilities, let's look at 5 specific tools that can serve as viable Loom alternatives based on user needs and preferences.
1. Screenpal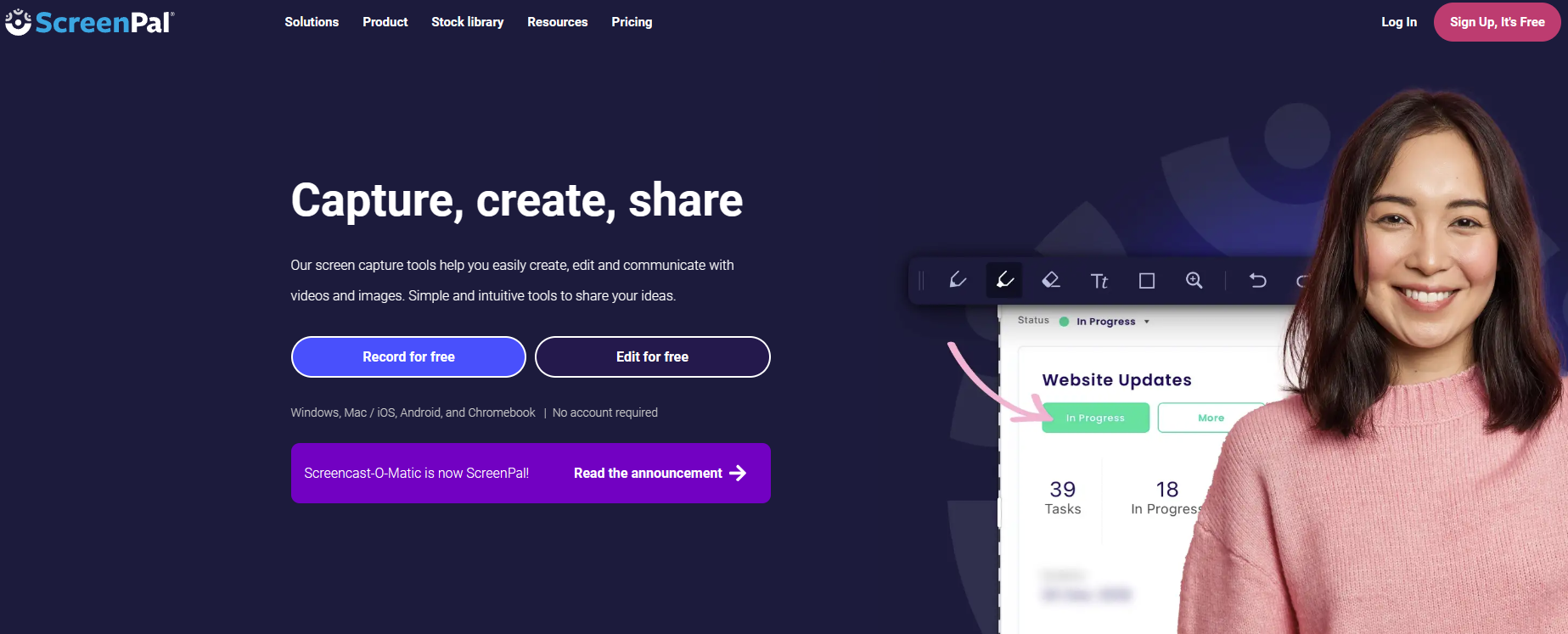 screenpal is an easy-to-use screen and webcam recorder ideal for quick videos to share lessons, instructions, feedback, and more.
Some core features of screenpal include:
Intuitive recording – Click once to start recording your screen. You can adjust sizing and select webcam and microphone options.
Editing – Trim recordings, edit webcam position and size, auto-transitions, cursor effects, captions, and watermarks.
Sharing and embedding – Save videos locally or to the cloud. Share via links, social media, YouTube. Embed videos onto any web page.
Free and paid plans – Free accounts can make videos up to 15 minutes long. Plans start at $1.65 per month for longer videos and premium tools.
Ideal for: Teachers, students, coaches, customer support, sales, and individuals wanting an easy tool to quickly share screen recordings.
Pros:
Very easy to use interface and workflows
Robust free plan with all core features
Built-in editing tools for basic enhancements
Share and embed videos with one click
Cons:
Max of 15-minute videos for free users
Fewer annotation tools compared to advanced recorders
Limited collaboration features
No video hosting or management capabilities
Case Study: Teacher Uses Screencast-O-Matic for Blended Learning
Mrs. Peterson is a high school English teacher who uses screenpal to record lessons, instructions, feedback, and announcements for her classes. She can quickly record her screen showing learning materials, annotate with her e-pen, and embed the videos right onto her school website and learning management system. Even without an account, she can make 15-minute videos to share instantly with students and parents. The school has a paid Screencast-O-Matic plan which allows 1-hour video lengths.
This blended learning approach has increased student engagement and understanding. Students can view instructions and lessons at their own pace at home. Parents can also access the videos to better assist their children. For Mrs. Peterson, it saves time from repeatedly giving the same instructions, and allows her to add more individualized voice and video feedback. Adopting Screencast-O-Matic has led to measurable learning gains.
References for screepal:
[1] screenpal – Make Videos that Explain by Showing.
2. Loom Pro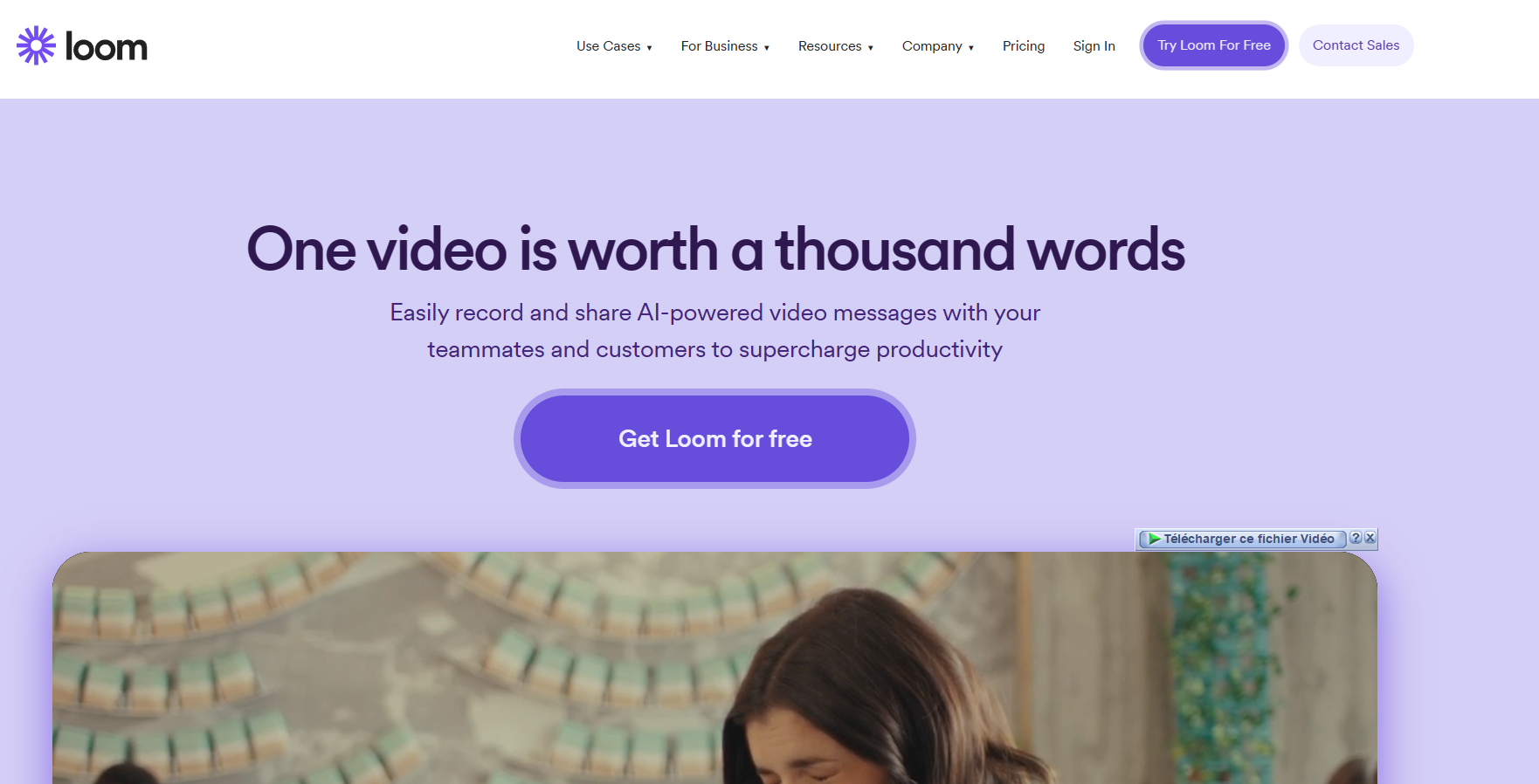 Loom Pro is the premium version of Loom targeted at businesses and teams. It adds features like video management, security, advanced collaboration tools, and HD recording.
Here are some of the main features of Loom Pro:
Advanced creation tools – Recording monitor, drawing tools, video templates, removable watermark, trim and blur faces
Secure sharing – Restrict access at a user or domain level, password protection, delete controls
User management – Control permissions for internal users and externally share different views
Usage analytics – Track metrics for video views, engagement, and best-performing content
Integrations – Deep integrations with popular business apps like Slack, Asana, Google Workspace, Dropbox
API access – Build custom integrations and access through SCIM/SAML
Priority support – Get dedicated onboarding, training, and faster support response
Ideal for: Marketing teams, enterprise companies, agencies, educational organizations with advanced video needs.
Pros:
More features than free Loom like HD video and analytics
Enterprise-grade security and access controls
Powerful integrations with leading business apps
Robust analytics for optimizing video strategy
Top-notch customer support
Cons:
Most expensive paid option in this list
Overkill for simple quick videos
Limited recording time unless on premium plan
Case Study: Enterprise Company Uses Loom Pro for Internal Communication
Acme Co. is a large software company with over 1000 employees distributed across the globe. They started using Loom Pro to improve internal communication between teams. Employees now record personalized video updates, product demos, training materials, and team messages.
With Loom Pro, they manage permissions so internal videos are securely accessed. Employees receive desktop notifications when team members share new videos which is driving engagement. Managers can track video metrics to see which training and messages resonate most. Integrations with Slack and Google Drive allow easy sharing and feedback.
Since rolling out Loom Pro, internal communication at Acme Co. has become more personalized, consistent, trackable, and efficient. Employees feel more connected with teams they do not see face-to-face. Onboarding new hires has also improved through organized video libraries.
References for Loom Pro:
[1] Loom Pro – Video for Workforces that Scale. https://www.loom.com/pro
3. Camtasia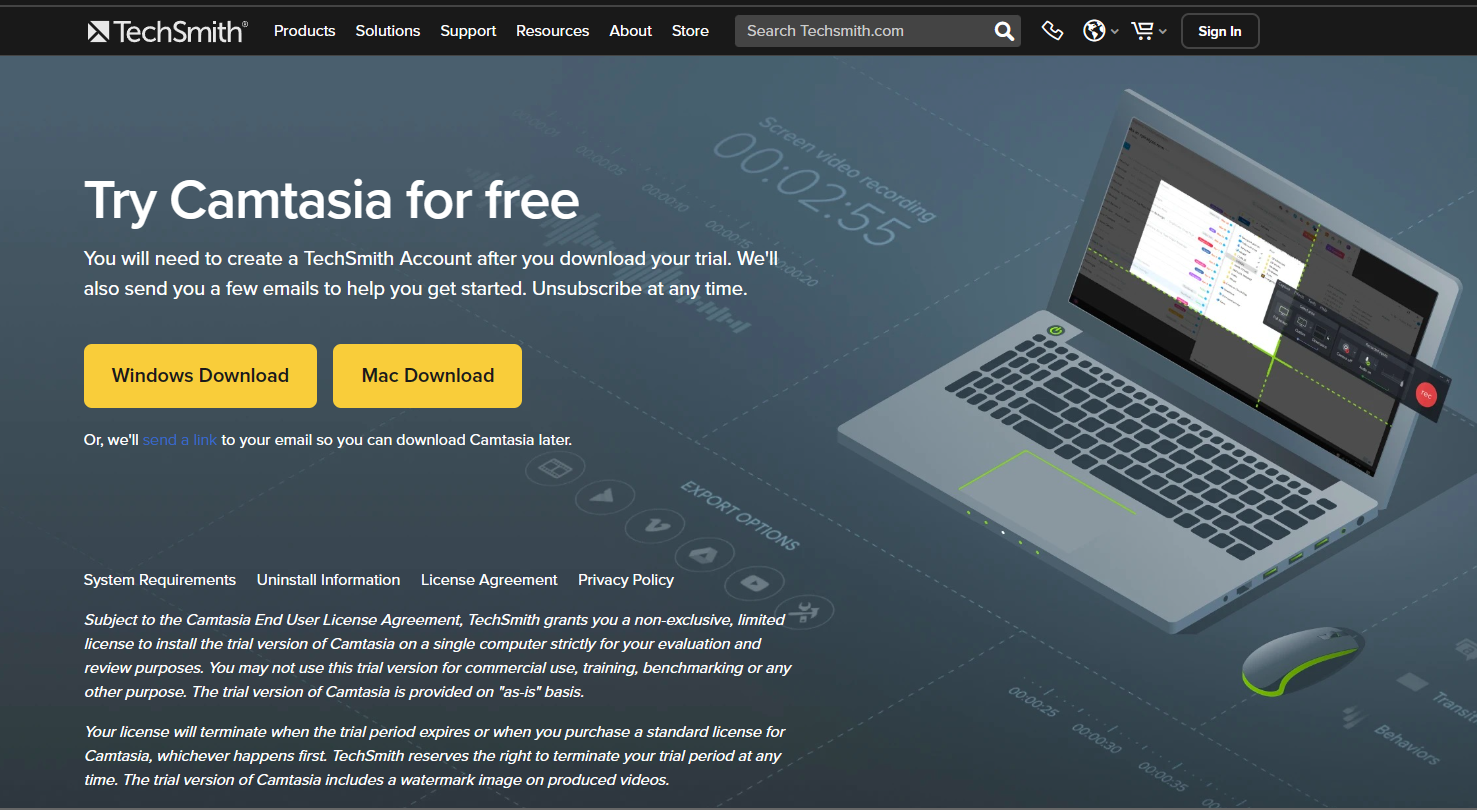 Camtasia by TechSmith is a premium screen recorder and video editor, packed with professional tools for creating high-quality tutorials, product demos, training videos and more.
Features of Camtasia include:
Robust editing tools – Multi-track timeline, transitions, animations, annotations, captions, callouts, zooming
Effects and branding – Apply themes, effects, intros/outros, watermarks
Advanced audio – Noise removal, leveling, fading, ducking, detach and edit audio
Quizzing and interactivity – Add quizzes, surveys, hotspots and interactive elements
Screen formats – Record full screen, region, webcam, iOS/Android, PowerPoint, and more
TechSmith Assets – Stock library with millions of royalty-free images, icons, videos, and audio tracks
TechSmith Relay – Securely share videos and view detailed analytics
Ideal for: Professional video creators, marketers, HR departments, educators, online course developers.
Pros:
Extremely powerful editing capabilities
Ability to craft highly polished, professional-grade videos
Feature-packed inclusion of quizzes, interactivity, and assets
Cloud hosting, sharing, and analytics with TechSmith Relay
Cons:
Much more costly than basic screen recorders
Steeper learning curve than tools like Screencastify
Overkill for quick informal videos
Mac version lacks certain features of Windows version
Case Study: HR Department Uses Camtasia for Tutorials and Training
The HR department at Jenkins Corp. uses Camtasia to create polished tutorials and training videos for new employee onboarding. They record detailed software walkthroughs, annotate key information, add quizzes for comprehension, and use professionally designed video intros.
With Camtasia, they can edit videos and audio produced by non-videographers to meet brand standards. They use TechSmith Relay to organize all videos in a secure, searchable library accessible only to employees. Detailed analytics show which videos are most helpful for new hires.
Since adopting Camtasia, the HR department has reduced repetitive questions and produced engaging videos that employees actually enjoy watching. Onboarding completion rates have improved by 15% with the self-paced video library.
References for Camtasia:
[1] Camtasia Screen Recorder & Video Editor. https://www.techsmith.com/download/camtasia/
[2] Camtasia Plans & Pricing. https://www.techsmith.com/store/camtasia
4. ScreenFlow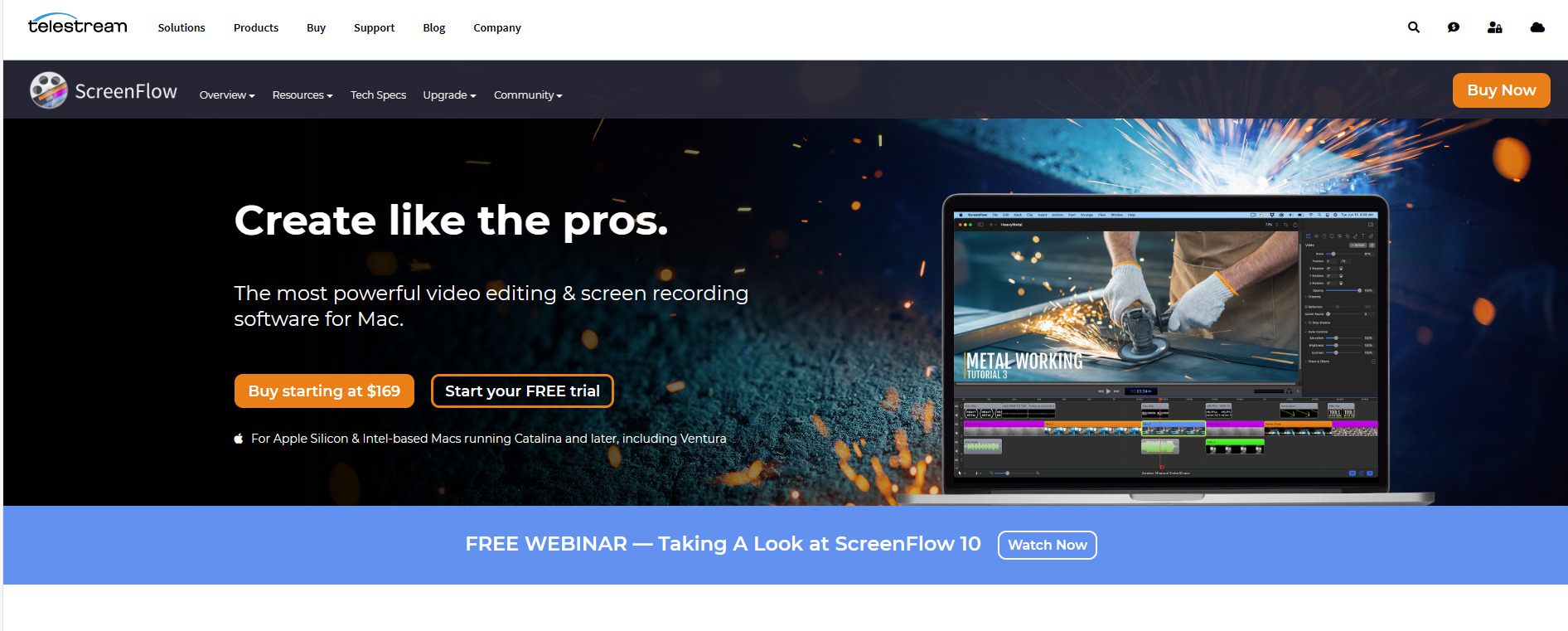 ScreenFlow is an advanced video editing and screen recording tool developed for the Mac. It offers powerful editing capabilities combined with a user-friendly interface.
Key features of ScreenFlow include:
High-fidelity capture – Up to 4K resolution, fps options up to 240, HD camera capture
Multi-track editing – Robust video editor with multiple video, audio and title layers
Annotate and draw – Add arrows, shapes, text captions, and handwriting
Interactive simulations – Convert mouse movements to animations for software demos
Effects and intros – Animated backgrounds, stylized transitions, outros, and title templates
Chroma key green screen – Replace backgrounds with custom images or video
Per-app or full screen recording – Capture specific apps or entire monitor
Sharing and exporting – Save edited videos locally or share to YouTube, Vimeo, or Frame.io
Ideal for: Mac users wanting professional-grade video capture and editing. Great for podcasters, YouTube creators, artists, and media production.
Pros:
Extremely robust editor designed for Mac OS
More affordable than Camtasia but still feature-rich
Create sophisticated animations and effects
Share instantly to top video platforms
Cons:
Mac-exclusive with no Windows version
Not ideal for quick informal videos
Steep learning curve for newer users
Case Study: Digital Agency Uses ScreenFlow for Client Demos
Spark Digital is a web design agency building sites, apps, and digital campaigns for clients. Designers use ScreenFlow to record polished product demos showcasing website features and interactive elements.
The timeline editor lets them insert voiceovers describing the design thinking. Annotations draw attention to specific buttons, animations, and flows. Intros showcase the agency branding. They export the edited videos and share privately with clients through Vimeo.
These Screenflow videos help sell the value of Spark's work visually. Clients can see live interactions versus static mockups. Thedemos act as powerful sales tools and have led to a surge in client acquisition.
References for ScreenFlow:
[1] Telestream: ScreenFlow. https://www.telestream.net/screenflow/overview.htm
5. Screencastify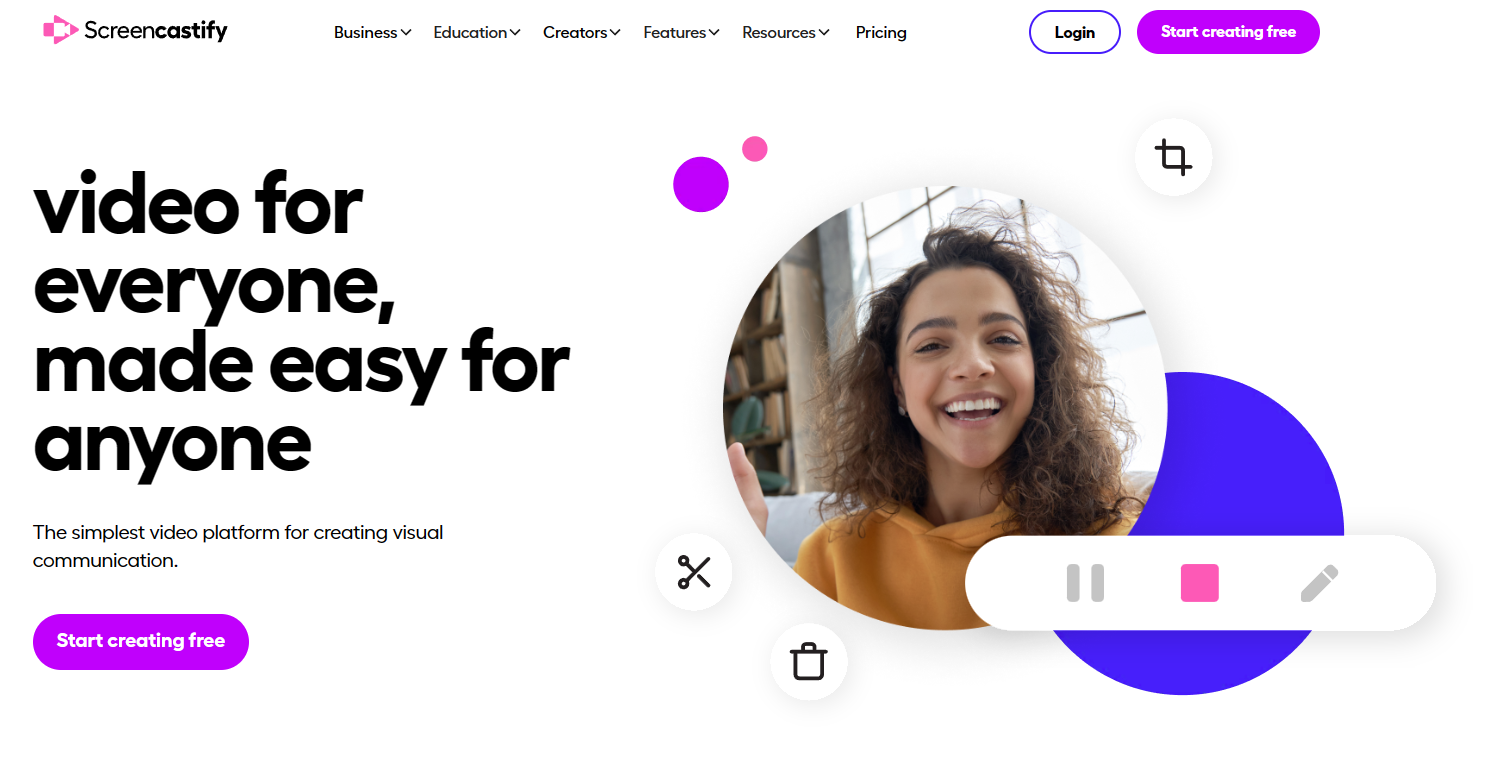 Screencastify is a Chrome browser extension for capturing, editing, and sharing videos. It's easy to use yet packed with advanced features.
Features of Screencastify include:
Intuitive capture – One-click recording, webcam video, annotations, trim editing
Custom branding – Watermarks, logos, custom cursors, intro, and outro sequences
Advanced editing – Video speed controls, filters, captions, animations, quizzes
Sharing and analytics – Share to YouTube, Google Drive, Dropbox. View video metrics.
Student privacy – Block recording on select sites, disable external sharing
Device permissions – Control microphone, camera and which tabs can be recorded
Team management – Organizational accounts with admin controls and group permissions
Ideal for: Teachers, schools, business teams wanting an easy Chrome-based recorder with advanced options.
Pros:
Free version is full-featured and unlimited
Easy to use but tons of advanced features
Useful for quick videos or full-scale editing
Made for education with robust privacy controls
Cons:
Chrome extension so limited to the browser
Requires Google or Microsoft account logins
Can be slow processing very long recordings
Case Study: School District Adopts Screencastify to Streamline Feedback
Castle Rock school district started using Screencastify as their screen recording tool for teachers and faculty. Educators use it to quickly provide video feedback to students, share lesson instructions, create learning guides, and communicate with parents.
The ability to share videos securely has improved transparency and collaboration. Parents feel more engaged. Students receive faster, more personalized feedback through video messages. Admins manage teacher permissions and settings centrally through the Organizational account.
Adopting Screencastify has streamlined key workflows and resulted in more effective teaching practices district-wide. Student outcomes and parent satisfaction have seen marked improvements since adoption.
References for Screencastify:
[1] Screencastify – Screen Recorder for Chrome. https://www.screencastify.com/
Key Factors When Choosing a Screen Recorder
All the tools covered above are great alternatives to Loom with their own strengths and use cases. There are several key factors to consider when selecting a screen recording app:
Recording Needs
Consider what you need to capture – just app screens or full monitor recordings. Webcam and mobile recording abilities. Audio quality and options.
Editing Capabilities
Will you need advanced editing with transitions, effects, animations, etc? Or quick trimming and annotations? Factor this into your decision.
Sharing and Hosting
Do you just need to share view-only links or make videos downloadable and embeddable? YouTube/video platform integrations? Analytics?
Security
Evaluate permission controls, access restrictions, SSO integration, and moderation capabilities.
Learning Curve
Some advanced editors have steeper learning curves. Choose one with the right balance of usability versus capabilities for your needs.
Costs
Pricing structures differ significantly. Factor in free plans, premium upgrades, and costs per user.
By carefully weighing these factors, you can determine the best screen recording solution for your specific use case from the options covered.
Key Takeaways and Recommendations
Let's recap some key points to help you choose the right Loom alternative:
Screencast-O-Matic – Best for personal use with a simple, free recorder.
Loom Pro – Most robust tool for teams but at a premium price.
Camtasia – Leading choice for producing polished, professional videos.
ScreenFlow –
ScreenFlow – Best professional Mac screen recorder and editor.
Screencastify – Top choice for Chrome users wanting advanced options.
Focus on core requirements like recording needs, editing, sharing, security, learning curve, and budget.
Consider use cases like lessons, tutorials, training, demos, feedback, and collaboration.
Try free trials to evaluate products hands-on before purchasing.
Look for integrations with existing tools your organization uses.
Prioritize ease of use and adoption to get users on board.
Implement centralized administration and access controls for organizational use.
Include onboarding, training, and support to successfully roll out your platform.
By taking the time to thoroughly evaluate your needs against the capabilities of each tool, you can confidently choose the ideal Loom alternative for your specific use case and audience.
The products covered provide a robust set of options to meet diverse screen recording needs. Each balances capabilities, quality, and ease of use differently.
Testing potential solutions and proving value with a smaller team can set you up for a successful wider implementation. Consider starting with a free or low-cost tool, then expanding from there once you have buy-in.
With the right screen capture platform in place, you can unlock more effective, visual communication and collaboration across your organization or customer base.
Appendix: Additional Screen Recorders
While we've covered the top 5 alternatives in detail, here is a brief overview of other common screen recording tools:
Open Broadcaster Software
Open source software for multi-platform streaming and recording [1].
Advanced capabilities for live broadcasts, video mixing, transitions, and effects.
Steep learning curve but extremely powerful and customizable [2].
Apowersoft Online Recorder
Recorder accessible directly through web browser without installation [3].
Capture video, audio, webcam footage, and annotations [4].
Paid plans offer extended recording, support, and HD exports.
Windows Game Bar
Built-in screen and game recorder in Windows 10 and 11 [5].
Provides basic recording and screenshot capture capabilities [6].
Useful for quick captures without a third-party app.
YouTube Studio
Free tool for YouTubers to capture and upload videos [7].
Provides webcam and screen recording then uploads to your YouTube account.
Limited to uploads directly to YouTube.
Kazam
Open source Linux screen recorder that's also available for Windows [8].
Basic recording functionality but fewer editing tools [9].
Free and open source alternative.
ActivePresenter
All-in-one screen recorder and eLearning authoring toolkit [10].
Aimed at educators and instructional video creators.
Includes test building, quiz, and interactive video capabilities [11].
This covers some additional options beyond our top 5 recommendations. The best screen recording solution depends on your specific use case and platform.
Conclusion
This covers a comprehensive look at the top 5 Loom alternatives for screen recording along with additional options and recommendations. The key is identifying the right match for your specific use case and needs.
Each solution has particular strengths based on features, ease of use, learning curve, sharing capabilities, education tools, security controls, integrations, and pricing models. By evaluating these factors against requirements, you can determine the best fit.
Testing potential tools with free trials and starting small is advisable to validate effectiveness before larger implementation. Proper onboarding, training, and support will also drive user adoption.
With the rise of video for communication, your choice of screen recorder has a big impact on outcomes. Hopefully this guide provides a useful starting point for discovering the Loom alternative that will empower effective video workflows across your organization or customer base. Let me know if you have any other questions!
References
https://obsproject.com/
https://www.pcmag.com/reviews/open-broadcaster-software
https://www.apowersoft.com/online-screen-recorder
https://www.ispringsolutions.com/blog/apowersoft-recorder-review
https://support.microsoft.com/en-us/windows/record-your-screen-in-windows-10-ae2e789e-b41c-7f38-3ced-c33bfb53362c
https://www.howtogeek.com/695678/how-to-record-your-windows-pc-screen-with-game-bar/
https://support.google.com/youtube/answer/9239551?hl=en
https://launchpad.net/kazam
https://itsfoss.com/best-linux-screen-recorders/
https://atomisystems.com/activepresenter/
https://windowsreport.com/activepresenter-review/