Instagram is one of the most popular social media platforms for sharing photos and videos. With over 1 billion monthly active users, it's no surprise that Instagram is many people's go-to app for posting visual content.
One way to make your Instagram photos stand out is by adding a white border. A subtle white border can give your images a polished, professional look. The white border helps frame your photo and draws more attention to the visuals.
In this comprehensive guide, we'll cover several easy methods for adding a clean white border to your Instagram photos, from using the Instagram app itself to third-party apps and editors. We'll also provide tips for resizing, formatting, and optimizing your photos to look their best with a border. Let's get started!
Using Instagram's Built-In Borders
The easiest way to add a border to your Instagram photos is by using the borders feature built directly into the Instagram app. Here's how to use Instagram's borders:
Open the Instagram app and select the photo you want to edit from your camera roll or media library.
Tap the edit icon at the bottom of the screen. This will open Instagram's photo editing tools.
Tap the Borders icon, located along the bottom of the screen.
Swipe left and right through Instagram's border options to browse different border styles. Select the solid white border.
Adjust the border thickness using the slider. Choose a slim, subtle border thickness.
Tap Done after you've selected your border style and thickness. This will apply the white border to your photo.
Once you're happy with the border, tap Next. Instagram will save a copy of your edited photo.
On the Share screen, choose where you want to share the newly bordered image. You can post it to your Instagram feed, stories, messages, etc.
The benefit of using Instagram's built-in borders is that it's fast, easy, and integrated directly into the app you're already using. The downside is you're limited to Instagram's built-in border styles and thickness presets. If you want more customization, a third party app may be better.
Using the Photo Grid App
Photo Grid is a free app available for iOS and Android devices. Along with its grid collage making features, Photo Grid also has handy photo editing tools like customizable borders.
Here's how to add a white border with Photo Grid:
Download and install the Photo Grid app from your device's app store. Open the app.
Select the photo you want to add a border to from your camera roll or Photo Grid library.
Tap the edit icon at the bottom of the screen, then tap Borders.
Select the solid white border style.
Use the thickness adjustment tool to make the border thicker or thinner.
Tap Apply to add the white border to your photo.
Save or export your bordered photo. You can then upload the finished image to Instagram.
Photo Grid's borders tool makes it simple to create a customized white border for your Instagram pics. And it's free! The only potential downside is lower image quality if you have to compress images to upload to Instagram.
Using the Snapseed App
Snapseed is a free photo editing app from Google, available on iOS and Android. It offers professional-level editing tools, filters, and effects for enhancing your images. Here's how to use Snapseed to add a white Instagram border: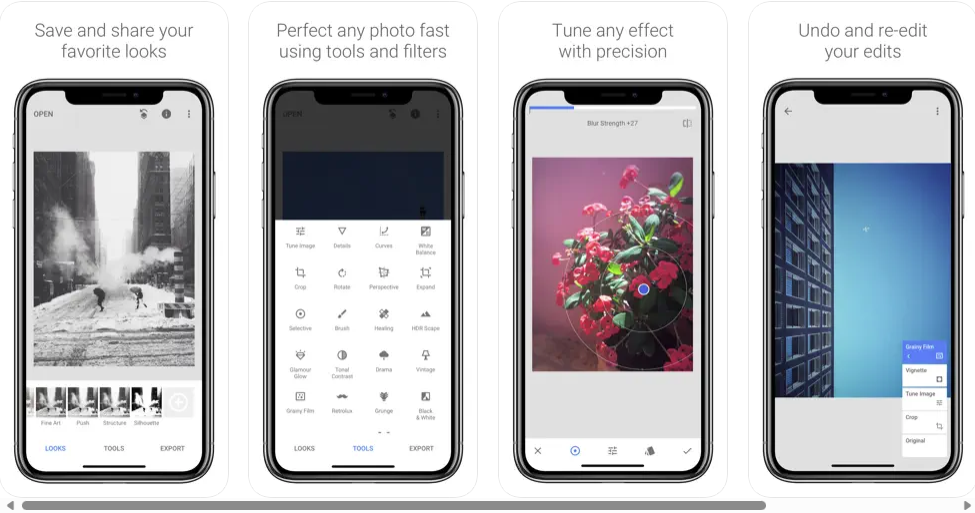 Open Snapseed and tap Open to select the photo you want to edit.
Tap the Tools icon, then select the Frames tool.
Scroll through the frames library and select one of the Simple white frame options.
Adjust the frame thickness and opacity as desired. Make the frame more opaque for a solid white border.
Tap Apply when finished editing the frame.
Tap Export to save a copy of your bordered photo.
Upload the image to Instagram from your camera roll or photo library.
Snapseed has a huge advantage over Instagram's built-in borders with its advanced customization settings. You can really fine-tune the border thickness and appearance.
Using the Borders App
As the name implies, Borders is an app designed specifically for adding borders and frames to your photos. With an array of border styles, thicknesses, and colors, it's perfect for creating an Instagram-ready white border.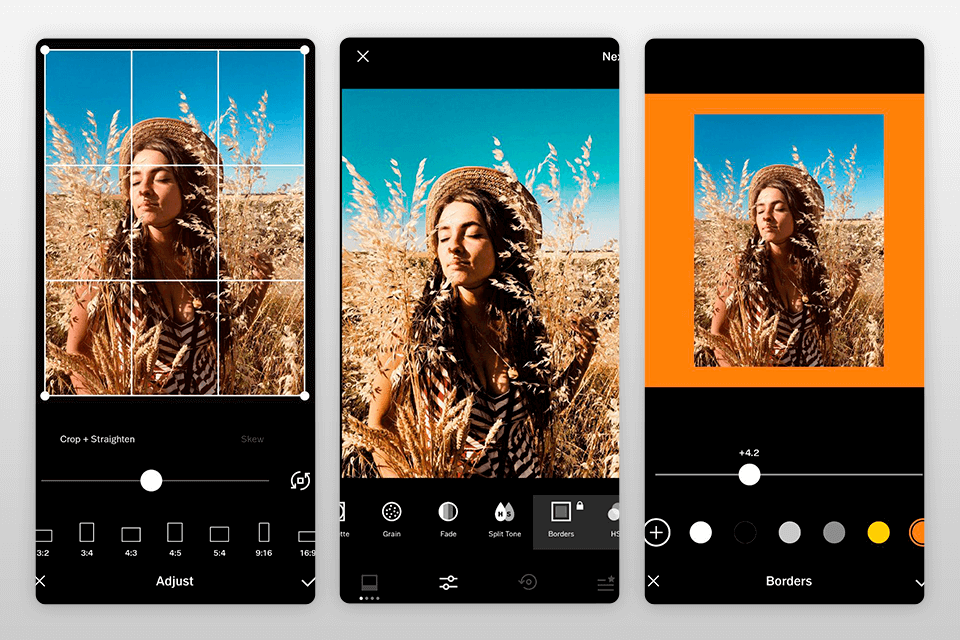 Follow these steps in the Borders app:
Select a photo to edit from your camera roll.
Tap the Frames icon at the bottom and select Classic from the tab menu.
Swipe through the frames and tap the slim white border frame to select it.
Use the thickness slider to adjust the border width as desired.
Tap Apply to add the border to your photo.
Export or save the photo to your camera roll.
Go to Instagram and upload your bordered image as you normally would.
The handy thing about Borders is that it's solely focused on frames and borders, so it's easy to quickly find and apply a white border style for Instagram. The only downside is the app does have limited editing features beyond borders.
Using PicMonkey
PicMonkey is a robust online photo editor with design tools for adding graphics, text, and effects to images. It also features customizable borders.
Here's how to use PicMonkey's border tool:
Go to PicMonkey.com and either upload a photo to edit or choose one from Pixabay images.
Click the Frames tab on the left side toolbar.
Select Basic from the frames menu, then scroll down to the solid color borders.
Choose the white border, then adjust the thickness using the slider.
Optionally, you can round the border corners for a softer look.
Click Apply when you're happy with your border.
Download the edited photo to your computer or mobile device.
Open the Instagram app and upload the bordered image as usual.
PicMonkey is great for truly customizable borders. You can tweak the thickness, color, and corner style. Downsides are you need to be on a desktop computer to use PicMonkey, and the free version has limited exports.
Using Canva
Canva is a popular free graphic design platform with photo editing and collage tools. Adding an Instagram border in Canva is quick and easy:
Go to Canva.com or open the Canva app. Upload a photo you want to edit.
Click the Elements tab on the left side of the editor. Search for and select the Simple White Frame element.
Drag the frame onto your photo in the editor. Stretch the edges to expand it.
Optionally resize or reposition your photo within the frame to adjust the border width.
Download your bordered photo by clicking the green Download button.
On your mobile device, open the Instagram app and post your pic as normal.
Canva is nice because you can not only customize the white border itself but also rearrange your photo within the border for the optimal look. The design interface is also intuitive. Just note that Canva does have a monthly photo export limit on free accounts.
Resizing Your Photos for Instagram
When adding a white border to your Instagram pics, it's important to properly resize and format the images for optimal quality:
Instagram photo feeds display at a resolution of 1080×1080 pixels. For a bordered image, your photo itself (inside the borders) should be around 1000×1000 pixels to maintain good image quality after resizing and cropping to 1080×1080.
Instagram Stories have an aspect ratio of 9:16. For vertical bordered photos, make your image around 1080×1920 pixels before adding the border.
Save your bordered photos as JPEGs at 72 PPI resolution. This is sufficient resolution for digital posting while keeping file sizes small for quick uploading. Don't use higher print resolutions.
Avoid upscaling small, low-res photos. This will degrade image quality. Start with high-quality source photos for your borders.
Use the Instagram Crop tool to perfectly resize and frame your bordered pics after downloading to your mobile device.
Following these tips will ensure your gorgeous bordered photos are nicely formatted for Instagram's dimensions. Poorly resized images become distorted, pixelated, and blurry.
Stylistic Ideas for White Borders
Now that you know how to easily add white borders to Instagram photos, let's look at some creative ways to use borders for stellar visual posts:
Use slim white borders around landscape images like travel scenery, outdoor photography, and room interiors for a clean, classic look.
Try wider white borders with portrait shots of people, pets, food, and more. Fill the frame with your main subject.
Stack multiple slim borders together for a layered effect. This works great with repetition like a collage of small dotted elements, multi-photo layouts, or product collections.
Overlap photos with each other and add borders to create visual depth. The borders define and separate the layered images.
Use asymmetrical borders with off-center subjects for an edgy, modern style. Play around with different border widths.
Pair solid white borders with black-and-white photos for high contrast interest. The simple palette lets the striking photo shine.
Add square-shaped borders to round headshots and portraits for a fun play on shapes. Or vice versa with circular borders on squared shots.
Use white borders on photos with light, minimalist backgrounds for a cohesive soft color scheme.
Try rounded corner borders for a softer, more organic feel than square corners. Great for nature shots and feminine aesthetics.
Mix and match bordered photos with full bleed images for visual variety in your Instagram feed. Get creative with different border placements, widths, and photo pairings!
Optimizing Photos Before Adding Borders
To achieve truly stunning images with white borders for Instagram, it's important to optimize your photos properly before applying the borders. Here are some key photo editing tips:
Correct colors in your images using auto-enhance tools or manual adjustments like brightness, contrast, saturation, temperature, highlights, shadows, etc.
Crop your photos aesthetically to highlight key subjects, rule of thirds balance, and remove distracting elements.
Retouch blemishes, dust spots, image noise, and distractions using retouching brushes and tools.
Sharpen your photos subtly to avoid over-sharpening artifacts but make details pop.
Apply light photo filters if desired for added mood, such as subtle vintage films or a warming glow.
Reduce noise and grain for cleaner images using noise reduction slider tools.
Fix skewed horizons, lens distortion, and perspective using transform tools like rotate and keystone.
Darken edges of your photo with subtle vignettes to draw attention to main focal points before bordering.
Putting in the editing time before adding borders gives you beautiful, polished Instagram photos that will stand out in any feed or story. The clean white borders act as the perfect final touch.
Finding Inspiring Examples to Emulate
If you ever need a boost of white border inspiration for your Instagram photos, there are tons of accounts you can check out:
@sorelleandco – Gorgeous lifestyle and floral images with dreamy white borders. Soft color schemes.
@darlingcovey – Ethereal portraits of children and families. Thin to thick white borders.
@belathee – Fashion blogger with elegant bordered photos and styled flat lays.
Searching relevant hashtags like #whiteborders, #borderedphotos and #polaroidborder can also reveal thousands of inspiring border examples from the Instagram community. Let these accounts spark your creativity!
Conclusion
Adding a clean white border to your Instagram photos can elevate your images to look instantly more professional. With a range of easy apps and editors to create customized borders, you can implement this stylish photo trend in a few simple clicks.
The key tips to remember are:
Properly resize and optimize your pics first for ideal bordered images.
Choose slim to moderately thick borders based on your photo's contents and layout.
Style and place your borders purposefully according to your brand aesthetic.
Use borders cohesively for visual consistency across your Instagram profile or story.
Take inspiration from accounts with stunning border usage and examples.
With an arsenal of photo editing tools and endless border style possibilities, you can make your Instagram photos pop with clean, eye-catching white borders tailored to match your feed or story's vibe. Borders add that perfect finishing touch of polish.