Alienware returns with a new gaming laptop, the M16. Behind this warlike name hides a 16-inch computer that aims to offer high performance and a strong design.
Design has always been the strong point of the Dell brand. When we think of Alienware, we think of a neat chassis, a little backlit alien head, and LEDs absolutely everywhere… things that we find on this M16, obviously. It can also count on a GeForce RTX 4060 as well as a 165 Hz QHD screen.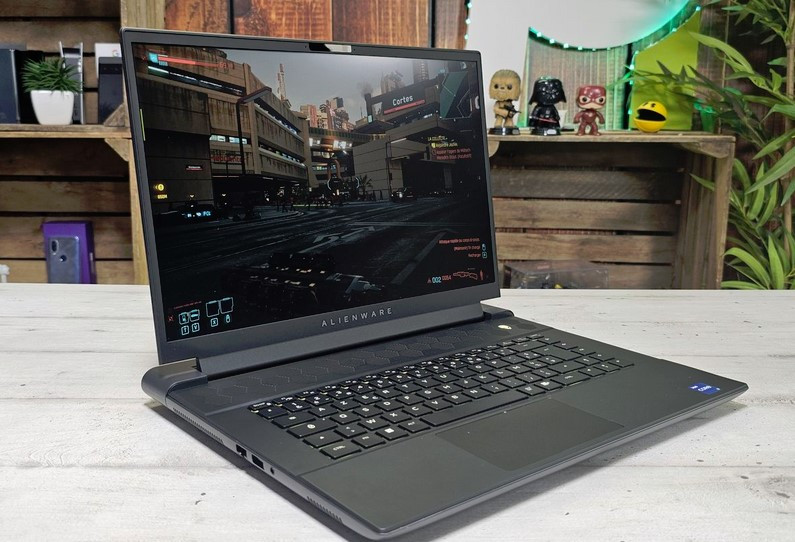 It remains to be seen whether this PC deserves your attention. In an ultra-competitive market, it is not enough to have a beautiful visual to convince. You have to be the best everywhere, all the time. Successful bet for Alienware's latest baby? Answer right away.
Price and Availability
The Alienware M16 is available on the Dell website and from partner resellers. The user has the choice of configuration for their PC. Ours is one of the cheapest and is priced at 1899 euros. A price that seems fair to us in view of our specs (Intel Core i7, RTX 4060).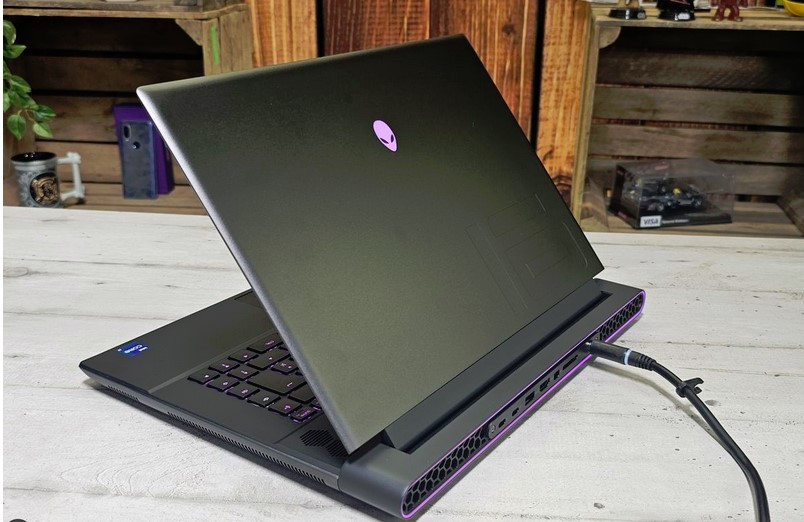 Note that the most affordable model is 1799 euros (with an AMD Ryzen 7 CPU), and if you want the best of the best (Intel Core i9, RTX 4090, and 8 TB SSD), you will get it for 4999 euros. No need to go to such extremes for a gaming laptop.
A Tempting Technical Sheet
Our Alienware M16 model is not the most efficient gaming PC in the range, but it is very balanced. We have a beautiful 16-inch IPS LCD panel (1440p) with a refresh rate of 165 Hz, an Intel Core i7-13700HX processor, 16 GB of RAM, as well as an RTX 4060 graphics card. The only downside is the 512 GB SSD, a bit tight for a gaming PC today.
Screen: 16″ IPS LCD

Resolution: 2560 x 1600 pixels
Refresh Rate: 165 Hz

Processor: Intel Core i7-13700HX
GPU: Nvidia GeForce RTX 4060
RAM: 16 GB
Internal Memory: 512 GB SSD (Mvme)
Keyboard: Backlit chiclet
Connections:

1x Audio Jack
2x Thunderbolt 4
3x USB 3.2 Type A
1x HDMI 2.1
1x Mini DisplayPort 1.4
1x Mains Port
1x Ethernet Port
1x 3.5 mm Jack
1x SD Card Reader

OS: Windows 11
Weight: 3.25 kg
If we trust the technical sheet, we have a beautiful machine. Good specs are good, but that's not everything. Now it's time to see what the Alienware M16 has in store.
The Design, Pure Alienware
Alienware isn't known for its understated designs. Since its beginnings, the manufacturer has had a habit of overbidding with machines with aggressive lines adorned with RGB LEDs. The M16 is no exception to the rule. Maybe it's nostalgia talking, but we really like its design. The little thing we love? The LED surrounding the connectors at the back.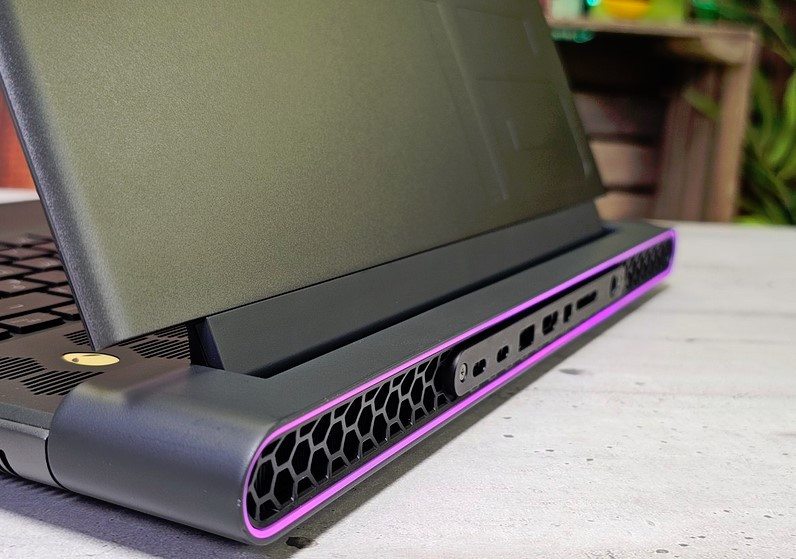 Whether we like the visuals or not, we cannot deny Alienware its desire to offer something original. We find all the brand's codes on this M16, whether it is the backlit alien head on the gray cover (in aluminum), the slightly forward hinge to leave room for ventilation, the rounded lines, the vents on the aggressive look, the connectors at the back, but also the lines of RGB LEDs cleverly distributed across the chassis. No doubt it's pure Alienware.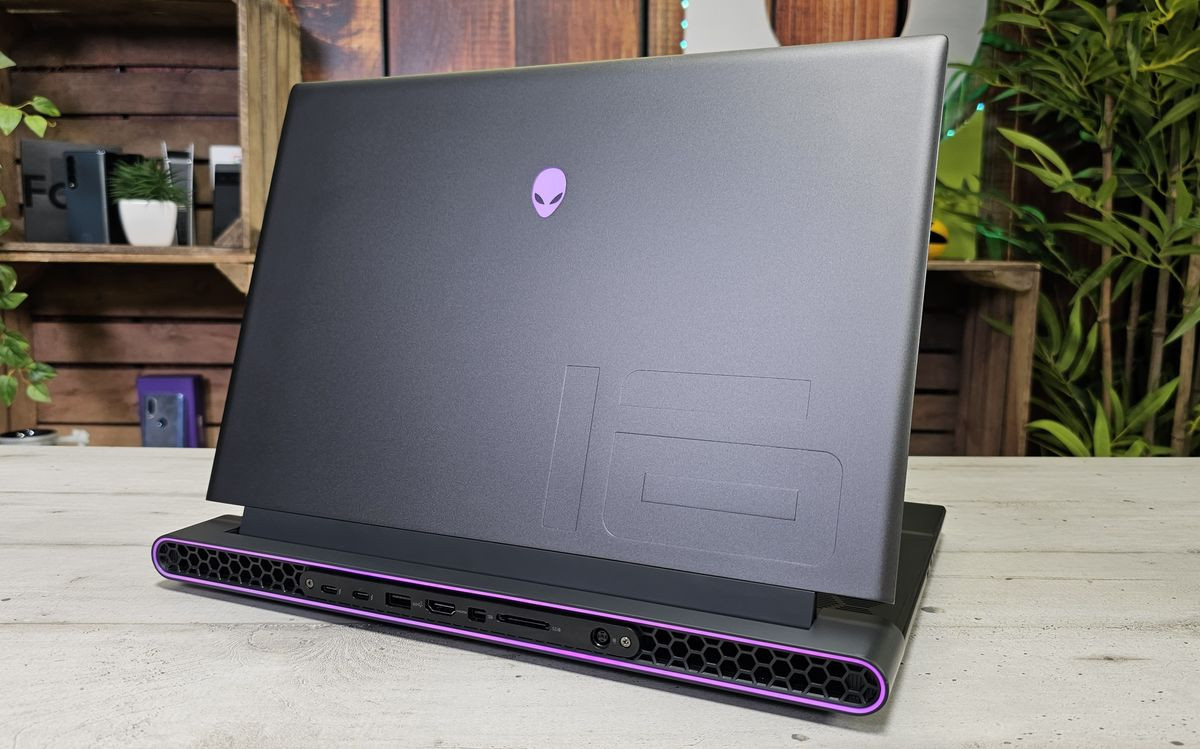 The only way to differentiate this M16 from the brand's other PCs is its name engraved into the metal on the screen cover. It remains discreet, and we like it!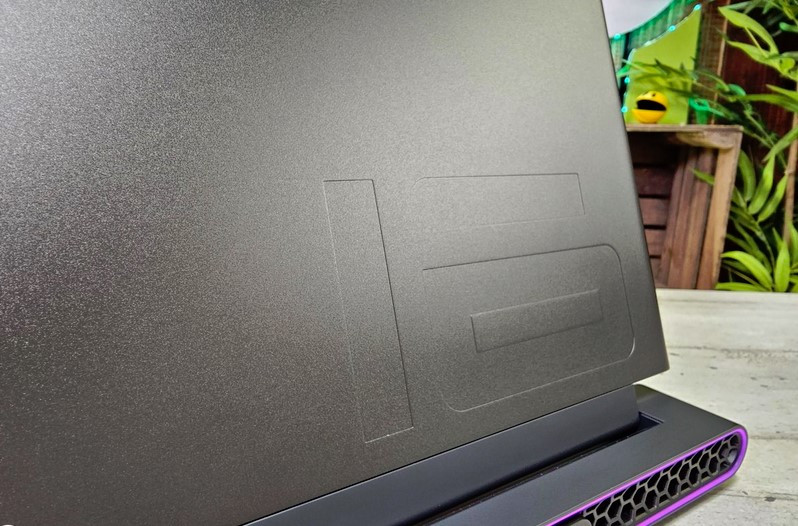 The PC chassis is dotted with numerous ventilation holes to ensure good heat management. While this is completely normal on a gaming machine, the choice of their location remains important and Alienware is making a rookie mistake. Indeed, we have ventilation at the back, but also on both sides. In fact, when we play with a mouse, we feel the warm breath caressing our fingers… painful! This defect alone can justify the loss of a point in the final grade because it is so annoying.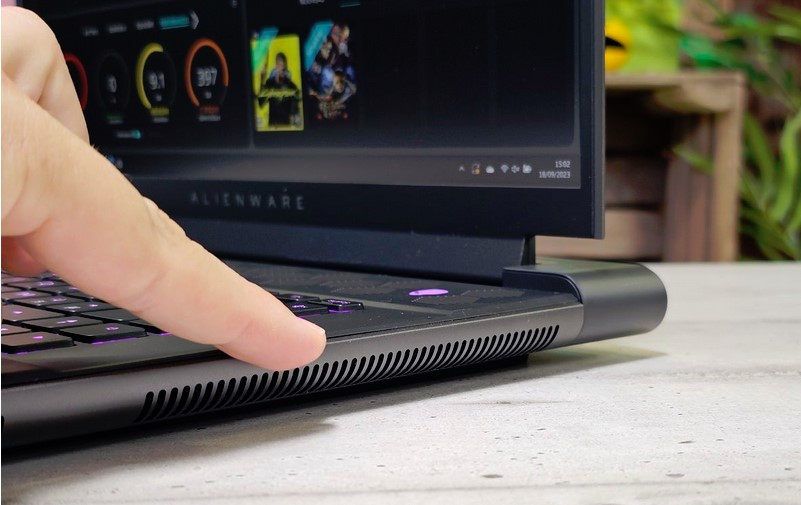 If the ventilation is done from the sides, it is because the manufacturer has chosen to place the connectors at the rear. There are two Thunderbolt 4 ports, a USB Type 3.2 Type-A port, an HDMI 2.1 port, a mini DisplayPort port, as well as an SD card reader. We also notice a power supply port which has the unfortunate tendency not to secure the plug properly, but this is not dramatic for a PC that has to remain sedentary. On the left side, Alienware has added an easily accessible USB Type-A port as well as an Ethernet port. Convenient for connecting a USB key on the fly. Complete connectivity for a gaming PC, nothing to complain about.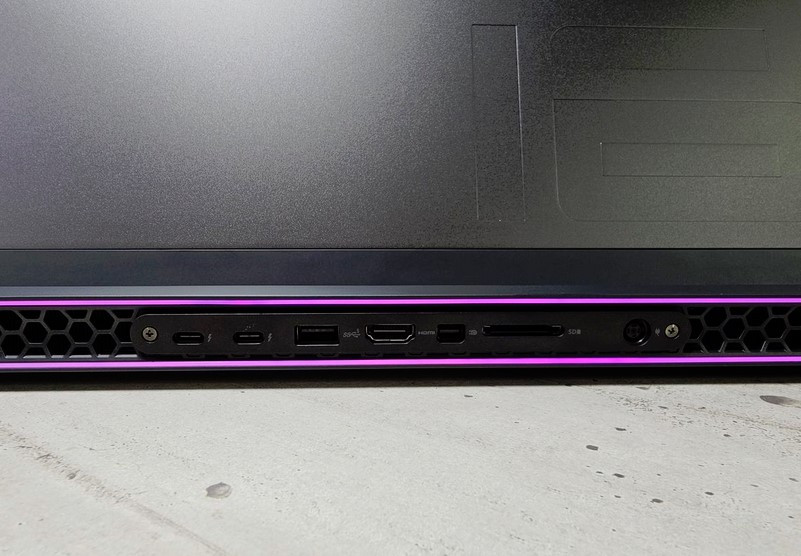 It is possible (but somewhat difficult) to open the M16 using a precision screwdriver. Good surprise: Alienware gives the user the possibility of replacing the two RAM sticks but also of adding an SSD in M.2 format. An excellent thing that delays product obsolescence.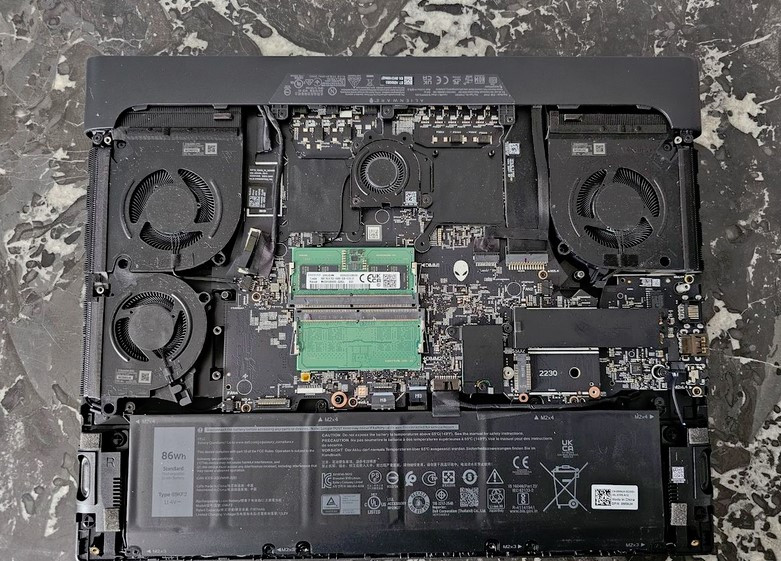 Now let's move on to the keyboard part: we're not very fans. The typing is soft (despite good resistance at the end of the stroke) and the keys are too spaced for calm writing. It's also a shame to see that Dell sacrificed the numeric keypad, even though the 16-inch format largely allows it to be included. A choice all the more damaging as nothing fills the space left, like speakers.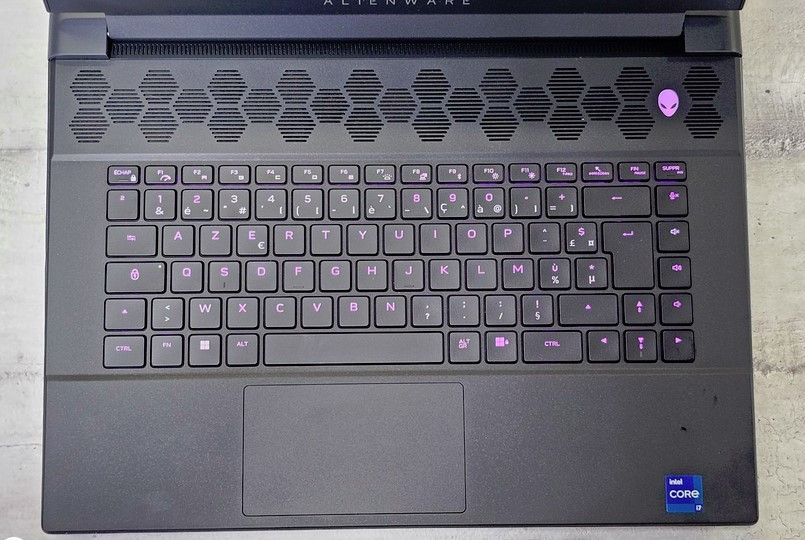 Even more, we would criticize the keyboard for its somewhat low position to leave room for ventilation between the screen and it. The consequence is quickly felt: once our fingers are magnetized on the WASD keys, our palm rests on one of the angular edges of the computer. Not really comfortable, even painful after a while. Try raiding WoW for three hours in this position and you will understand this poor choice.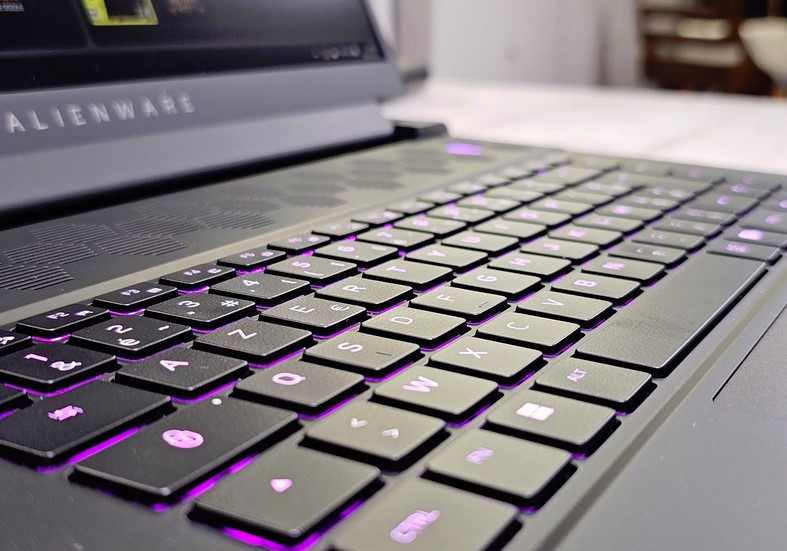 PC Gamer obliges, we have an RGB backlit keyboard. In the pre-installed Command Center software, it is possible to choose the color of your choice or even add some cool effects. The small alien head and the rear LED can also be customized in order to have the most harmonious PC possible. It might be a little garish, but we love it. It is obviously possible to deactivate the lights.

For its part, the trackpad turns out to be successful, well positioned and responsive. But any gamer will soon need to plug in an external mouse. Finally, note the absence of a fingerprint sensor or IR camera to protect your PC, you will have to unlock it with a good old password, like in 2015.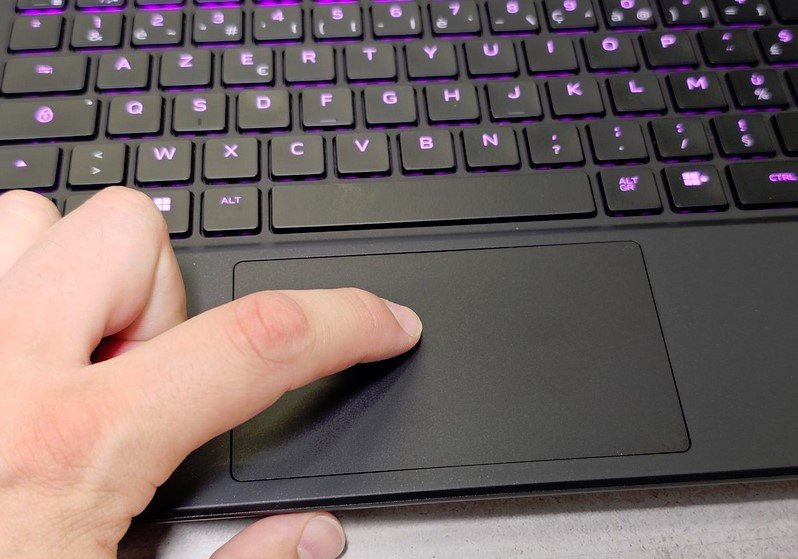 We won't blame the Alienware M16 for being massive with its 3.25 kilos and its dimensions of 369 x 289 x 25 mm. It is difficult to imagine carrying it around every day in a bag, especially when adding your 700-gram power adapter. The Alienware Baby is made to stay at home or be moved only very occasionally. However, we appreciate the solidity of the whole, especially the hood which is not subject to scratches. We would still have liked the manufacturer to provide a protective cover for transport. It would have been a nice gesture considering the price, but we'll have to do without it.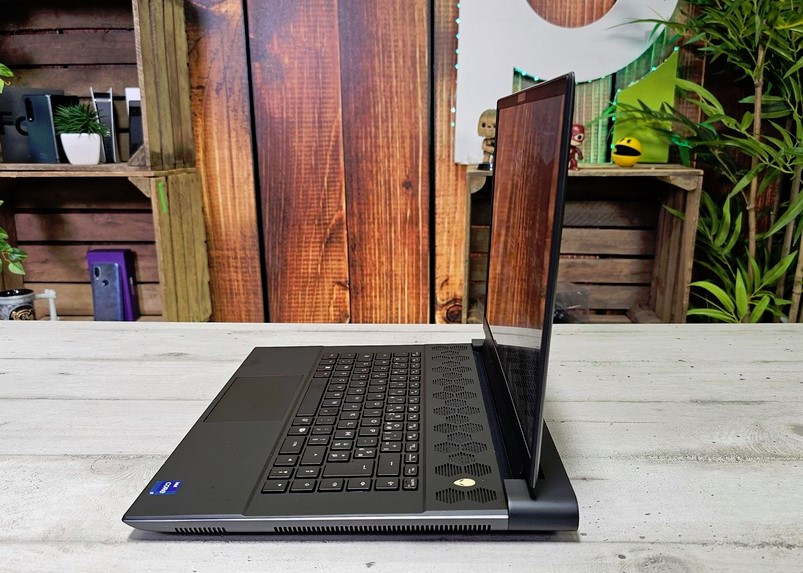 In short, Alienware is giving us Alienware for its M16. If we can regret a keyboard that is not really successful and a painful breathing on the sides, we have a product with a design that has personality. A beautiful machine, therefore, but not without faults.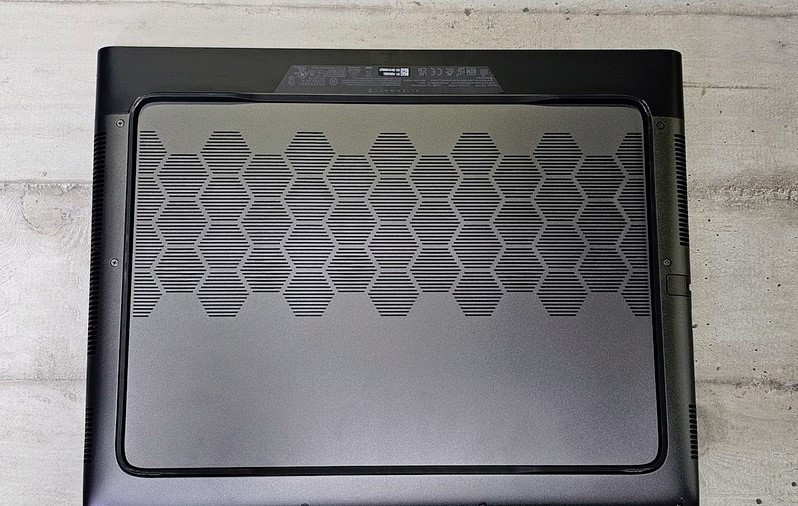 A Well-Made Screen, But Lacking in Brightness
The Alienware M16 is equipped with a 16-inch IPS LCD panel with a definition of 2560 x 1600 pixels. It offers a maximum refresh rate of 165 Hz, ideal for fans of competitive gaming. We analyzed the screen using our probe, and the results obtained are correct but show several weaknesses. Firstly, we have a 1300:1 contrast, which is good for an IPS LCD panel, without being incredible. If we do not achieve the readability of an OLED panel, we still have an acceptable vision in terms of shades of gray. For video games, this is important.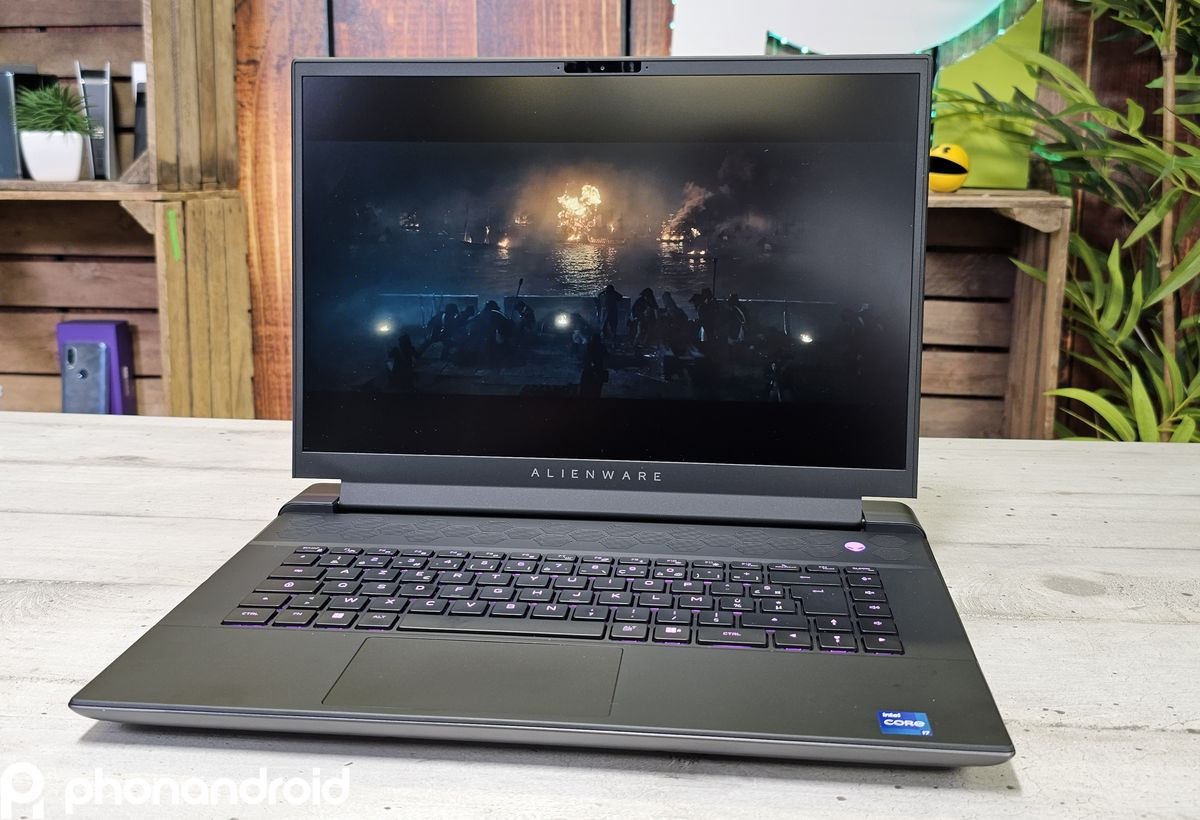 Alienware only offers one color profile, whether in Windows settings or in the Command Center manufacturer software. This one is good, displaying a temperature of 6500K, the video standard. The display neither turns blue nor red. The average delta E is 2.8 (below 3 being good), and therefore offers colors faithful to reality. We will still deplore greens and blues that are a little too fluorescent, which is a shame. A good calibration, but we would still have appreciated having the choice between several colorimetric profiles to adapt to all uses and playing styles.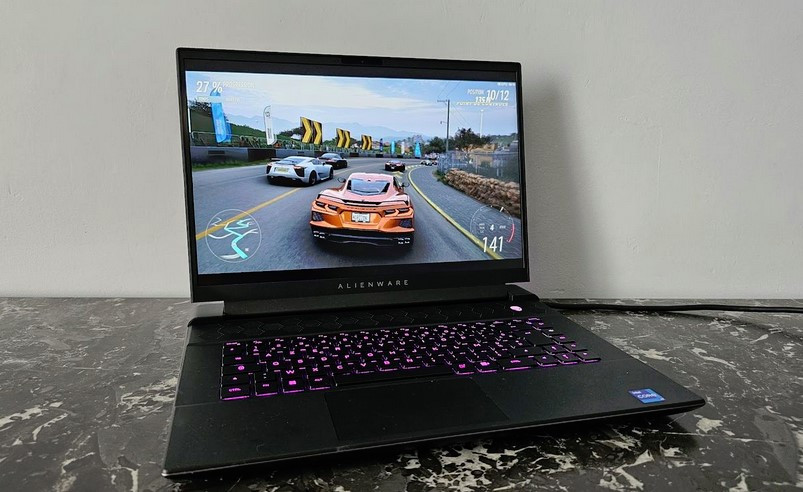 The Achilles' heel of our Alienware is its brightness, which barely climbs above 330 cd/m². Concretely, this poses no problem when playing indoors, provided you don't put yourself against the light. On the other hand, it is unthinkable to start a game outside. We can forget about continuing Baldur's Gate 3 on our terrace when the weather is nice…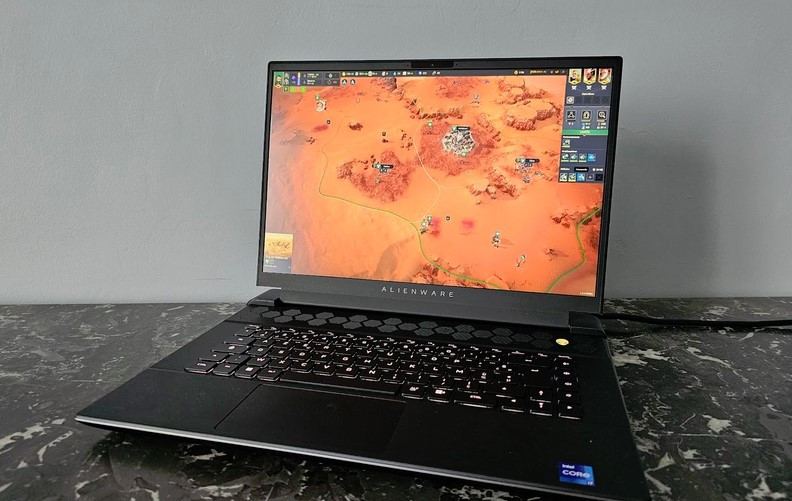 In Backlight, Readability Drops Dramatically
The M16's speakers are located at the front of the chassis, and the sound is decent considering the format. If we deplore some nasty distortion at very high volume, the rest is acceptable. We have a relatively balanced sound which will be enough to enjoy Youtube videos or gaming sessions.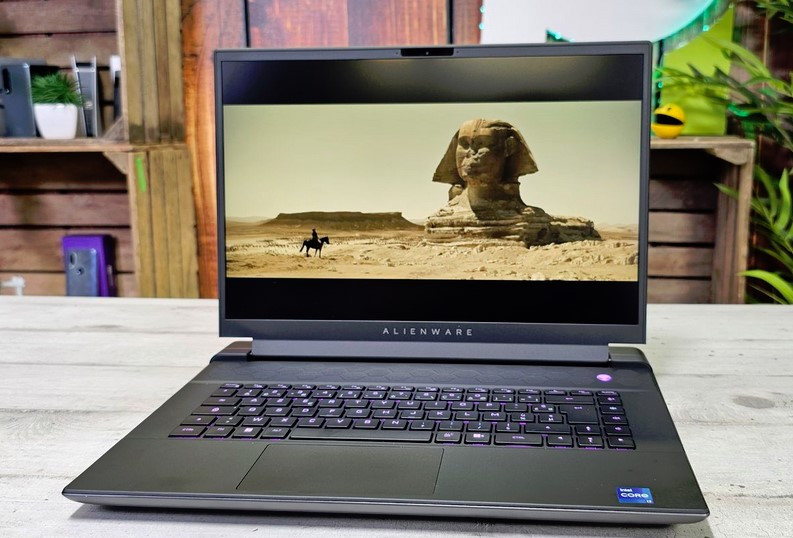 Great Power, But An Annoying Breath
Our Alienware M16 model is equipped with an Intel Core i7-13700HX processor, 16 GB of RAM (dual channel), a 512 GB SSD, but also and above all an Nvidia GeForce RTX 4060 graphics card. With such a technical sheet, we theoretically have something to play with peace of mind. We obviously did our usual benchmarking session, and the results obtained are as expected as they are satisfactory. We have a powerful PC that doesn't struggle with compute-intensive tasks, like decompressing or video work. Nothing to complain about there.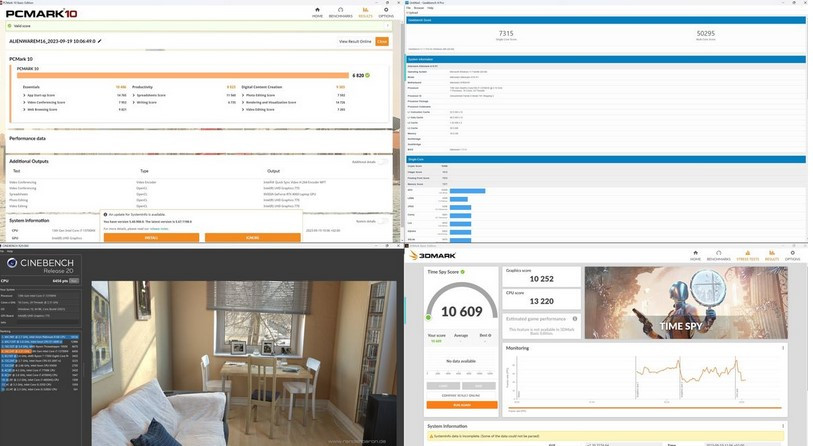 But it is in the gaming part that the Alienware M16 is expected, and there again it does not disappoint. We chose to carry out our benchmarks in the native screen definition (QHD), the one which will most likely be used by the PC owner, and to activate ray-tracing as much as possible when this was possible, as well as DLSS. The results obtained are good, with not a single game falling below 60 frames per second.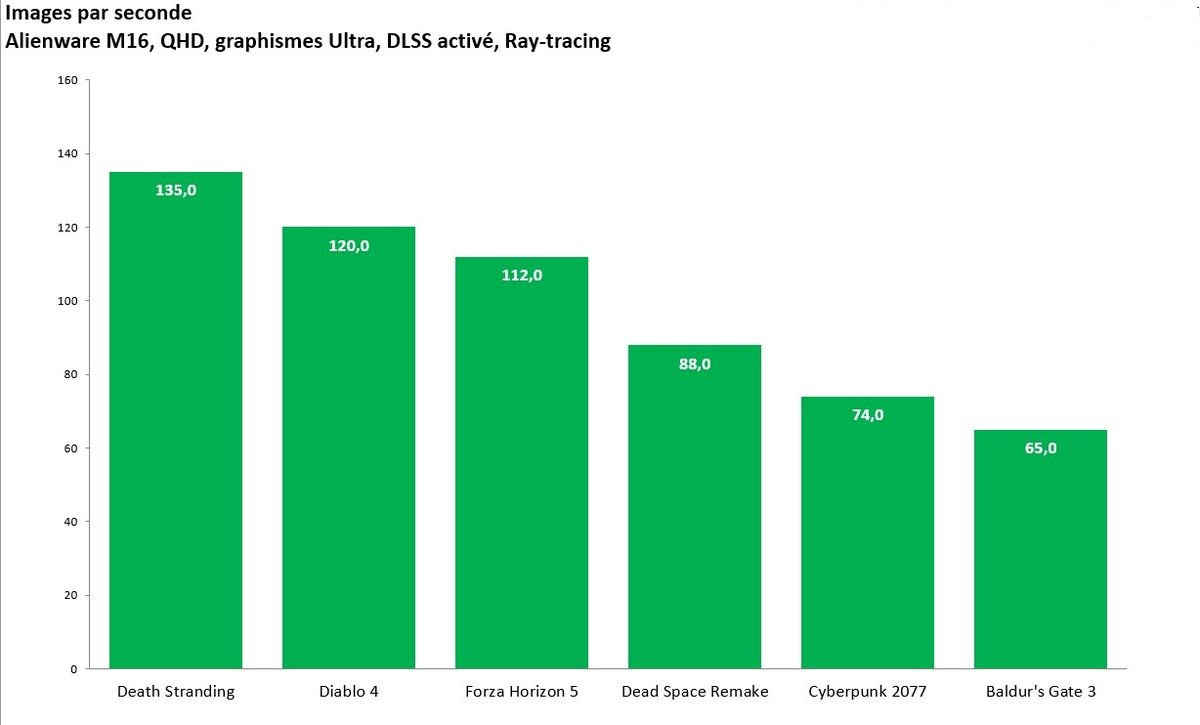 We carried out the same tests with DLSS turned off (which many players do), and again we had something quite decent, even if we sometimes fell below the 60 frames per second mark. But nothing unplayable.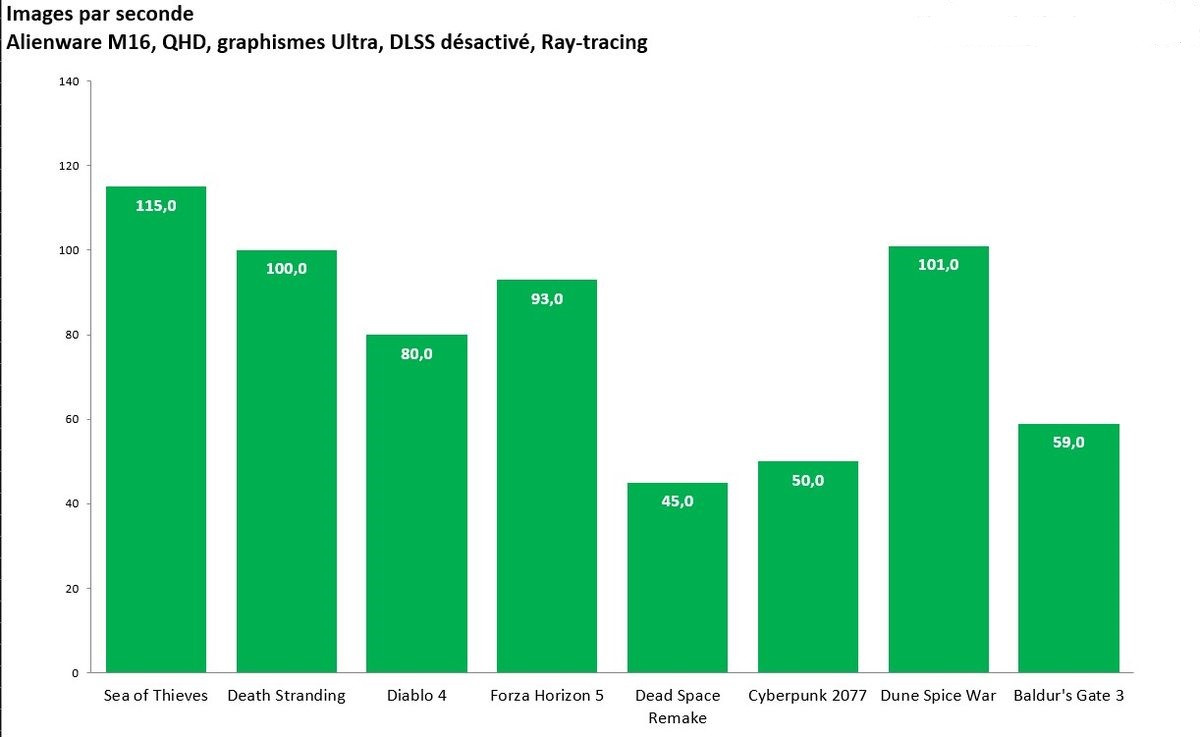 When put to the test, the PC logically activates all its ventilation. Cool air is drawn in through the underside and then expelled out the back and sides. When working, we see a CPU that remains cool (58 degrees) and a GPU that reaches 75 degrees (it's tolerable). The noise pollution is 55 decibels. It's a lot, but expected for a gaming PC. The breath can be easily forgotten if you put headphones on your ears. For once, we are far from the 67 decibels of the Medion Erazer, which was simply deafening.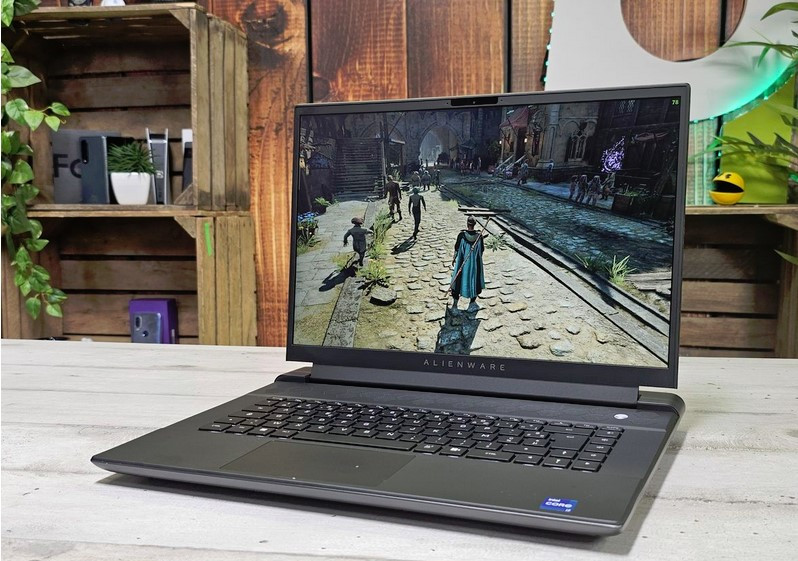 These data are obtained with the "balanced" ventilation mode. By manually activating silent mode in the Alienware Command Center software, the noise pollution drops below 50 decibels, but you have to add ten degrees to the CPU and GPU! In performance mode, we climb to 58 decibels, but we gain in freshness. It will be up to the player to make their choice.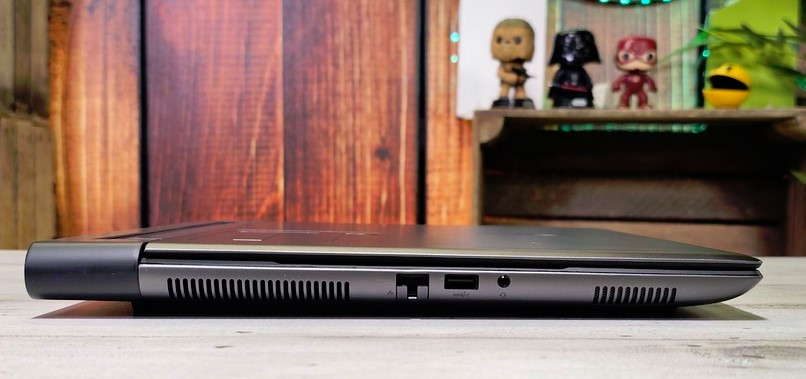 In fact, we therefore have a powerful gaming PC, both for work and play, with effective heat and noise management. However, we still regret the choice to evacuate the air through the sides. Not a smart move, given that it makes using an external mouse very painful.
Classic Autonomy for a Gaming PC
The Alienware M16 is a PC designed for gaming, so it is not surprising that the emphasis was not placed on autonomy. During typical office use, we exceed five hours, but it is impossible to go beyond. Obviously, it is unthinkable to play without plugging it in, the autonomy falling to two hours with the performance reduced by half. Nothing surprising, neither good nor bad.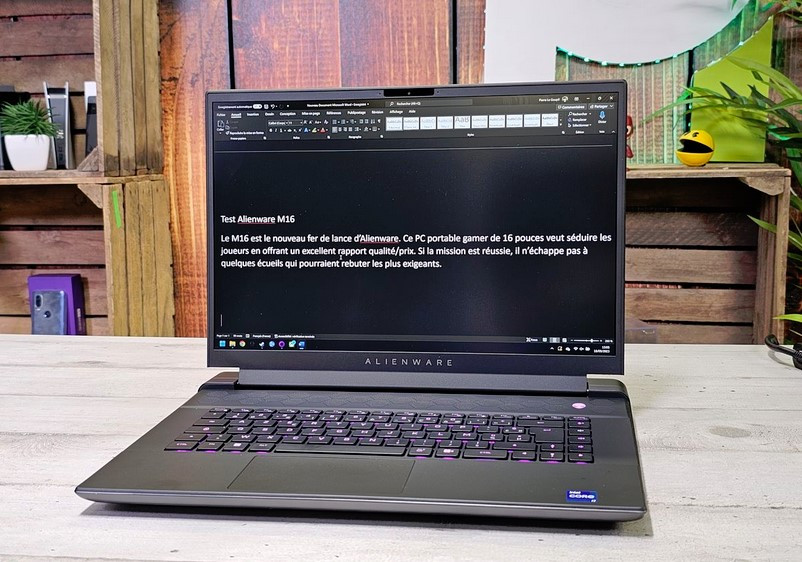 The fact is that the Alienware M16 is designed as a sedentary product, so it must always be plugged in while gaming. If you want to carry it for a LAN or vacation, you will need to make room for the 700-gram charger in your bag. Here again, nothing surprising or disturbing for this type of product.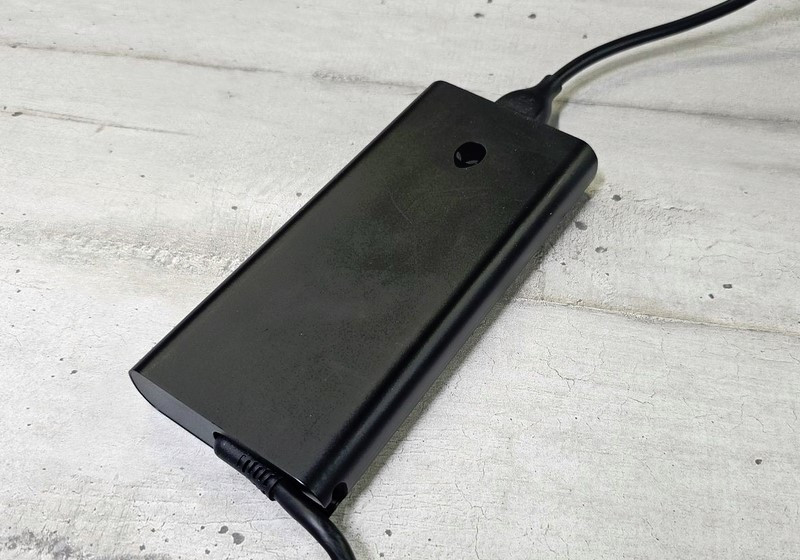 So, Should We Buy?
Now the key question remains: is the Alienware M16 worth it at the price listed? If we only rely on our lab results, the answer is yes. Three times yes. We have a computer that easily fulfills its contract, with a well-calibrated screen, optimal performance for gaming, and good heat and noise management. After all, that is what we are asking of it, and on this point, success is present.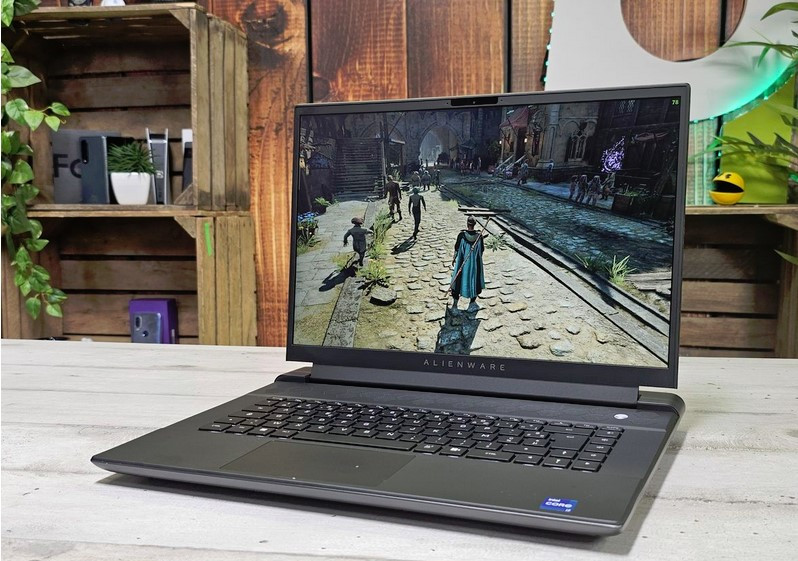 However, when we use the PC in everyday life, the observation is more nuanced. Yes, the Alienware M16 is a good gaming computer, but it has some nasty ergonomic flaws that can spoil the experience. We are talking about the uncomfortable keyboard, but also and above all the poorly placed vents which can be annoying in the long run. It's hard to concentrate when hot breath constantly caresses your thumb. Problems that can be resolved by plugging in an external keyboard or moving the mouse away from the computer, but which remain difficult to accept on a 2000-euro machine.
The Alienware M16 is, therefore, a good product that deserves your attention if you are looking for a gaming PC, but you will have to accept some very painful flaws… or work around them.
Alienware has delivered a commendable gaming PC with the M16. Featuring a robust design, impressive performance, and a well-calibrated screen, it is ideal for gamers seeking a capable system to tackle the latest blockbuster titles. However, it falls short due to some significant ergonomic flaws, which may prove to be deal-breakers for certain users. In summary, a solid gaming PC, but one that struggles with control.
What We Love:
Exceptional design that truly stands out
Powerful performance, capable of handling demanding games
Accurate screen calibration for an immersive gaming experience
Effective heat management, ensuring optimal performance
What We Like Less:
Annoying heat dispersion affecting the user's hand
Keyboard that could have been significantly improved for better usability
LCD panel lacking in brightness, impacting outdoor use
Absence of a protective cover, a missed opportunity for added value