Android 14 is the latest major version of Android. Despite the maturity of Google's mobile operating system, we're always eager to discover the new features and interface changes brought by a major update. Of course, the update also includes security fixes, bug resolutions, and optimizations that further enhance the experience on smartphones and tablets.
After a year of transition with Android 13, a version that primarily solidified the foundations laid by Android 12 in terms of interface through the Material You design, Google launched Android 14. This update doesn't offer as radical a shake-up as Android 12 but rather follows in the footsteps of Android 13 by providing UI improvements, new features, and optimizations without revolutionizing the experience too much. Nevertheless, Android 14 brings a host of new features with this major version.
Internally, Android 14 is nicknamed Upside Down Cake, which means 'upside-down cake' in French. As per tradition since the early days of the mobile operating system, each update is given a dessert name, progressing one letter of the alphabet each time. For instance, Android 13 was Tiramisu, Android 12 is known as Snow Cone, and Android 11 is called Red Velvet Cake. However, since Android 10, Google stopped using these names in its communication and marketing, reserving the dessert names for its teams and not the general public. Therefore, it's important to remember that the next big update is Android 14 and not Upside Down Cake.
WHEN WILL ANDROID 14 BE AVAILABLE?
Android 14 was announced on October 4, 2023, simultaneously with the Pixel 8. This is slightly later than usual. Despite the OS not showing any signs of life by mid-September, rumors circulated that Google had postponed the release to October 4.
Note that currently, only a few smartphones, mostly Pixels, can install Android 14. If you're interested in installing its beta version.
WHICH SMARTPHONES ARE COMPATIBLE WITH ANDROID 14?
Manufacturers will communicate the list of smartphone models that will benefit from the switch to Android 14. Google Pixels will be the first to receive the update, kicking off the official launch. In the meantime, we already know the list of smartphones that can install the OS today:
Pixel 4a
Pixel 4a (5G)
Pixel 5
Pixel 6
Pixel 6 Pro
Pixel 6a
Pixel 7
Pixel 7 Pro
Pixel 7a
Pixel 8
Pixel 8 Pro
Xiaomi 12T
Xiaomi 13
Xiaomi 13 Pro
Pixel 7 Pro
Android smartphone manufacturers are increasingly quick in rolling out updates to the latest OS version, and to a greater number of devices. Samsung, for example, now promises 4 years of Android updates and 5 years of security patches on its high-end mobiles (Galaxy S, Fold, and Flip). Additionally, the wait is getting shorter and shorter between two updates. Samsung could deploy Android 14 even more quickly on its smartphones in 2023. Brands like Xiaomi, Oppo, OnePlus, and Vivo are also committed to software support.
We'll update you in this article on the specific models entitled to Android 14 as soon as manufacturers decide on the matter. Meanwhile, we already know which smartphones won't be eligible due to their age; several Galaxy smartphones will lose support this year.
HOW TO INSTALL ANDROID 14?
If you have a compatible smartphone, you'll receive a notification as soon as the update is available on your device. Simply agree to install it, and the entire procedure will be carried out automatically, transparently. To participate in the beta program, register on the Google site (when it goes live) and choose the smartphone for the test version. Then, go to the phone's update settings to download and install it.
WHAT'S NEW IN ANDROID 14?
Discover the features integrated into Android 14, in addition to the usual performance optimizations, slight interface changes, bug fixes, and security patches.
1- LOCATE YOUR SMARTPHONE EVEN IF IT IS TURNED OFF
Google has finally decided to offer a feature that has been available on iPhones for some time: the location of the device even if it no longer has battery. This Android 14-style 'Locate' application should only work on devices with a constantly activated Bluetooth chip.
2- PASSKEYS ARE NATIVELY SUPPORTED
Passkeys, physical keys that will soon allow us to say goodbye to passwords, are natively supported in Android 14. Third-party password managers like Dashlane will also be able to take advantage of this technology.
3- A NEW PREDICTIVE ROLLBACK GESTURE
The predictive back gesture allows you to preview the previous screen before swiping back to it. This function is particularly useful on smartphones equipped with a foldable screen but can also be effective on a classic mobile phone.
4- NATIVE SUPPORT FOR THE AV1 VIDEO CODEC ON SMARTPHONES
Android 14 is likely to force smartphone manufacturers to adopt the AV1 video codec. This codec, developed by the Alliance for Open Media, of which Google is a founding member, is more efficient than popular codecs like VP9 and H.264, saving bandwidth without degrading quality.
5- SATELLITE EMERGENCY CALLS
Android 14 will offer satellite connectivity, enabling users to contact emergency services from anywhere without a telephone network.
SANTÉ CONNECT ARRIVES NATIVELY ON ANDROID 14 The Health Connect application, a collaboration between Google and Samsung, comes natively on Android 14 for better integration of health features.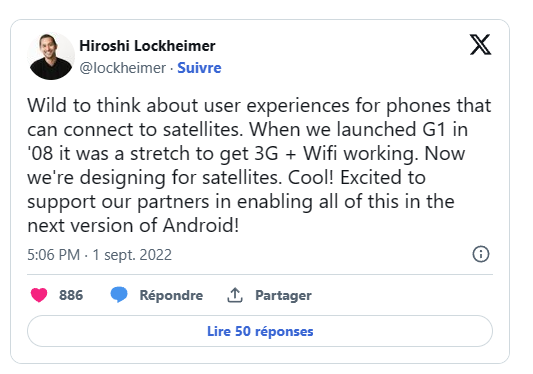 6- COMPATIBILITY WITH THE NTFS FILE SYSTEM
Android 14 will support the NTFS file system, making it easier to use a hard drive or USB drive on an Android device.
7- ANDROID BEAM, IT'S OVER
The Android Beam functionality will be permanently removed from AOSP with the Android 14 update.
8- BRIGHTER, MORE REALISTIC PHOTOS
Android 14 will introduce a new photo format: Ultra HDR, providing brighter, more realistic images with a greater range of colors.
9- BETTER PROTECTION AGAINST OUTDATED APPLICATIONS
Android 14 will block the installation of apps that target older versions of Android, preventing the spread of malicious applications.
10- SMARTPHONES AS WEBCAMS
Google is working on its alternative to Camo and Apple's 'Continuity Camera,' named 'DeviceAsWebcam,' allowing users to use an Android device as a webcam.
11- FURTHER MANAGEMENT OF AUTHORIZATIONS
Android 14 lets users decide whether an app can access specific photos rather than their entire library. Similar control is extended to permissions for displaying notifications in full screen.
12- BETTER VOLUME CONTROL
Android 14 reintroduces the ability to individually manage phone ringtone and notification volumes.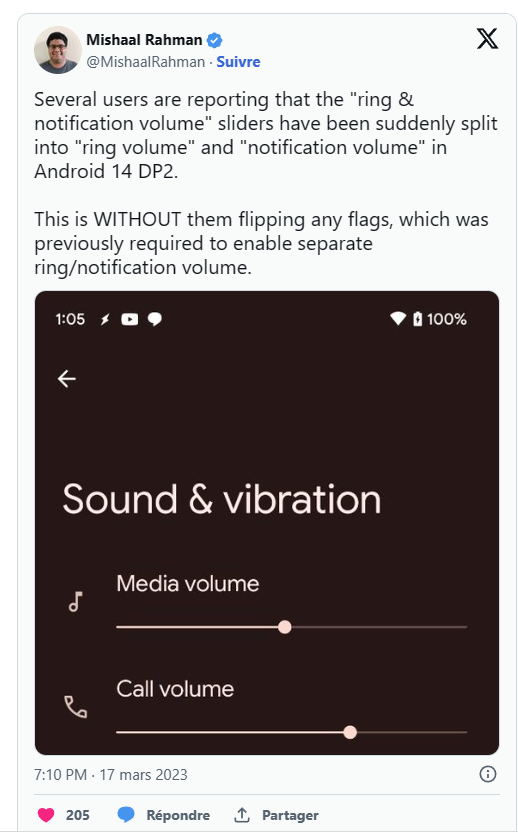 13- ANDROID 14 WANTS TO GET RID OF PERSISTENT NOTIFICATIONS
Android 14 will allow dismissing notifications that couldn't be dismissed before.
14- GREATER CONTROL OVER FULL-SCREEN NOTIFICATIONS
Android 14 will let users choose whether an app can open a notification in full screen on a case-by-case basis.
15- MORE CUSTOMIZATION ON THE TASK BAR
Android 14 brings several improvements to the taskbar. Featuring a new, more compact design, users can now move it to the bottom of the screen. Moreover, an option allows it to disappear when not in use after a certain time.
16- "EMOJI LAB" AND A NEW WALLPAPER CREATOR
On Pixel smartphones, a new feature called "Emoji Lab" is introduced, allowing users to create their own wallpapers. Beyond integrated wallpapers, the Emoji Lab offers a simple three-step creation process. Android 14 also introduces AI Wallpaper, creating wallpapers based on system suggestions or user requests. The Cinematic Wallpaper function enables the creation of 3D images from standard photographs, serving as dynamic wallpapers.
17- EMULATION OF THE NOTIFICATION LED
For smartphones lacking a notification LED, Android 14 allows users to emulate the functionality using "camera flash notifications" or "screen flash notifications," accessible through Settings > Accessibility > Flash notifications.
18- A MORE USEFUL AND PRACTICAL GOOGLE WALLET APPLICATION
Google encourages users to consider Google Wallet as a mobile payment and ID service. Engineers are reportedly working on displaying loyalty cards based on geolocation. In synergy with the Messages app, Google Wallet will store boarding passes for travelers, eliminating the need for check-in boxes at airports.
19- VIDEO RECORDING OF YOUR SCREEN JUST GOT BETTER
Android 14 introduces a feature to record only an application in video, providing a more convenient and confidential experience to users. Users can choose to record the entire screen or select a single app, with incoming notifications remaining invisible on the final recording.
20- NEW ENERGY-SAVING FEATURES
The Energy Saving option in Settings, when activated, will darken the wallpaper and switch application icons to dark mode on the wallpaper, reducing energy consumption, particularly on smartphones with OLED screens.
21- A WARNING WHEN DOWNLOADING UPDATES OUTSIDE THE PLAY STORE
Android 14 introduces a warning system for users attempting to download updates for major Google apps via APKs, aiming to improve safety and prevent potential accidents. The Update Ownership API allows app stores to claim ownership of installed apps, regulating subsequent updates.
MORE DURABLE SMARTPHONES?
In an effort to enhance the longevity of Android smartphones, Google plans to change the way root certificates are administered in Android 14. They will be part of the Conscrypt Mainline module, updatable directly from the Google Play platform. This eliminates the need to wait for an OTA update from manufacturers, improving access to secure websites.
These are just some of the exciting features and improvements that Android 14 brings to the table. As the update continues to roll out to more devices, users can look forward to an enhanced and more personalized Android experience. Stay tuned for more updates and announcements from manufacturers as they communicate the specific models eligible for the Android 14 update.