In its latest keynote, Microsoft seems determined to push the boundaries of its operating system further with the power of artificial intelligence (AI). There is a lot to talk about!
The Microsoft team has announced the upcoming release of Windows Copilot, an incredible innovation that enhances the intelligence of Windows 11 with AI. It's akin to having an intelligent personal assistant seamlessly integrated into the OS! (Sorry, Cortana!)
Windows Copilot will be there to assist you with all your applications and tasks, making your life easier. Moreover, there will also be Bing and ChatGPT plugins available to enhance the experience, making it even more immersive and interactive.
Imagine working on a complex project and letting Windows Copilot handle all the minor tasks for you. No longer will you need to waste time searching, launching, and coordinating different applications to achieve the desired outcome. Instead, you can devote your complete attention to your ideas and projects, leveraging the power of AI. Microsoft aims to enhance your productivity so that you can efficiently contribute to larger initiatives.
But wait, there's more! Microsoft has also considered developers with the introduction of Dev Home. This innovative tool will centralize and streamline all development tasks, providing a convenient hub for configuration and tracking purposes. With Dev Home, developers can efficiently manage their tasks, ensuring a more organized and productive development workflow.
Finally, the Microsoft Store is getting a significant refresh powered by AI, enabling you to express your needs and find the perfect application for you. This AI-driven update will enhance the browsing experience, making it easier to discover and obtain applications that align with your requirements.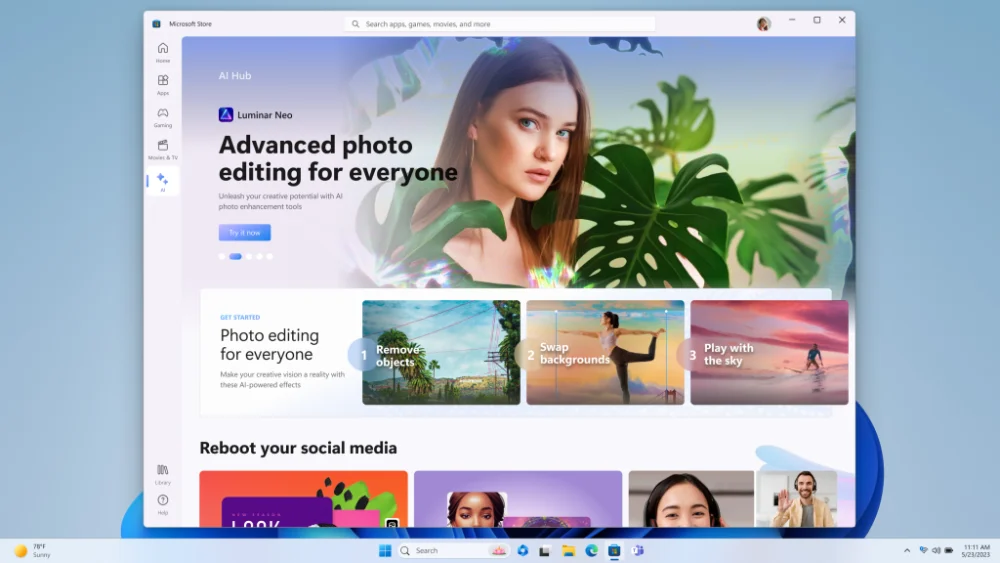 I encourage you to delve deeper into these features and tools by exploring the Windows Dev Center. This resource will provide you with comprehensive information and resources to further understand and utilize these innovations. Additionally, it's important to note that some of these exciting new features will be made available to Windows Insiders in an upcoming Insider Preview Build, allowing early access and the opportunity to provide valuable feedback.
And that's just the beginning !