ChatALL is a highly practical software that enables you to simultaneously send requests to multiple AI bots based on language models (LLMs) in order to obtain the best answers, clearly.
Imagine you're working with ChatGPT or a derivative like Alpaca, and the results you're getting aren't quite what you need. Certain AI requests can be challenging at times. This is where ChatALL comes into play. With this tool, you can ask your question once and receive answers from various AI bots, including Bing Chat, Baidu ERNIE, Bard, Poe, MOSS, Tongyi Qianwen, Dedao Learning Assistant, iFLYTEK SPARK, Alpaca, Vicuna, ChatGLM, Claude, Gradio, and even HuggingChat.
This way, you'll have a range of answers at your disposal, easily analyzable at a glance.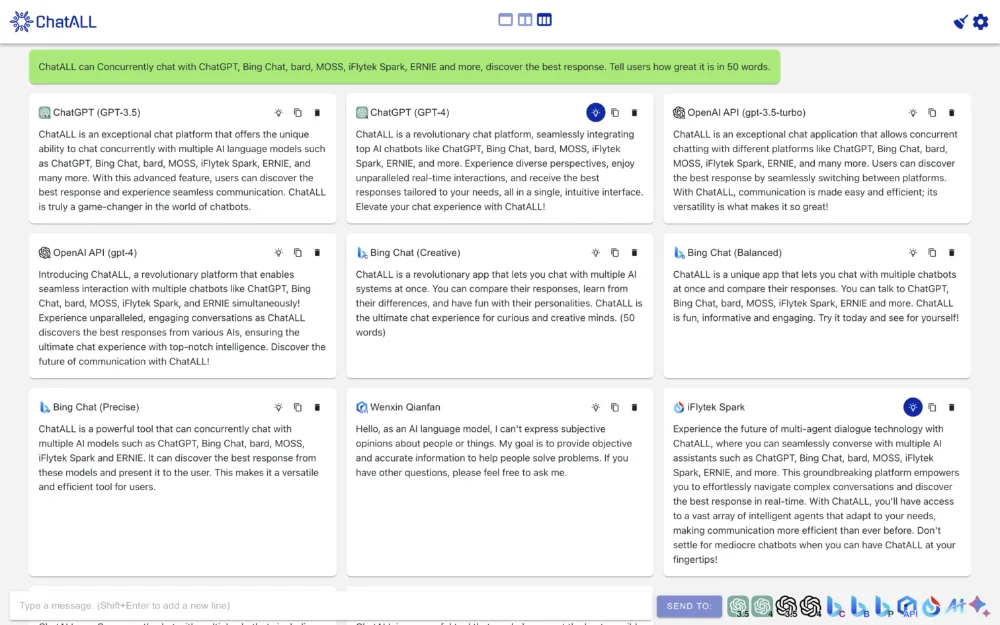 ChatALL boasts a range of features, including quick prompt mode, local chat history storage, highlighting of the best answer, removal of unwanted answers, the ability to enable/disable bots at any time, and support for multiple languages (currently English and Chinese). Furthermore, ChatALL is compatible with Windows, macOS, and Linux.
So, how do you use ChatALL? All you need are accounts and/or API keys for the relevant bots, as well as a reliable network connection. That's all it takes!
ChatALL enriches and enhances interactions with AI bots. Submitting requests to a panel of bots proves to be much more intriguing than interacting with a single bot that might occasionally disappoint—especially given that each AI has its own strengths and weaknesses.
In short, if you're interested, you can find more information here.