Spotlistr is a fast and efficient solution for converting playlists to Spotify, the popular music streaming service. With this totally free and open-source online tool, you can easily convert your YouTube playlist to a Spotify playlist, along with many other features.
Playlists
Designing playlists on an application like Spotify can be a time-consuming process. Searching for articles, selecting music, and adding them one by one takes a lot of effort, especially when so many playlists are already available on other sites.
If you've found a great playlist on YouTube, a subreddit, or SoundCloud and would like to transfer it to Spotify, the Spotlistr online tool makes it incredibly simple. Just copy the playlist's URL into the tool, and it will find all the corresponding songs on Spotify for you!
Spotlistr: a fast and efficient solution
Spotlistr is an incredibly useful online tool for anyone who wants to create playlists on Spotify quickly and easily. If you already have music lists on other sites like YouTube, SoundCloud, or even Subreddit, you can save a lot of time by simply copying the URLs of the relevant pages and pasting them into Spotlistr.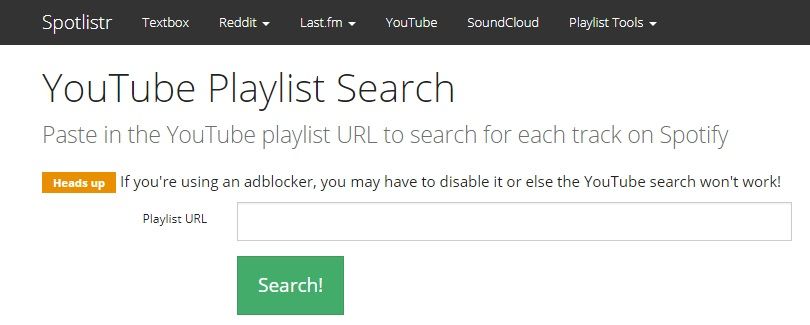 After you've pasted the playlist URLs into Spotlistr, the tool will search for corresponding titles and add them to your Spotify library. Spotlistr may prompt you to choose the correct one if there are multiple matching songs. While this process may take some time if you have many tracks, the result will be a playlist that perfectly meets your expectations.
While Spotlistr does its best to find all your music on Spotify, some songs may not be available on the platform. Spotlistr will notify you at the bottom of the page if this happens. But don't worry; you can still create a new playlist by naming it and adding the available tracks to enjoy!

Enjoy!