We've all been there: a slow computer, errors appearing out of nowhere, or simply needing a little more efficiency. This is where FixIt comes in. It is a batch script capable of fixing almost any error that may occur on your Windows 11 or Windows 10 computer. But that's not all; it also has the power to optimize and clean all the important elements the operating system uses. We invite you to continue reading this article to learn more about FixIt and how it works.
FixIt, the ULTIMATE tool to repair and optimize Windows 11/10
FixIt is a free and open-source tool designed to simplify and automate the repair, cleanup, and optimization of the Windows operating system. It is built on top of Batch and offers a simplified graphical interface, making it accessible even to less experienced users.
This tool brings together commonly forgotten or unknown commands for users. For instance, FixIt utilizes various commands to repair Windows, including SFC to repair missing or damaged system files, DISM to repair the Windows image, and CHKDSK to check and repair corrupted or damaged hard drives or SSDs.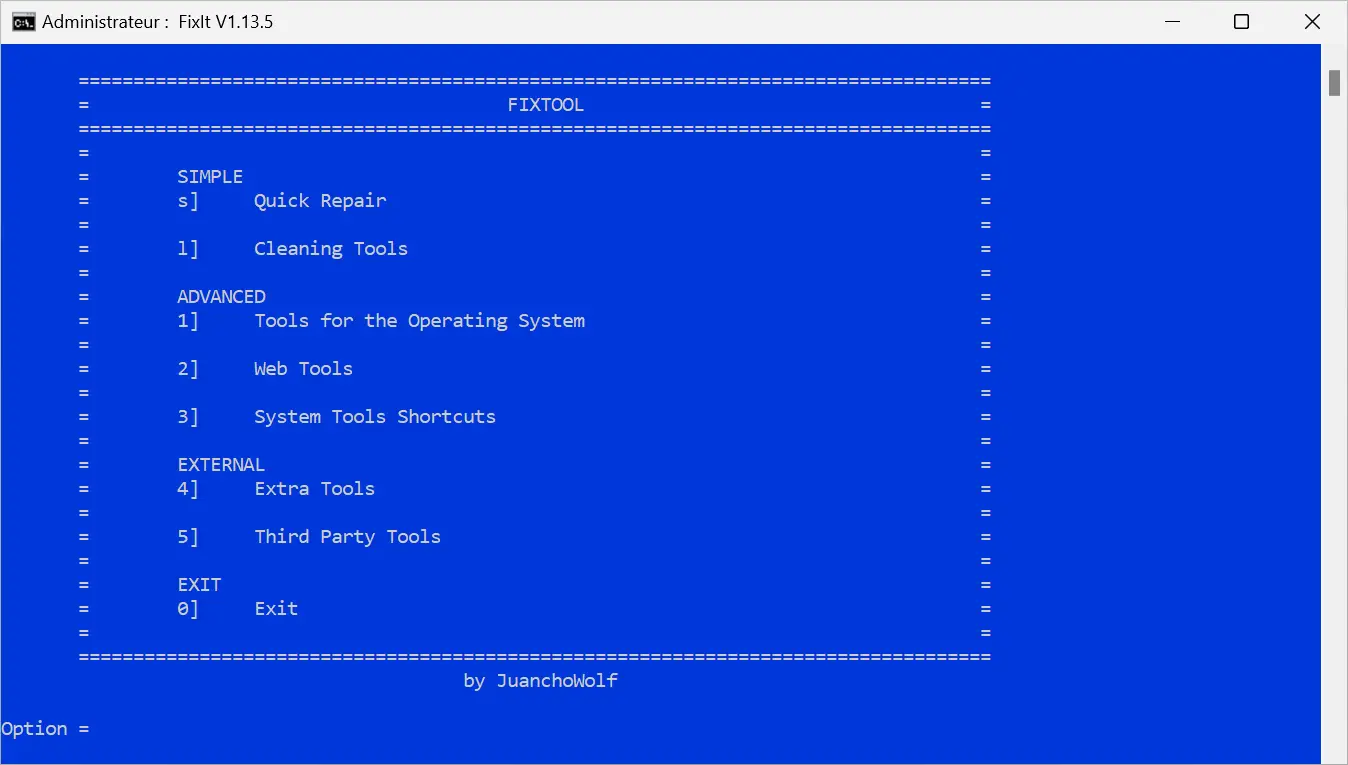 Read about the features of FixIt.
FixIt is divided into three main sections: 'SIMPLE,' 'ADVANCED,' and 'EXTERNAL.' Each of them includes several tools and features
SIMPLE
In this section, you will find tools for quick repairs and various cleaning tools to optimize your system. Here are some of the features you will find there:
• Quick Repair: This option allows you to swiftly resolve the most common problems that can affect your Windows system using SFC, DISM, and CHKDSK commands.
• Cleaning Tools: This set of tools lets you clean up your system. You can use the Disk Cleanup utility to free up space on Windows, clear event history, clean Windows Defender, adjust the duration for which Windows Defender history is retained, remove the Windows watermark, and delete the list of recent files.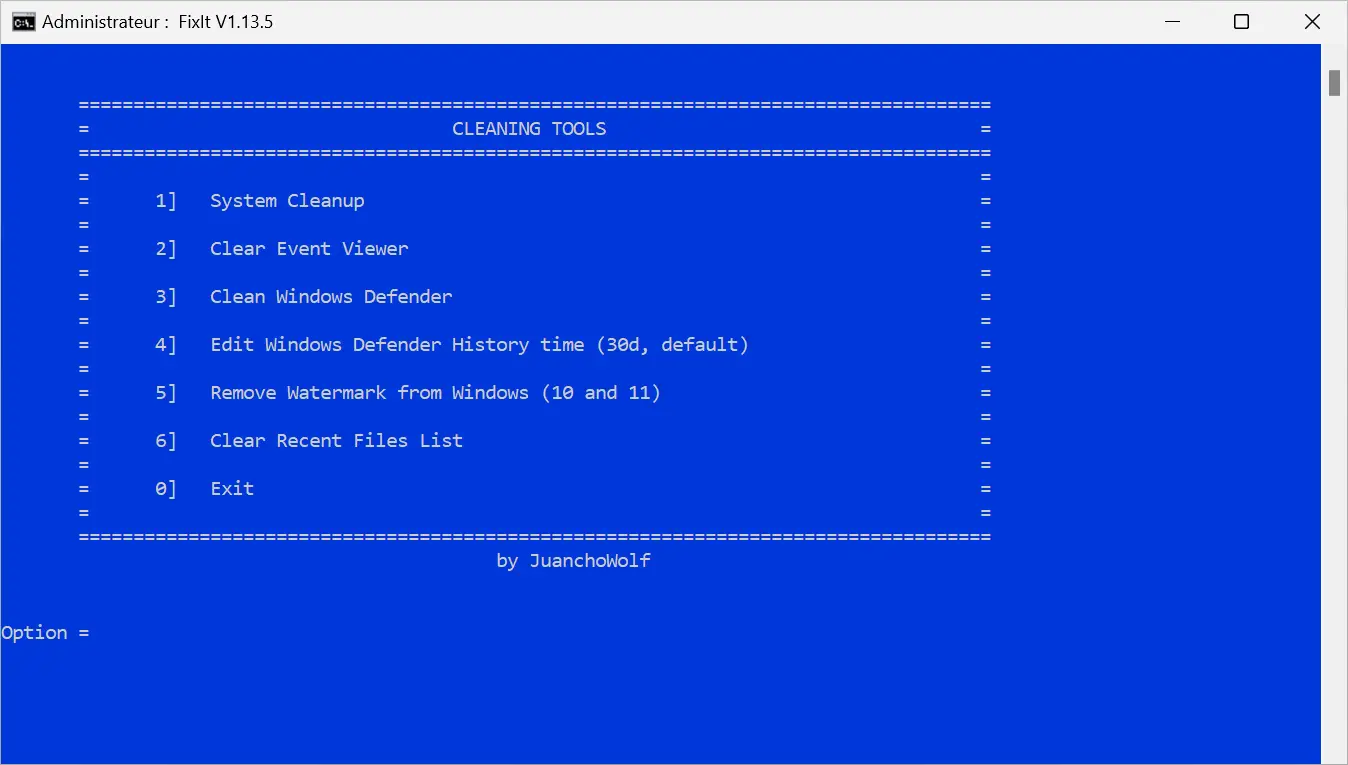 ADVANCED
Here, you will find more advanced tools for the operating system, web tools, and shortcuts to the most useful system tools. These functions include checking and repairing system files, restoring system images, analyzing the data structure on the disk, and much more. The following features are available in this section:
• Tools for the Operating System: These tools encompass functions such as checking system files, repairing files, restoring system images, analyzing the data structure on the disk, converting MBR disks to GPT, and forcing system updates.
• Web Tools: These tools enable you to clean internal DNS, test DNS, select internal DNS, and view saved Wi-Fi passwords.
• System Tools Shortcuts: This option grants you quick access to a wide range of system tools, including Windows version information, User Account Control settings, security and maintenance settings, Windows Troubleshooting, Computer Management, System Information, Event Viewer, Programs and Features, System Properties, Internet Options, Internet Protocol Settings, Performance Monitor, Resource Monitor, Task Manager, Registry Editor, System Restore, System Configuration, DirectX Diagnostic Tool, and Microsoft Malicious Software Removal Tool.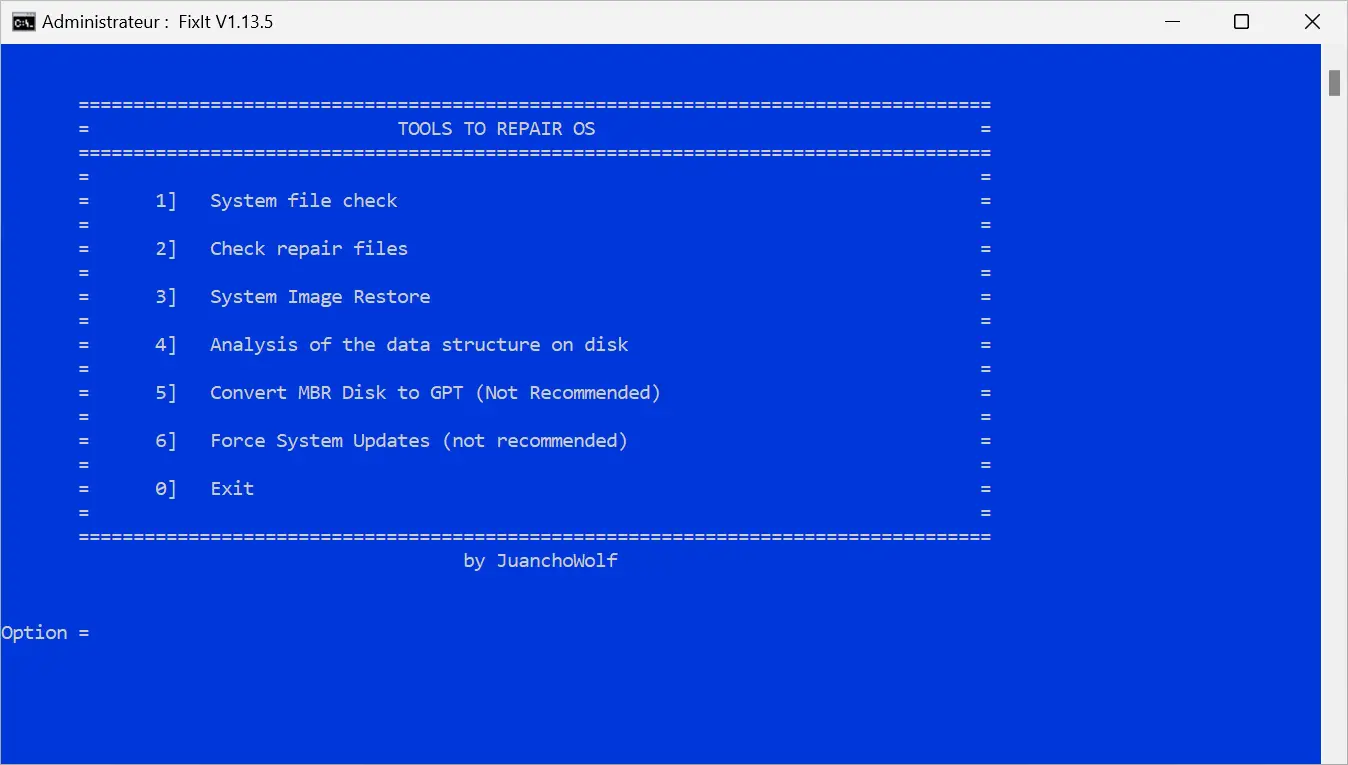 EXTERNAL
This section includes additional tools to stop unnecessary services, uninstall applications, add a layer of security to the system against malware execution, and even recover deleted files. Here are some of the features available in this section:
• Stop Unnecessary Services: This feature identifies and stops system services that are not needed, freeing up system resources.
• Uninstall Windows Apps: Allows you to uninstall preinstalled applications on Windows 11/10.
• Install Updated HEVC (H.265) Video Codec: Enables the HEVC (H.265) video codec installation.
• Install Office 2021 (without a license): This feature allows you to install Microsoft Office 2021 without a license.
• Activate Old Photo Viewer: Activates the old Windows Photo Viewer for those who prefer its interface and functionality.
• Add a Security Layer to the System against Malware Execution: Adds an extra layer of protection to your system to prevent malware execution.
• Disable All Web Extensions (Chrome and Edge): Disable all installed extensions in Chrome and Edge web browsers.
• Update All Available System Applications: This feature searches for and installs available updates for all applications installed on your system.
• Install PowerToys: Allows you to install PowerToys, a suite of utilities for advanced Windows users that offers various enhancements and customizations.
• Recover Deleted Files: This feature allows you to attempt to recover files that have been deleted from your system.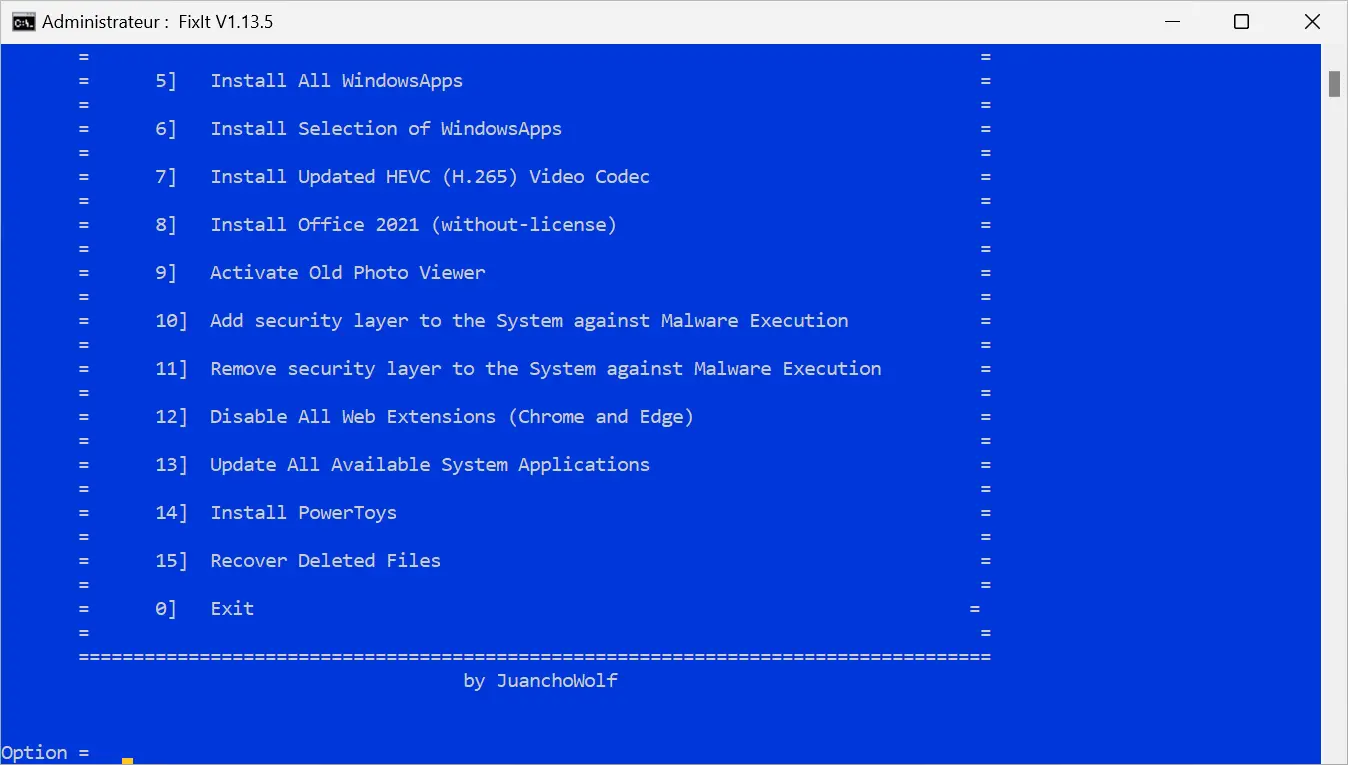 Using FixIt is straightforward, even for those who are not very computer-savvy. Here's a step-by-step guide to get you started:
Begin by downloading FixIt from the GitHub platform. Please note that the program is only available in English or Spanish.
Next, install it by double-clicking on the FixIt_V1.13.5_en.exe file.
After the installation is complete, a FixIt shortcut icon will be created on your Windows Desktop, providing easy access to the tool.
Before launching FixIt, make sure to run it as an administrator. To do this, right-click on the FixIt App icon and select "Run as administrator."
Once the program is launched, a Command Prompt window will open. This is where you can begin optimizing and fixing your system.
Navigating through FixIt is simple and intuitive. Each section of the program is easily accessible through a keyboard shortcut displayed on the left. To select an option, press the corresponding key and confirm your choice by pressing Enter.
| KEYBOARD SHORTCUTS | ACTIONS |
| --- | --- |
| s | Quick Repair |
| l | Cleaning Tools |
| 1 | Tools for the Operating System |
| 2 | Web Tools |
| 3 | System Tools Shortcuts |
| 4 | Extra Tools |
| 5 | Third-Party Tools |
| 0 | Exit |
Conclusion
FixIt is a versatile tool designed to simplify the maintenance of your Windows system, making it easier and more efficient. It provides a wide array of tools and features suitable for both novice users and computer experts, enabling you to optimize and ensure the smooth operation of your system. However, it is important to exercise caution when using any system optimization and repair tool. It is always recommended to back up your important data before making any significant system changes to mitigate the risk of data loss or unintended consequences.