Looking for online tools to edit images without your files ending up on remote servers? We probably have what you need. In this article, we present to you 'imagesTool,' an online platform from which you will find a wide range of free tools to modify and optimize images directly in your web browser and with complete confidentiality.
imagesTool: An Online Toolbox for Image Processing Without Installation imagesTool is a completely free, no-registration website that brings together several tools for editing images online. In particular, you will find tools that allow you to retouch, convert, or compress images with ease.
The advantage of using this website is that you don't have to download or install anything on your computer. All changes are made directly in your web browser. This way, your files remain safe because they are processed locally. This is a rather reassuring approach because you can be sure that your files never leave your computer.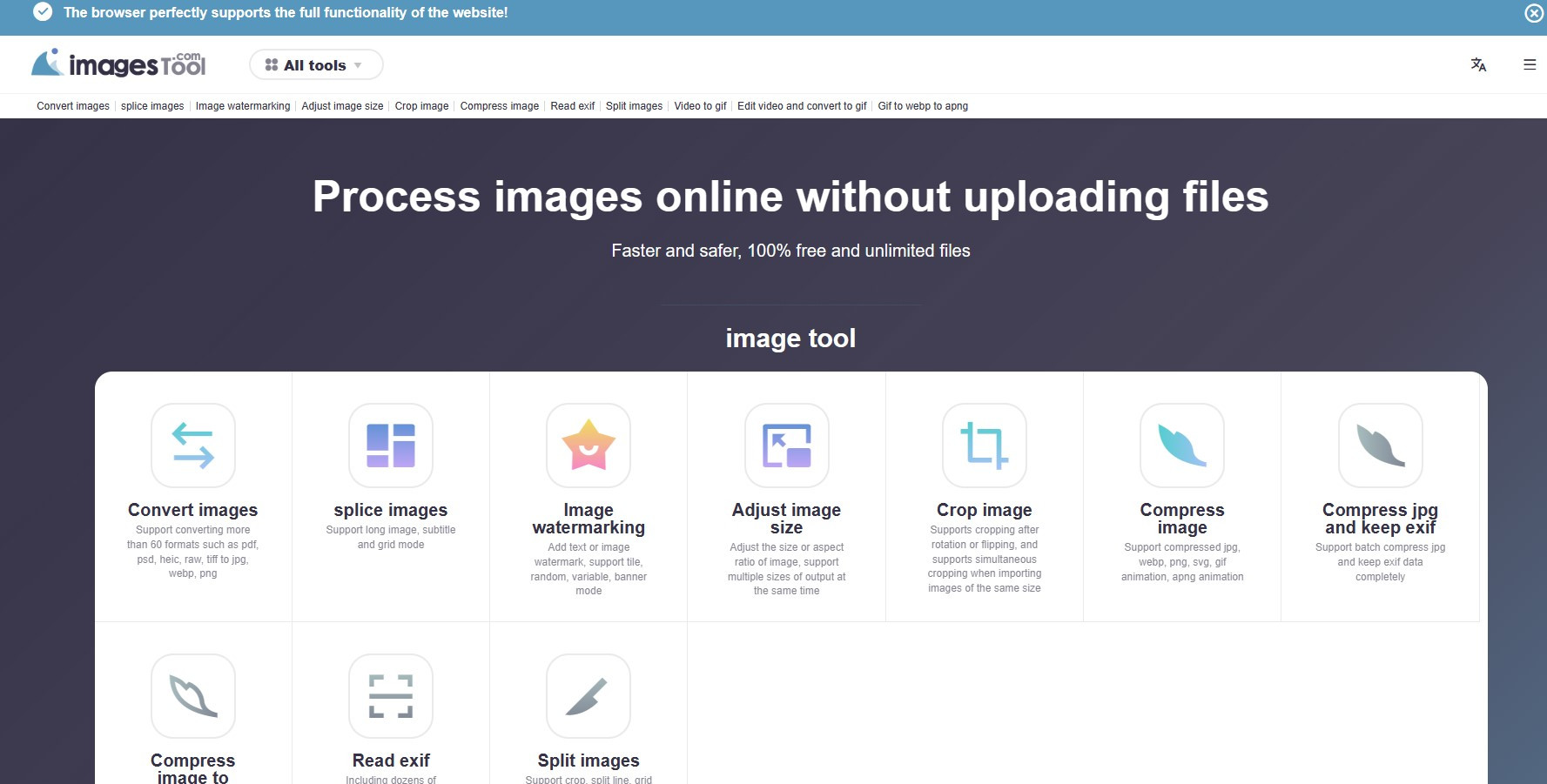 A Swiss Army Knife for Your Images As we have just mentioned, imagesTool brings together a multitude of features. Here is the list of tools available on imagesTool.com:
Convert Images: An easy way to transform your photos into different formats without losing quality.
Image Watermark: Protect your images with a custom watermark, ideal for photographers or content creators.
Adjust Image Size: Adapt your images to the desired size, whether for a website, a project, or for printing.
Crop Image: Select and cut out the desired part of your image with ease.
Compress Image: Reduce the size of your files without sacrificing quality, ideal for optimizing your images for the web.
Compress JPG and Keep EXIF: A specific option for JPG files that allows you to preserve EXIF data while compressing the image.
Compress Image to Specified Size: You set a precise size in KB or MB, and the tool takes care of the rest.
Read EXIF: View the metadata of your photos, like camera information, shooting settings, etc.
Split Images: Split an image into multiple parts as needed.
How to Use ImagesTool?
The operation of imagesTool is very simple. See instead:
Go to the website https://imagestool.com/.
From the site's home page, select the tool that interests you.
Upload your image or photo by clicking on the "Select File" button.
Apply the changes to your image and download the result!
Conclusion ImagesTool offers a complete range of online image editing tools while placing a strong emphasis on privacy. If you're looking for a simple solution to edit your photos without downloading anything, it's worth taking a look.