Regarding sharing documents, the PDF format is one of the most common. However, PDF files can sometimes be large, making sharing them by email more complex. Fortunately, solutions exist to reduce the size of these files without compromising their quality. Among them, Free PDF Compressor is a wise choice for those seeking a free, effective solution to compress PDFs. We will explain everything to you!
Compress PDFs easily with a Free PDF Compressor.
Free PDF Compressor is free Windows software designed to reduce PDF file size. It offers a simple and user-friendly interface, allowing even computer novices to easily optimize their documents. With several compression levels available, users can choose the size and quality desired for their final file. Compression levels include:
Screen: This compression level, with an image quality of 72 dpi, is ideal for PDF files viewed on computer screens or smartphones. Given its low resolution, it allows for small file sizes but may not be ideal for quality printing.
eBook: The eBook compression level, with an image quality of 150 dpi, is suitable for PDF documents that will be read on devices like e-readers or tablets. It offers better resolution than the Screen level while keeping the file size relatively low.
Printer: As the name suggests, this level is ideal for PDF documents that will be printed. An image quality of 300 dpi ensures clear, high-quality printing.
Prepress: With 300 dpi image quality, the Prepress level offers high resolution while preserving color fidelity. It is ideal for demanding print jobs where color accuracy is essential.
Default: A versatile level for various uses but can produce a file of variable size.
These options allow maximum flexibility, ensuring that each user finds the compression level that best suits their needs.
How does it work?
Using Free PDF Compressor is child's play: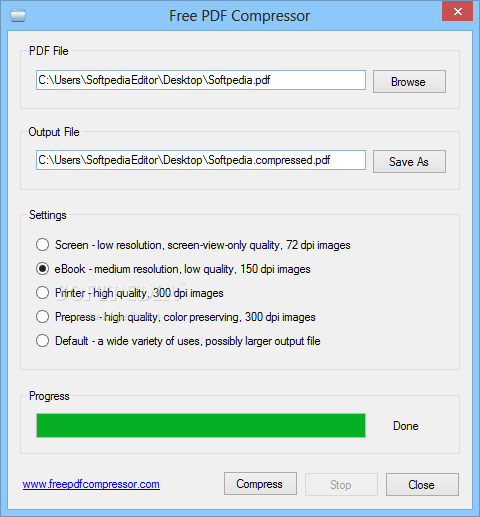 Start by downloading Free PDF Compressor from the developer's official website. To do this, click on the "Download Mirror" button.
Then, install the software and launch it.
From the Free PDF Compressor interface, under "PDF File," click the "Browse" button to select the PDF file to compress.
Then, under "Output File," click the "Save as" button to set where the compressed file will be saved on your computer.
Finally, select the compression level, then click the "Compress" button to start the process.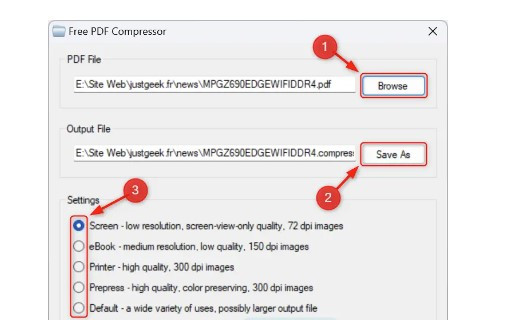 Once the compression is complete, the file will be automatically saved in the directory you previously defined.
✅ And there you have it! You have successfully compressed your PDF file. Now, you can share it by email or another transfer method more easily.
In conclusion
Free PDF Compressor is a free and easy-to-use solution for compressing PDF files. Its user-friendly interface and performance make it a tool of choice for many users. For those looking for advanced options, it might be a good idea to explore other alternatives like PDFgear or PDF24.