A vCard, also known as a digital business card, is a standardized file format used for storing contact information. As the use of digital business cards becomes increasingly important, having a professional and well-designed vCard is crucial. This is where vCard Generator, an online tool, comes into play. It offers a completely free solution for generating digital business cards with ease. With vCard Generator, you can create your own professional vCard in just a few clicks. Continue reading this article to learn more about vCards and how vCard Generator can assist you.
Summary:
Understanding vCards
Creating a Free Digital Business Card with vCard Generator
Conclusion
What is a vCard?
In simple terms, a vCard or digital business card is an electronic file typically in .vcf format that contains an individual's contact information, including name, address, telephone number, email address, and more. It serves as a convenient way to import contact details into email clients, messaging apps, contact management software, and smartphones.
Create a Free Digital Business Card with vCard Generator
vCard Generator is an easy-to-use online tool that enables you to create a digital business card (vCard) in a matter of seconds. One of the best aspects of vCard Generator is that it is completely free to use, with no hidden costs or usage limitations. You can generate as many vCards as you need, download them, and easily share them with others.
The tool features a simple and user-friendly interface. Just fill in your contact information, including name, surname, email address, telephone number, address, website, and more. Once you have entered your details, click the 'Download vCard' button to download your digital business card in VCF format.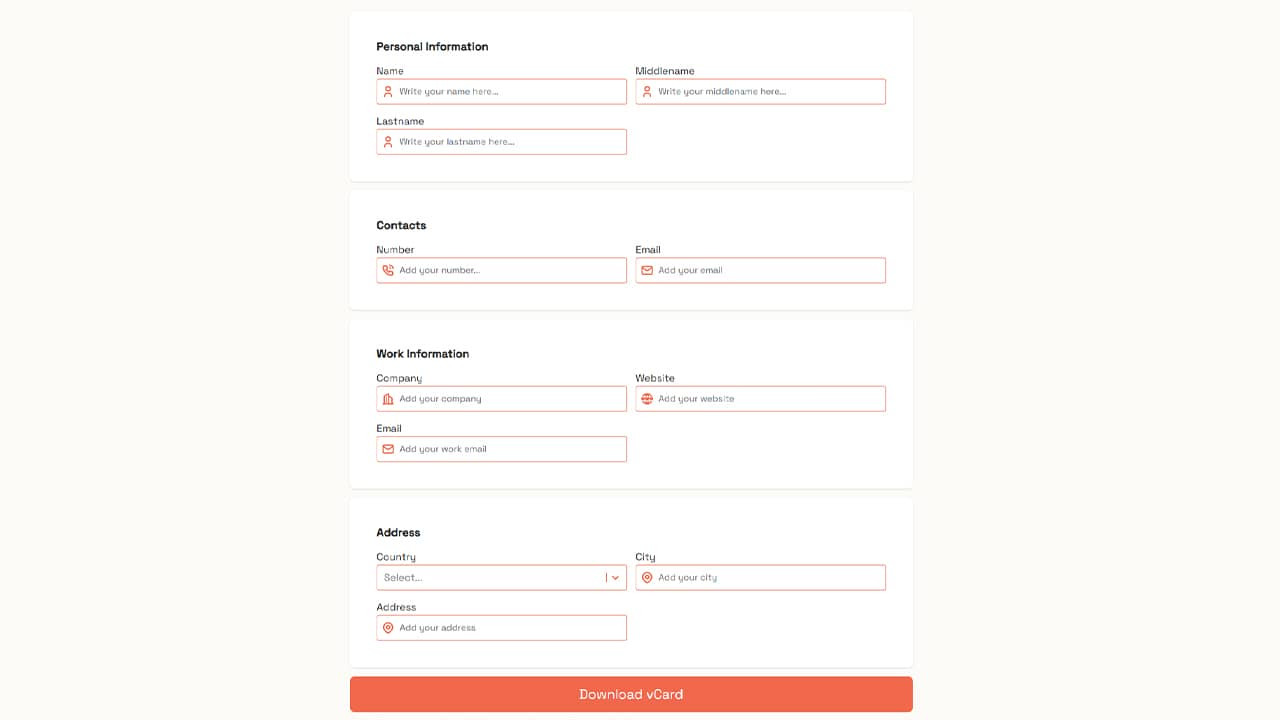 Conclusion
vCard Generator is a free and convenient tool for generating vCards, providing an easy and cost-effective solution for creating digital business cards. In today's digital age, individuals, small businesses, and organizations seek a simple and efficient way to manage and share contact information. By utilizing vCard Generator, you can effortlessly create and share your vCard with friends, collaborators, and anyone else. Simplify the process of adding your contact details to their address books quickly and seamlessly.