In collaboration with ASUS, Geekom has developed the Geekom AS 6, a mini PC that combines power and versatility. Despite its classic and compact appearance, this little machine surprises with its exceptional performance. This is not surprising considering it features an AMD 8-core processor from the Ryzen 6000H series. The result of this partnership is truly impressive! Read on for a detailed review and our opinion.
Presentation of the Geekom AS 6 Mini PC
The AS 6 is a miniature PC designed by the Geekom brand in collaboration with ASUS. Despite its small size, this high-end machine has nothing to envy desktop computers in terms of power.
It is available in two configurations. One version features an AMD Ryzen 9 6900HX processor (32 GB of RAM + 1 TB SSD), while the other version is equipped with an AMD Ryzen R7-6800H processor (32 GB of RAM + 1 TB SSD). Both processors deliver excellent performance in display and computation tasks, but we will focus on the first version in this review—the one we had the pleasure of testing. With the AS 5 model, these are the first PCs from the Taiwanese brand to be equipped with AMD processors. Previously, Geekom computers were powered by Intel chips, such as the Geekom MiniAir 11 that we had already tested.
With its 32 GB of RAM, there's no doubt that this model is designed for handling the most complex tasks, including video editing, 3D design, and even gaming. Below, you will find the complete technical specifications of the Geekom AS 6.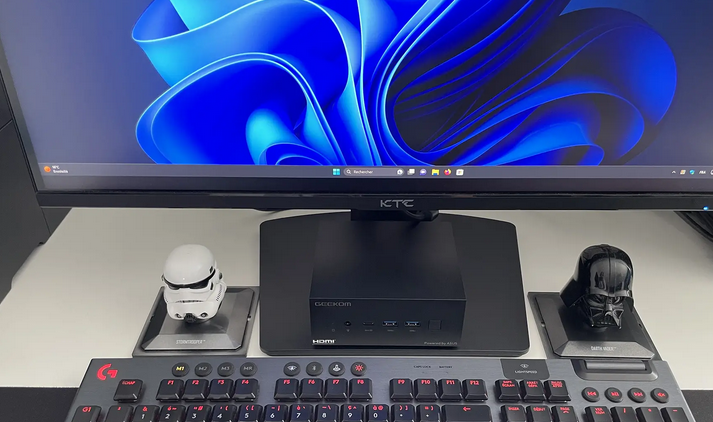 Geekom AS 6: Technical sheet
Dimensions (Width x Depth x Height)
130 x 120 x 58 mm
Weight
900 g
Processor
AMD Ryzen 9 6900HX (8 cœurs, 16 threads, 16 Mo de cache, 3.3 GHz~ 4.9 GHz)
Graphic card
AMD Radeon Graphics 680M
Memory
Dual channel DDR5-4800 SODIMM, support up to 32GB
Storage
2 x M.2 2280 PCIe Gen 4×4 SSD, supports up to 2TB (*NVMe only)
1 x 2.5″7mm SATA HDD, supports up to 2TB
Operating system
Windows 11 Pro (pre-installed)
Bluetooth, LAN et Wi-Fi
Bluetooth v5.2, 2.5G LAN (RJ45), Wi-Fi 6E
Connectors (front)
1 x USB4 Type-C (Support DP1.4, 7680 x 4320 @60Hz)
2 x USB 3.2 Gen1
1 x Audio jack (Line out/Mic in/Headphone out)
Connectors (rear)
1 x USB4 Type-C (Support DP1.4, 7680 x 4320 @60Hz)
3 x USB 3.2 Gen1
2 x HDMI 2.1 (4096 x 2160 @60Hz)
1 x Display Port 1.4 (5120 x 2160@60Hz )
1 x 2.5G RJ45 LAN
1x DC input
Review of the Geekom AS 6 Mini PC Design and Ergonomics
This new model from the Geekom catalog is slightly larger than its predecessors, with dimensions of 130 mm width, 120 mm depth, and 58 mm height, resulting in a total volume of 0.9 L. It remains a miniature PC that can be easily placed on a desk. It is also highly portable, weighing only 900 g. Therefore, it is perfect for mobile workers who need a high-performance machine that can accompany them on their travels.
Its angular curves provide a contrast to the previous rounded design of Geekom computers. However, this does not detract from its overall aesthetic, which exudes a sense of quality. The shell is made of solid black plastic, while the interior chassis is entirely metal, giving the machine a sturdy and durable feel. This impression is further reinforced by the MIL-STD-810H certification, which guarantees the device's resistance to heat, falls, vibrations, and humidity.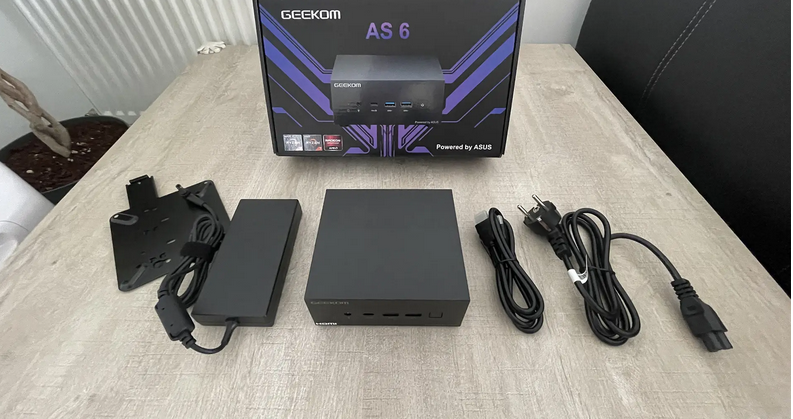 Packaging of the Geekom AS 6
The sides of the PC feature two large ventilation grilles, along with a third on the rear face (above the ports) and a fourth underneath the device. The ventilation system appears to be well-designed. Component cooling is achieved through a combination of a heat pipe, an aluminum heat sink, and a fan.
Connectors are cleverly positioned both at the front and back of the machine for easy accessibility. At the front, you'll find a power button with LED backlighting. Additionally, the device is equipped with a Kensington lock and a padlock ring to ensure security and protect sensitive user data.
Processor and Graphics Card
The Geekom AS 6's standout feature is undoubtedly its high-performance AMD processor. In our testing, we evaluated the Ryzen 9 6900HX version. However, it is worth noting that this version is very similar to the Ryzen 7 6800H variant, as both CPUs feature 8 cores, 16 threads, and 16 MB of cache.
These specifications position the AS 6 at the top end of the spectrum, and this becomes apparent as soon as the mini PC is powered on. While there is a slight difference in base frequency—3.3 GHz (max 4.9 GHz) for the Ryzen 9 6900HX and 3.2 GHz (max 4.7 GHz) for the Ryzen 7 6800H—both processors boast impressively high frequencies.
Both versions also share an AMD Radeon Graphics 680M graphics chip, which is comparable to a GTX 1050 Ti. This 12-core chip runs at a clock speed of 2.4 GHz and is based on the new RNDA2 architecture. With support for Ray Tracing, this graphics chip delivers high-quality visuals, making it ideal for tasks such as web design, 3D creation, graphics work, and video editing.
While the internal components of the Geekom AS 6 allow for gaming, it is important to note that this mini PC is not specifically designed for gaming. It is capable of running a few titles, but typically with graphics settings set to "Low" or "Medium." Nevertheless, the graphics chip still delivers commendable performance.
Here are some estimated FPS (Frames Per Second) figures for popular games:
Fortnite (60 – 80 FPS)
CS:GO (90 – 110 FPS)
Valorant (100 – 120 FPS)
The Witcher (~40 FPS)
Assassin's Creed: Odyssey (~40 FPS)
GTA V (30 – 40 FPS)

Memory and Storage
In its Ryzen 9 6900HX version, the AS 6 is equipped with an ASUS PN53 motherboard that can support two M.2 2280 PCIe Gen 4×4 SSDs. It comes with a standard Kingston SNV2S SSD, providing a storage capacity of one terabyte, which can be expanded up to 2TB.
Furthermore, the AS 6's chassis includes a dedicated space for adding a 2.5-inch SATA hard drive, allowing for even more storage capacity.
In terms of RAM, the AS 6 is generously equipped with 32 GB. This amount of RAM is more than sufficient to meet the needs of most users, enabling smooth multitasking with resource-intensive applications such as Photoshop, Premiere, or Da Vinci.

Connectors
The Geekom AS 6 continues to impress with its exceptional performance and an abundance of connectivity options. It features wireless communication capabilities with Wi-Fi 6E and Bluetooth 5.2 modules. Additionally, the device offers the following inputs and outputs:
2 USB4 Type-C ports
5 USB 3.2 Gen1 ports (including one USB-A)
1 Ethernet port (2.5 Gbit/s)
2 HDMI 2.1 ports
1 DisplayPort 1.4 port
1 stereo minijack audio socket (for microphone input and headphone output)
With such a wide range of ports available, the AS 6 allows for the connection of numerous peripherals, including screens, keyboards, mice, speakers, and external hard drives, without limitations.
It is worth noting that the USB4 ports offer a maximum speed of 40 Gbit/s, making them capable of managing multiple devices simultaneously, such as screens connected to multifunction hubs. Additionally, these ports can serve as chargers for smartphones, tablets, Bluetooth speakers, and more. In terms of connectivity, the AS 6 leaves no room for disappointment.

Benchmarks
For those who appreciate benchmark results, we have conducted several tests 😊.
In the "Night Raid" benchmark on 3DMark, designed to assess the performance of PCs with integrated graphics chips, the AS 6 achieved a score of 24,609 (29,747 in graphics score and 12,437 in CPU score). By comparison, the Intel NUC typically scores around 17,000.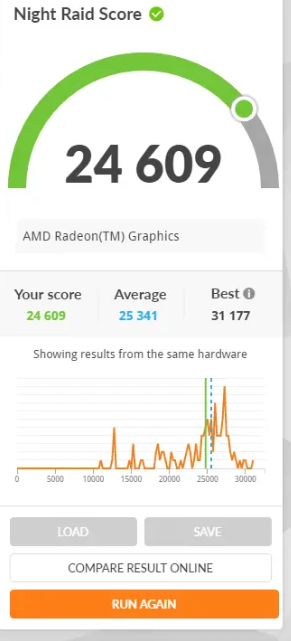 Next, we conducted a CPU benchmark using Cinebench R23. The Geekom AS 6 obtained 11,016 points in multi-core performance and 1,573 points in single-core performance. This places the processor in the 4th position for multicore performance, surpassing the Intel Core i9-9880H and trailing behind the AMD Ryzen Threadripper 1950X. In terms of single-core performance, the AS 6's CPU claimed the top spot, surpassing the Intel Core i7-1165G7.

Lastly, on Geekbench, the AS 6 achieved a score of 2,156 in single-core CPU performance and 10,154 in multi-core CPU performance. For the graphics part, the mini PC scored 25,601.

Lastly, let's conclude with the SSD performance test conducted using CrystalDiskMark. It should be noted that the Geekom AS 6 is equipped with a Kingston SNV2S SSD with a capacity of 1 TB. The test results indicate a read speed of 3,677 MB/s and a write speed of 2,607 MB/s. These scores are quite impressive for this type of SSD.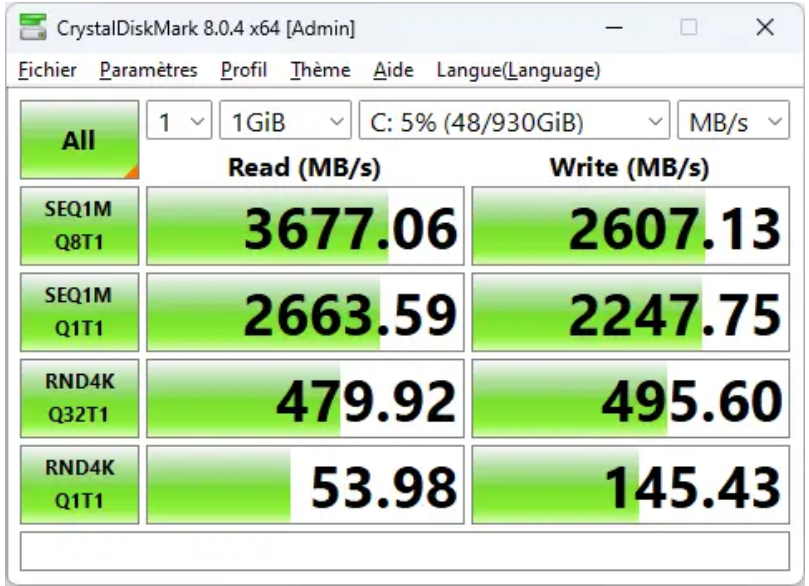 Our opinion on the Geekom AS 6
In all objectivity, it is difficult to find any faults with the Geekom AS 6. Through its partnership with ASUS, the Taiwanese brand has successfully designed a high-end mini PC that remains highly accessible considering its capabilities. The AS 6 is highly versatile and suitable for a range of tasks, from simple office work to more demanding applications like 3D design and audiovisual creation. It even performs well in gaming at 1080p resolution. The extensive connectivity options make it easy to integrate into various digital ecosystems, particularly in business settings.
If we were to nitpick, one minor flaw could be the fan's lack of discretion when running at full throttle. However, considering the machine's power, producing 35 dB of noise is still quite reasonable. In summary, our test results have been overwhelmingly positive for the Geekom AS 6. Therefore, if you're in search of a new PC to replace your aging CPU, this is an excellent option to consider.