In order to offer even more efficient mini PCs, GEEKOM recently extended its catalog by adding the Mini IT13. This model is in line with its predecessors but gains in performance thanks to the addition of a powerful 13th-generation Intel Core i9-13900H processor. The question is whether the other components are up to the task of this CPU, which inevitably pushes the bill upwards. Since we had the chance to test it, you will find the answer to this question, as well as our full review of this product, in this article.
Presentation of the GEEKOM Mini IT13: Intel Core i9-13900H, 32 GB RAM + 2 TB SSD
The GEEKOM Mini IT13 mini PC in its i9-13900H version is currently one of the most powerful offered by the brand. However, compared to other models in the same range, the device remains surprisingly compact. A little heavier than its previous versions, certainly, but still compact.
It is available in four configurations, displaying different prices and performances to meet the needs and constraints of a majority of users:
Version 1: i5-13500H – 16 GB RAM + 512 GB SSD
Version 2: i7-13700H – 32 GB RAM + 1 TB SSD
Version 3: i7-13700H – 32 GB RAM + 2 TB SSD
Version 4: i9-13900H – 32 GB RAM + 2 TB SSD (the one we tested)
This latest version is the one that embeds the most powerful of the four processors offered. This is a CPU with 14 cores, 20 threads, and 24 MB of cache that can reach a speed of 5.4 GHz in boost mode. In this version, the IT13 model also includes 32 GB of RAM (expandable to 64 GB) as well as 2 TB of storage space, also expandable. Storage is provided by an NVMe SSD in PCIe Gen 4 x4 from the Lexar brand.
The device's connectivity is quite rich and well-thought-out, despite certain questionable choices (we will come back to this). Connectivity is characterized by excellent Wi-Fi 6E and Bluetooth in its version 5.2. Add to this the RJ45 Ethernet port, which goes to 2.5 GbE, and the USB-C ports allowing simultaneous display in 8K to complete the picture. In fact, only the iGPU chosen for this model seems out of step with the overall quality of the other components and limits display performance.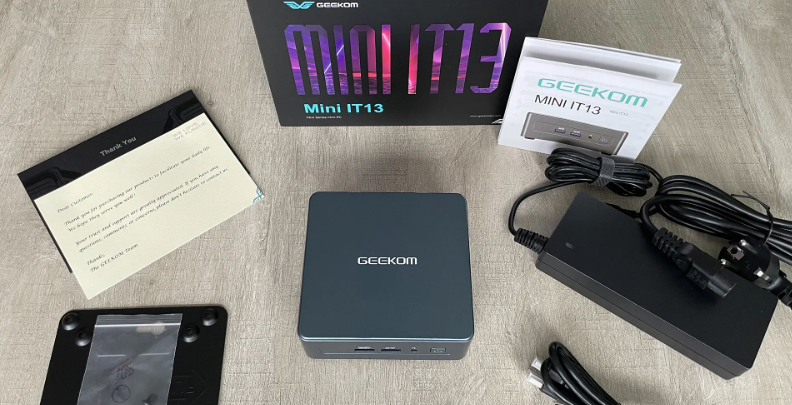 GEEKOM Mini IT13: Technical sheet
Dimensions (Width x Depth x Height)
117 mm x 112 mm x 49,2 mm
Weight
652 g
Processor
Intel Core i9-13900H (14 cores, 20 threads, 24 MB cache
2.6 GHz ~ 5.4 GHz)
Graphics card (iGPU)
Intel Iris Xe Graphics
Memory
32 GB dual-channel SODIMM DDR4-3200 (support up to 64 GB)
Storage
1 x M.2 2280 PCIe Gen 4 x4 SSD, supports up to 2TB
1 x M.2 2242 SATA SSD slot, expandable up to 1TB 1 x
2.5″ (7mm) SATA HDD slot ), expandable up to 2TB
Operating system
Windows 11 Pro (preinstalled and activated)
Bluetooth, Ethernet et Wi-Fi
Bluetooth v5.2 ; 2500 Mbps RJ45 ; Wi-Fi 6E AX211
Connections
3 x USB 3.2 Gen 2
ports 2 x USB 4 ports
1 x USB 2.0 port
2 x HDMI 2.0 ports
1 x 2.5 GbE LAN port
1 x 3.5mm headphone jack 1
x power jack
1 x card reader SD
1 x Kensington lock
Delivered with
1 x block + power cable
1 x HDMI cable
1 x VESA mounting bracket + screws
1 x user manual
GEEKOM Mini IT13 miniature PC review
Design and ergonomics
The GEEKOM IT13 miniature PC looks exactly like the Mini IT11 or the MiniAir 11, although it is a little thicker than the latter (49.2 mm compared to 45.6 mm and 34.2 mm, respectively). Its weight is also intended to be more substantial; the machine weighs 652 grams. However, the GEEKOM Mini IT13 remains discreet and easily transportable, like the brand's other models. It's surprising that a computer of this size can be so powerful on paper.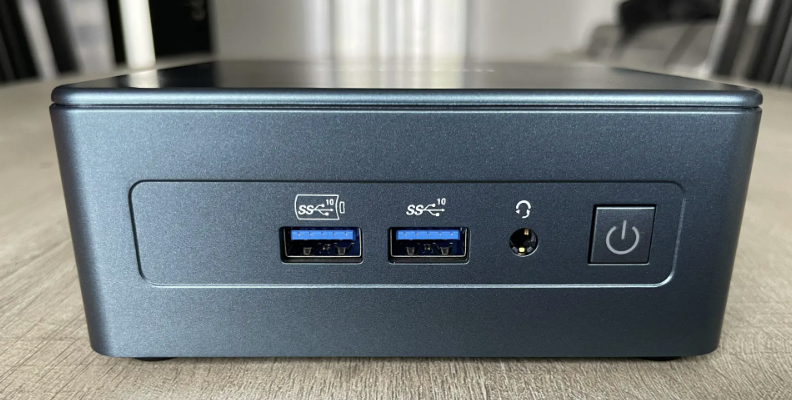 Speaking of transportability, if you are worried about the integrity of the machine when traveling, rest assured. The Mini IT13 has "a high-strength metal and plastic chassis to prevent product deformation caused by a fall or compression due to an external force." In other words, it's solid, and you can feel it once you have the product in your hand.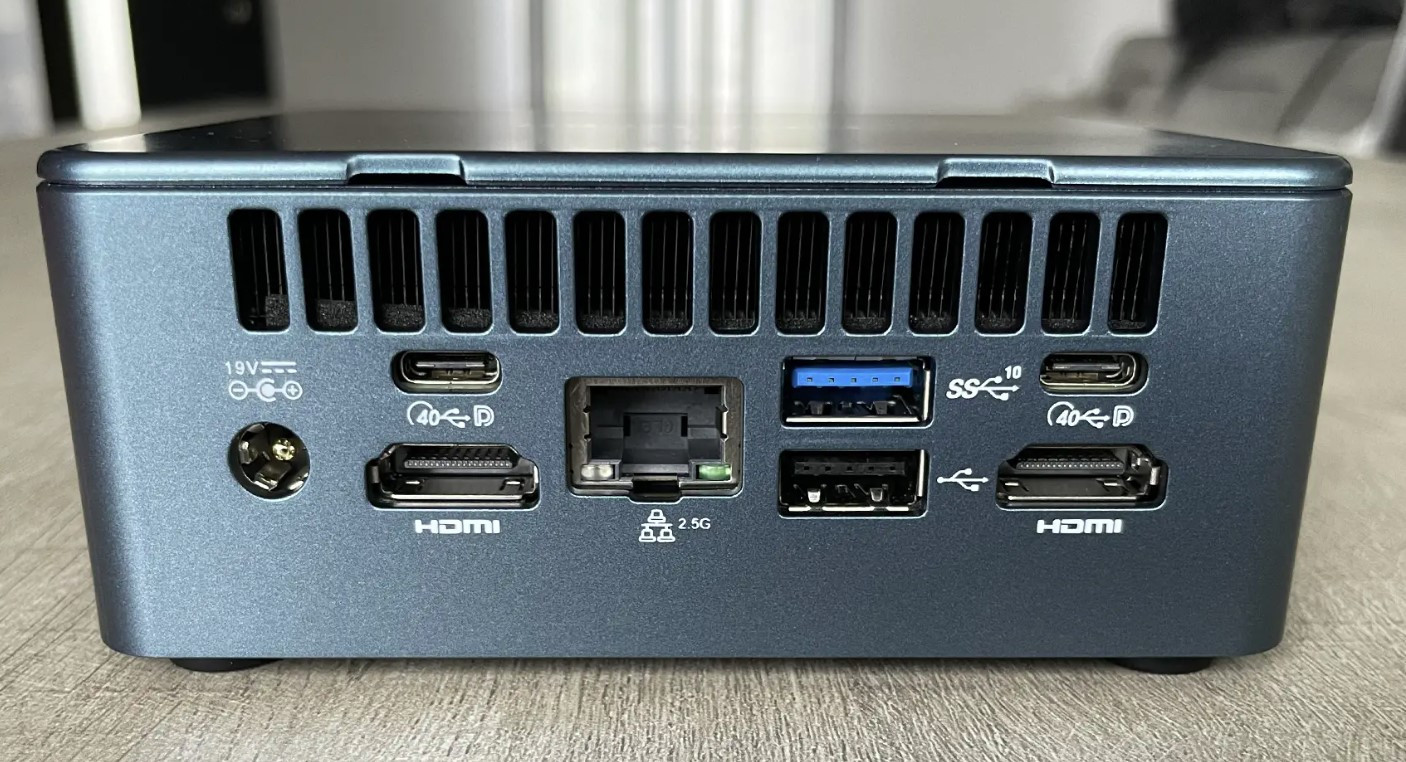 Unlike the matte black or anthracite gray usually used for the color of GEEKOM PCs, the brand has this time opted for a metallic blue. A less "all-purpose" color, certainly, but still elegant. Finally, this remains up for debate because, as the saying goes, tastes and colors cannot be discussed!
Heat dissipation is provided by a blower-type fan. The air intakes are cleverly located on the side faces of the case, while hot air is expelled out the back. A classic cooling system and just enough to ensure the proper functioning of the IT13 once boost mode is activated. The device tends to heat up quickly due to the power of its processor; however, the fan remains very discreet (theoretical maximum sound level of 45 dB). GEEKOM also indicates that the IT13 is capable of operating in environments ranging from 55°C to -20°C, but we do not recommend testing the veracity of this data…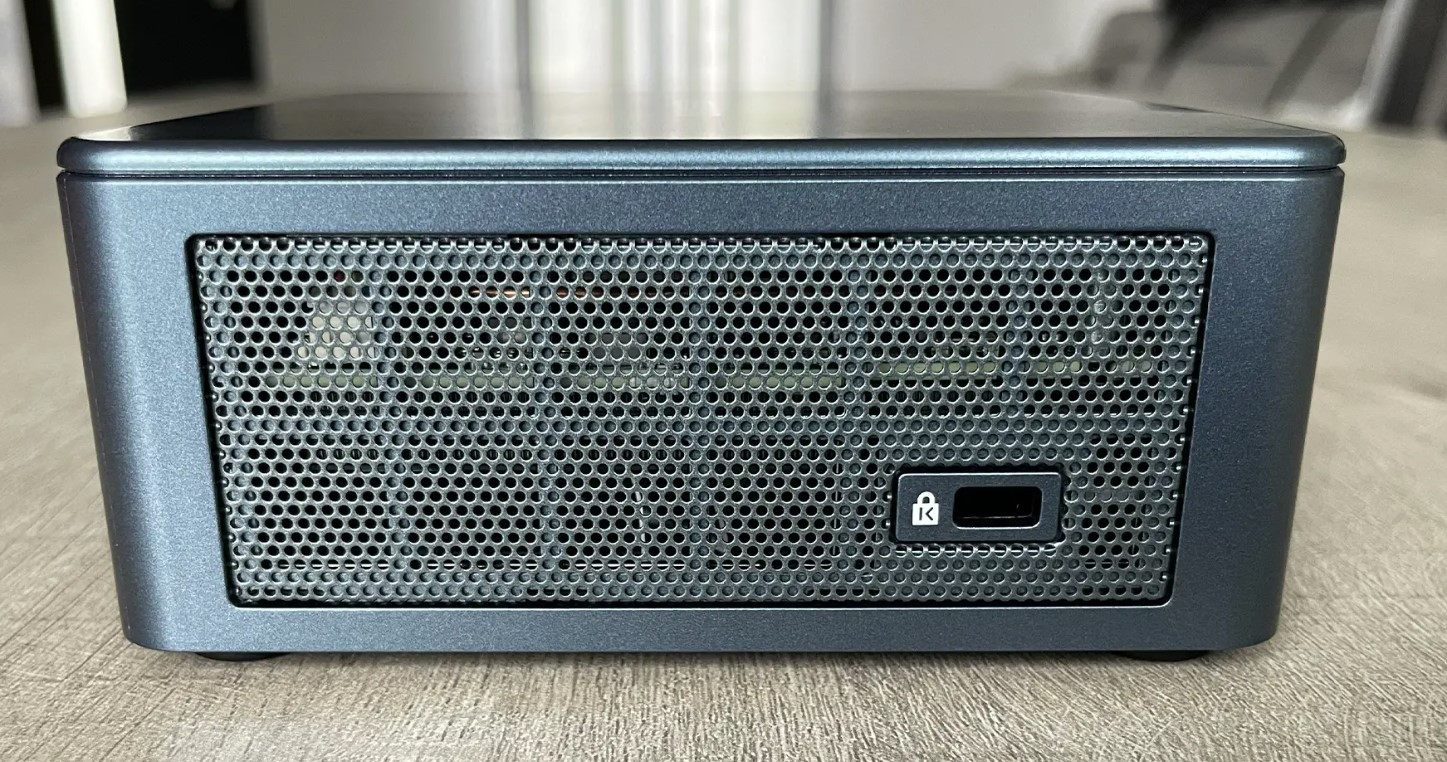 Finally, under the case, we find the locations for the VESA support, but also 4 feet to stabilize the computer. If you want to see what's inside the PC, you'll need to unscrew them before removing the bottom plate of the case.
Processor and graphics card
If at first glance, the Mini IT13 seems very qualitative, only an analysis of its components allows us to judge. On the processor side, there is no doubt with the powerful i9-13900H from Intel. It is a 14-core, 20-thread CPU with no less than 24 MB of cache. At maximum speed, it reaches 5.4 GHz and can therefore be described as "ultra-fast." Despite this, its thermal envelope (TDP) is only 45 Watts on average. This passes 115 watts in boost mode.
In order to have a more concrete vision of the performance of the i9-13900H, we carried out a benchmark on CINEBENCH R23. Here are the results we obtained: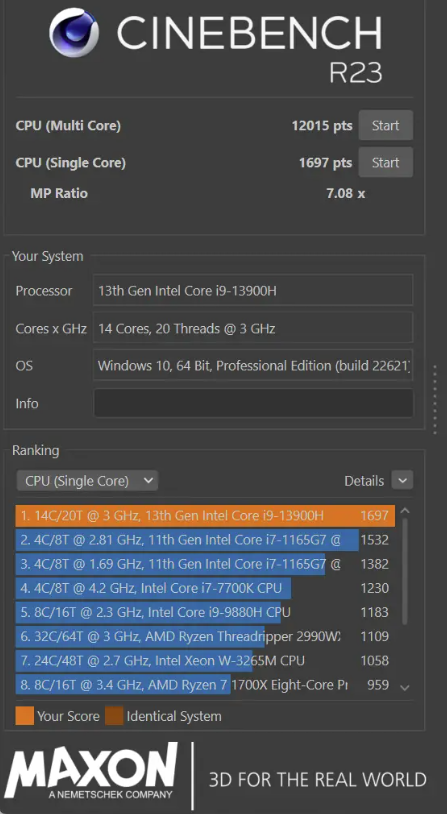 Below are the results obtained with the GeekBench software:

In practice as in theory, this processor is worthy of equipping the best PCs. Unfortunately, the same cannot be said of the integrated graphics processor: the Iris Xe Graphics. It is true that it greatly outperforms the UHD Graphics that can be found on other GEEKOM PCs, but it does not compare to AMD's APUs. Here is the data returned to us by the test carried out on the essential 3DMark ("Night Raid"):

Here, we clearly see that the iGPU is not up to par with the Core i9-13900H and is therefore not optimal for high-end graphics performance. That said, these comments must be qualified because the Mini IT13 is largely capable of performing most image processing tasks (video editing, photo editing, etc.) without difficulty and in 4K. This versatility in what it is capable of executing is also a desire of the manufacturer. Proof of this is its generous connectivity, which notably includes an SD card reader.
Is the Mini IT13 PC made for gaming?
Let's cut the suspense short; the answer is no. The PC Mini IT13 is not a gaming computer strictly speaking. That said, with a definition that is limited to QHD – or even HD for very demanding games – and by lowering the different display settings, this PC can be suitable for occasional gamers. Moreover, for small games, its performance is quite sufficient. But for die-hard gamers, the IT13 is not ideal. At the same time, it is not its primary vocation.
Memory and storage
For the RAM part, the GEEKOM IT13 has 2 dual-channel DDR4-3200 SODIMM ports with 2 x 16 GB of RAM by default. It is possible to replace the original RAM sticks with others to reach 64 GB and thus optimize the performance of the machine.
In terms of storage
space, there are 2 M.2 ports, one of which is in the 2280 format, occupied by a 2 TB NVMe SSD from the Lexar brand. The other port (in the 2242 format) intentionally remains free to satisfy users looking for more storage capacity. Thus, it is possible to add a SATA SSD of up to 1 TB. You can also add a 2.5-inch SATA SSD of up to 2 TB. Needless to say, the possibilities are extensive!
As usual, to test the quality of the original SSD, we used CrystalDiskMark: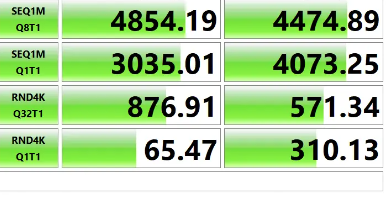 4854 Mb/s read speed and 4474 Mb/s write speed: it's excellent! This SSD is more than sufficient for office use and even for sustained professional use. It is much closer to the best models on the market than to the most mediocre ones.
Connectivity and Connectivity
Before concluding this test and sharing our opinion on the GEEKOM Mini IT13, let's talk for a moment about its connectivity. Despite its small size, this machine offers a significant number of inputs and outputs. On the front, we find (in addition to the power button):
2 ports USB 3.2 Gen 2
A 3.5mm headphone jack
While on the back, we have:
2 ports HDMI 2.0
2 ports USB type C
A 2.5 Gb Ethernet port
One USB 3.2 Gen 2 port
A USB 2.0 port
Without forgetting the Kensington lock as well as the SD card reader on either side of the case. We appreciate the fact that the RJ45 Ethernet port goes up to 2.5 Gbits/s. Likewise, the presence of two USB type C ports (8K @30Hz), added to that of the 2 HDMI ports (4k @60Hz), allows multimedia content to be displayed simultaneously on 4 different monitors, up to 8K.
On the other hand, we can question the usefulness of USB 2.0 for a PC that will see the light of day in 2023. Of course, this is not a major defect, but when the space for connectivity is so limited, another port (more adapted to modern technologies) would be preferable.
Finally, as for the wireless connection, Wi-Fi 6E as well as Bluetooth 5.2 should satisfy any user.
Our opinion on the GEEKOM Mini IT13
The GEEKOM Mini IT13 has everything to seduce and indeed, it seduced us! Excellent manufacturing quality, high-end components overall, rich connectivity, and well-thought-out ergonomics… all the ingredients come together to make this model a success. It goes without saying that with a CPU like the Intel Core i9-13900H, all the most common tasks that one can perform on a computer are within the reach of this little machine.
In this way, this mini PC appears to be a very interesting alternative to the bulky towers usually found in offices. However, if you are a regular gamer or if you are looking for a simple PC, only for performing basic tasks (word processing, web browsing, etc.), the GEEKOM IT13 is probably not the model you need. In the first case, you will need a gaming PC worthy of the name, and in the second, an entry-level model will do the trick. Because it is true that at almost €800, this machine is not the most affordable. On the other hand, its price seems to us to be totally justified by its capabilities.
Most:
Windows 11 Pro preinstalled and activated
Powerful Core i9-13900H processor
Compact design and good ergonomics
Expandable RAM and storage
Good quality/price ratio
Wi-Fi 6E and Bluetooth 5.2
SD card reader
Quality design
2.5 GbE Ethernet port
Rich connectivity
Lessers:
Somewhat weak graphics chip
Fan often noisy
Unnecessary USB port
Overall, the GEEKOM Mini IT13 impresses with its preinstalled Windows 11 Pro, powerful Core i9-13900H processor, compact design, and expandable RAM and storage options. It offers good value for money, along with Wi-Fi 6E, Bluetooth 5.2, an SD card reader, and a quality design. However, the graphics chip may be considered somewhat weak, and the fan can be noisy. Additionally, the presence of an unnecessary USB port might be a minor drawback.