Have you always wanted to know detailed information about your computer without worrying too much? Do you want an open-source, easy-to-use, and customizable tool? Then, let us introduce you to Glow, a 100% free software that allows you to access detailed system information. This article will introduce you to this application, its main features, and how to install and use it.
Know the specifications of your PC in detail with Glow
Glow is an open-source, portable software written in C# and .NET Framework. An independent developer developed it in Turkey, and is an excellent alternative to similar programs, such as Piriform's Speccy.
Glow can deeply analyze your PC's hardware, including the CPU, memory, storage, graphics card, and other key components. By providing detailed information about these elements, Glow allows you to better understand your computer's performance and identify potential areas for improvement.
Depending on your preferences, glow allows you to choose between a dark or light theme for personalization. To change the theme, simply go to the software settings and select the theme option that suits you best.
Lastly, it's worth noting that Glow also offers the ability to export your PC's detailed information in a . TXT file format for easy sharing.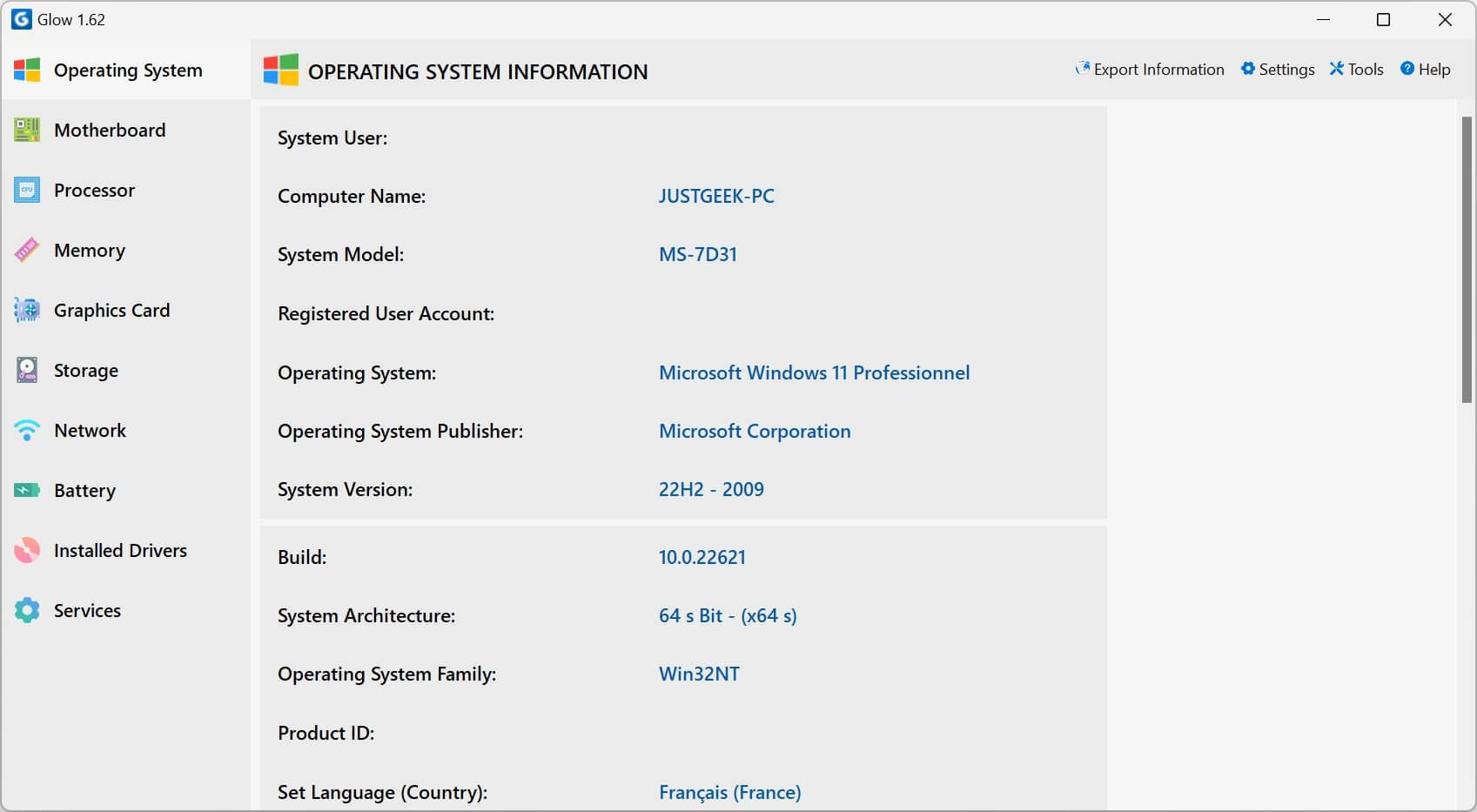 main Features
Glow provides a quick overview of your system, allowing you to view the most critical information about your computer at a glance. This includes details such as your system's brand and model, BIOS version, total RAM size, hard disk capacity, and more. This can be helpful for getting a general sense of your system's specifications without diving into more detailed information.
Operating System: This section displays information about your operating system, such as the Windows version, installation date, and architecture (32-bit or 64-bit).
Motherboard: Glow also tells you about your motherboard, including manufacturer, model, BIOS version, and available expansion slots.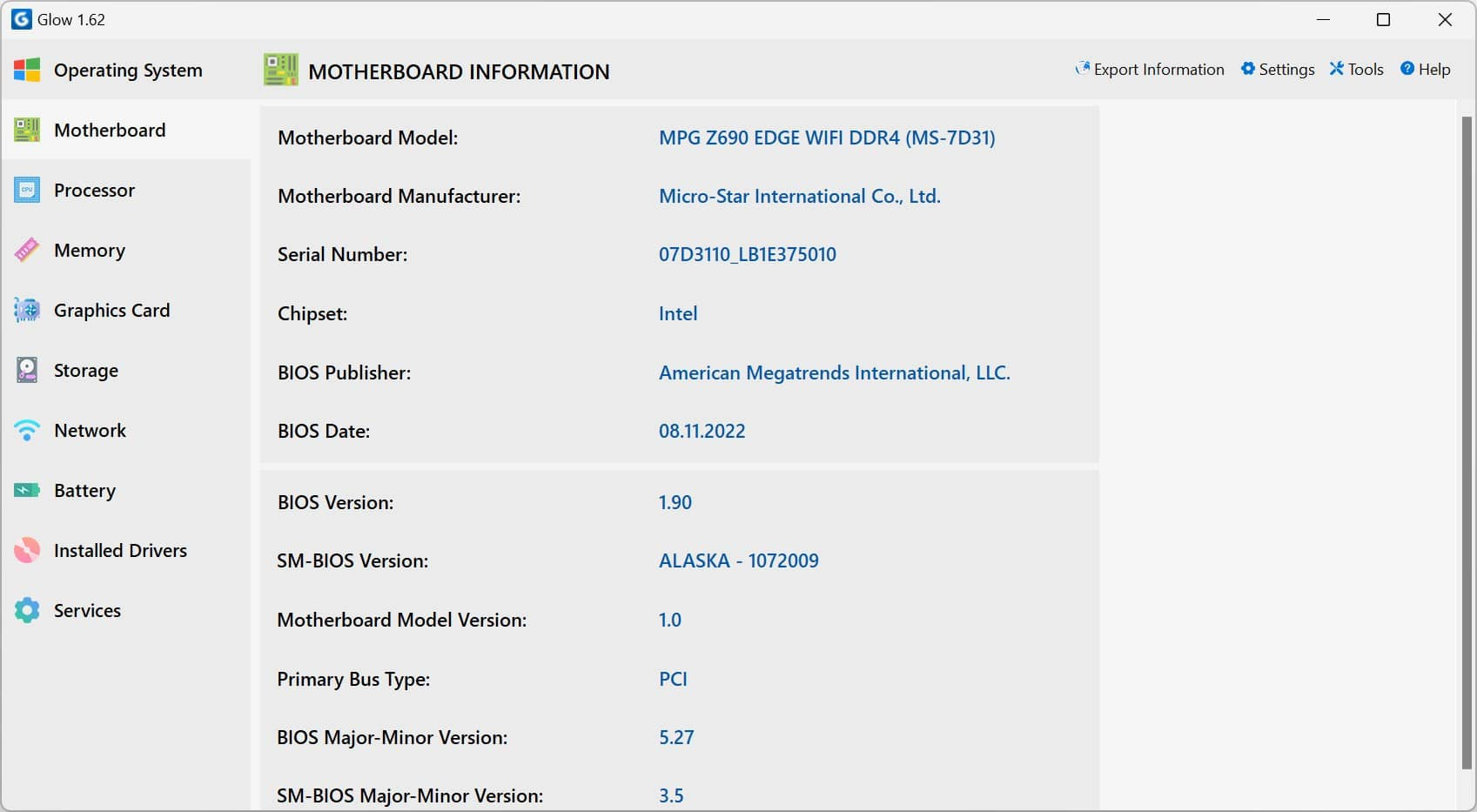 Processor: In this section, Glow gives detailed information about your processor (CPU), such as name, manufacturer, clock speed, number of cores, and threads.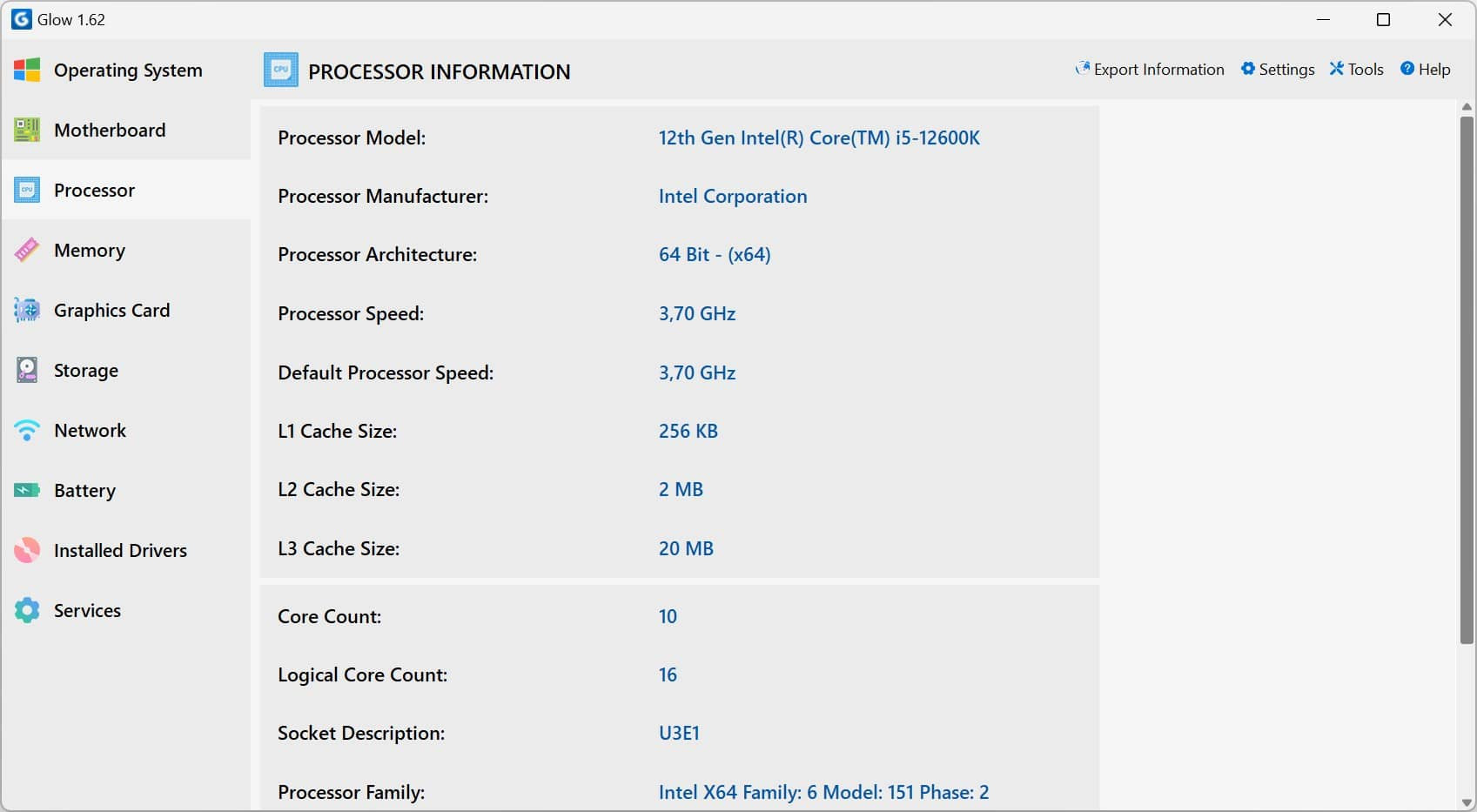 Memory: Your computer's RAM is analyzed and presented in this section. You will find information about the total size, type, and number of memory modules installed.
Graphics Card: You will also be able to get information about your graphics cards (GPU), such as manufacturer, model, driver version, screen resolution, and refresh rate.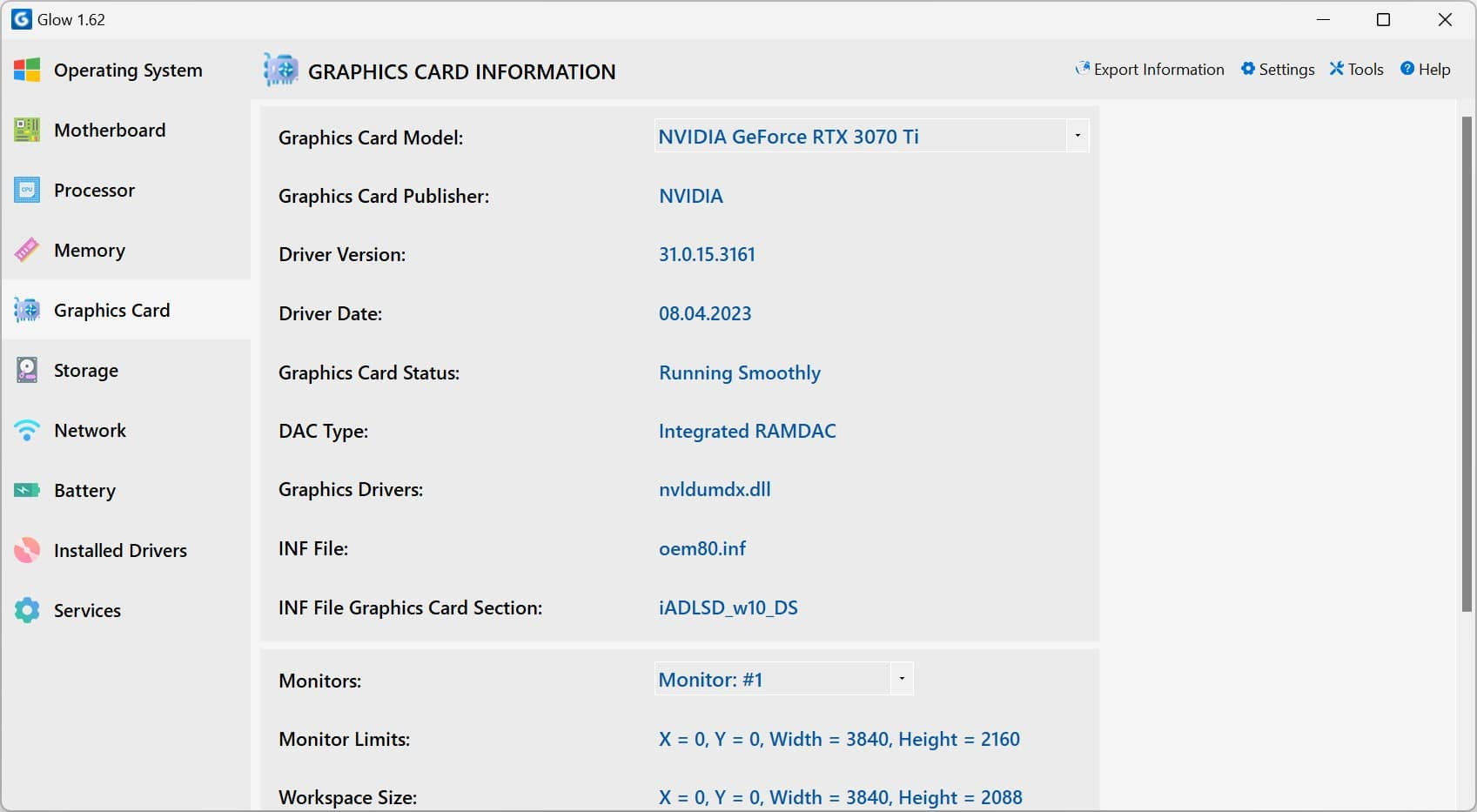 Storage: Provides details about your HDD/SSD drive(s), such as total capacity, free space, type (HDD or SSD), and file system for each drive.
Network: Here, you will find information about your network connection, whether Ethernet or Wi-Fi, including the name of your network card, IP address, and connection speed.
Battery: Provides detailed information about your laptop's battery, such as manufacturer, capacity, voltage, current charge level, and battery health.
Installed Drivers: This section shows you the complete list of drivers installed on your system with detailed information.
Services: Shows the status of all Windows services running or stopped on your computer.
How does Glow work?
Installation
Installing Glow is very simple. Here are the steps to follow:
Start by downloading Glow from the project's GitHub page. To do this, under the "Assets" section, click on the Glow_v1.62_x64.zip link.
Once the file is downloaded, unzip the ZIP archive wherever you want.
Launch the program by double-clicking on the Glow.exe file.
Use
Once launched, you will find the different sections on the left side of the interface. Navigate between the tabs to consult the different information the software provides and deepen your knowledge of your system.
What you must remember
Glow is a powerful and easy-to-use tool to know detailed information about your system. Whether you are a new or experienced user, Glow will provide you with the data you need to optimize, upgrade, or troubleshoot your computer. Don't hesitate to try it out and discover its features for yourself!