To transcribe audio to text, there are many specialized online tools. However, some may prefer to use dedicated software to complete their transcription offline or to ensure the confidentiality of their data. In this context, GoWhisper proves to be an ideal solution. Available for Windows, macOS, and soon Linux, this audio transcription software combines efficiency and discretion, allowing you to easily transform your voice recordings into written documents.
GoWhisper: A Simple and Effective Audio Transcription Application
GoWhisper is a free app offering two distinct methods to convert audio to text. You can either import audio files in MP3, M4A, WAV, MOV formats or use the microphone to dictate directly and receive a transcription in TXT, CSV, SRT, or VTT formats. The tool is multilingual and supports up to 99 languages, including French.
In its free version, GoWhisper offers two artificial intelligence models: "tiny" and "base." If you want to access the "medium" and "large" models or if you plan to directly transcribe a YouTube video or an online podcast, you will need to opt for the paid version ($50 for a lifetime license).
Of course, as the GoWhisper developers point out, the larger the model, the more accurate the transcription results. However, after several tests carried out with the "tiny" and "base" models, we can affirm that the transcriptions are completely satisfactory. Of course, you may encounter some minor imperfections, but they in no way compromise the overall nature of the transcribed text. In any case, the software offers you the possibility of directly correcting any errors or inaccuracies in the transcription before copying it to the clipboard or exporting it in the format of your choice.
How It Works
GoWhisper is designed to be simple and intuitive, even for users who have never used transcription software before. Here are the steps to get started with GoWhisper:
Download: Go to the developer's official website and download GoWhisper via the following link: https://download.gowhisper.io/.
Launch: Once the download is complete, launch GoWhisper.
Language Selection: When you open GoWhisper, you will see a drop-down menu option labeled "Auto." Here, you can select your preferred language for transcription, although this step is optional.
Import or Save: Two options are available to you:

If you already have an audio file that you want to transcribe, click "Upload your file here" to import it.
If you want to make a live recording and transcribe it simultaneously, click "Start Recording."

Transcription Process: After adding your audio file or starting a recording, GoWhisper will begin transcription. Depending on the length of the audio, this may take a few minutes.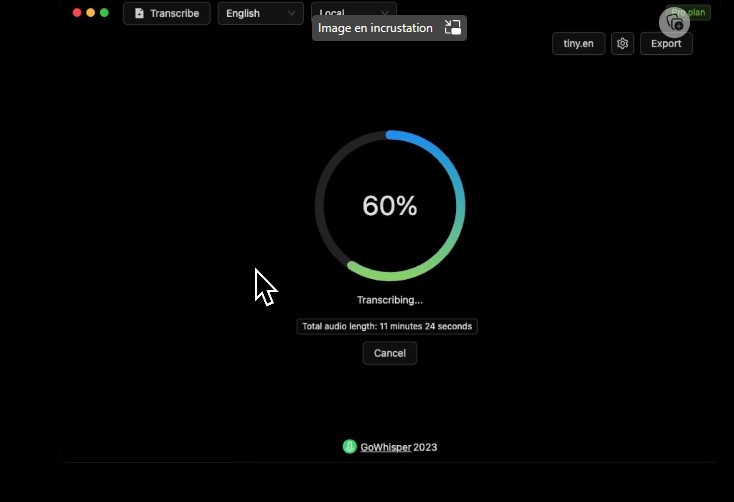 6. Editing and Export: Once the transcription is complete, you will be able to see the resulting text. Take a moment to reread and correct any mistakes. Finally, export the transcription in the format of your choice: TXT, CSV, SRT, or VTT.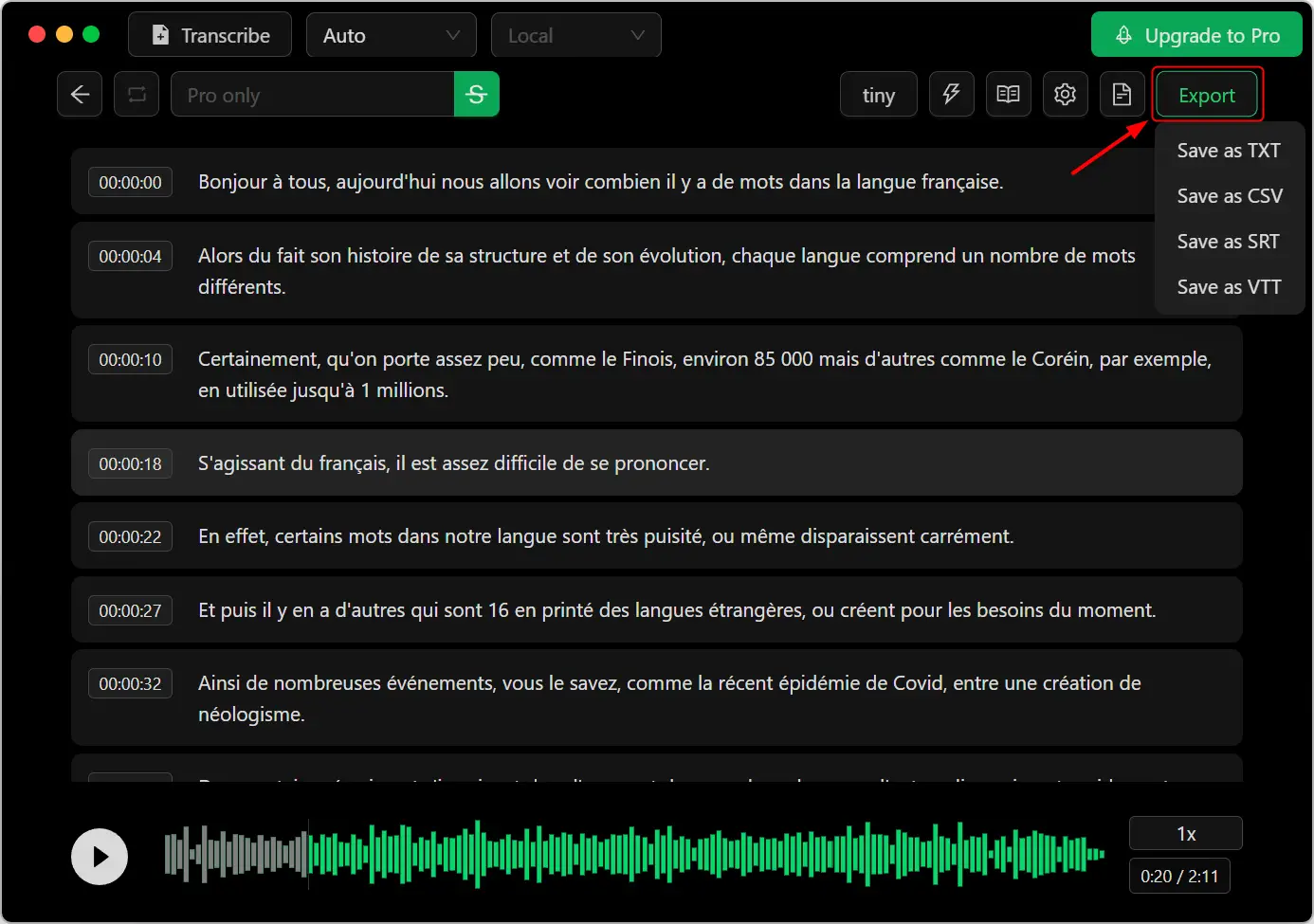 Who Is This Software For?
GoWhisper isn't just an app designed for the general public; it also meets varied and specific professional needs. Here are some of the profiles that could benefit the most from this transcription software:
Researcher: For researchers, GoWhisper is an invaluable tool. It allows interviews and other audio recordings to be transcribed for analysis and study, ensuring that every detail is captured and can be examined thoroughly.
Podcaster: Podcasters can use GoWhisper to transcribe their episodes. This provides the ability to create content-based blog posts or provide captions for the audience, improving the accessibility and reach of the content.
Content Creator: For video creators, transcription is essential for accessibility and SEO purposes. By making content accessible in text form, they can reach a wider audience and improve the search engine ranking of their content.
Journalist: Accuracy is crucial for journalists. GoWhisper allows you to transcribe interviews or press briefings, ensuring accurate and well-informed reporting.
SME Boss: Keeping track of meetings or webinars is essential in the business world. SME owners can use GoWhisper to transcribe these events, making it possible to reference and document the decisions or information shared.
Legal Professionals: Accuracy is also essential in the legal field. Whether transcribing depositions, court hearings, or other legal proceedings, GoWhisper is indispensable for ensuring that every word is accurately transcribed.
In short, GoWhisper is a versatile tool that meets various transcription needs, making the process simple, accurate, and accessible.