Twitter has become a mess. Numerous superfluous elements clutter up this magnificent interface with blue keys. To bid farewell to all that and find a clean, uncluttered Twitter, there's an extension for Chrome, Firefox, and Safari called Minimal Twitter.
Once installed, it takes care of cleaning everything for you, removing anything useless or annoying while adding some pretty cool features!
Features include the ability to hide the number of views, remove the 'For You' tab bar, and more. You can remove the trending sidebar, customize the timeline's width, eliminate borders for a more minimalist look, and personalize the left navigation bar. You can even delete suggested tweets that come to suck your air.
The extension also allows you to remove advertising posts and account suggestions, as well as hide the search bar. Everything is optional, so rest assured, you can choose. If you like to get your hands dirty, you can even modify the CSS yourself to integrate your own stuff.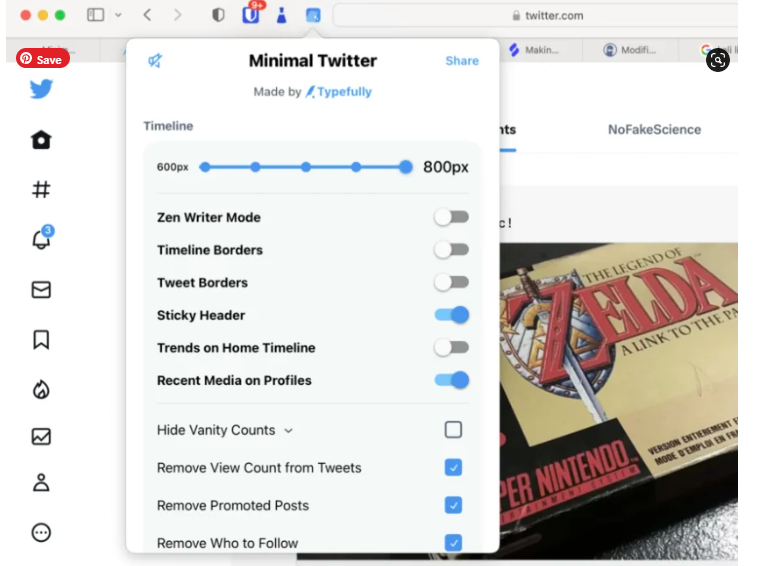 But that's not all: Minimal Twitter also offers a 'Writer' mode, which hides the entire Twitter interface except for the field in which you write your tweet. Practical for writing your tweets in Zen mode!
The extension also allows you to prepare drafts and schedule them to be sent later at the time of your choice.
The extension is available for free, but some features require payment starting from 8 euros per month. Here is the list:

I think it offers way more value than the Twitter Blue offering, so if you're planning to put a small budget into Twitter this year, it might be something to look at.
Check it out here!