Compressing and decompressing files is a common operation to save storage space and facilitate file sharing. Although operating systems like Windows, macOS, and Linux natively offer this function, they are generally limited to the ZIP format and do not provide the option to secure archives with a password. To access advanced features, specialized software such as 7-Zip or NanaZip or online solutions like UnZiper are often required.
UnZiper is presented as a free and versatile online tool, offering a wide range of features to compress files in various formats such as ZIP, 7Z, GZIP, BZIP2, TAR, ISO, XZ, with the option to add a password for enhanced security. It supports the compression of diverse file types, including Word, Excel, PDF, MP4, MP3, and more, with just a few clicks.
UnZiper not only compresses files but also decompresses various archive formats, including 7Z, ZIP, GZIP, BZIP2, TAR, RAR, CAB, ARJ, CPIO, RPM, DEB, LZH, CHM, ISO, WIM, NSIS, APM, XZ, LZMA, and CDF. Additionally, it provides flexibility to change, add, or remove passwords from ZIP archives or others.
An additional feature of UnZiper is the ability to convert archives from one format to another. For instance, if you have a 7Z file that your contact can't open, you can easily convert it to a more standard format like ZIP.
UnZiper places no explicit limit on file size; the only constraint is your computer's RAM. Tests have shown that the tool functions smoothly even with large files exceeding 4 GB. Its use is particularly beneficial for those who cannot install software on their computers due to security or internal policy reasons. The entire compression, decompression, and conversion process occurs in your web browser, ensuring data confidentiality and security without transmitting data to remote servers.
How to use UnZiper:
Go to the website https://www.unziper.com/.
From the site's homepage, choose from the different tools:
Compress files into an archive ("Compress").
Extract files from an archive ("Extract").
Convert an archive to another format ("Convert").
Remove a password from an archive ("Remove password").
Add a password to an archive ("Add password").
3. For example, if you want to compress files into an archive, click "Compress."
4. Drag and drop or click on the provided box to select your files to compress.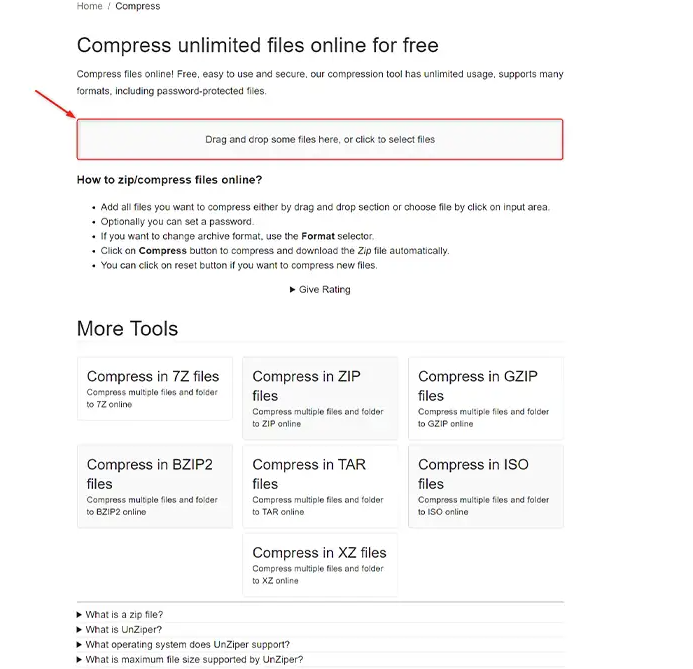 5. Optionally, add a password to your archive in the "Password" field and select the archive format (ZIP, 7Z, GZIP, BZIP2, etc.).
6. Click the "Compress" button to start the compression process.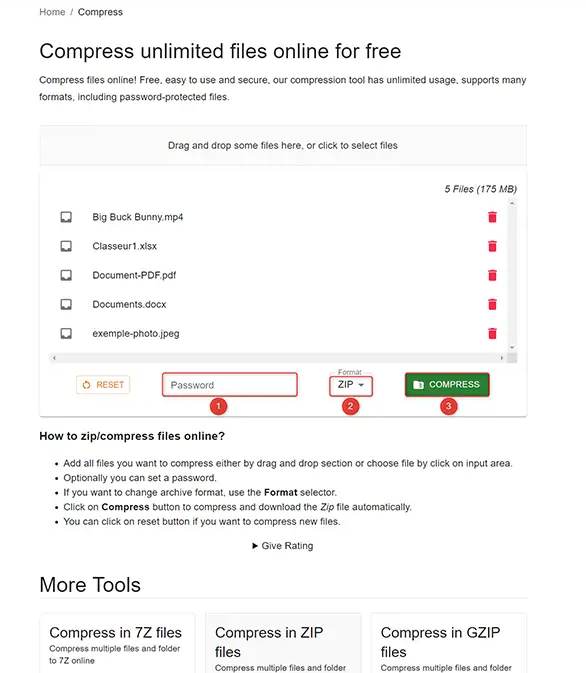 7. Once the process is complete, save the archive wherever you want on your computer.
Key Takeaway:
In summary, UnZiper stands out as an efficient and secure online solution for managing archive compression, decompression, and conversion needs. Its intuitive interface and broad compatibility with different file formats make it a wise choice for users seeking a reliable and hassle-free online archive management tool.