Even though I lack time to continue my podcast, I must admit that being able to share your ideas and passion with the world, simply by recording your voice, has a magical aspect to it.
Perhaps you're interested in starting your own podcast and searching for the best self-hosting solution. Well, you've come to the right place.
Even though it doesn't match the services of Ausha, you might be the type who prefers to host everything yourself. In that case, I absolutely have to tell you about Podlove.
Podlove is a suite of WordPress plugins that makes hosting your own podcast a breeze.
This suite comprises three tools:
Firstly, Podlove Publisher makes publishing new episodes extremely easy with its user-friendly interface. It's similar to publishing a blog post but specifically designed for podcasts. This plugin seamlessly integrates with WordPress, enabling you to publish and maintain podcast feeds effortlessly.
And what about statistics, you may ask?
No worries, the suite includes statistics with graphs to track the popularity of each episode and compare different time periods. All this is done without tracking your listeners, respecting their privacy, which is already too fragile.
Next, we have the Podlove Web Player, another essential component of this bundle. It's an HTML5 web player specifically designed for audio and video files, optimized to meet the needs of podcasters. Imagine having a perfectly integrated audio/video player on your WordPress site, featuring an appealing design and powerful capabilities such as displaying synchronized text transcripts with the audio. Listeners can even search the text of your podcast to quickly find specific content.
Lastly, there's the Podlove Subscribe Button, a convenient way for your website and social media readers to subscribe to your podcast with a single click.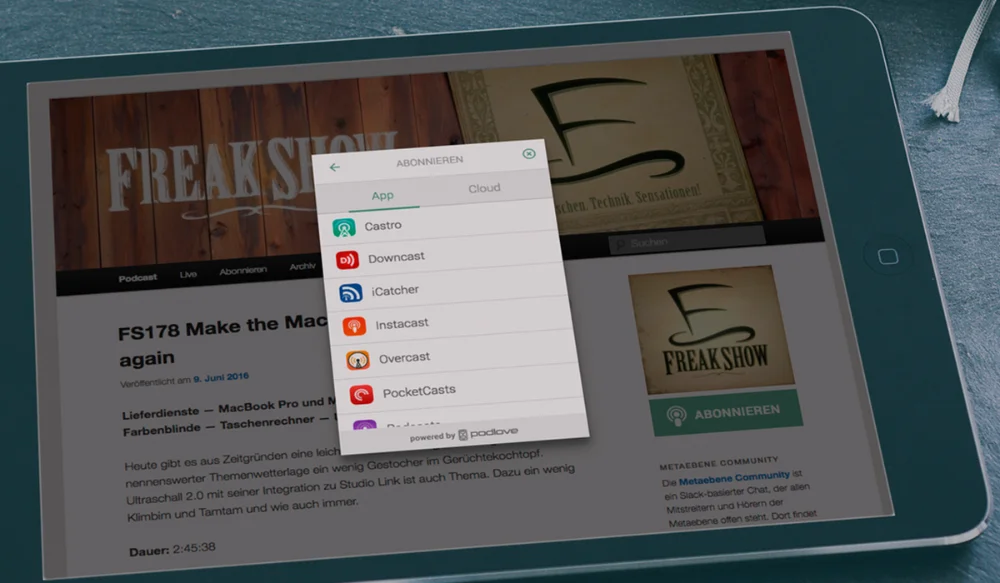 The Podlove project is entirely open source, meaning it's not only free but also maintained by a community of passionate users and dedicated developers who continuously improve these tools.
In summary, Podlove offers a comprehensive, free, and open-source podcasting suite that enables you to host and publish your podcasts like a professional.
If you want to give it a try, click here!