If your keyboard were a playground, 10FastFingers would undoubtedly be the arbiter. This online platform, accessible free of charge, invites you to measure and improve your keyboard typing speed in a friendly and competitive environment. 10FastFingers isn't just a typing speed test site; it's your new personal typing trainer. Ready to take the challenge? Stay with us for a detailed presentation.
10FastFingers, an online tool to test and improve your keyboard typing speed
10FastFingers presents itself as a simple and effective online platform dedicated to improving your typing skills. As soon as you arrive on the site, a basic typing test is offered to you. Simply place your cursor in the input field and start typing the words indicated just above. The words used for the test are common and simple, allowing for an accurate assessment of your initial typing speed. However, you will have to act quickly because you only have one minute to complete the test!
But 10FastFingers is not limited to a simple test. As you explore the site, you will discover several features intended to improve your keyboard typing speed. For example, it offers personalized challenges, real-time competitions with other users, and specific exercises to work on groups of words or particular texts.
The site interface is intuitive and clean, making the user experience pleasant and motivating. In addition, the platform offers tracking of your progress, allowing you to measure your improvements over time.
In short, 10FastFingers offers a stimulating environment for anyone looking to test and improve their typing, making available a variety of tools and challenges to progress in a fun and effective way.
How it works?
Start by going to 10FastFingers.com.
At the top left of the home page, click on "Language," then select "English" from the drop-down list.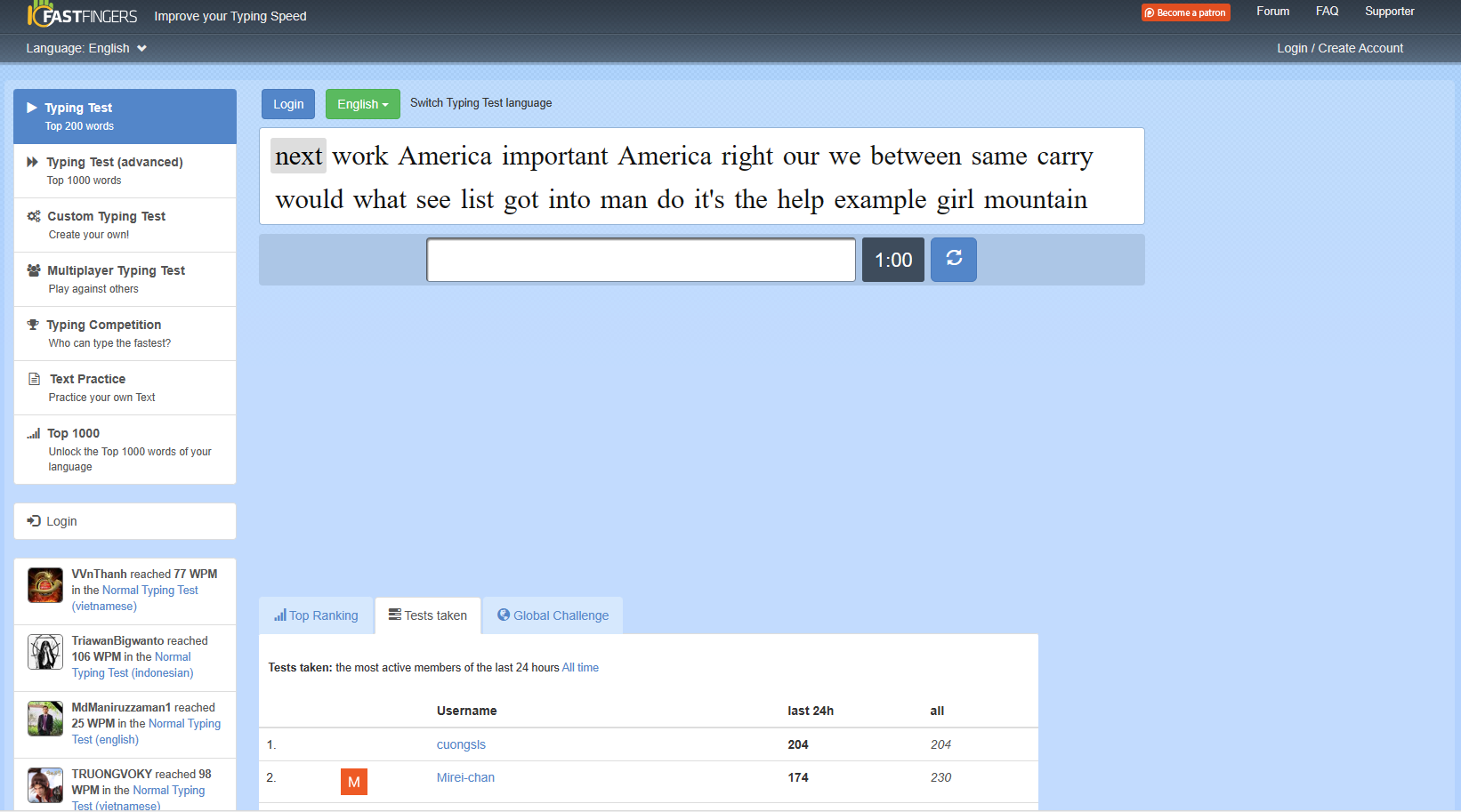 In the menu on the left side, choose between six different modes. Here is a brief description of each:

Typist Test: Try to quickly type the 200 most commonly used words.
Typist Test (Advanced): Raise the bar with the TOP 1000 most frequently used words.
Custom Typist Test: Create a custom test with the words of your choice.
Multiplayer Typist Test: Challenge your friends to a friendly competition.
Typist Competition: Represent your country and compete against players from around the world.
Text-Based Training: Create a workout based on a text you provide.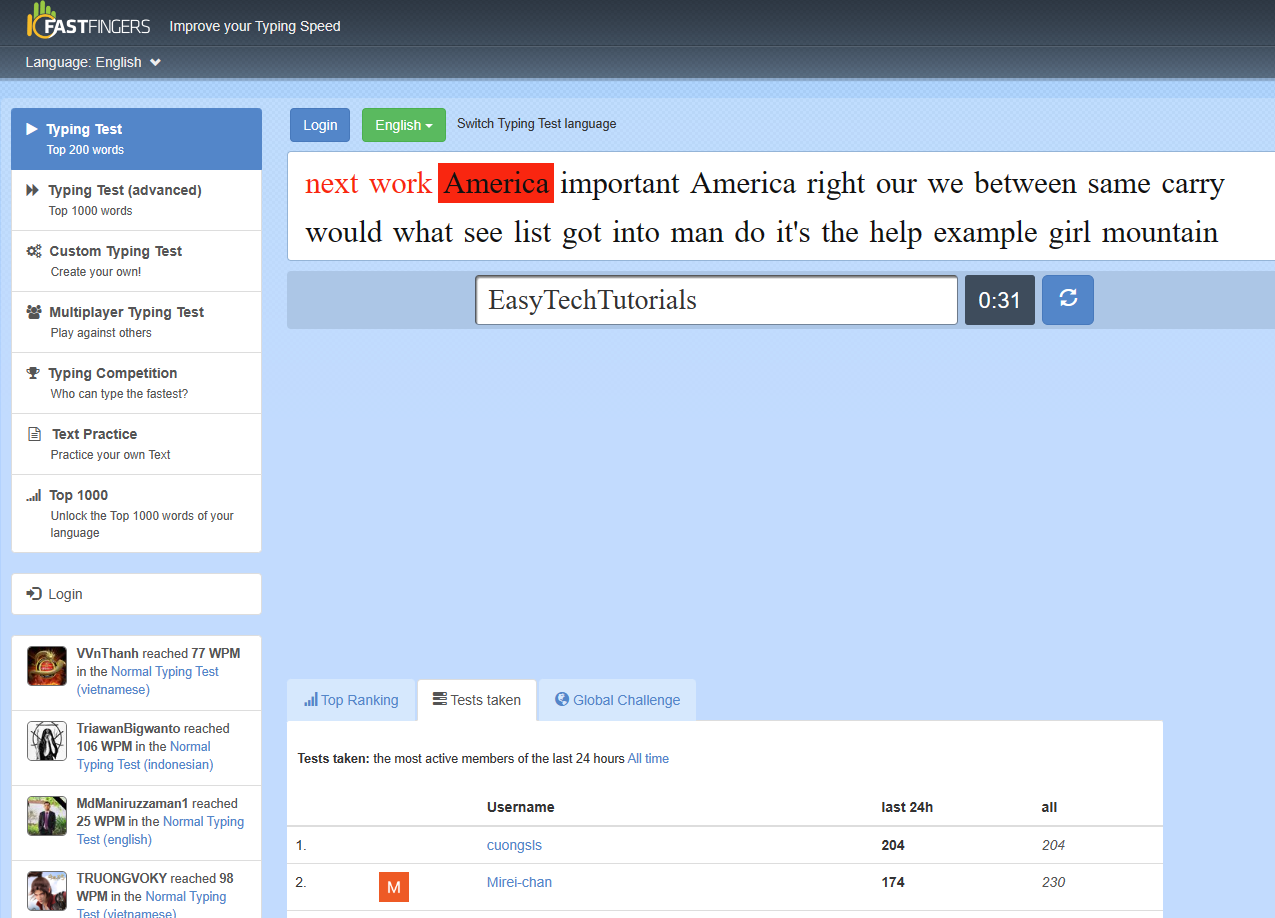 Once the test is complete, a detailed report will be displayed showing your words per minute, total keystrokes, accuracy percentage, and correct and incorrect word counts. This will allow you to assess your strengths and weaknesses and track your progress over time.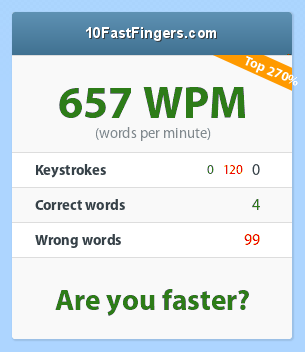 Conclusion
Overall, 10FastFingers is a great resource for anyone looking to improve their typing. With an intuitive interface and a variety of testing modes, this platform makes learning both fun and productive. Feel free to explore 10FastFingers and challenge your keyboard dexterity.