Luidpic is an online tool for generating face photos. This is made possible through the use of artificial intelligence, which many tools have utilized for some time. In this article, we will present this web application to you in a few lines. We will discuss its various uses, the cost for advanced use, and our opinion on the results obtained.
An AI-powered face generator: what's the point?
One might wonder what purpose a user would have in creating dummy faces. Additionally, it is important to note that such a technological advancement can be subject to abuse. However, this aspect will not be explored in this discussion.
The main advantage – one that is both legal and ethical – concerns access to automatically produced illustration images. For example, web developers know finding a suitable human model for every situation mentioned in an article, newsletter, or advertisement can be challenging.
Thanks to tools like Lucidpic, users can obtain an ultra-realistic face photograph in just a few clicks, which is customizable. This provides a more "authentic" dimension (even if it is paradoxically a robot that creates it) to one's remarks.
Now, let's see how it works.
Lucidpic: how does it work, and at what prices?
Like many similar platforms, this online platform offers an intuitive interface and almost instant access to its features. The basic concept is as follows:
First, you choose an illustration style. There is a standard variant that looks like a photo ID and a black-and-white version for those seeking an artistic rendering.
Next, you pick a pose. While we have focused on faces, there are also options for full-body photos. The character can be in any situation you choose, such as wearing a suit, appearing lost in thought, or being determined. It's worth noting that the software prompts you to import a personal image as a template, and the rendering is generally convincing unless the image is too complex.
You can then specify the desired characteristics, such as gender, ethnicity, age, hair color, or clothing. The range of choices may not always be extensive, but it should suffice for most needs.
Finally, you select a decor such as a studio, office, beach, restaurant, or a range of other generic settings. The platform offers enough options to generate faces to meet your needs, but is it free? The answer is both yes and no.
Lucidpic: how much does this tool cost to generate faces?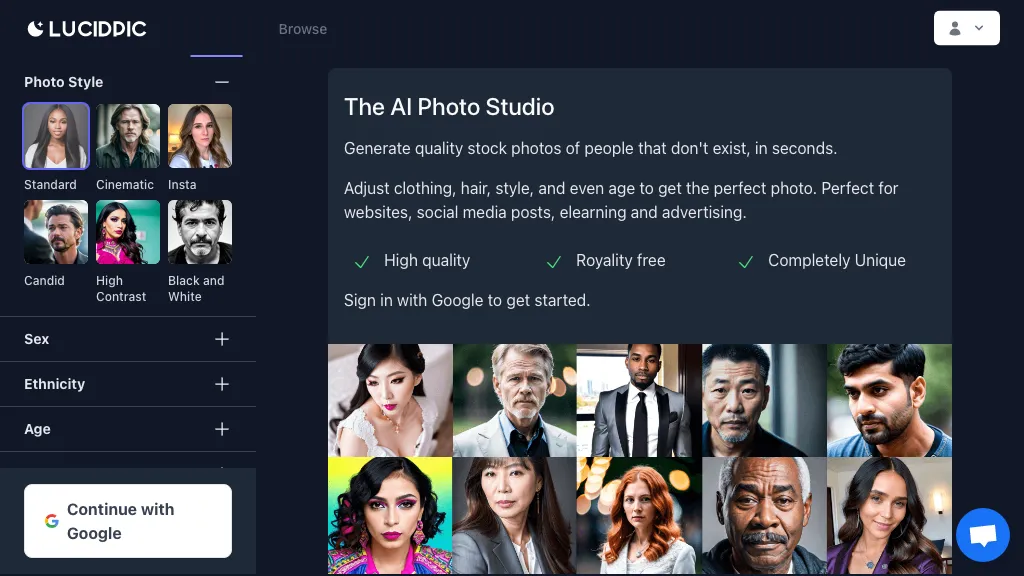 It is possible to download some photos without paying a penny; however, a limit has been imposed as you create an account. The developers have not specified the exact number. One can reasonably assume that the free trials are insufficient for a large project.
Those who wish to go further will benefit from the following advantages:
Better image quality
Infinite generations
Private images, which are not published on the software site
other styles
These options are available through a subscription of $20 per month, which is still quite expensive. Additionally, a pro formula includes priority support for a monthly fee of $99.
What do you think of this tool? Our opinion to conclude
In general, the technology deployed by Lucidpic performs well. The faces and postures are believable. While we identified some results that were more successful than others, none were eliminatory. The quality of the images is also high, even in the free version, with very accurate rendering. However, there are gray areas in marketing and utility. Reproduction and usage rights are unclear, so we recommend contacting support if you wish to use the photographs commercially.
Furthermore, the pricing for the pro version is demanding. Therefore, it's important to carefully consider the suitability of the deal before opting for the pro version.
Setting aside these economic and legal considerations, Lucidpic demonstrates the significant advances made by AI in recent years. We encourage you to test this app to generate high-quality faces.