ScreenshotX is a useful tool that can help enhance the color and appearance of your Windows screenshots or enable you to personalize them to your liking. With just a few clicks, you can easily install this free software, which is certainly worth mentioning. While it may not completely transform your image management, it provides a straightforward solution for improving the visual appeal of your screenshots.
ScreenshotX: no advertising, no subscription: just what you need!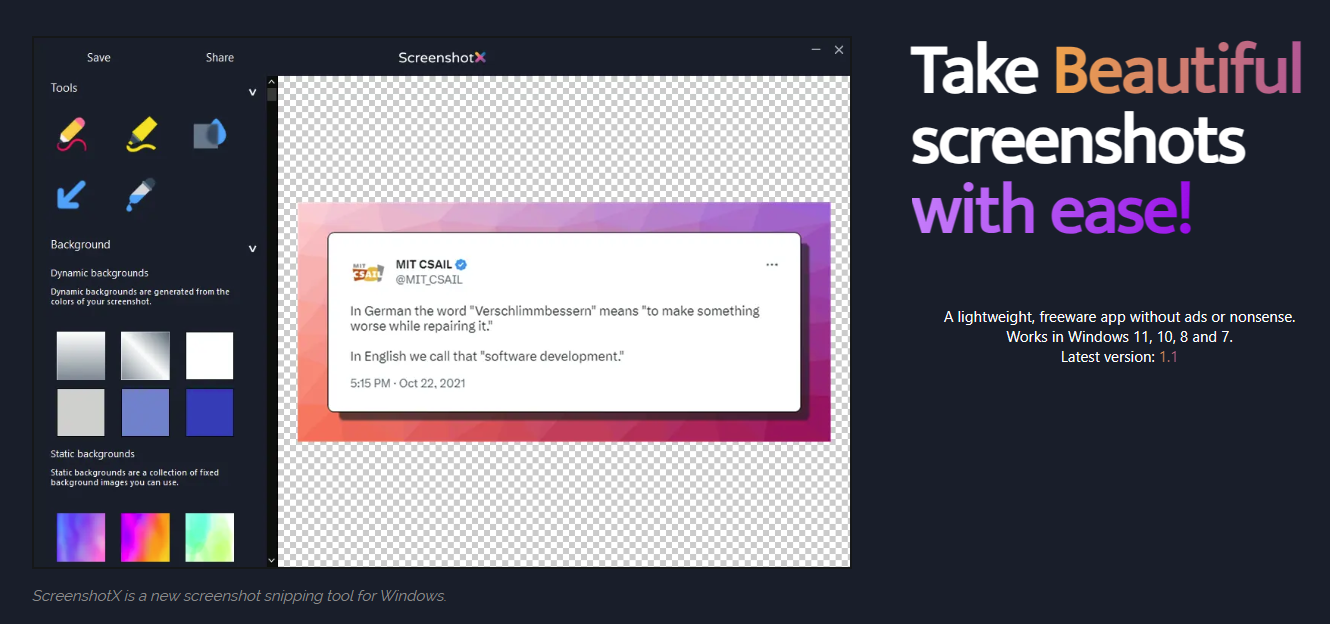 Over the past few years, it has become increasingly difficult to come across completely free software that doesn't come with an overwhelming amount of advertising. Furthermore, various appealing tools have limited functionality and require a subscription as the only means of unlocking their full potential.
The good news is that ScreenshotX is different from other software as it is completely free of charge and does not bombard users with excessive advertising. To download ScreenshotX, head to the official website and click the "Download" button. However, it is important to note that ScreenshotX is currently only compatible with Windows operating systems, specifically Windows 11, 10, 8, and 7.
Once installed, ScreenshotX will offer you two capture modes:
"Free size screenshot "allows you to capture a specific screen area.
"Windows screenshot" allows you to screenshot a specific window.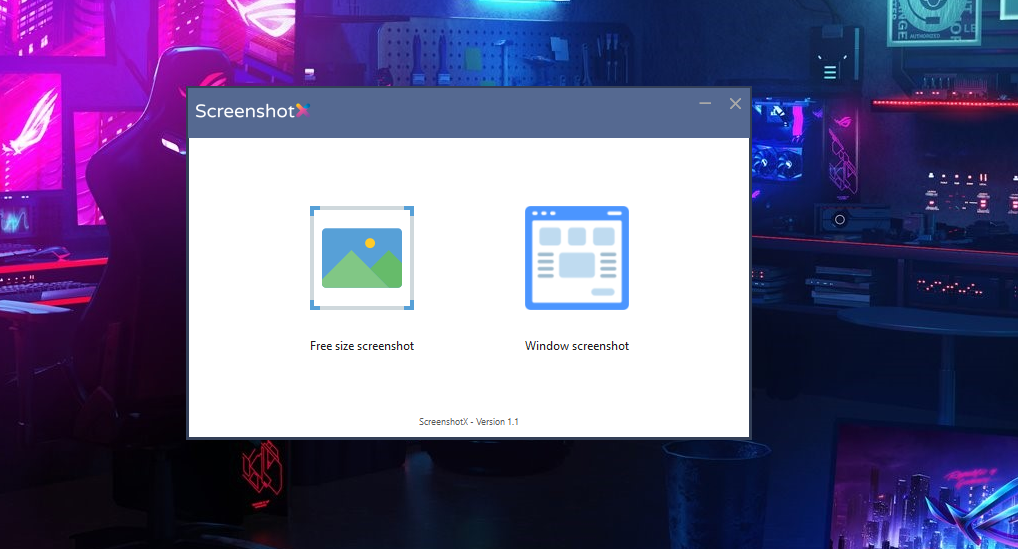 After downloading and installing ScreenshotX, you can access various modification and annotation tools that allow you to customize your screenshots according to your preferences. This includes the ability to crop your screenshot and add annotations such as text, arrows, and shapes. With ScreenshotX, you can easily personalize your screenshots to make them more visually appealing and informative.
What can be done once the screenshot is taken?
Most of the operations take place via these three icons:
One of the available tools in ScreenshotX is the pencil, which enables you to draw on your screenshot. However, it's worth noting that the software's color palette is limited. Despite this limitation, the available color options are sufficient to give your screenshot a unique look and feel.
On the other hand, the arrow tool allows you to add arrows to specific areas of the screenshot, which can be particularly useful when giving presentations. It enables you to emphasize specific points of interest.
ScreenshotX offers a feature that compensates for the limited color palette mentioned earlier. This feature allows you to select any color on your screenshot, giving you more flexibility when it comes to customization.
ScreenshotX also includes a "Background" section, which enables you to select a background for your screenshot. You can choose between a dynamic background, which features colors inspired by the captured screen, or a static background offered by the software.
If you choose the dynamic background option, the available color choices will be based on the colors present in the captured screen, providing a harmonious look. On the other hand, the static background option enables you to choose from pre-set background options provided by the software. This feature allows you to add a personal touch to your screenshot by selecting a background that complements the content of the captured image.
Here is a meta example: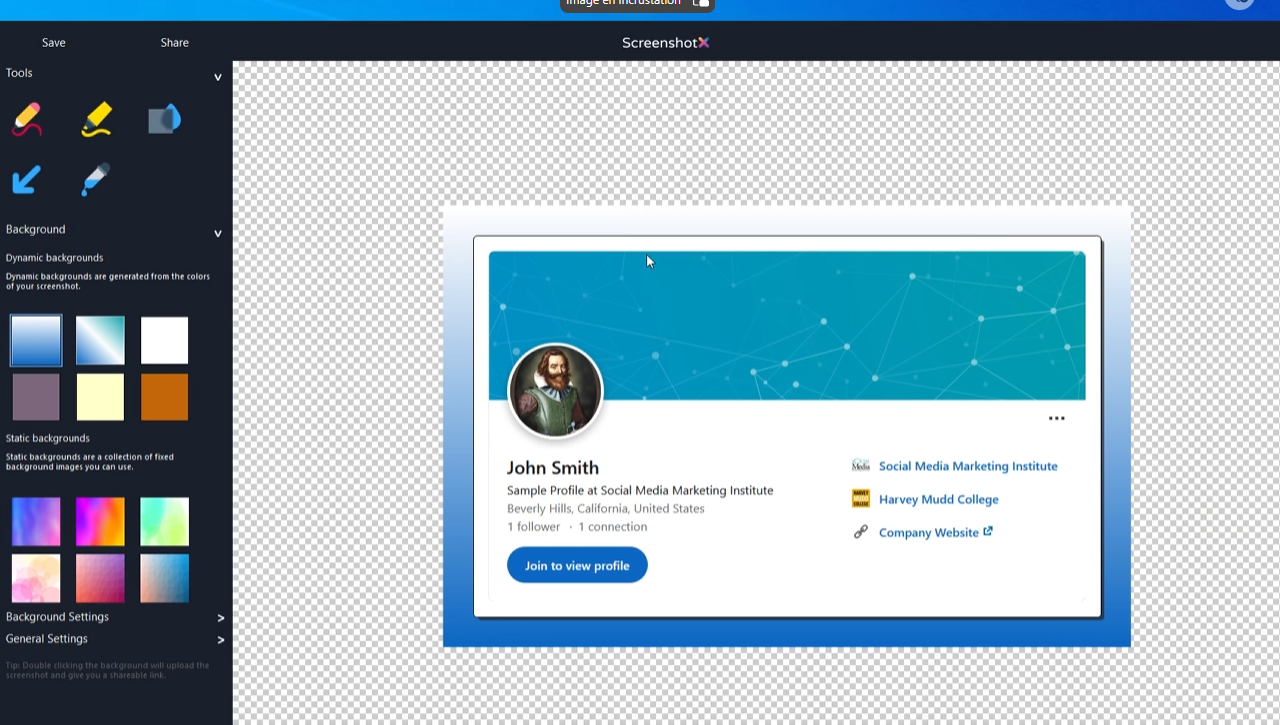 Overall, the aesthetics of the resulting screenshots in ScreenshotX are visually pleasing, with a good balance between foreground and background colors. While the software may have limitations, it still impresses with its functionality and user-friendly approach. Unlike other software that tries to upsell users with additional upgrades or features, ScreenshotX is completely free and provides a simple solution for enhancing and personalizing screenshots.
To begin using ScreenshotX, download the software for free and head to the official website. With its range of customization options and intuitive interface, ScreenshotX is a valuable tool for anyone looking to add a personal touch to their Windows screenshots.