We all know about the angst of a dying battery, and the MacBook M1/M2 (Silicon) is no exception. However, it's essential to preserve them as best as possible to avoid technical problems and potential future replacement costs.
That's where a fantastic tool called Apple Silicon MacBook Battery Limiter comes in. It keeps your MacBook's battery consistently charged at 80% whenever it's plugged in, effectively extending the MacBook's lifespan significantly.
Are you skeptical?
Well, think of electric cars, like those from Tesla, which employ the same strategy to improve their battery life.
To install it, you can use Brew with the following command:
brew install battery
Alternatively, you can download the latest version of the DMG app here.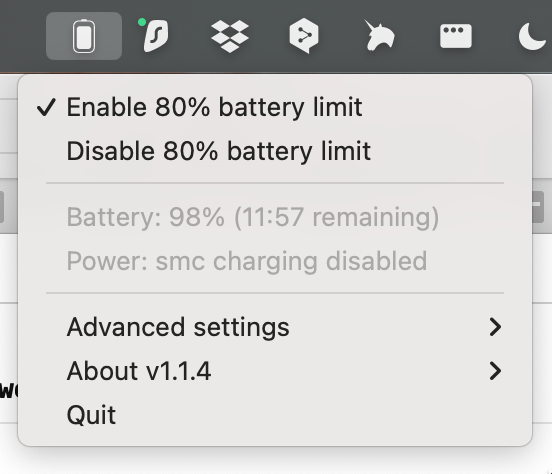 This utility also provides a Command Line Interface (CLI) that you can install separately and use to manage your battery's charging status. You'll be able to activate or deactivate the battery charge directly from the command line when your MacBook is connected to the power source.
Overall, since getting my MacBook M2, I've found this page on the Apple site, specifically dedicated to battery preservation, extremely helpful. I strongly urge you to read it. Combined with Battery Limiter, you'll enjoy years of excellent battery cycles.