InfinityBench is a free benchmark for evaluating computer performance. Through a simple interface, it puts the processor and graphics card to the test.
It is always interesting to know the performance level of your PC. This allows it to be compared to the latest developments while having a reference base for the future. Indeed, software updates and the installation of new drivers can have consequences on the respondent. So, doing a check-up from time to time is a solution to ensure that everything is going well.
InfinityBench, a simple solution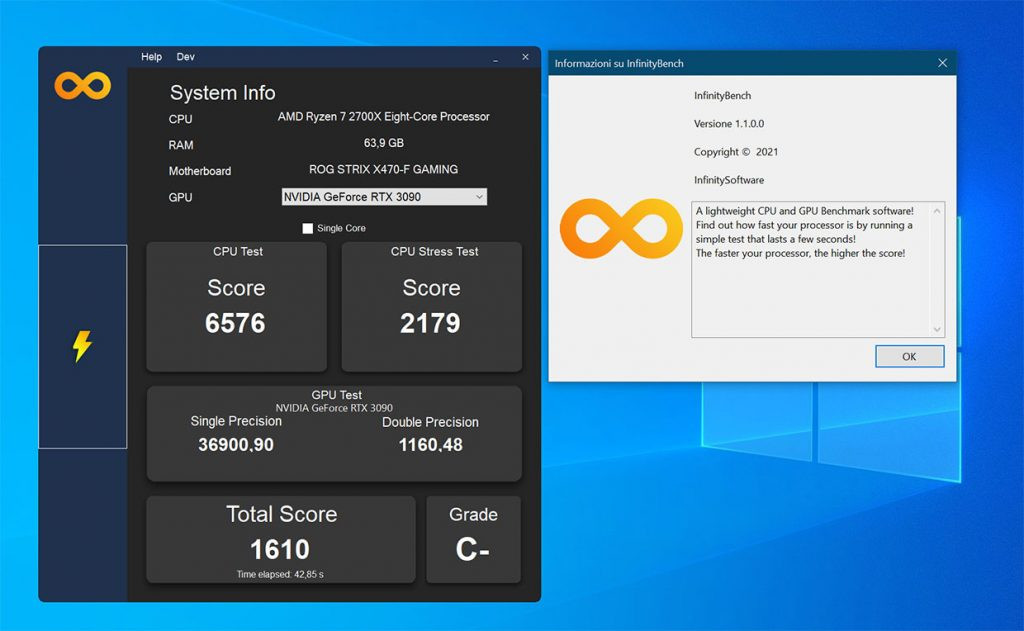 InfinityBench is a utility for evaluating PC performance. Free, it opts for a simple approach, at least through its graphics mode.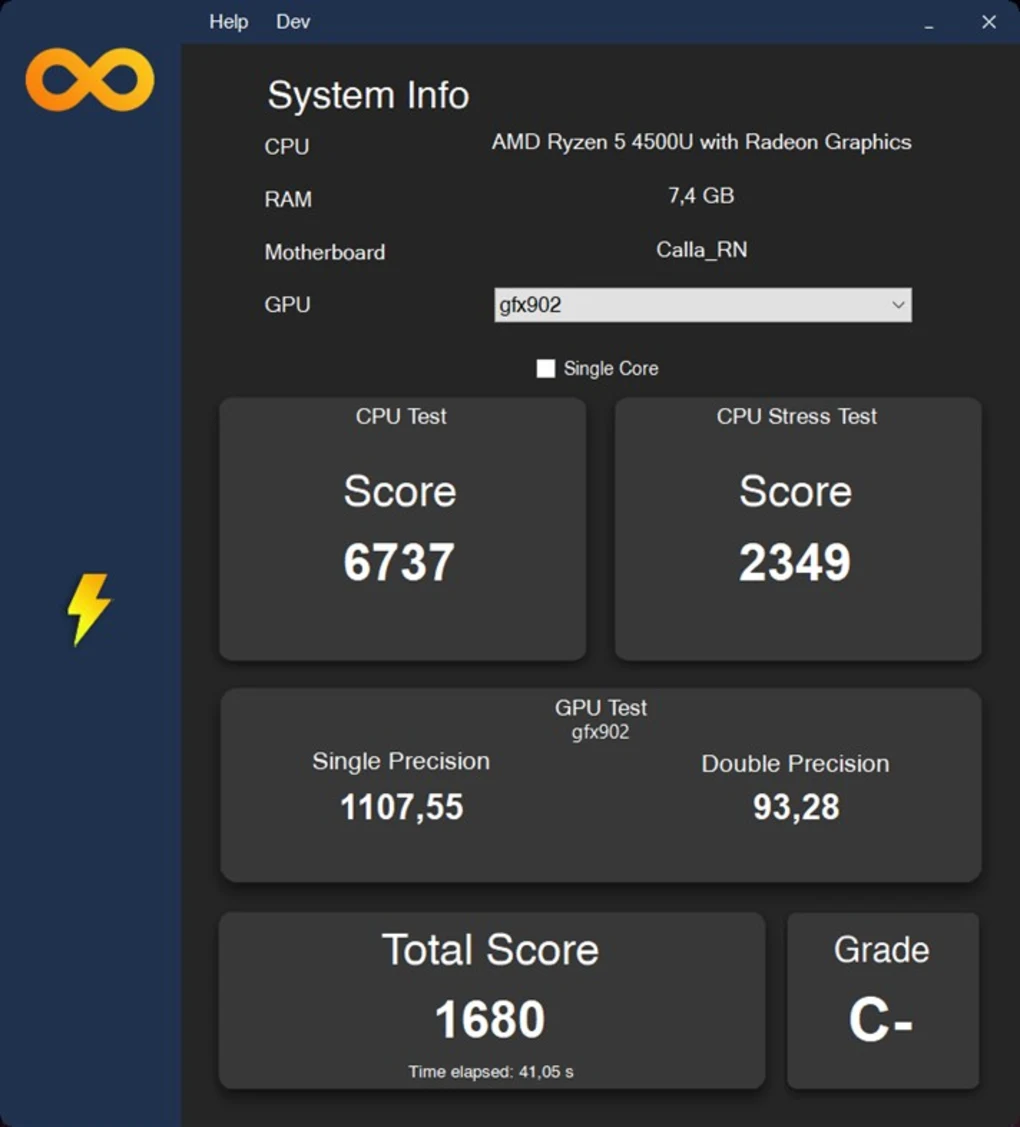 When it opens, it takes a quick look at the processor, the amount of RAM, the motherboard, and the graphics card. The program does not only tackle CPU performance since the GPU (graphics processor) is also evaluated. If several graphic solutions are present, it is possible to choose.
Before starting the tests, it is imperative to save your work and close all programs while ensuring that the minimal is running in the background. The goal is to have an optimal environment to achieve the best results. The tests carried out are intensive, which can significantly increase processor and GPU temperatures.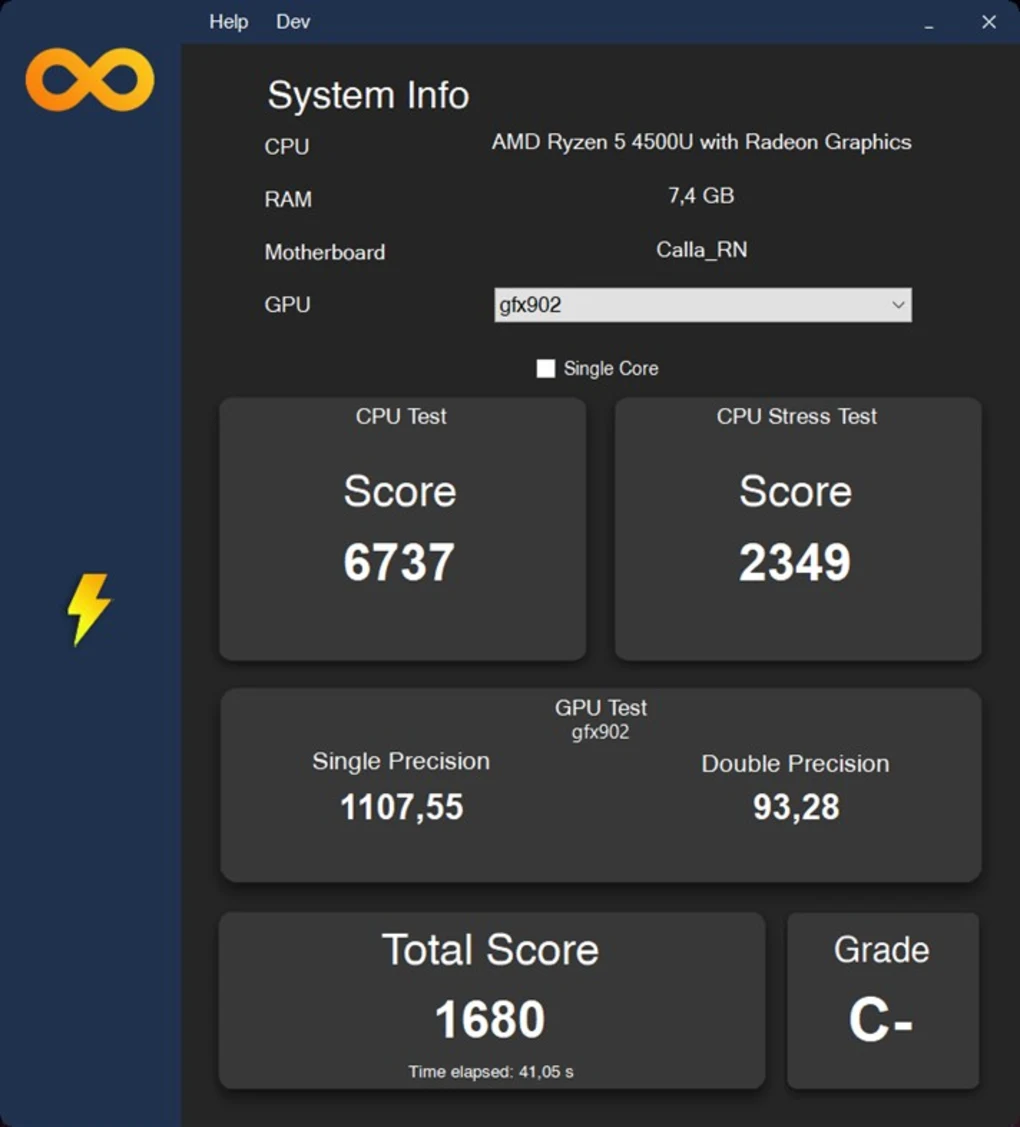 To start the tests, click the lightning bolt icon on the left. Depending on the power present, the wait is more or less long. The application runs multi-core tests by default, but you can switch to single-core mode (Single Core checkbox). Be careful in this case; you must be patient because single-core tests take longer.
Once finished, Infinity Bench will ask you whether you want to share your scores.
Information
Nom: InfinityBench
Version: 1.1.0.0
Developer: InfinitySoftware
Category: System utility.
Hardware recommendation:
| | |
| --- | --- |
| Operating system | Windows 10 version 17763.0 or higher, Windows 10 version 17763.0 or higher, Xbox One |
| Architecture | x86, x64, ARM, ARM64 |
| Memory | 750 Mo |
| Video memory | 1 Go |
| Processor | ANY CPU |
| Graphics | NVIDIA, AMD |
Download
InfinityBench: Download link
Conclusion
InfinityBench is a simple utility for testing the performance of your PC, particularly the processor and graphics card.
It quickly ensures that everything works correctly with a CPU and GPU duo at optimal settings. The app can also help verify that an Internet connection is working properly through the integration of Ookla's SpeedTest module.
The current version, 1.1.0.0, is stable; we have not encountered any particular problems. Some tools are missing, such as data export and an alert when switching to DEV mode, which deletes the results displayed by the graph mode.
The interface is well thought out, but a little "Go" or "launch" under the "lightning" icon would be a plus. Finally, it is impossible to cancel a test once it has started.