If you're in search of an online platform for effortless image editing, Luxa might be exactly what you need. Luxa positions itself as an online photo editing workshop, providing a diverse set of tools for modifying, enhancing, and converting your images on the go. In the following sections, we'll delve into the various features offered by this online photo editor and how it can fulfill your photo editing requirements.
A Free and Secure Online Photo Editing Workshop
Luxa distinguishes itself as an online photo editing workshop that simplifies the process of editing and enhancing images without the need for installing specialized software on your computer.
One notable advantage of Luxa is its commitment to privacy. The platform ensures 100% security, as all conversions and modifications to your images occur directly in your web browser, with no file transfers to a remote server. This guarantees the privacy of your images throughout the entire editing process.
Moreover, Luxa emphasizes speed, providing instant processing of your photos without any queues. This results in an exceptionally smooth and enjoyable user experience.
Additionally, Luxa is completely free, granting users free access to all its editing tools, making it an even more attractive option.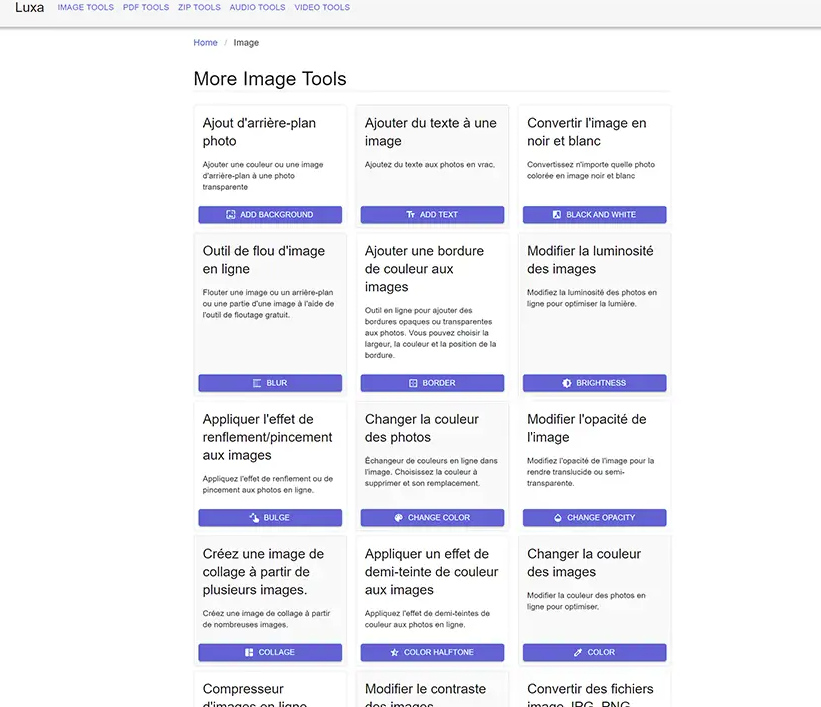 A Comprehensive Range of Editing Tools
Luxa.org offers an extensive array of 64 different tools to work with and transform your images according to your preferences.
Basic Tools:
Adding Photo Background: Ideal for changing the background of an image.
Add text to an image: Perfect for adding captions or annotations.
Convert image to black and white: Catering to those who prefer monochrome.
Change image brightness: Adjust the lighting in your photos.
Crop image files: An essential tool for removing unwanted areas from your photos.
Resize an image: Modify the resolution of your image as needed.
Special Effects:
Luxa.org goes beyond the fundamentals with a range of special effects:
Apply bulge/pinch effect to images: Create intriguing visual effects.
Change Photo Color: Easily alter the mood of your images.
Emboss effect on image files: Add relief for a three-dimensional appearance.
Apply the Kaleidoscope effect to images: Transform your photos into psychedelic works of art.
Apply denoising effect to images: Reduce noise for sharper images.
Conversion and Compression:
Save time and space with conversion and compression tools:
Convert JPG, PNG, WebP, GIF, BMP image files online for free: Stay flexible with formats.
Online Image Compressor: Reduce file sizes for easier sharing.
And Much More!
Luxa.org also offers tools for applying colored borders, creating collages, easily viewing images, and adding watermarks to your images. The list of features is extensive, so head over to Luxa.org and start exploring all the possibilities offered by this online photo editor.