Are you tired of being in the dark about your computer's details? Do you want a user-friendly, customizable, and open-source tool to help you out? Look no further than Glow! This 100% free software provides comprehensive system information, and we're excited to introduce it to you in this article. Join us as we explore Glow's main features and walk you through the installation and usage process
Know the specifications of your PC in detail with Glow
Glow is a portable, open-source software written in C# and .NET Framework by an independent developer from Turkey. If you're looking for a powerful alternative to programs like Piriform's Speccy, Glow is an excellent choice.
With Glow, you can deeply analyze your PC's hardware, including its CPU, memory, storage, graphics card, and other vital components. This allows you to gain a comprehensive understanding of your computer's performance and identify potential areas for improvement.
For personalization, Glow offers both light and dark themes to suit your preferences. To switch between themes, simply navigate to the software settings and select the one you prefer.
And last but not least, Glow lets you export your PC's detailed information to a .TXT file for easy sharing. This feature is perfect for when you need to troubleshoot or upgrade your computer, or if you just want to show off your PC's specs to your friends.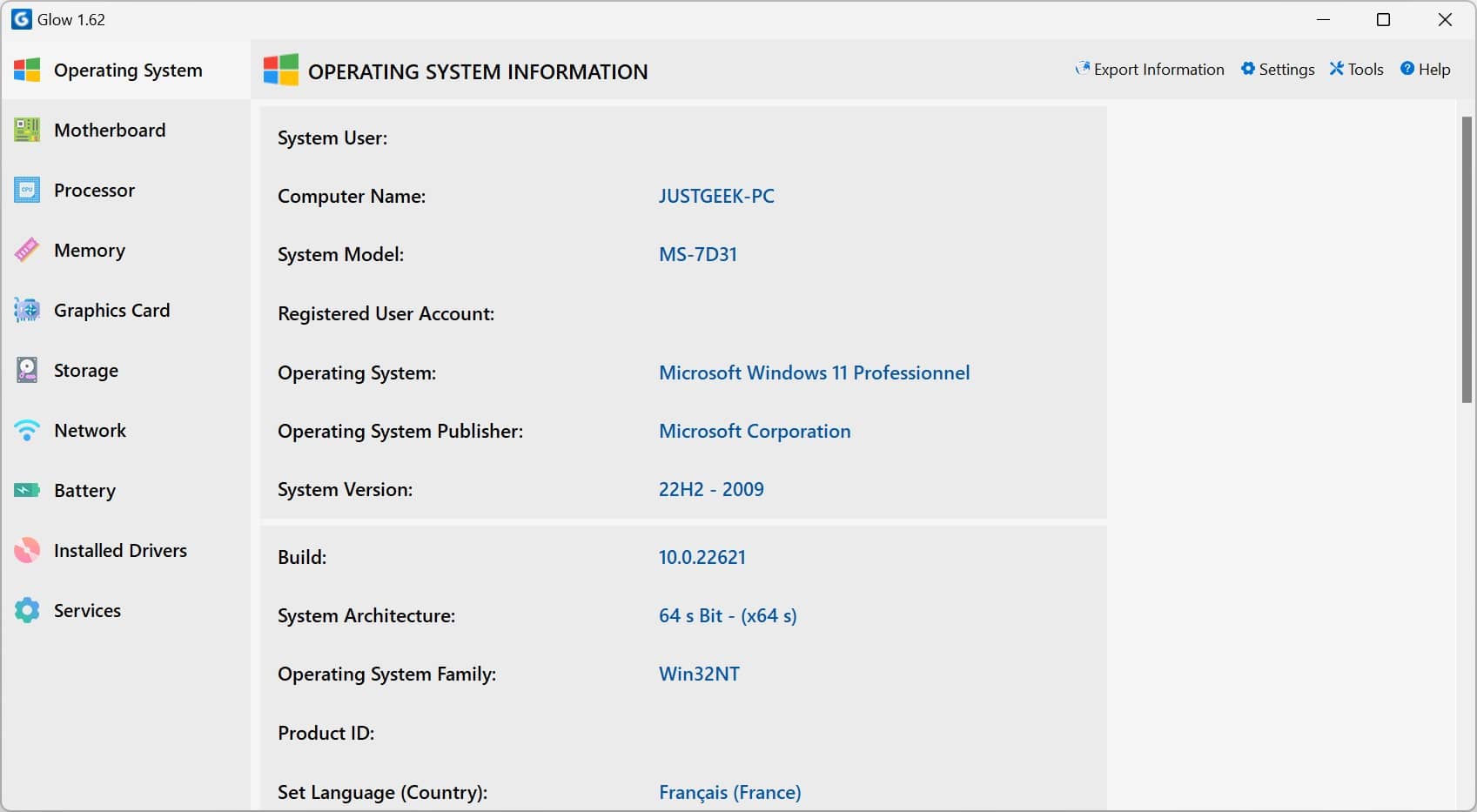 main Features
Glow offers a convenient, at-a-glance overview of your system. You can easily access critical information about your computer, such as its brand and model, BIOS version, total RAM size, and hard disk capacity. This makes it easy to get a quick understanding of your PC's specs and identify any areas that may need attention.
Operating System : Shows you information about your operating system, such as Windows version, installation date, and architecture (32 or 64 bit).
Motherboard : Glow also tells you about your motherboard, including manufacturer, model, BIOS version, and available expansion slots.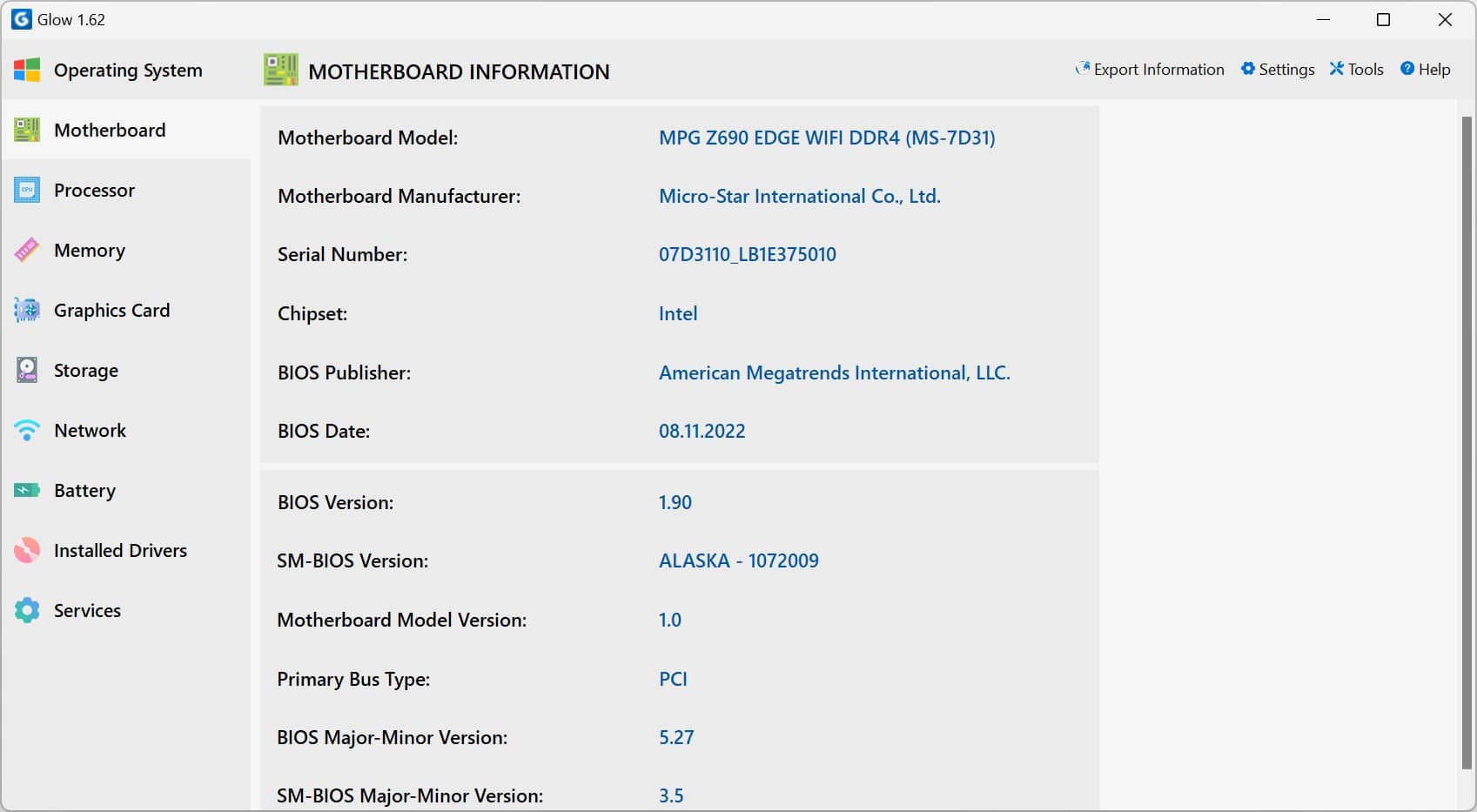 Processor : In this section, Glow gives you detailed information about your processor (CPU), such as name, manufacturer, clock speed, number of cores and threads.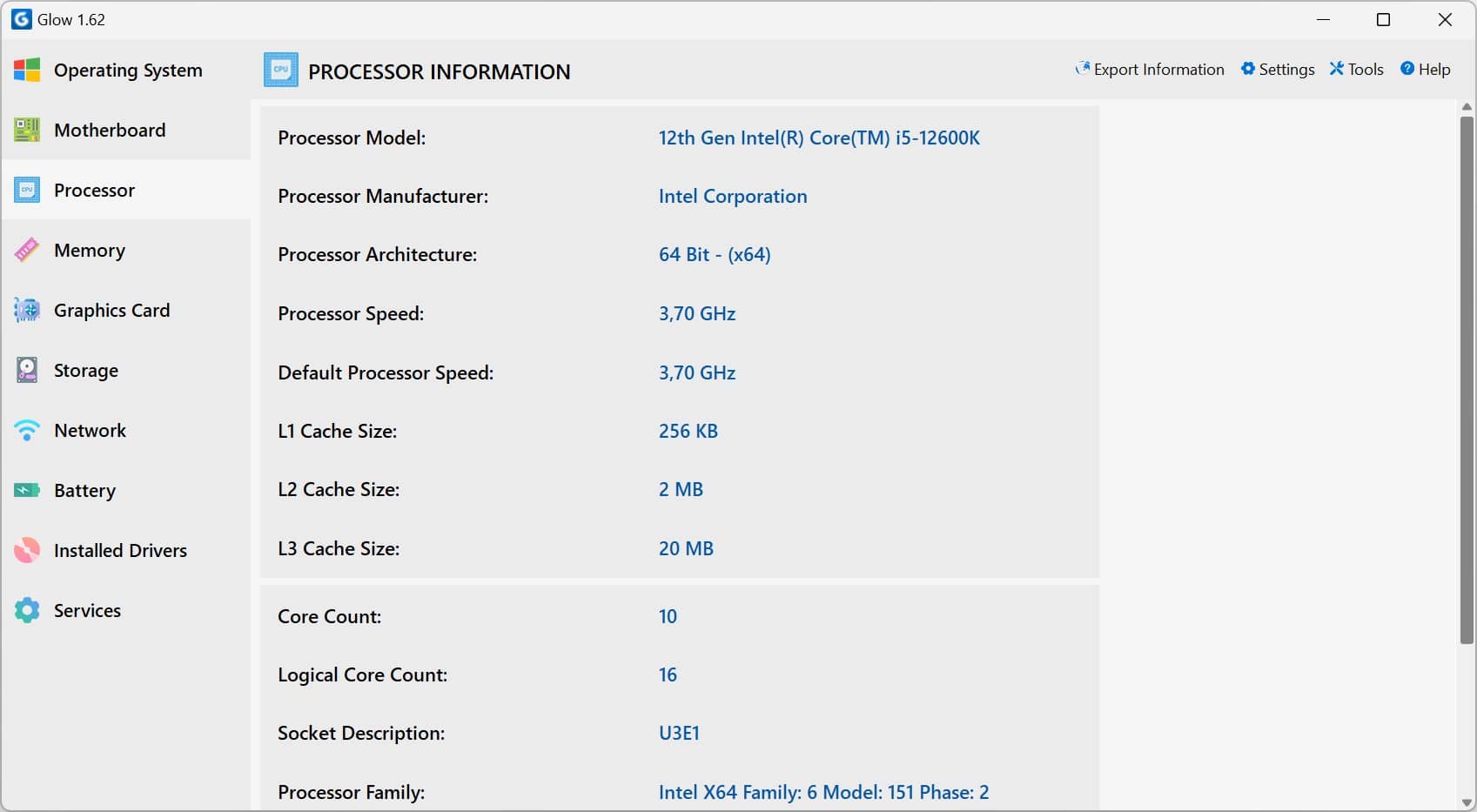 Memory : Your computer's RAM is analyzed and presented in this section. You will find information about the total size, type and number of memory modules installed.
Graphics Card : You will also be able to get information about your graphics card (GPU), such as manufacturer, model, driver version, screen resolution and refresh rate.
Storage : Provides details about your HDD/SSD drive(s), such as total capacity, free space, type (HDD or SSD), and file system for each drive.
Network : Here you will find information about your network connection, whether Ethernet or Wi-Fi, including the name of your network card, IP address and connection speed.
Battery : Provides detailed information about your laptop's battery, such as manufacturer, capacity, voltage, current charge level, and battery health.
Battery : Provides detailed information about your laptop's battery, such as manufacturer, capacity, voltage, current charge level, and battery health.
Installed Drivers : This section shows you the complete list of drivers installed on your system with detailed information.
Services : Shows the status of all Windows services running or stopped on your computer.
How does Glow work?
Installation
Installing Glow is very simple. Here are the steps to follow:
Start by downloading Glow from the project's GitHub page. To do this, under the "Assets" section, click on the Glow_v1.62_x64.zip link.
Once the file is downloaded, unzip the ZIP archive wherever you want.
Launch the program by double-clicking on the Glow.exe file .
Use
Once you launch Glow, you'll see various sections on the left side of the interface. Simply navigate between the tabs to access the wealth of information that the software provides. This allows you to dive deep into your system's hardware and gain a comprehensive understanding of its performance. So go ahead and explore the different sections – you never know what insights you might uncover!
What you must remember
In summary, Glow is a must-have tool for anyone who wants to gain a deep understanding of their system. It's incredibly user-friendly and packs a ton of powerful features that are sure to impress even the most experienced users. Whether you need to optimize, upgrade, or troubleshoot your computer, Glow has got you covered.
So why wait? Give Glow a try today and unlock the full potential of your PC. With its detailed system information and customizable features, you'll wonder how you ever managed without it!