To share files online, we are familiar with all cloud services and other file hosting platforms. However, New Space stands out by providing an innovative solution that combines simplicity and flexibility, like a cloud service, without the constraints usually associated. With New Space, you can create a file-sharing space for free, add or delete files as you see fit, and share them with whoever you want. In this article, we take you through the various features offered by New Space in detail and how to use them for your online file-sharing needs.
Presentation of New Space
Sharing without Constraints
New Space is a new online platform for sharing files and links between different devices (computers, smartphones, tablets, etc.). It was designed to offer a simplified sharing experience without the constraints that can be encountered on similar services.
First of all, the main advantage of New Space lies in its ease of access: no registration is necessary to create a shared space. In addition, the site is free of advertisements, thus avoiding the inconvenience of unwanted pop-up windows.
Furthermore, New Space offers you the freedom to share various types of files, such as documents, photos, or videos. The only restriction is that the size of an individual file must not exceed 200 MB. However, this limitation is easily offset by the ability to share an unlimited number of files as needed.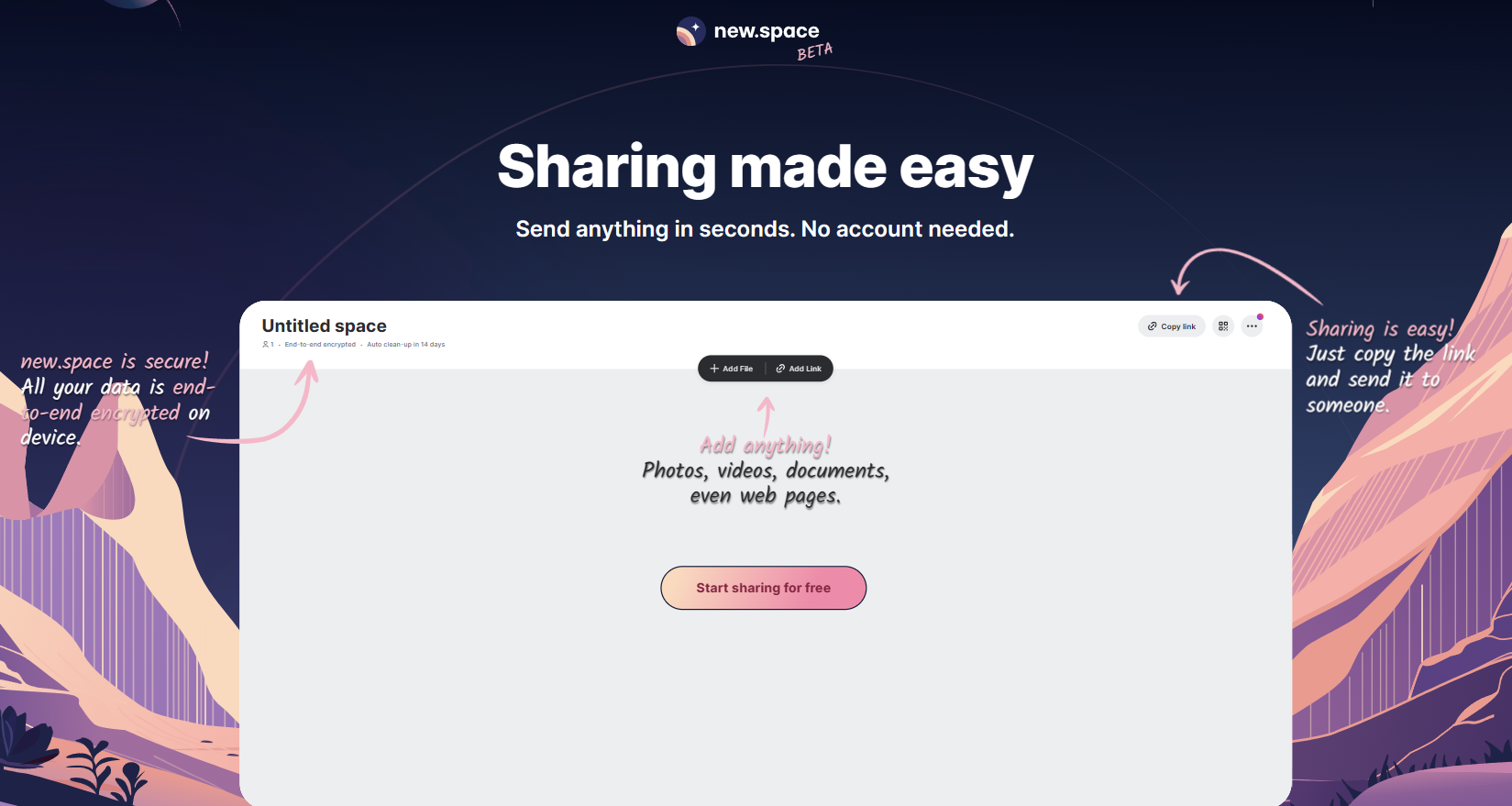 Security and Privacy
End-to-end encryption of shared content is at the heart of New Space's functionality. Only people with a unique URL or QR Code are able to access your sharing space view and download files. This measure ensures optimal confidentiality and security, protecting your data from unauthorized access.
Management and Customization
New Space also allows customization of the shared space. You can rename your space and view the number of people viewing it in real time. The platform also offers a choice between dark and light themes, thus providing a pleasant user experience adapted to individual preferences.

Data Retention
Sharing spaces are automatically deleted after 14 days to ensure responsible data management. However, you have the option to manually delete its space at any time, providing additional control over how long shared files are kept.
Furthermore, the developers plan to introduce a feature allowing you to create an account. This new feature will allow you to associate your spaces with an email to keep them for as long as necessary.
In short, New Space is positioned as an innovative online file and link-sharing solution, combining simplicity, security, and user control.
How to Use New Space?
1.Go to the New Space website.
2. Click on the "Untitled space" window to create your space. ex "Just Geek" or "Easy Tech Tutorials
3. Click "Add File" to add files or "Add Link" to add links to your space.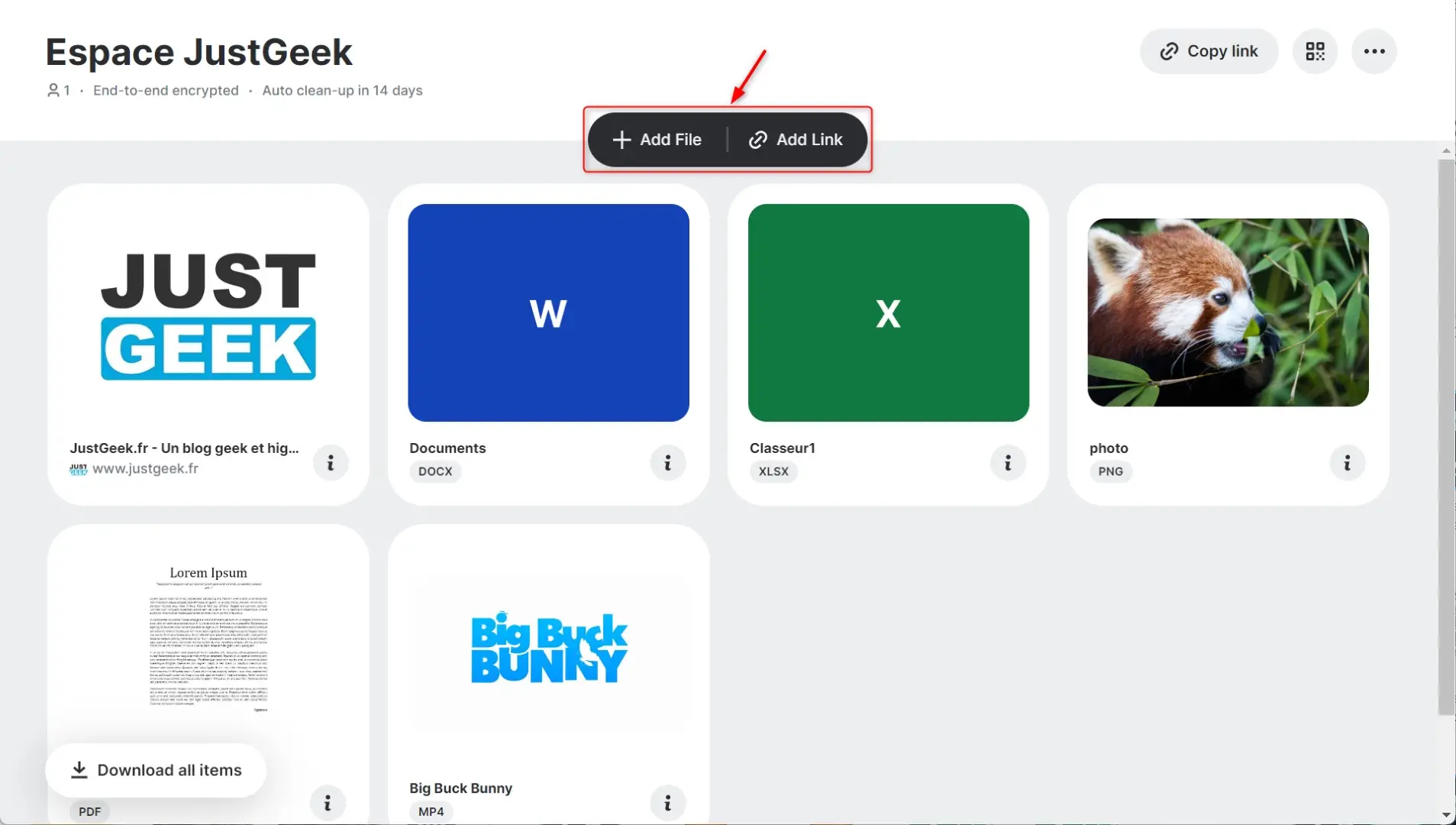 4. Add files and links to your New Space sharing space.
5. You can also customize the title of the top-left space.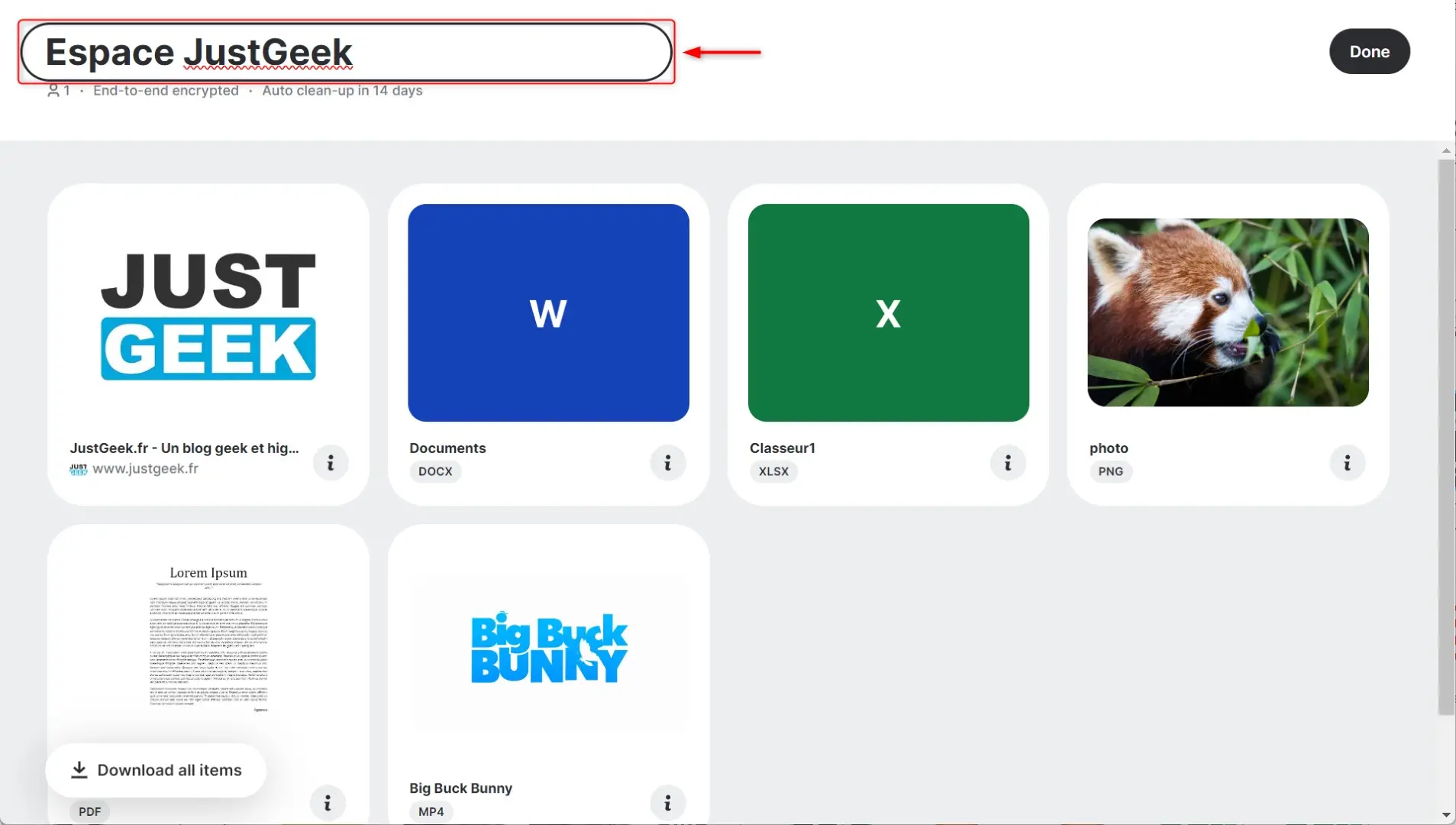 6. Once your content has been added, click on the "Copy link" to copy the space URL or on the QR Code icon to obtain the QR Code of your space.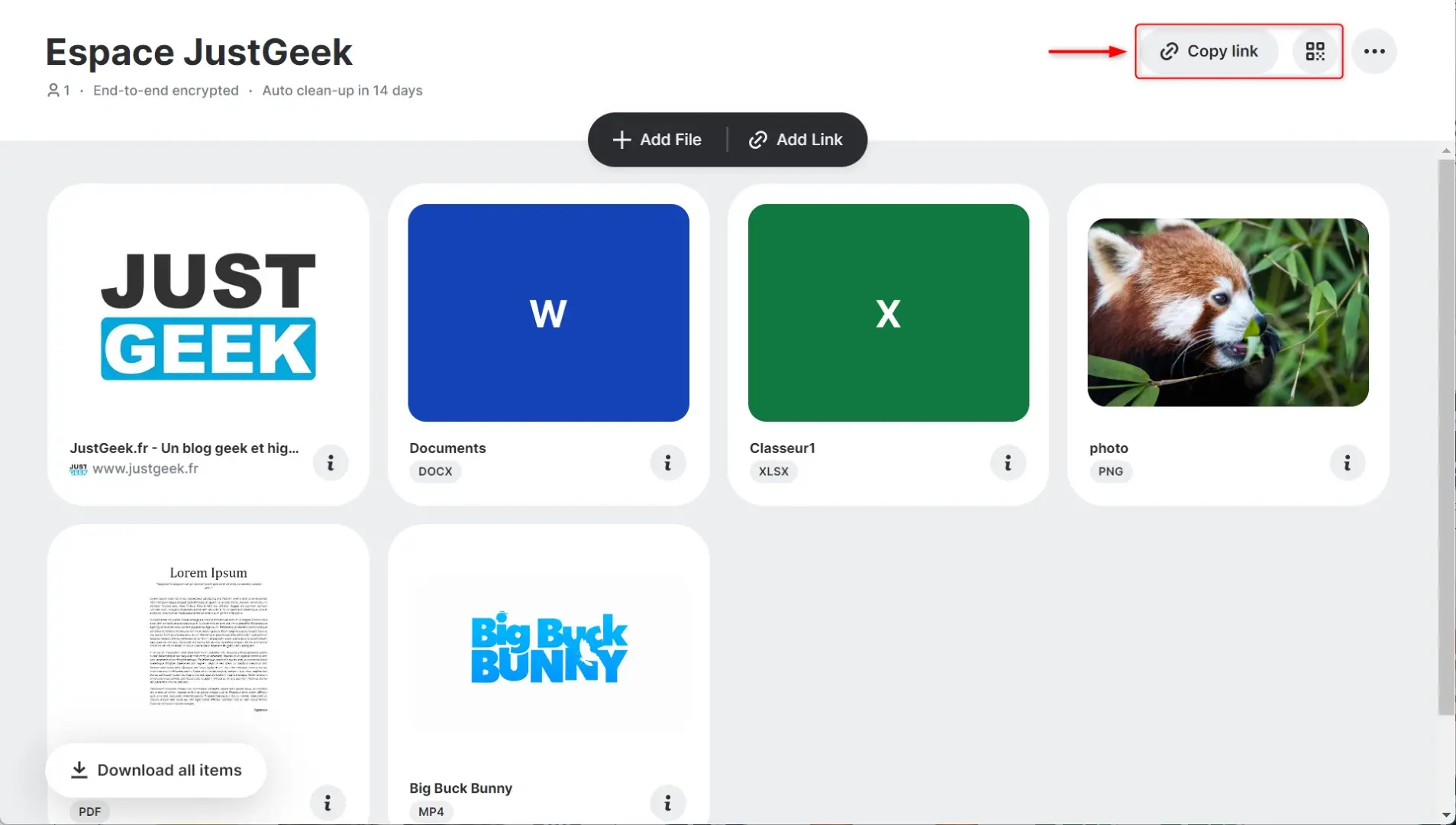 7. Share the URL or QR Code with the people you want.
If you want to delete the space before the 14-day automatic deletion, click the three horizontal dots icon at the top right.
8. Select "Delete this space now" from the menu that appears. Your sharing space will then be instantly deleted.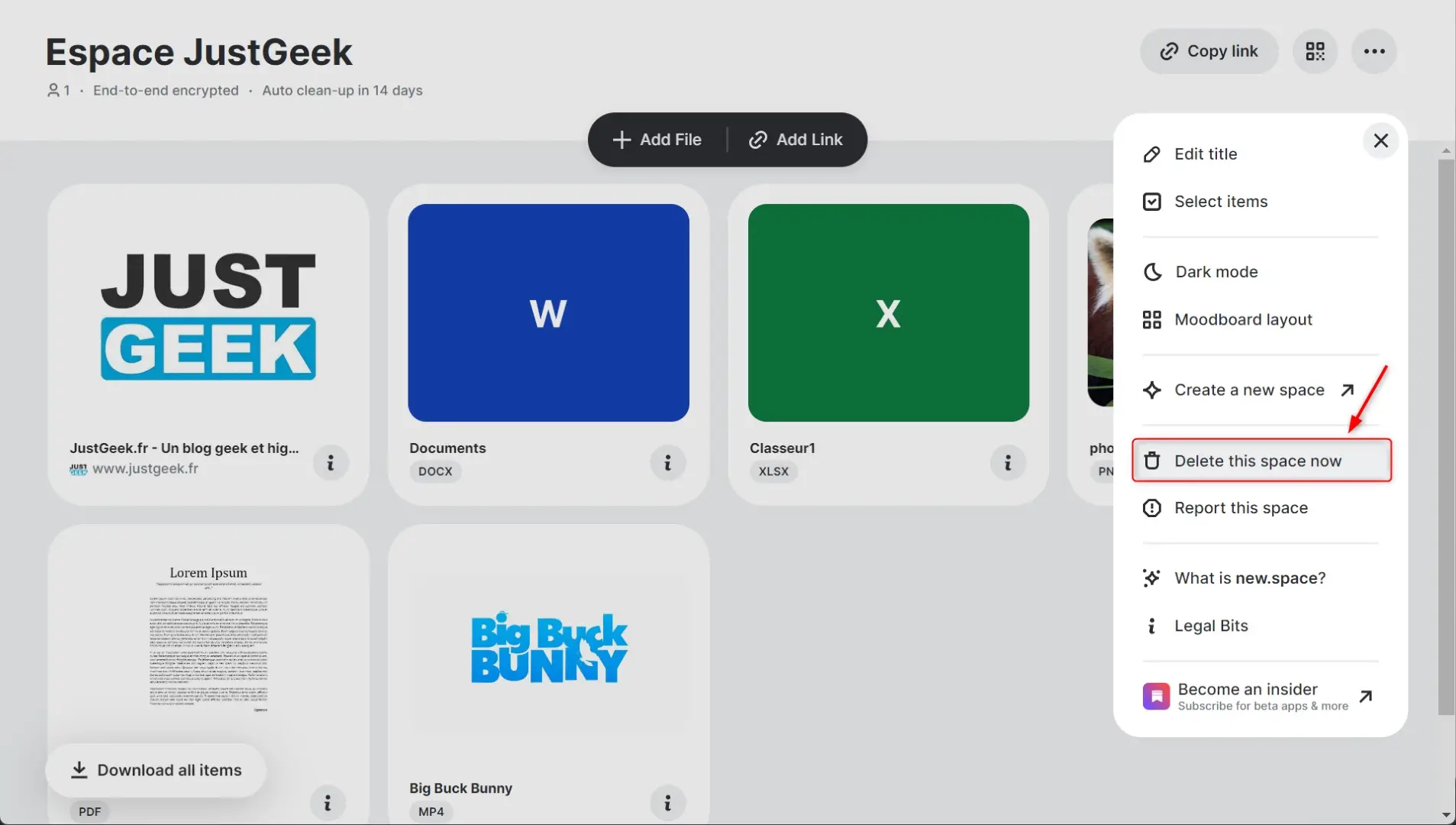 What You Must Remember
New Space makes secure file sharing accessible and hassle-free. The platform is a tailored response to the needs of those looking to share content without compromising security and privacy.