If, like me, you have an old website full of broken links and not particularly SEO optimized, here's a very interesting tool: Issue Detector.
As you know, when you have a website, it is crucial to ensure that it works properly and offers an optimal user experience. It's good for the user, and Google watches it closely, forcing webmasters to comply with its optimization requirements. Otherwise, the site's pages will disappear at the bottom of the ranking.
Issue Detector is, therefore, a real Swiss army knife to monitor and optimize your website. It helps you detect performance issues, track changes to your pages, and even monitor your site's uptime. You can quickly identify and resolve issues to optimize your online presence with real-time alerts and in-depth analytics.
What really impressed me about this tool is how easily you can spot content overlaps, improving your SEO and allowing you to better structure your pages for better readability.

It's like having a hawk's eye watching over your site, alerting you to the smallest issues so you can fix them quickly and efficiently.
The tool also lets you analyze and refine your page titles and meta descriptions, helping improve your click-through rates and search engine rankings. Think of it as a flashlight, illuminating gray areas and showing you where to focus your efforts for a well-baked SEO cake!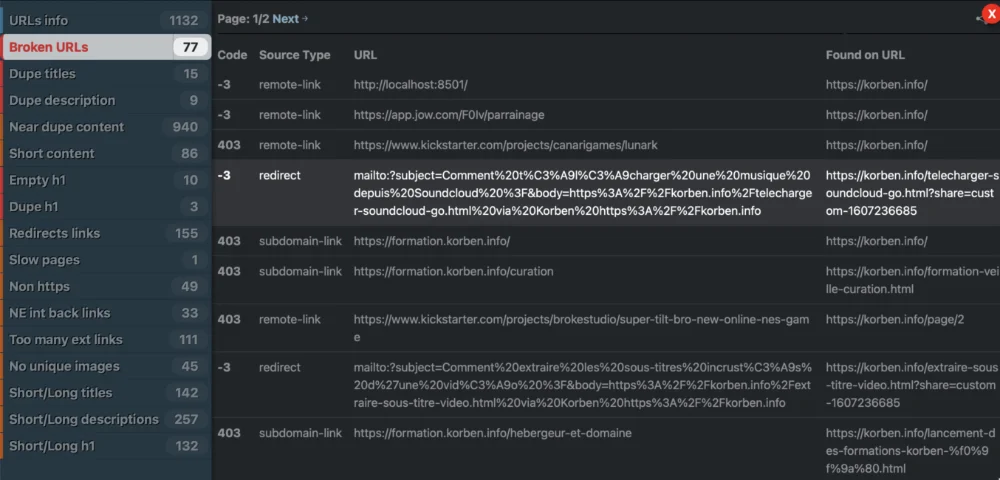 Not stopping there, it also checks for missing headers and broken links, ensuring that search engine crawlers can easily navigate your site.
So, rather than letting 404 errors frustrate your visitors and the search engines, Issue Detector will find them, freeing you up to focus on other, more creative (or earning… hey hey) tasks.
The tool is free in a version limited to 2 domains and one scan per 24-hour period. I invite you to test it; you will learn many things about your site.
And don't forget, the future belongs to those who understand that sometimes doing better means doing things differently.