Search engine optimization (SEO) is crucial for driving traffic to your website and getting your content seen by your target audience. With the rise of artificial intelligence (AI), new ways to optimize your website's SEO have emerged that can take your efforts to the next level.
This complete guide will explore how you can leverage AI to boost your website's SEO in various ways. We'll cover topic research, content creation, technical SEO improvements, backlink building, and more. By implementing AI tools and techniques into your SEO strategy, you can work smarter, produce better results, and stay ahead of the competition. Let's dive in!
Conducting Topic Research with AI
The foundation of great SEO is understanding what your audience is searching for and creating content that answers their questions and provides value. AI has made conducting comprehensive topic research much faster and more efficient. Here are some ways to leverage AI tools for topic research:
Keyword Research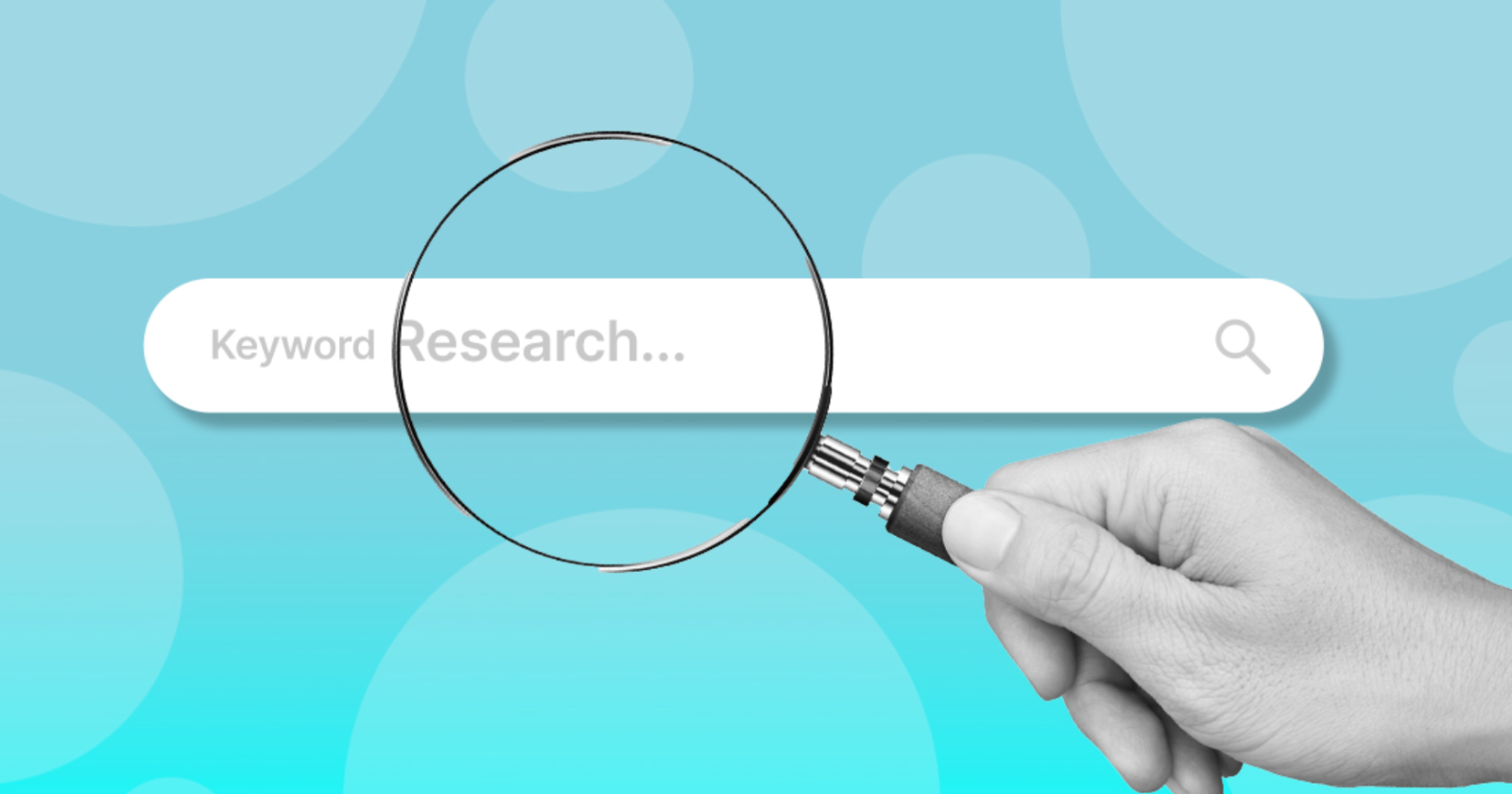 Keyword research allows you to identify high-value target keywords and phrases that align with your business. AI keyword research tools analyze massive datasets to uncover long-tail, low-competition keywords you can realistically rank for. They also provide key stats like average monthly searches, competition levels, etc. Some top AI-powered keyword research tools include:
Semrush Keyword Magic Tool – Generates keyword ideas based on seed keyword filters by difficulty, volume, and more. Provides extensive keyword data.
Ahrefs Keyword Explorer – Discovers thousands of long-tail keyword suggestions and provides data like volume, CPC, and competition.
Moz Keyword Explorer – Analyzes billions of keywords to identify low-competition, high-value targets. Provides search volume data.
SurferSEO Keyword Research Tool – Uses AI to generate semantic keyword suggestions with detailed analytics like search volume and trends.
Topic Clusters and Semantic Search
Going beyond just keywords, AI tools can now provide clusters of semantically related topics and questions to base content around. This allows you to reach people searching for your subject matter in various ways. Examples include:
AnswerThePublic – Generates semantic keyword clusters around your seed keywords and commonly asked questions.
Ubersuggest – Neil Patel's AI tool creates semantic topic clusters with keyword data and traffic estimates.
BuzzSumo – Enter any topic and will return clusters of related keywords and content ideas to guide your research.
Analyze Competition and Gaps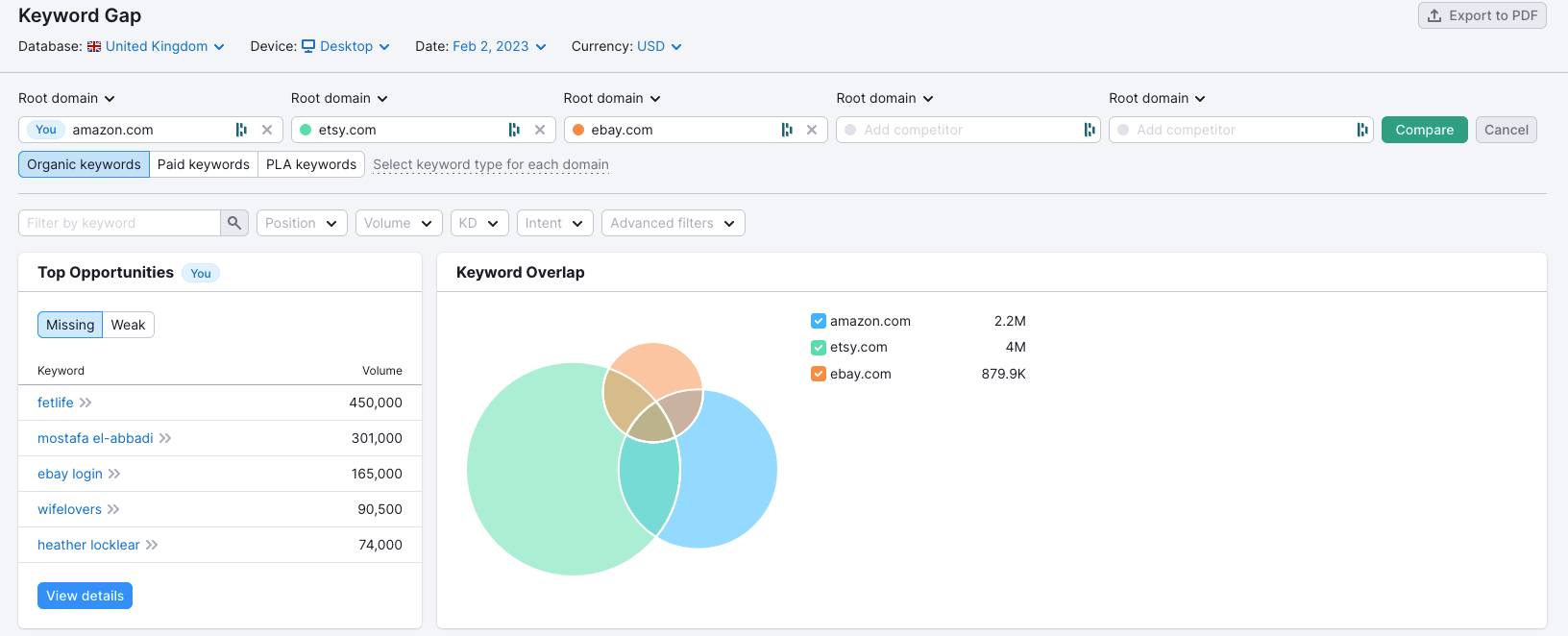 Conduct competitive research to find SEO gaps and opportunities. Use AI tools to analyze what content top-ranking sites have (and don't have) so you can create differentiated content that stands out from the crowd. Tools like Ahrefs and SEMrush provide gap analyses using AI and big data.
Creating SEO-Optimized Content with AI Writing Tools
Once your topic research is complete, AI writing tools make creating optimized, high-quality content at scale much easier. Here are some of the top ways AI can enhance your content creation.
AI Article Writing Tools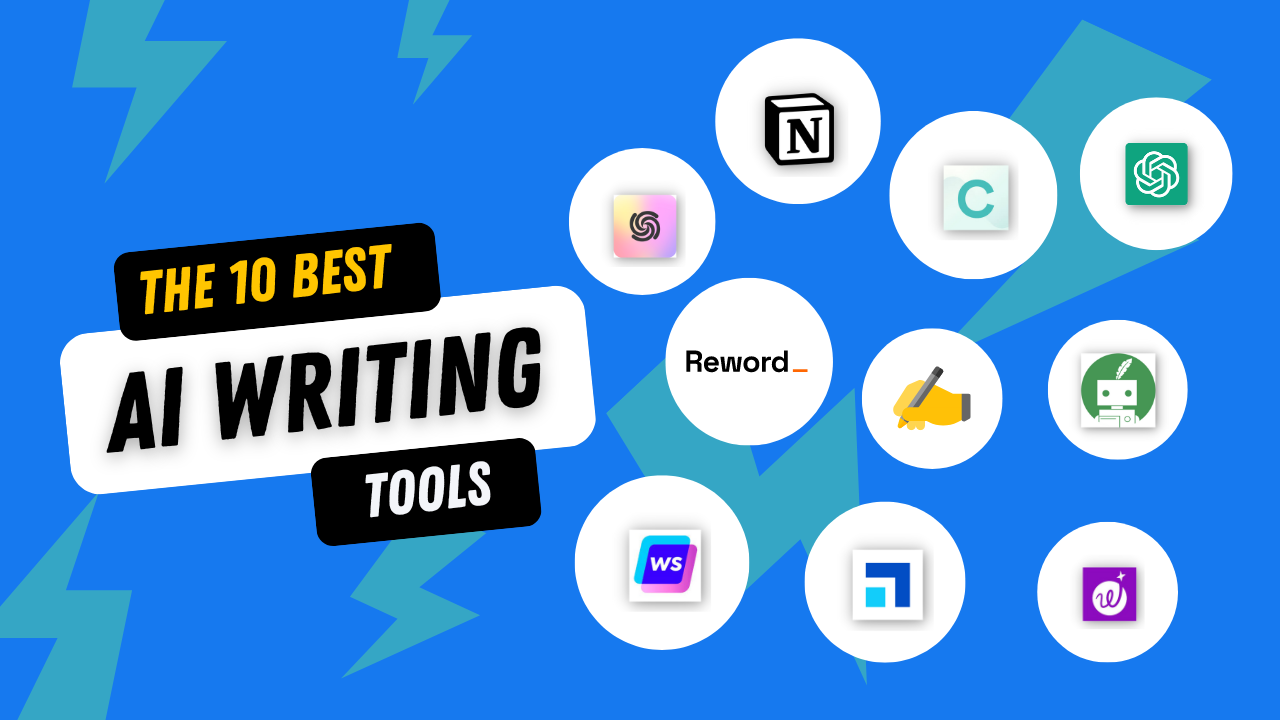 AI-powered automated writing tools allow you to create complete articles just by entering a few keywords or prompts. The AI will generate natural-sounding long-form content with the right keywords optimized throughout. Popular AI writer tools include:
Jasper – Creates SEO-optimized articles, product descriptions, emails, social posts, and more in seconds.
Conversion.ai – Generates high-converting blog posts and landing pages personalized for your brand voice.
Copy.ai – Produces blog articles, ad copy, emails, and social posts in various voices and styles.
ContentBot – AI assistant that structures in-depth articles around your target keywords.
AI-Assisted Writing
Some AI writing platforms are designed for writers to collaborate with an AI to produce content more efficiently. The AI handles rote tasks like structuring, grammar/style polish, and keyword targeting. The human writer oversees the direction and provides the creativity. Examples include:
Writesonic – AI generates content drafts that writers can refine before publishing. Provides detailed optimization recommendations.
Shortly – Helps writers create, organize, and polish content 3X faster. Optimizes keywords and readability.
WordAI – Automatic rewrite tool takes your content and enhances it using AI algorithms while keeping the human touch.
AI Grammarly for Writers
Robust AI-powered grammar checkers like Grammarly add another layer of polish while optimizing readability. Grammarly offers:
Contextual grammar, punctuation, and spelling corrections
Readability enhancements and simplification tools
Tone adjustments to match your brand style guide
Synonym suggestions to reduce overused words
Plagiarism detection to avoid duplicate content risks
Improving Technical SEO with AI Tools
Creating great content is just one part of SEO. Ensuring your site's technical foundations follow best practices is also key. AI tools can analyze and improve many aspects of on-site optimization.
AI Website Crawlers
To diagnose technical issues, use an AI website crawler tool to analyze your site. AI crawlers assess:
Indexation issues like crawl errors preventing pages from being indexed
Broken links, redirects, and other errors that impact user experience
Page speed optimization opportunities
Accessibility problems that hinder SEO
Popular AI crawlers include DeepCrawl, SiteBulb, and ScreamingFrog.
Image SEO Enhancements
Properly optimizing your images helps pages rank better for relevant searches. Use AI to analyze and improve your visual content for SEO. Examples:
Wix ADI – Automatically adds alt text descriptions to images to describe the content for search engines.
Canva – The image editing platform includes an SEO optimization tool when publishing images. Applies tags, titles, descriptions, and more.
Site Search Optimization
On-site search allows visitors to quickly find relevant content. AI can optimize site search performance by understanding user intent better. Tools like Algolia and Swiftype use AI and natural language processing to improve on-site search relevance.
Generating SEO-Focused Backlinks with AI
The key to earning high-value backlinks is identifying the right link-building opportunities and creating compelling outreach. AI tools can streamline the process in the following ways:
Find Link Prospects
Rather than manually searching for link-building targets, AI tools can instantly identify thousands of relevant prospects. For example:
Buzzstream Link Prospector – Discovers backlink opportunities based on topical relevance and inbound link profiles.
Ahrefs Site Explorer – Identifies pages with high authority that are likely to accept guest posts based on past linking behavior.
Pitchbox – AI assistant curates a custom media list of high authority publications that cover your niche.
AI-Assisted Outreach
Crafting customized, effective outreach is paramount for securing high-quality links. AI can help generate and personalize link-building outreach.
Persado – Uses AI to test messaging variations to optimize engagement and response rates for outreach emails.
Segue – Link-building platform powered by AI that creates personalized outreach templates you can instantly send at scale.
RightHello – Generates the optimal cold email outreach sequences using psychology and data.
Analyze Link Earning Opportunities
See where your competitors are earning high-value links that you may be missing. Use Ahrefs Content Gap analysis or Pitchbox's Link Gap Analysis. Uncover link prospects across content, brand mentions, and more.
Monitoring SEO Performance with AI Analytics
In order to refine your strategy, you need accurate data on how your site ranks and where your traffic comes from. AI SEO analytics provide expanded insights.
Rank Tracking & SERP Analysis
Going beyond manual rank checking, AI rank trackers continuously monitor rankings across keywords. Advanced platforms like RankSense and Moz Pro provide:
Historical ranking data to identify trends
SERP analysis detecting Google updates impacting ranks
Competitor rank tracking benchmarks
Click-through-rate estimation
Advanced Traffic Analytics
Understanding your traffic sources and engagement metrics is key for optimization. AI analytics tools provide robust insights:
Identify the highest traffic pages and leverage insights for optimization.
Attribution modeling with Google Analytics to analyze keyword value.
Anomaly detection to identify unusual changes requiring investigation.
Predictive analytics to forecast future traffic and growth potential.
The Future of AI for SEO
The SEO applications of AI are rapidly evolving and expanding. Here are some emerging capabilities to keep an eye on:
Automated technical SEO optimizations – Instead of just identifying issues, AI tools will directly improve site speed, fix crawl errors, enhance structured data, and more.
Content strategy automation – AI will manage your editorial calendar, identify content gaps, automatically create new content, and optimize existing content.
Scalable link building – Outreach and relationship-building at scale will become possible through customizable AI personas and messaging.
Predictive SEO – Advanced machine learning models will empower more accurate forecasting of keyword difficulty, traffic changes, and Google algorithm updates.
Voice search optimization – With the rise of voice assistants, AI tools for optimizing content for voice search will be crucial.
The key to leveraging these emerging capabilities will be AI/human collaboration. AI augments SEO professionals' skills – it doesn't replace the need for strategic human oversight. By embracing AI as a tool, SEOs can propel their efforts to new levels of efficiency and performance.
FAQ
I. Understanding the Basics
A. Definition of SEO
The importance of organic traffic
Organic traffic from search engines is often a major source of website visitors. Therefore, optimizing your site to appear in search results is essential.
Traditional SEO methods
Traditional methods include keyword optimization, building backlinks, and improving user experience.
B. Introduction to Artificial Intelligence
A Brief History of AI
AI began as a field of research in the 1950s and has seen significant advances with the development of neural networks and deep learning.
Current applications of AI
Today, AI is used in various fields, such as voice recognition, data analysis, and robotics.
C. The intersection of AI and SEO
Why is it important?
AI can analyze large amounts of data and derive insights to improve SEO.
The potential of AI in improving SEO
AI can help create higher-quality content, personalize user experience, and automate repetitive tasks.
II. AI Tools for SEO
A. Content Analysis Tools
Creating optimized content
AI can identify topics and keywords that interest your audience and create optimized content.
Competitor analysis
AI can analyze competitors' content strategies and develop more effective strategies.
Keyword Suggestions
AI-powered tools like SEMrush can suggest relevant keywords to incorporate into content.
B. Chatbots
Improved user engagement
Chatbots can improve user experience by providing instant answers to visitors' questions.
Reduced bounce rate
Chatbots can reduce bounce rates by keeping visitors engaged, a key ranking factor.
C. Personalization Tools
Tailored user experience
AI can personalize user experience by recommending content based on visitor interests and behavior.
Increased conversion rates
A personalized user experience can increase conversions and sales.
D. Data Analysis
Trend analysis
AI can identify trends in traffic data to adjust SEO strategies.
Performance monitoring
AI can automate website performance tracking and detailed reporting.
E. Automating Repetitive Tasks
Time optimization
Automating repetitive tasks saves time to invest in more creative strategies.
Focus on creative strategies
By automating, you can focus on strategic aspects of SEO.
III. Real Case Studies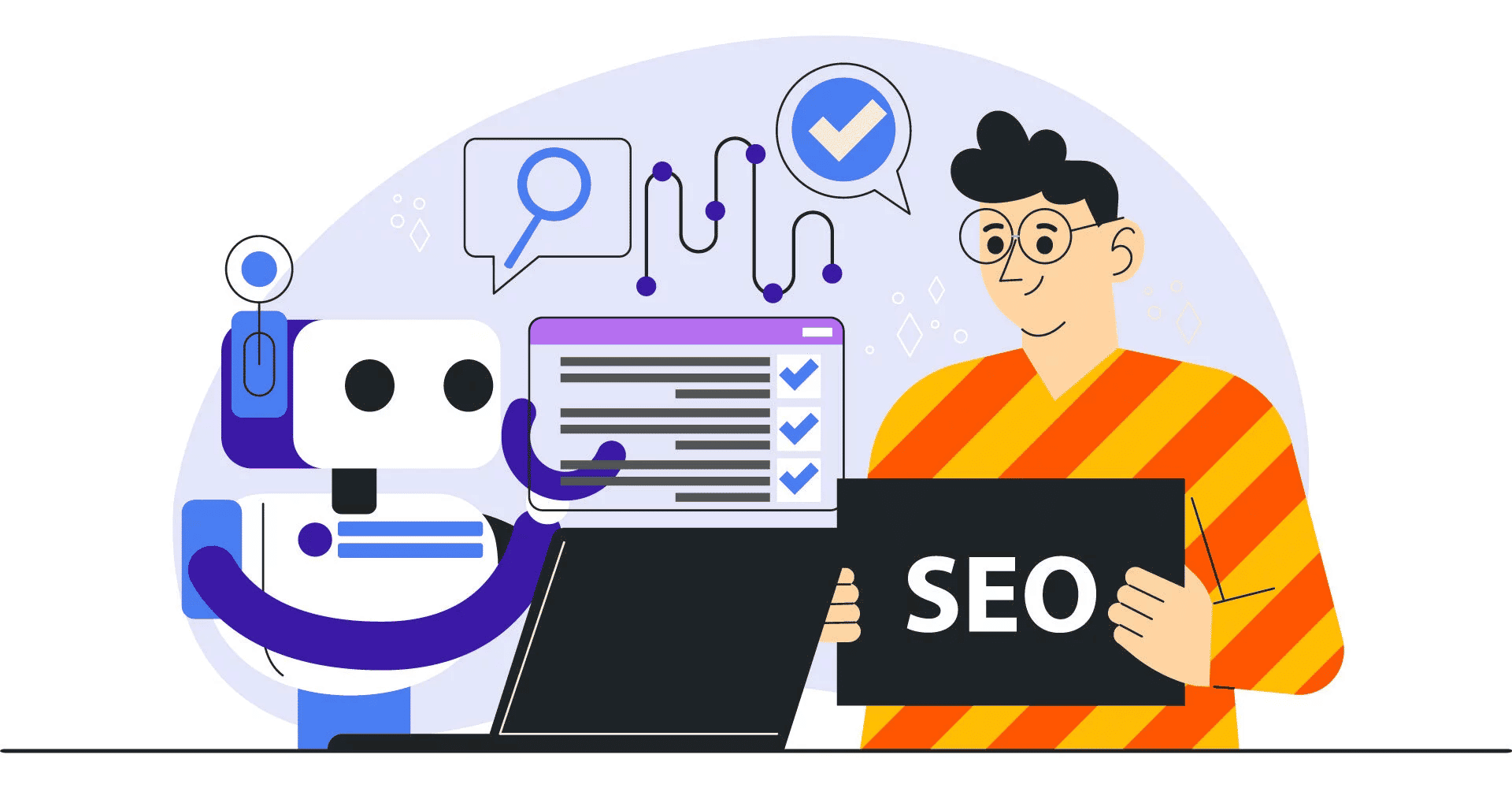 A. Businesses using AI for SEO
Companies like Airbnb and Netflix use AI to improve SEO.
B. Observed results and benefits
These businesses saw improved visibility, increased traffic, and better conversions.
C. Lessons learned and good practices
AI adoption should align with business goals and be implemented incrementally.
IV. Challenges and Ethical Considerations
A. AI accuracy and reliability
AI is not infallible and can lead to errors or inaccuracies.
B. Implementation costs
Integrating AI can be costly, especially for small businesses.
C. Ethical and data privacy issues
AI raises questions about ethics and personal data protection.
V. Getting Started with AI in SEO
A. Evaluate SEO needs and objectives
Understand your SEO goals before integrating AI.
B. Choosing the right AI tools
Select tools that fit your needs and budget.
C. Develop an integrated strategy
Integrate AI into your overall SEO strategy aligned with your goals.
D. Measure and adjust based on results
Track performance and adjust your strategy based on results.
AI offers immense possibilities for improving SEO. By understanding its applications and integrating it wisely into your strategy, you can optimize website visibility and achieve marketing objectives. Embrace AI as an opportunity for innovation in SEO.
Conclusion
Implementing artificial intelligence can optimize every aspect of your SEO strategy – from comprehensive topic research, content creation at scale, technical enhancements, backlink building, and robust analytics. The key is combining the unique skills of human SEO experts with the efficiency, scale, and automation enabled by AI.
As AI capabilities continue advancing, they will open up new opportunities in areas like content strategy, link building, voice search, and predictive analytics. SEOs who strategically leverage AI tools and embrace human/AI collaboration will gain a distinct competitive advantage. Using AI for SEO will transition from a cutting-edge strategy to an essential requirement in this ever-changing landscape.
References
Anon, (2020). 4 Ways Artificial Intelligence Can Improve Your SEO Strategy. [online] Search Engine Journal. Available at: https://www.searchenginejournal.com/seo-strategy-with-ai/373916/#close [Accessed 10 January 2023].
Anon, n.d. Artificial Intelligence and Machine Learning for SEO & Content. [online] Ahrefs. Available at: https://ahrefs.com/blog/ai-seo/ [Accessed 10 January 2023].
Jerath, K. and Ma, L., 2022. Leveraging artificial intelligence and machine learning in search engine optimization for better performance. Journal of Retailing and Consumer Services, 67, p.102997.
Patel, N., 2021. How to Use AI for SEO to Improve Your Organic Traffic. [online] Neil Patel. Available at: https://neilpatel.com/blog/ai-for-seo/ [Accessed 10 January 2023].
Reflect, T., 2021. How AI Is Transforming SEO & Content Creation. [online] Thomas Reflect. Available at: https://www.thomasreflect.com/how-ai-is-transforming-seo-and-content-creation/ [Accessed 10 January 2023].
Sterling, G., 2021. The growing impact of AI on SEO and website content. [online] Search Engine Land. Available at: https://www.searchengineland.com/the-growing-impact-of-ai-on-seo-and-website-content-350491 [Accessed 10 January 2023].