No, we will not present yet another Pokémon to you, but rather that of a new torrent client. PikaTorrent, this free and open-source software available on Windows and Linux, enriches the landscape of torrent clients, bringing a welcome touch of innovation. Indeed, PikaTorrent stands out for its remote control functionality, allowing you to manage torrent downloads from your Android smartphone or tablet. Want to know more? Read on!
PikaTorrent, a free, open source and modern torrent client
PikaTorrent is not just another torrent software. It's a bit of a breath of fresh air in a field where few new things have appeared in recent years. With its simple and modern interface, PikaTorrent will undoubtedly conquer the hearts of some fans of torrent downloading.
Before we reveal these exciting features, let's start with the basics. First, PikaTorrent is a torrent client that consumes few system resources, whether in terms of processor or RAM. So you can use it in the background without slowing down your computer.
Then, like most torrent clients available on the market, PikaTorrent allows you to download torrent files or magnet links. And, of course, it supports simultaneous downloading. So far, it's classic.
Interestingly, you can organize your torrents in the software interface with labels to quickly identify your downloads (movies, series, software, video games, eBooks, etc.).
But its integrated search bar stands out from the competition, which allows you to quickly find torrent files via Google, DuckDuckGo, Archive.org, or Foss Torrents. You can add your search sources, such as Yggtorrent, Torrent911, OxTorrent, etc. Of course, don't download anything illegal 😉.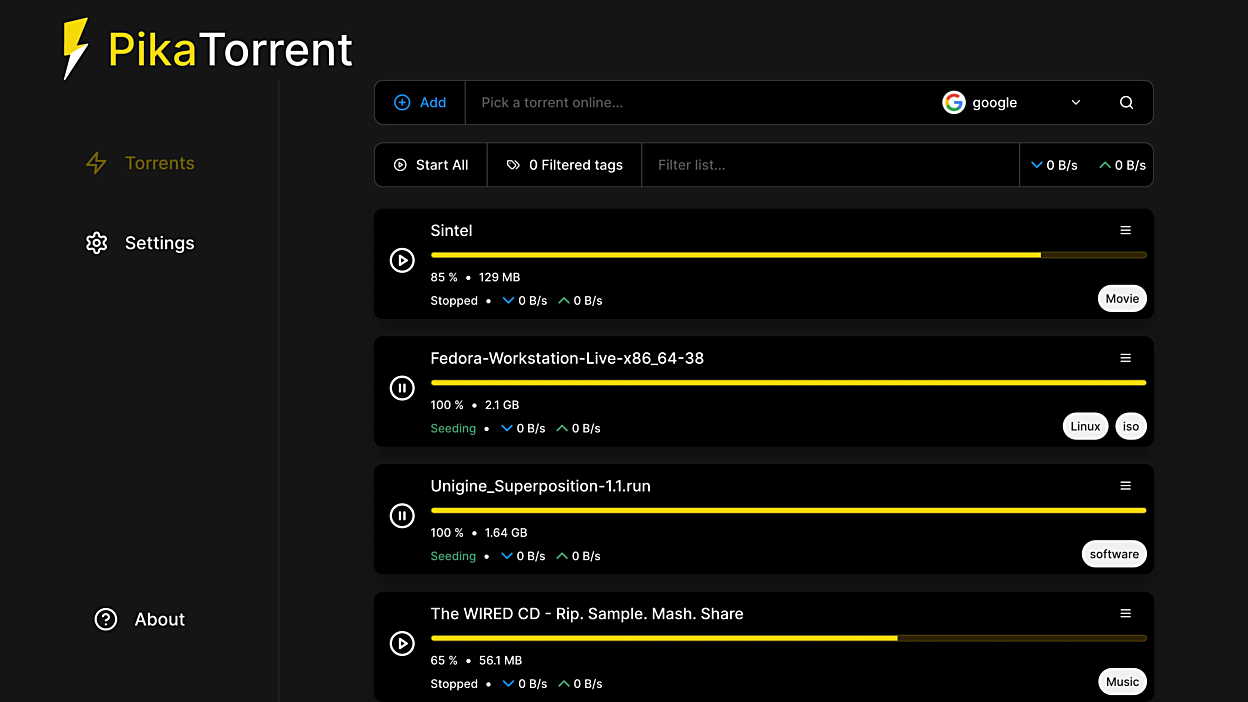 Another exciting feature is the ability to control the torrent client remotely via an application available on Android. This can allow you to manage your torrent downloads on your PC, wherever you are, directly from your smartphone or tablet.
Additionally, download speed is optimized with support for advanced settings like DHT and uTP. This places PikaTorrent among the fastest torrent clients on the market .
PikaTorrent also makes file sharing easy with direct links, which you can share with anyone. And finally, for advanced users, note that PikaTorrent offers a command line (CLI) mode.
How to control PikaTorrent remotely?
Go to PikaTorrent's GitHub page and download the latest version for Windows or Linux, then follow the installation instructions.
Once installed, launch PikaTorrent on your PC.
From the torrent client interface, click on "Settings" to display the QR code that links PikaTorrent to the mobile application.
Download and install the PikaTorrent application from the Play Store on your Android smartphone, then scan the QR code displayed on your PC.
Now, add a torrent file to PikaTorrent on your PC.
You can now see your smartphone's download status, pause, or cancel it.
✅ With these simple steps, you now have complete control of your torrent downloads wherever you are!
Conclusion
In conclusion, PikaTorrent is ideal for a free, open-source, modern torrent client. Its user-friendliness, lightweight design, built-in search, and remote control feature make it an attractive option for users of all skill levels. Download it now to experience its benefits for yourself.