Ever felt the urge to enhance a screenshot before sharing it? Do you wish to infuse your personal touch to make it more appealing or discreetly conceal sensitive details? If your answer is yes, then Pink Pixel is the ideal solution for you. Pink Pixel is an online screenshot editing tool that provides a plethora of features to elevate the aesthetics of your images.
Craft Distinctive Screenshots with Pink Pixel
Pink Pixel is a completely free online tool that empowers you to swiftly and intuitively transform your screenshots. You don't need to possess graphic design expertise to master it. The tool's interface is designed for easy learning. Moreover, you aren't required to create an account to utilize Pink Pixel, saving you time and enabling you to focus on what truly matters: personalizing your screenshot.
To commence, simply import your screenshot into Pink Pixel's interface. This interface accommodates a wide array of formats such as JPG, PNG, WebP, SVG, AVIF, and more. Once imported, you can delve into the customization options offered by the tool. Elevate a Screenshot's Aesthetics with Pink Pixel Customize Your Screenshots Like a Pro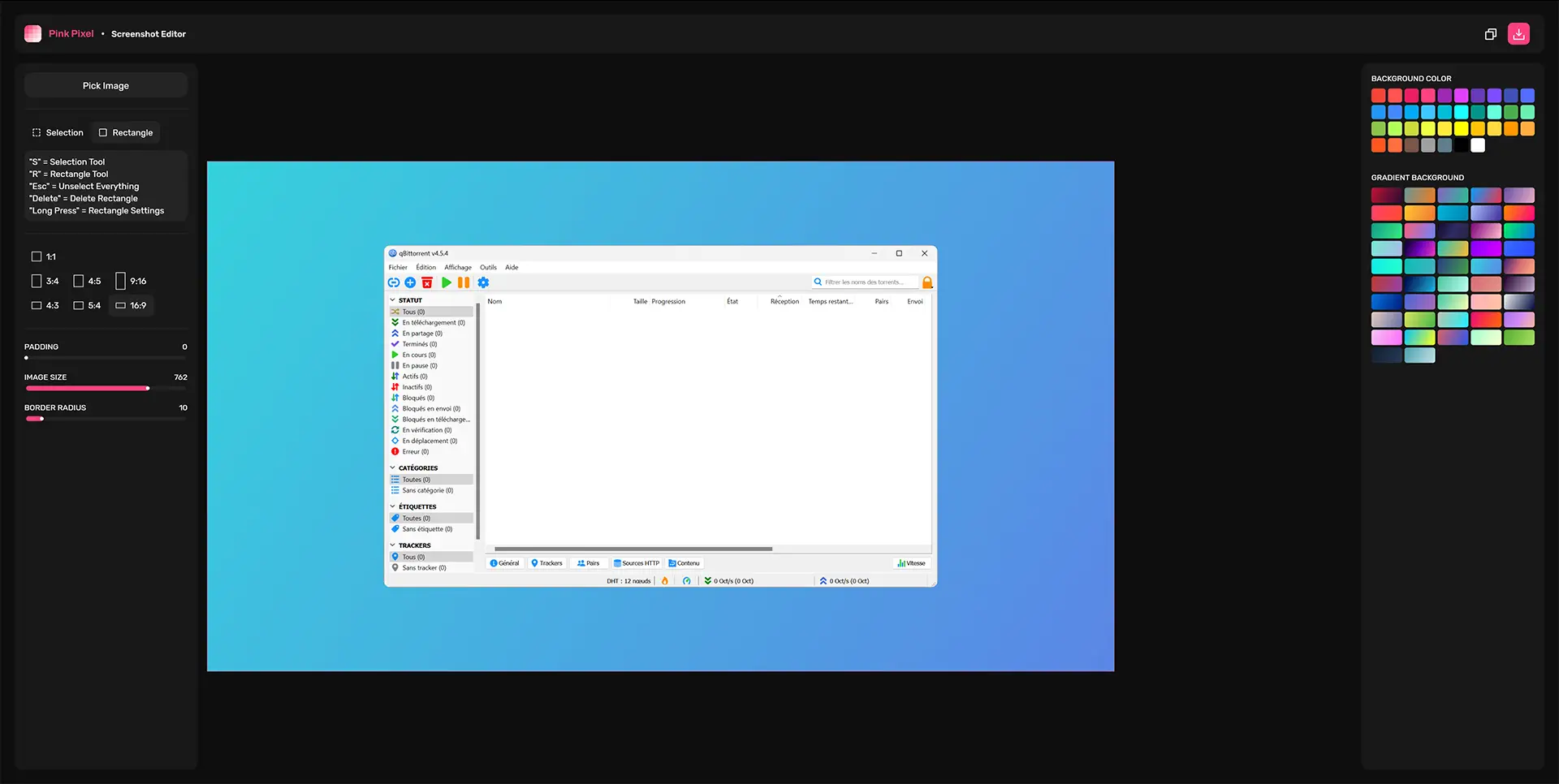 Among the initial choices at your disposal is the capacity to personalize the background color of your image. With 37 solid colors and 47 gradients to select from, you can infuse a personal flair that sets your screenshot apart.
Moreover, Pink Pixel empowers you to emphasize specific elements within your screenshot by incorporating rectangles. You can also employ blurring to safeguard sensitive information and privacy.
Lastly, Pink Pixel equips you with tools to contemporize your screenshot's appearance. You can round the image's edges for a more modern aesthetic and adjust its size according to your needs. These simple yet impactful tools assist in creating standout screenshots. Prepare Your Screenshots for Sharing
Pink Pixel not only facilitates customization but also streamlines the preparation of screenshots for sharing. You can opt for various aspect ratios, including 1:1, 3:4, 4:5, 9:16, 4:3, 5:4, and 16:9. This flexibility allows you to tailor your captures to the ideal format for different platforms where you intend to share them.
Once you've finished personalizing your screenshot, you can copy it to the clipboard or download it in JPEG format. You're then primed to share your remarkable and distinctive screenshot with anyone you choose! Key Takeaways
In essence, Pink Pixel emerges as the ultimate tool for enhancing your screenshots. It seamlessly merges user-friendliness with a range of robust and user-centric features. So, the next time you're ready to share a screenshot, give it an extra touch of brilliance with Pink Pixel.