As you probably know, Sony's PlayStation 5 (PS5) has an M.2 port that allows you to add an additional SSD to expand the console's storage capacity and take advantage of improved loading times. However, it should be noted that not all M.2 SSD models are compatible with the PS5. To help you, we invite you to discover our selection of the best internal M.2 SSDs compatible with PS5 in the rest of this article.
What M.2 SSD drives can you use on a PS5 console?

Before you jump into purchasing an M.2 SSD for PS5, make sure it meets the criteria established by Sony. Indeed, the update launched by the Japanese giant on the PS5 is not compatible with any SSD. To prevent you from wasting money on an SSD that won't even be compatible with your console, Sony has published the list of features it must have.
Interface
PCI-Express Gen4x4 compliant M.2 NVMe SSD
Storage
250 Go – 8 To
Format
2230, 2242, 2260, 2280, 22110
Dimensions with heat sink
Width: up to 25 mm
Length: 30/40/60/80/110 mm
Thickness: up to 11.25 mm (up to 8 mm above the card, up to 2.45 mm below from the menu)
Sequential reading speed
Speed ​​of at least 5,500 MB/s recommended
To begin with, the SSD must have an M.2 NVMe PCIe Gen4 x4 interface and must be equipped with a heat dissipation system. Its storage space must be between 250 GB and 8 TB. The SSD you choose must also offer a read speed of at least 5,500 MB/s.
Finally, regarding the size of your SSD, it must respect the following maximum dimensions: 110 (L) x 25 (W) x 11.25 (H) mm.
However, even if the SSD you buy meets all of Sony's criteria, the Japanese giant says it cannot guarantee that it will really be compatible with the PS5. This point was stipulated in a press release published by Sony.
Please note that this compatibility issue does not affect any of the SSDs that appear in this list. Now that you have read all of this, it will be easier for you to make your choice 😉.
Here are the best SSDs compatible with the PS5:
WD_Black SN850

Among the best PS5 SSDs that you can use to store your games is the WD_Black SN850 from Western Digital. Available with storage capacities of 1TB, 2TB, and 4TB, this SSD provides enough space to host a vast library of games, freeing up your console's internal storage space.
In terms of performance, the WD_Black SN850 shines with its impressive sequential read speed of 7000 MB/s and a sequential write speed of 5300 MB/s. With support for 4th generation PCIe technology, this SSD is perfectly equipped to handle the latest games, ensuring a smooth and fast gaming experience.
A notable plus of the WD_Black SN850 is its pre-installed heatsink, saving you the trouble and additional costs of adding an external heatsink. In addition, we will note the fact that it has a rather thin and compact design. It will, therefore, fit more easily into your console.
Sabrent Rocket 4 Plus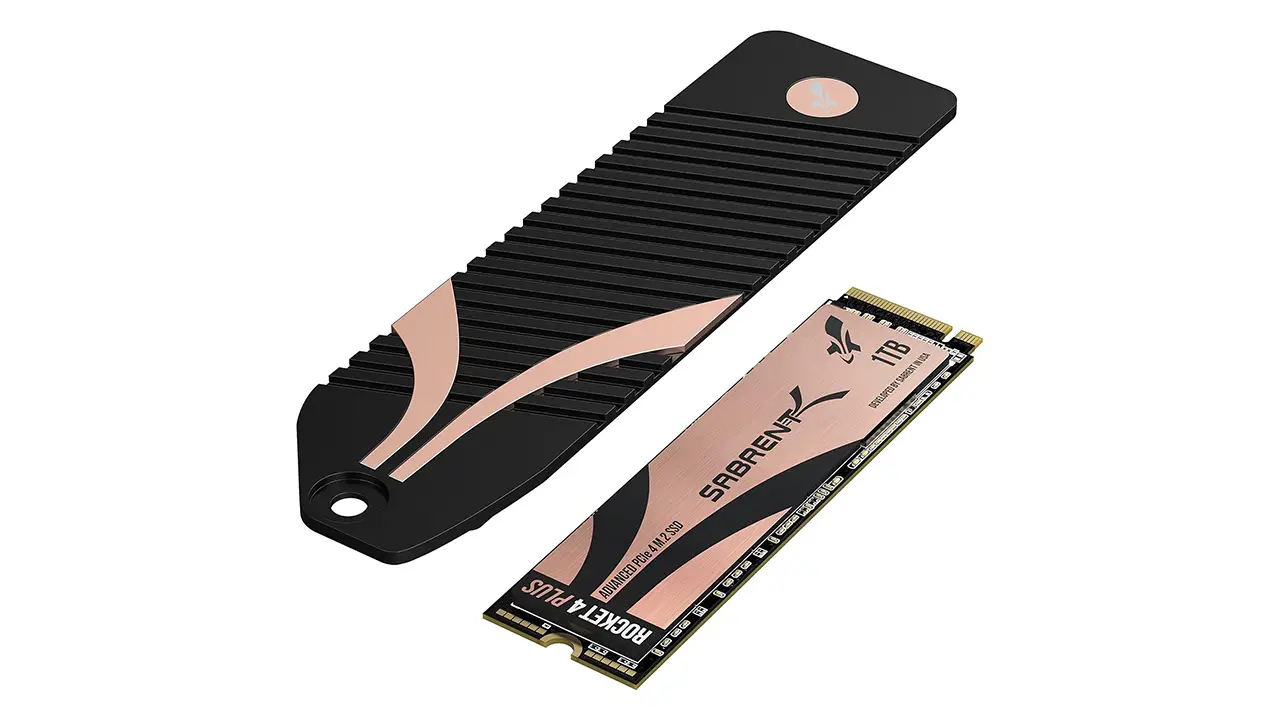 Do you want to treat yourself to an SSD for your PS5, but you don't want to spend a fortune? Well, we have the solution for you! Opt for the Sabrent Rocket 4 Plus. This SSD has storage space of up to 8 TB. Its sequential read speed is 7000 MB/s, while its sequential write speed is 5300 MB/s, for the 1 TB version.
In addition, note that this PS5 compatible SSD uses the combination of TLC NAND flash memory (96 layers) and 4th generation PCIe NVMe technology to ensure a reliable and durable gaming experience.
In short, the Sabrent Rocket 4 Plus is an SSD with interesting characteristics. In addition to that, it offers good value for money. If you have a small budget but a big desire to increase the storage space of your PS5, this is the SSD that you should turn to.
Crucial P5 Plus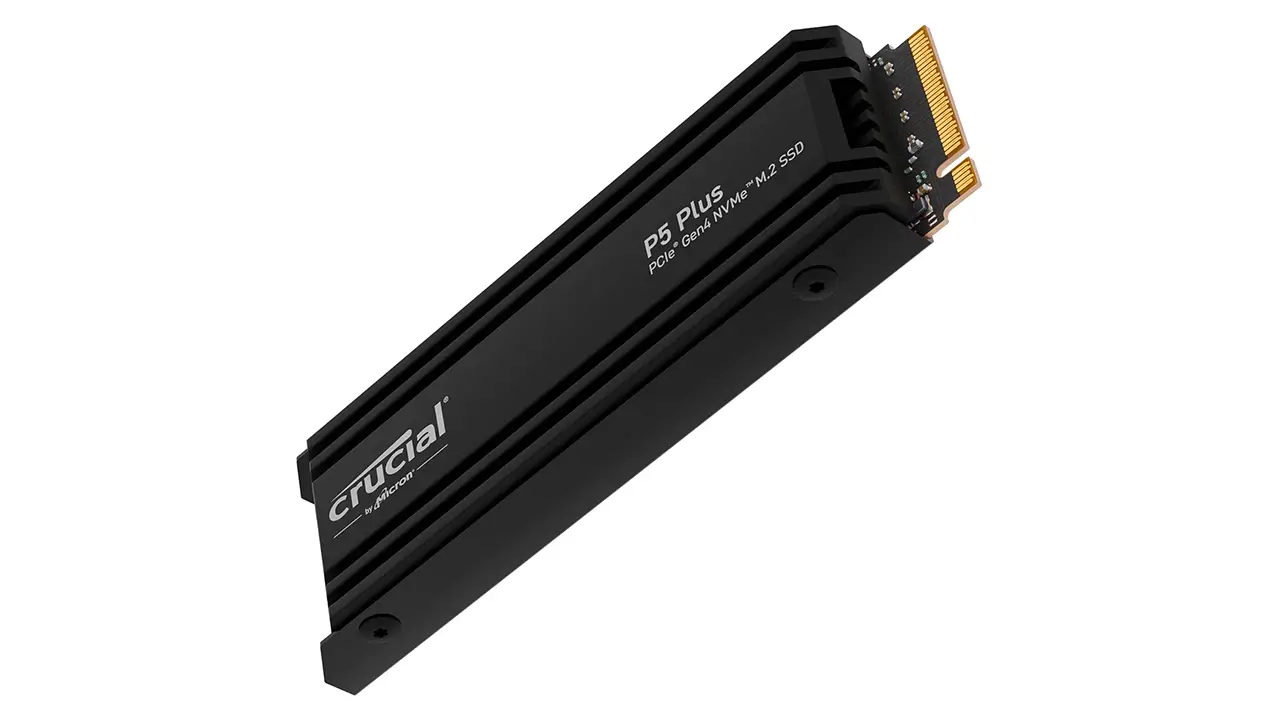 If you are looking for an SSD that is not too expensive but combines speed and performance, we suggest you test the Crucial P5 Plus. This model lets you benefit from 1 TB or 2 TB of storage space. It comes with an M.2 2280 PCIe 4.0 x4 interface.
The Crucial P5 Plus is available with a sequential read speed of 6600 MB/s and a sequential write speed of 5000 MB/s. With this SSD, latency will be visibly reduced. It is the ideal SSD for intensive uses such as gaming. It will, therefore, do the job very well in your PS5.
Like its competitors, this SSD benefits from 4th generation PCIe technology.
Samsung 980 Pro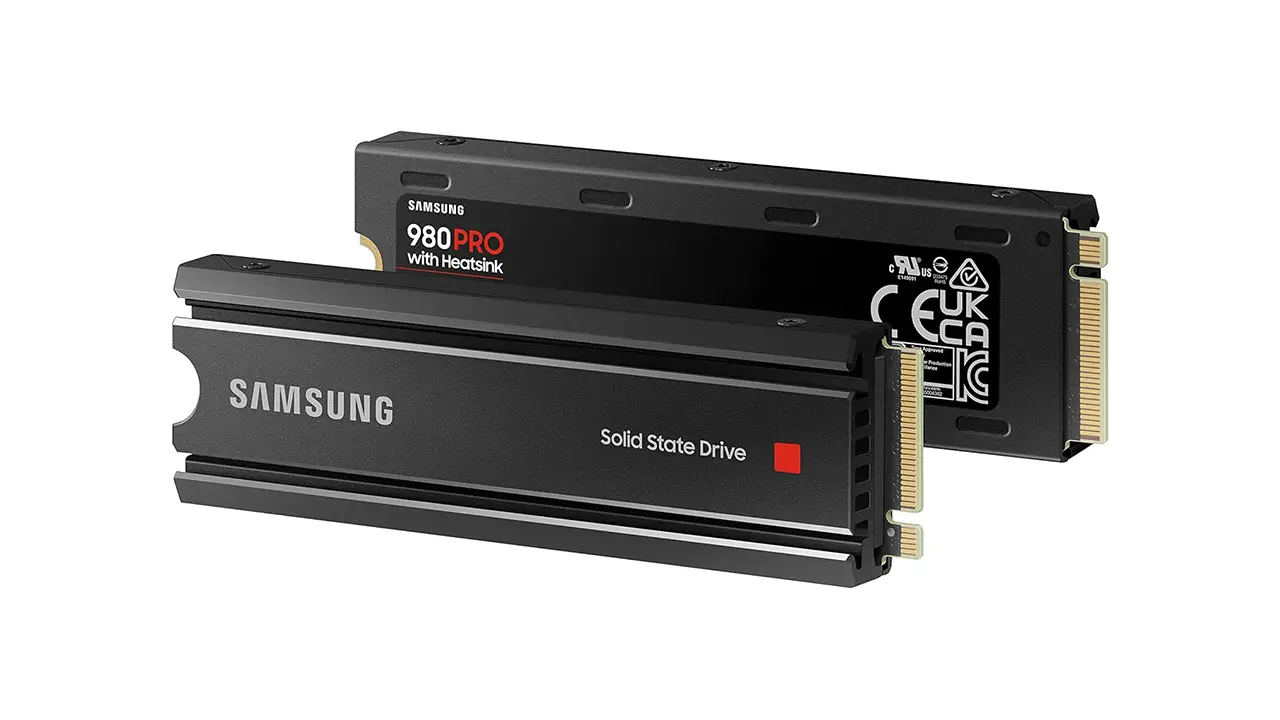 The Samsung 980 Pro positions itself as the SSD of choice, easily competing with its competitors thanks to its reliability and impressive performance. Offered in 1 TB or 2 TB capacities, it meets the storage needs of demanding gamers.
Its sequential read speed reaches 7000 MB/s, while its sequential write speed stands at 5000 MB/s, surpassing many of its rivals on the market.
One of its distinctive features is its V-shaped 3D TLC NAND chip, an innovative design that not only doubles its write speed but also helps improve its performance over time.
It is important to note that for optimal temperature management it is advisable to choose the model equipped with a heat sink, although a version without a heat sink is also available.
Corsair MP600 Pro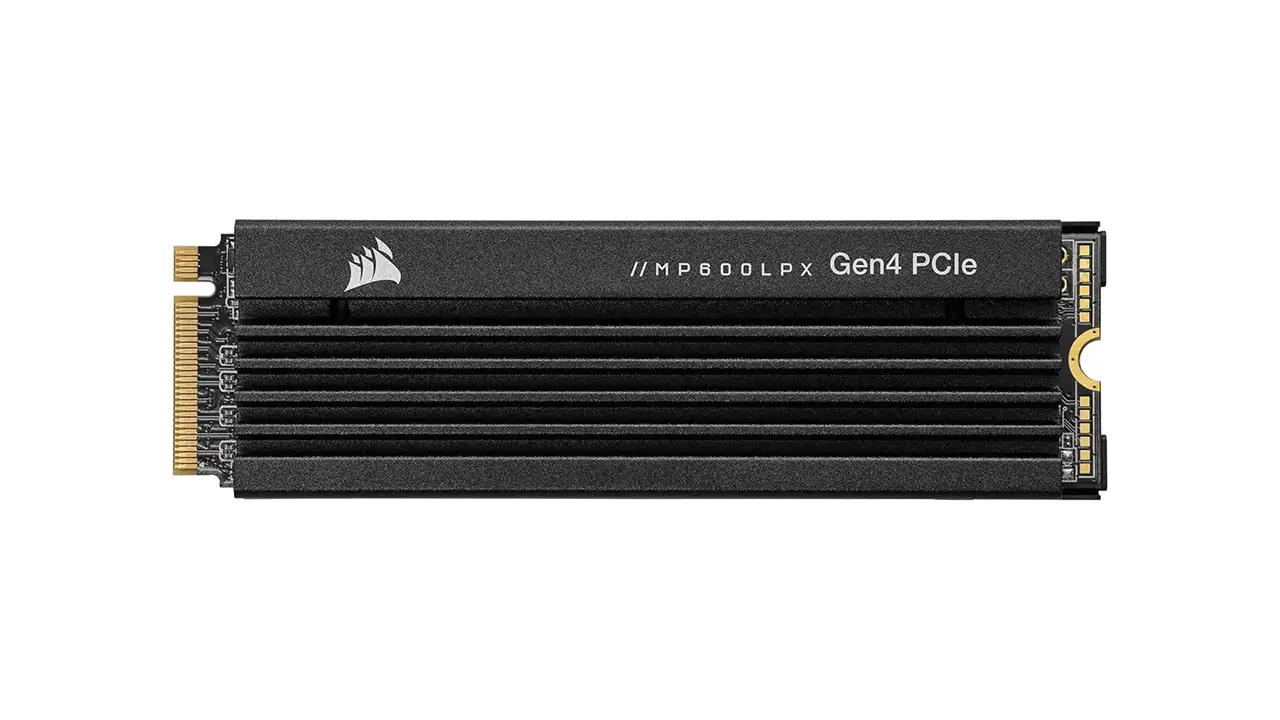 The Corsair MP600 Pro offers you the benefit of 1 or 2 TB to store all your games. On the interface side, it comes with M.2 2280 PCIe 4.0 x 4 technology. It comes with a sequential read speed of 7100 MB/s and a sequential write speed of 6800 MB/s. As for its chip, we find a 3D TLC NAND.
The Corsair MP600 Pro comes with a heatsink. This device allows it to lower its temperature and run at full performance for longer.
By choosing this model, you benefit from the guarantee of optimal compatibility with your PS5, the manufacturer having specifically designed and optimized this SSD for the Sony console.
Gigabyte AORUS Gen4 7000s M.2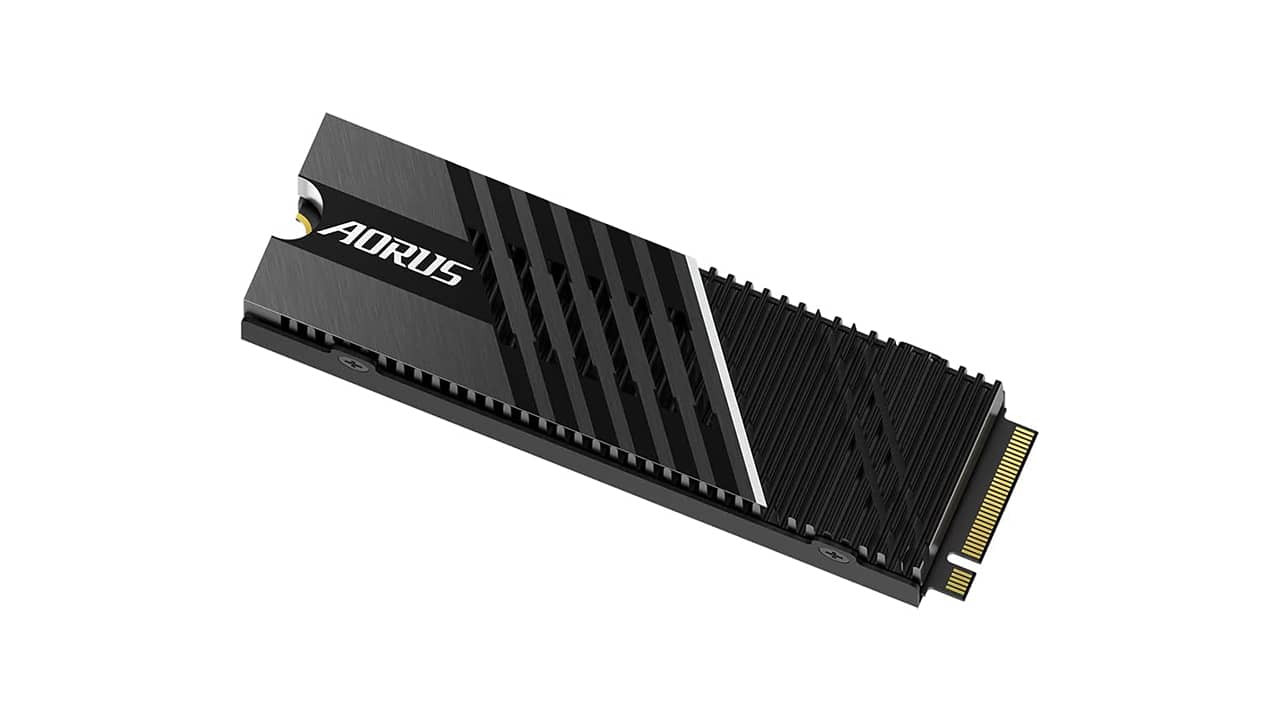 To close this list, we find the SSD signed AORUS. This SDD is specially designed for gaming. This is one of the best you can get if you want to increase your PS5's storage space.
Indeed, the Gigabyte AORUS Gen4 7000s allows you to launch PS5 games, but not only that. It also works with titles that made the heyday of the PS4. You can, therefore, use this SSD to store all your PS4/PS5 games and thus preserve the internal storage of your PS5.
On the storage side, it offers you 1 TB of space and has a PCI-Express 4.0 x4 interface. The Gigabyte AORUS Gen4 7000s displays a sequential read speed of 7000 MB/s, compared to a 5000 MB/s write speed.
Finally, note the presence of a heat sink for better cooling in your PS5 console.
Is the SSD heatsink required on PS5?

The answer is categorical: yes. For any SSD expansion on the PS5, a heatsink is crucial in order to prevent overheating, a point that Sony explicitly emphasizes on its official website.
However, if you find an affordable PS5-compatible SSD that doesn't include a heatsink,
don't worry. It is entirely possible to purchase a heatsink separately for around ten euros. Here are some reliable options available in the market:
be quiet! MC1 M.2 SSD Cooler Heatsink
huiingwen M2-3 M.2 2280
ICY BOX Flat Cooler
glotrends
What SSD capacity should you choose for the PS5: 1 TB or more?
Choosing your SSD capacity for the PS5 depends entirely on your gaming habits, a personal decision that we can't make for you. That said, our general recommendation is to opt for an SSD of at least 1TB. This capacity offers a good balance between storage space and budget for the majority of users. If you're a gamer who likes to have a large library of games installed, seriously consider a 2TB or even 4TB SSD. These higher capacities give you greater peace of mind in terms of available space, allowing you to store a vast collection of games without constant worry about space management.
PS5: the best external hard drives and SSDs for your console.
This comprehensive guide aims to assist you in making an informed decision when choosing an M.2 SSD for your PS5, considering factors such as compatibility, performance, and value for money. By following the guidelines provided by Sony and exploring the options mentioned in this article, you can enhance your gaming experience by expanding the storage capacity of your PS5. Additionally, we've covered the necessity of a heatsink for optimal performance and offered recommendations for affordable options if your chosen SSD doesn't come with one.
Now that you have the necessary information, you can confidently select the best SSD that aligns with your preferences and gaming needs. Whether you opt for the high-performance WD_Black SN850, the budget-friendly Sabrent Rocket 4 Plus, the reliable Crucial P5 Plus, the impressive Samsung 980 Pro, the feature-rich Corsair MP600 Pro, or the gaming-focused Gigabyte AORUS Gen4 7000s M.2, each SSD on this list brings its own set of advantages to the table.
Remember to consider your storage requirements, budget constraints, and gaming habits when making your decision. With the right M.2 SSD, you can significantly enhance the storage capacity and performance of your PS5, ensuring a seamless gaming experience for the titles you love.