be quiet!, the German manufacturer of premium PC components, is expanding its range of all-in-one water cooling systems with the Pure Loop 2 series. Following the success of the Pure Loop, which garnered several awards from trade publications, the Pure Loop 2 introduces significant improvements. Notable features include an adjustable PWM pump and ARGB lighting on the cooling block. In contrast to the Pure Loop 2 FX, the new Pure Loop 2 incorporates the brand new Pure Wings 3 PWM high-speed fans from be quiet!, known for their high static pressure and quiet operation simultaneously. To cater to the diverse cooling needs of individual PCs, the Pure Loop 2 series will be offered in four different radiator sizes: 120mm, 240mm, 280mm, and 360mm.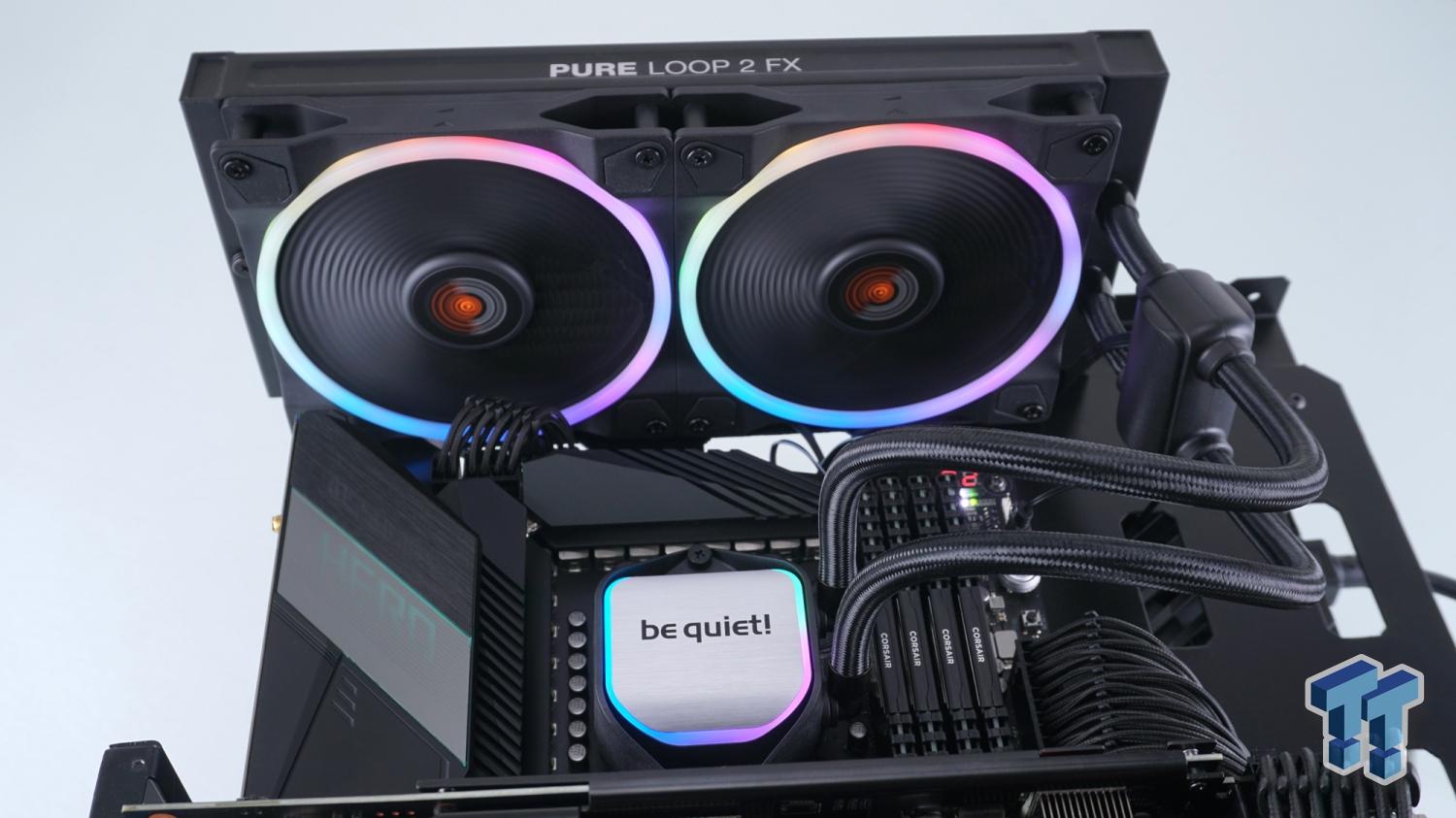 The Pure Loop 2 compact water cooling systems are outfitted with up to three Pure Wings 3 PWM high-speed fans, ensuring very quiet operation with a maximum noise level of 36.8dB(A) at maximum speed. The closed-loop motor technology of the fans monitors and adjusts fan speed automatically, maintaining a constant speed regardless of radiator air resistance for consistent performance. The Pure Loop 2 series incorporates a double decoupled pump, meaning the radiator and CPU cooling block are separated from the hoses. This design reduces vibration transmission, with additional rubber damping inside the pump housing for further decoupling. For optimal fine-tuning of the power-to-volume ratio, the pump is adjustable via PWM. A nickel-plated base plate ensures efficient cooling performance for common desktop processors and allows for the use of liquid metal thermal paste.
The Pure Loop 2 boasts an eye-catching design, easy installation, and a refill opening for user convenience. Its visually discreet appearance, all-black design of fans, radiator, and hoses, along with a cooling block made of brushed aluminum, contributes to a sleek aesthetic. The subtle ARGB lighting on the cooling block adds a colorful touch. To facilitate long-term performance, be quiet! has integrated an easily accessible refill opening on the radiator for straightforward coolant refills when necessary. The package includes a 100ml bottle of coolant, sufficient for at least six refills. The highly flexible and nylon-coated hoses make installation easy, even in enclosures with limited space. Supported by a foolproof mounting system, the Pure Loop 2 series is compatible with all current mainstream desktop processors from Intel and AMD.
The Pure Loop 2 compact water coolers will be available in stores from October 10, with a recommended retail price of 89.90 euros (120 mm), 104.90 euros (240 mm), 114.90 euros (280 mm), and 129.90 euros (360 mm).