Every time you browse the internet, behind each URL, there is an IP address. To transform these URLs into IP addresses, your computer uses DNS (Domain Name System) servers, which act as intermediaries, translating domain names (like www.easy-tutorials.com) into IP addresses that your computer can understand. QuickSetDNS is a small tool that can greatly simplify DNS server management for Windows users. In this article, we present QuickSetDNS, its characteristics, and its usefulness.
Summary:
What is QuickSetDNS?
Why change DNS server?
How to use QuickSetDNS?
Conclusion
What is QuickSetDNS?
QuickSetDNS is free software developed by NirSoft, a developer known for its handy Windows utilities. The application allows you to easily change the DNS servers associated with your network connection without going through Windows' numerous network settings windows and tabs.
The app offers a clear list of DNS servers, allowing you to quickly switch between different servers (Cloudflare, Google, Quad9, etc.), whether for performance, security, or privacy reasons.
For example, if you share your computer with your children, QuickSetDNS can be a real asset to ensure safer browsing. With just two clicks, you can opt for DNS servers with filtering options such as those from Cloudflare (1.1.1.3, 1.0.0.3) or AdGuard (94.140.14.15, 94.140.15.16). These DNS servers not only block malware but also adult content, guaranteeing a peaceful navigation experience suitable for all family members.
Besides its ease of use, what sets QuickSetDNS apart is its portability. It requires no installation and can be run from a USB drive or other external storage media, making it particularly useful for IT professionals or those who frequently work on different machines.
Finally, note that the app also offers advanced features for those who want more control over their DNS configuration, including manually adding DNS servers (IPv4 and IPv6).
Why change DNS server?
Changing your DNS server can significantly impact your internet browsing experience:
Firstly, performance is often the main reason for the change: depending on your location and your service provider, certain DNS servers may offer faster address resolution, making your navigation smoother.
Additionally, if the default DNS server provided by your Internet Service Provider (ISP) has problems or intentionally blocks certain content, you may not be able to access certain sites; in this case, switching to a backup server is essential.
Privacy is another growing concern for many users: servers like FDN or Quad9 were designed with privacy in mind.
Finally, as we mentioned above, some DNS servers offer filtering features, protecting you from malicious or inappropriate sites by blocking their access. So, depending on your specific needs, the choice of DNS server can greatly influence your online experience.
How to use QuickSetDNS?
The QuickSetDNS interface is simple and clean. Here's how to use it step by step:
1.Start by downloading QuickSetDNS from the developer's official website. To do this, click on the "Download QuickSetDNS" link.
2. Once the files are downloaded, unzip both ZIP archives into the same folder.
3. Then run the software by double-clicking QuickSetDNS.exe.
Once launched, you will see a list of predefined DNS servers:
1. To change the active DNS server, right-click on the server of your choice, then select the "Set active DNS" option. You can also use the keyboard shortcut "F2" for the same action.
2. If you want to add a new DNS server, right-click anywhere in the main window, choose the "New DNS Server" option, then enter the server name and its IP addresses separated by a comma.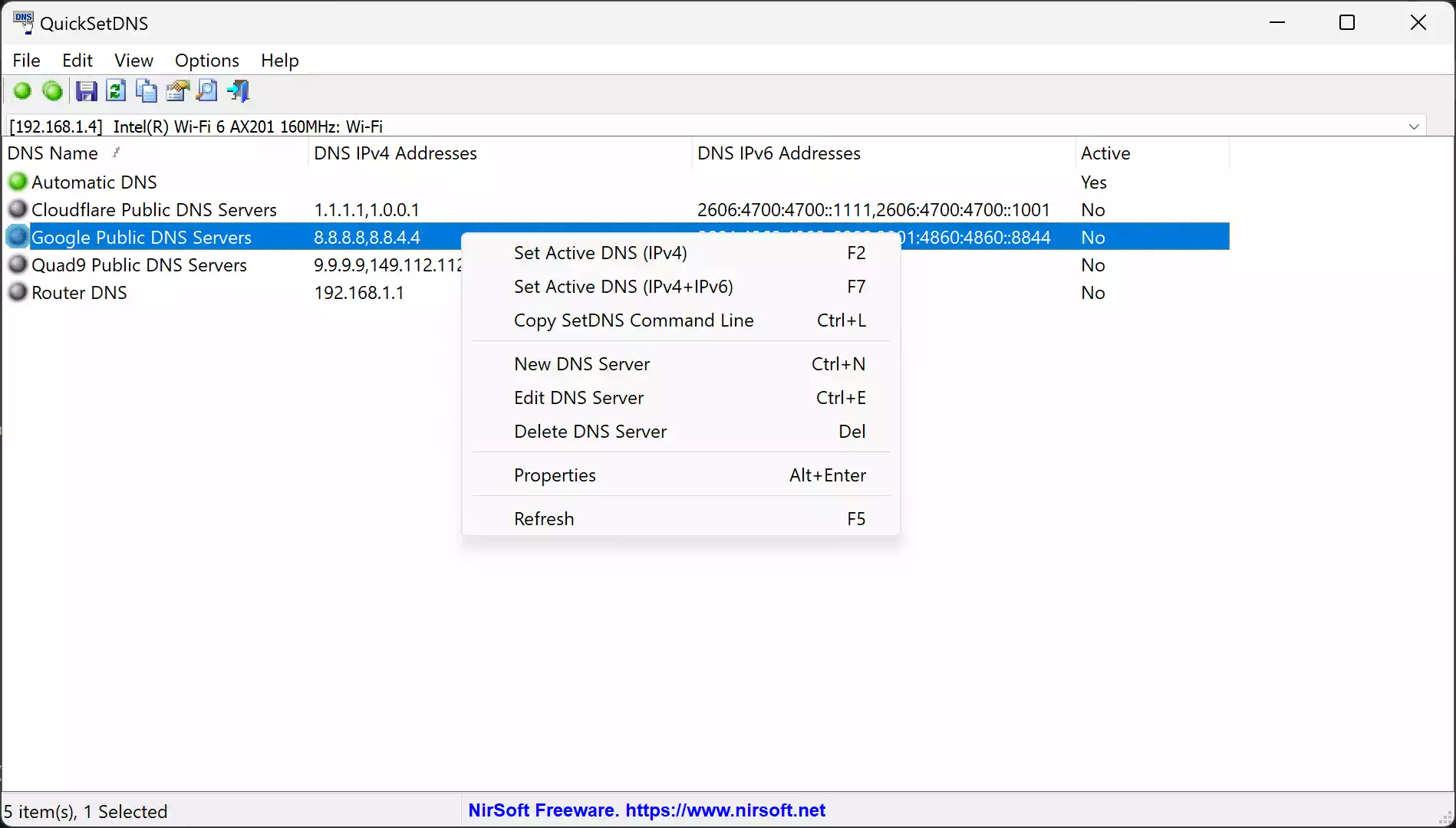 3. DNS servers can be deleted or modified using the context menu accessible by right-clicking on the server.
4. For advanced users, it is possible to change the DNS server via the command line. To obtain the necessary command, right-click on the desired server and then click "Copy SetDNS Command Line".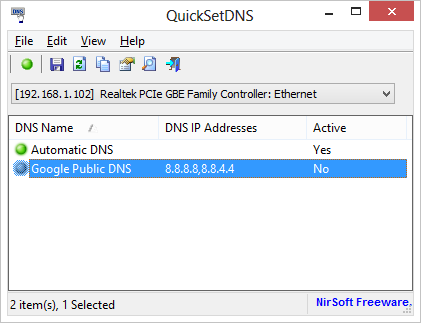 In the QuickSetDNS options, additional preferences can be set, such as showing the program icon in the system tray or setting actions when double-clicking a server or pressing the Enter key.
With these steps, you can fully exploit all the features offered by QuickSetDNS to manage your DNS servers with efficiency and simplicity.
Conclusion
QuickSetDNS is a handy, lightweight, and easy-to-use tool for anyone looking to quickly and efficiently manage their DNS servers on a Windows machine. Whether it is to improve browsing performance, guarantee confidentiality, or protect against malicious content, this utility has its place in the toolkit of informed technophiles.