With the advent of AI in the field of graphic design, creating quality visual content has become more accessible than ever. Recraft AI is positioned as a major player in this transformation. This innovative platform uses artificial intelligence (AI) to generate and edit vector art icons, 3D images, and illustrations, opening up a whole new horizon of possibilities for creatives everywhere. To learn more about Recraft AI and how it works, keep reading.
What is Recraft AI?
Recraft.AI is an AI-powered online graphic design tool that provides users with limitless creative space. This tool simplifies the generation and editing of various types of graphic elements.
One of the great advantages of Recraft is its accessibility to users of all skill and experience levels. Its intuitive interface makes creating beautiful art prints, refining color palettes, changing art styles, and achieving high-quality results easily achievable.
Another notable feature of Recraft is its allowance for the commercial use of generated images. This opens up new possibilities for companies and individuals wishing to utilize their creations commercially. Whether designing website graphics, creating illustrations for marketing materials, or generating vector art for print projects, Recraft is a valuable resource.
Additionally, the site hosts a vibrant community page where users can draw inspiration from the techniques and designs of other creatives.
To access Recraft, a Google account is required. While this requirement may initially feel like a hassle for some users, those who already possess a Google account will appreciate the seamless signup and login process.
The best part is that Recraft is completely free for everyone, making this powerful graphic design platform accessible to all without spending a dime.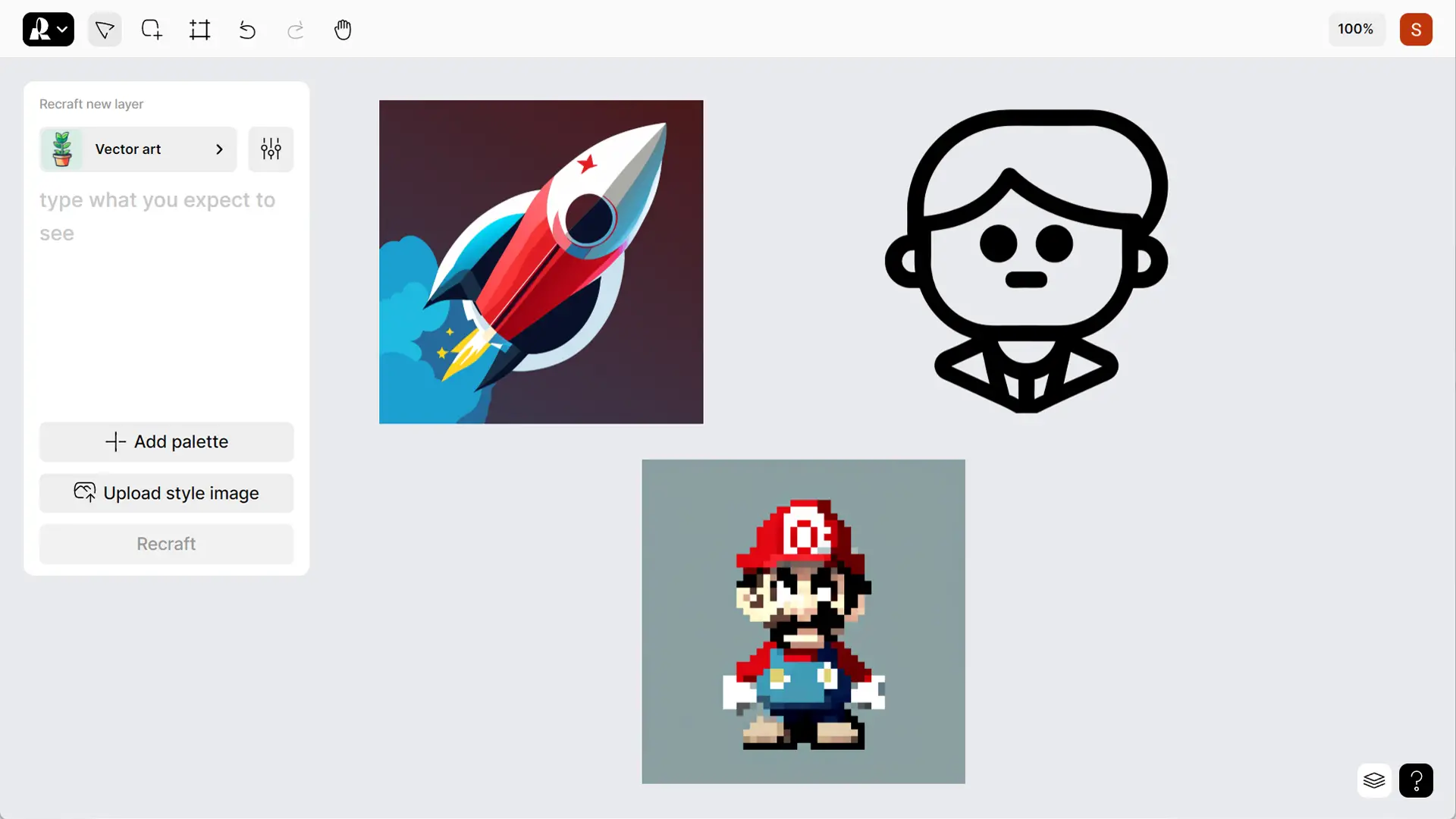 How does Recraft AI work?
Once you connect to the Recraft AI site, a toolbox will appear at the top left of your screen. This is where you can select the style of images to generate, specify the desired level of detail, and indicate any elements to exclude from the image.
The next step is to guide the AI by providing descriptive text of your intended design. The more precise you are in your instructions, the better the AI will be able to meet your expectations.
Recraft AI also offers the option to select specific colors to use and even import an image style for replication.
Exporting your creation is the final step in your creative process with Recraft AI. You can export your work in popular formats such as SVG, PNG, and JPG with just one click. These adaptable formats enable you to use your creations on various platforms and applications, whether for your website, social media, presentations, or any other place requiring impactful visuals.
Conclusion
Recraft.AI is an exceptional graphic design tool that revolutionizes and enhances the graphic creation process using the power of artificial intelligence. Whether you're a professional designer seeking to streamline your workflow or an enthusiastic hobbyist aiming to create stunning graphics for your blog or website, Recraft.AI offers a multitude of features to bring your creative projects to life.
In essence, Recraft.AI goes beyond being a mere graphic design tool. It fosters a vibrant community of creatives who come together to share, innovate, and collaborate. Join this community today and unlock the boundless possibilities that await you on this remarkable platform!