Who has never dreamed of playing their favorite PlayStation 3 games on their computer? Well, know that it is possible thanks to RPCS3, a 100% free PS3 emulator that simply works wonders! The latter allows you to (re)play PS3 games on PC, often with superior quality compared to that of the original console. In this article, we will explore RPCS3 in detail: its features, how it works, how to install it, and much more. Follow the leader!
Summary
What is RPCS3?
RPCS3 Features
System Requirements
How to install RPCS3
Find and download PS3 game ROMs
Play PS3 games on PC with RPCS3

Install PS3 games (PKG format)
Install PS3 games (ISO format)

Performance and Compatibility
Community and support
Legal Considerations
Conclusion
What is RPCS3?
RPCS3 is undoubtedly the best free emulator for PlayStation 3 (PS3). The program is written in C++ and is available on Windows, macOS, Linux, and FreeBSD. Initiated by developers DH and Hykem in May 2011, the RPCS3 project is now under the co-direction of two dynamic developers, Nekotekina and kd-11. They work in collaboration with an exceptional team of contributors on GitHub.
RPCS3 was developed with the goal of providing a smooth and authentic PS3 gaming experience while allowing players to enjoy improved graphics and other features on their PC.
Thanks to its open-source nature, it allows the community, testers, and developers to get involved. This means faster bug fixes, quicker updates, and ultimately, console-like gameplay, if not better.
RPCS3 Features
RPCS3 offers numerous features that make it the ideal choice for playing PS3 games on PC. One of these features is the ability to render games in high resolution and enhance graphics through upscaling. This enables players to enjoy a higher visual quality compared to the original PS3 console.
Furthermore, RPCS3 supports various PS3 peripherals, including controllers and accessories, allowing players to recreate the authentic PS3 gaming experience. Additionally, the emulator offers convenient features such as save states, which enable players to save and load their progress at any time, and customizable settings to optimize the gaming experience.
System Requirements
To run RPCS3 smoothly, it is essential to have a computer that meets the minimum requirements. Here are the minimum and recommended requirements of RPCS3, which you can also check on the emulator's official website:
| | MINIMUM | RECOMMENDED |
| --- | --- | --- |
| OS | Windows 7 SP1, 8.1, 10 or 11 Linux 5.4 (ancient LTS), Ubuntu 18.04 macOS Monterey 12.0 or newer, FreeBSD 12.3 or newer | Windows 10 22H2 or Windows 11 22H2 Linux 6.2 (Latest), 6.1 (LTS) or newer macOS Monterey 12.3 or newer FreeBSD 13.1 or newer |
| PROCESSOR (CPU) | Modern 64-bit processor (AMD or Intel) | AMD – 6 cores and 12 threads, 8 cores or more Intel – 6 cores and 12 threads, 8 cores or more |
| GRAPHICS CARD (GPU) | AMD – compatible OpenGL 4.3 NVIDIA – compatible OpenGL 4.3 | AMD – Compatible Vulkan NVIDIA – Compatible Vulkan |
| ACCESS MEMORY (RAM) | 4 GB of RAM or more | 8 GB of dual-channel RAM or more |
| STORAGE | SSD or HDD storage | Storage SSD |
How to install RPCS3
Configuring RPCS3 is relatively simple.
Start by downloading the RPCS3 emulator from the official site.
Unzip the archive in 7z format to a location of your choice with unzipping software such as NanaZip.
Then run the RPCS3.exe file.
From the " Welcome to RPCS3 " window, check the box " I have read the Quickstart guide" and click on " Continue."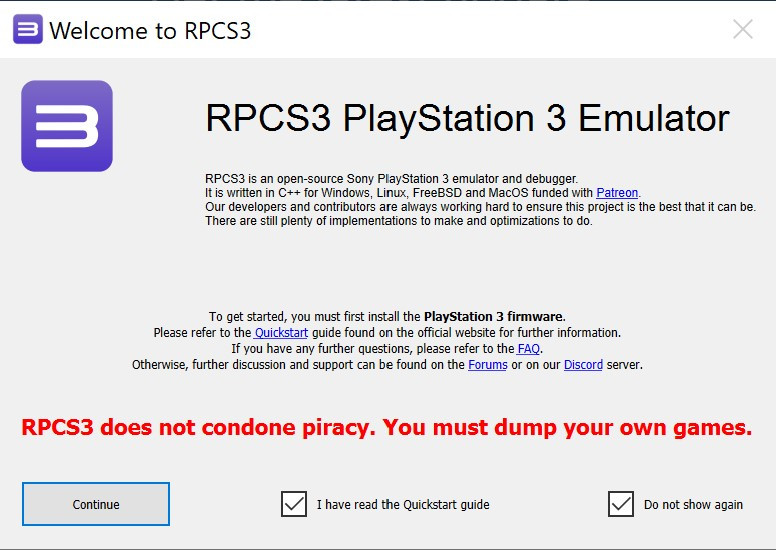 Download the PS3 firmware (PS3UPDAT.PUP) from the official PlayStation.com website. To do this, click on "Reinstallation using a computer" and click on the " Download PS3 update " button.
From the RPCS3 emulator window, click on the " File " menu, then on " Install Firmware."
File Select the PS3UPDAT.PUP, then click " Open. "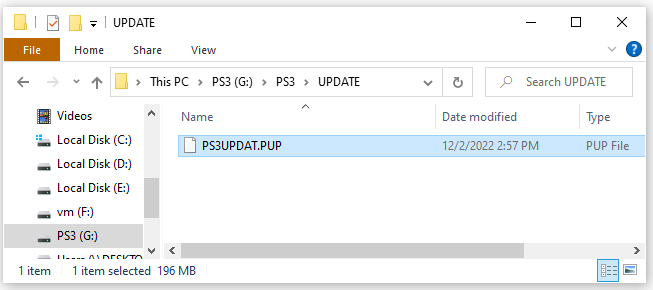 Finally, once the firmware installation is complete, click " OK."
✅ RPCS3 emulator is now ready to emulate your PS3 games on your computer.
Find and download PS3 game ROMs
Before you can play PS3 games on RPCS3, you will need to find and download the game files, which are typically in .pkg or .iso format, compatible with the RPCS3 emulator.
However, it is crucial to acknowledge that distributing or downloading PS3 game files without proper authorization may infringe upon copyright laws and legal restrictions. It is strongly advised to own the original PS3 games legally before obtaining their corresponding game files. Additionally, it is important to be aware of legal sources for downloading game files, ensuring that you respect the rights of game developers and publishers.
Play PS3 games on PC with RPCS3.
Once you have successfully configured RPCS3 and acquired the game files for your favorite PS3 games, you are ready to begin playing. The RPCS3 emulator provides a user-friendly interface that allows you to launch the games directly from within the program.
Install PS3 games (PKG format)
To launch a PS3 game in .pkg format on your PC, follow these steps:
From the RPCS3 interface, click on the " File " menu, then on " Install Packages/Raps/Edats."
Select the PS3 game in .pkg format, then click " Open. "
To install the game package, click " Yes. "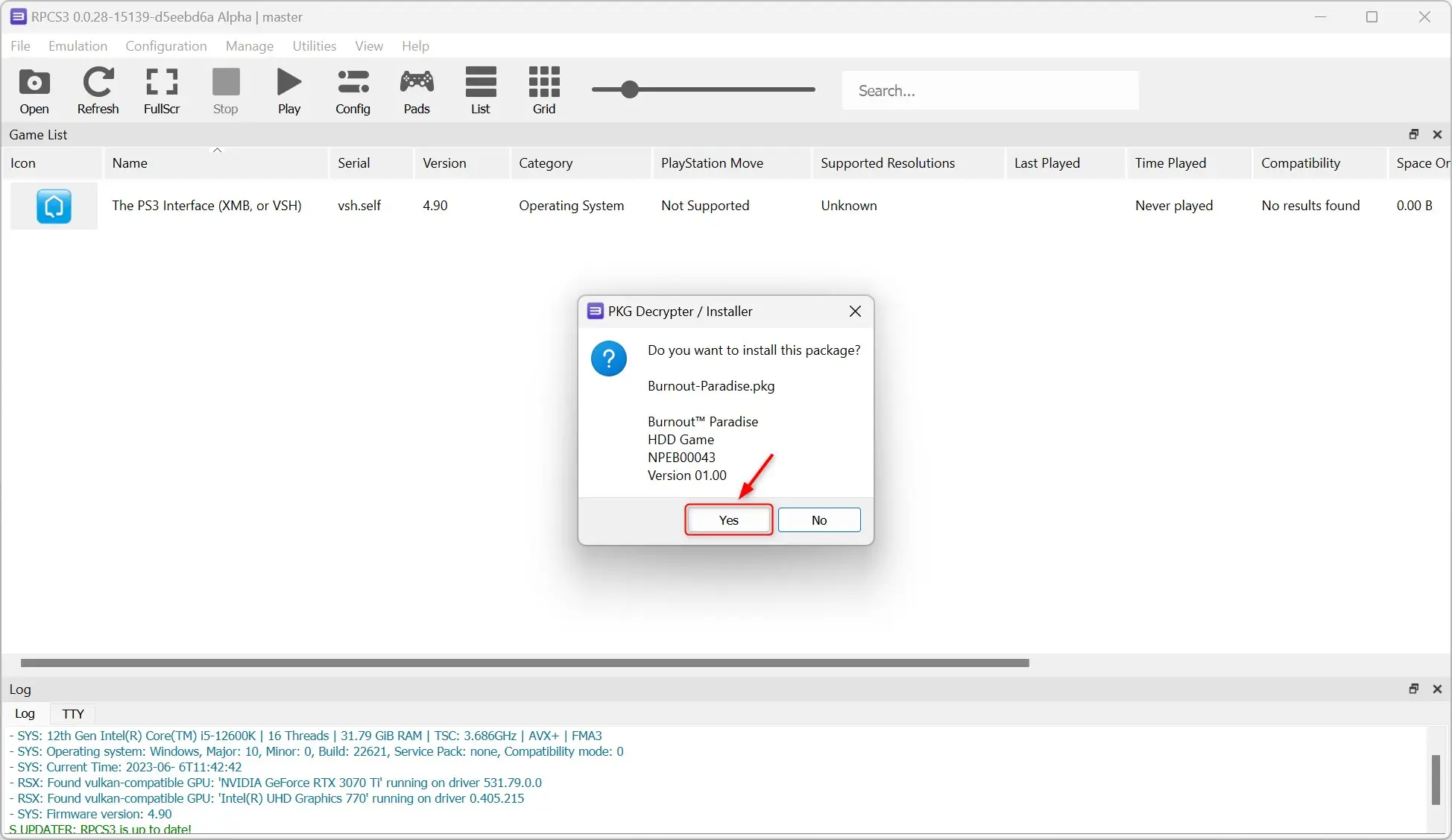 Some games require the installation of an additional file in .rap format to work. " menu again. If so, click on the " File, then on " Install Packages/Raps/Edats ".
Select the .rap file and click " Open ".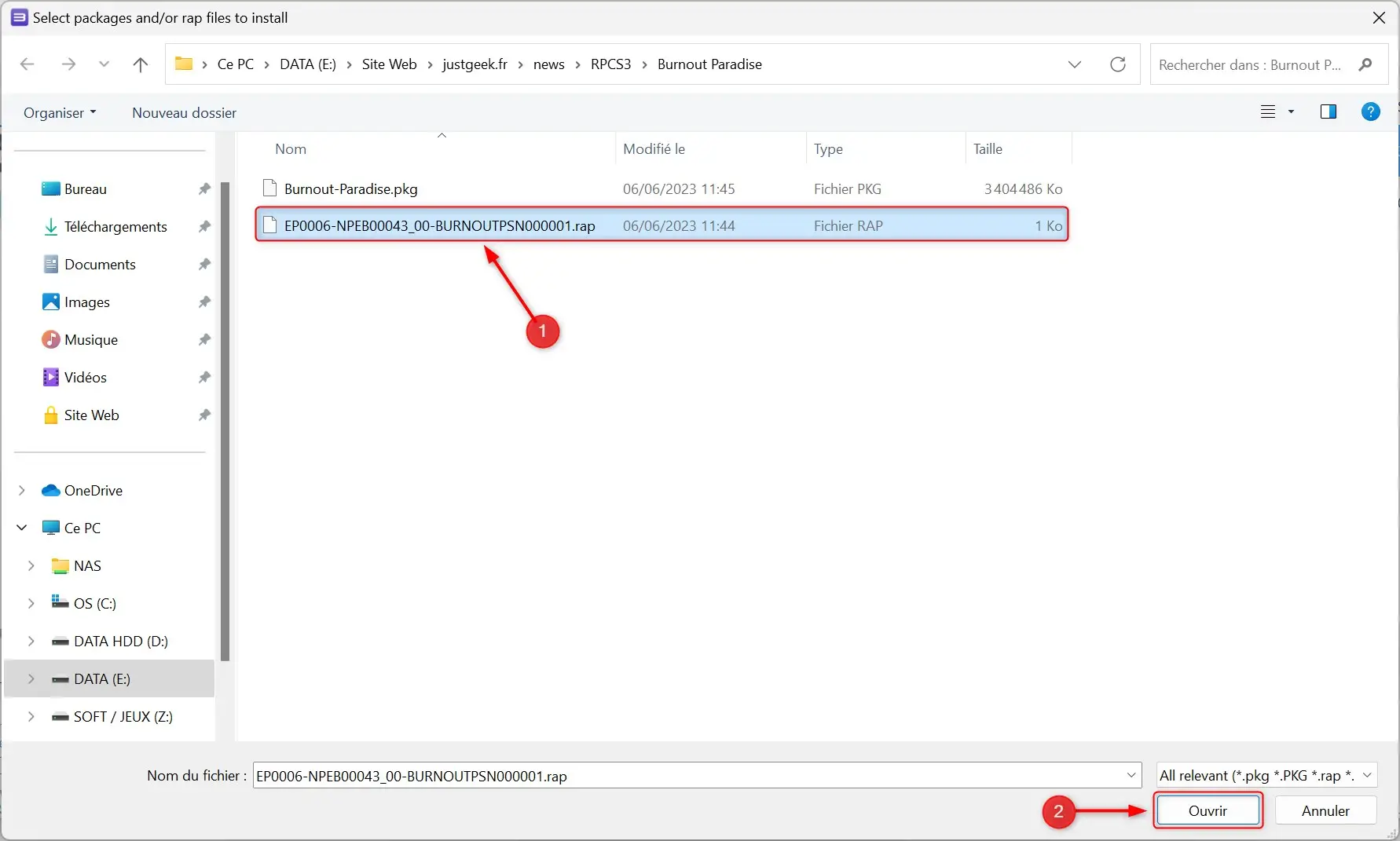 Finally, all you have to do is launch the game by double-clicking on it.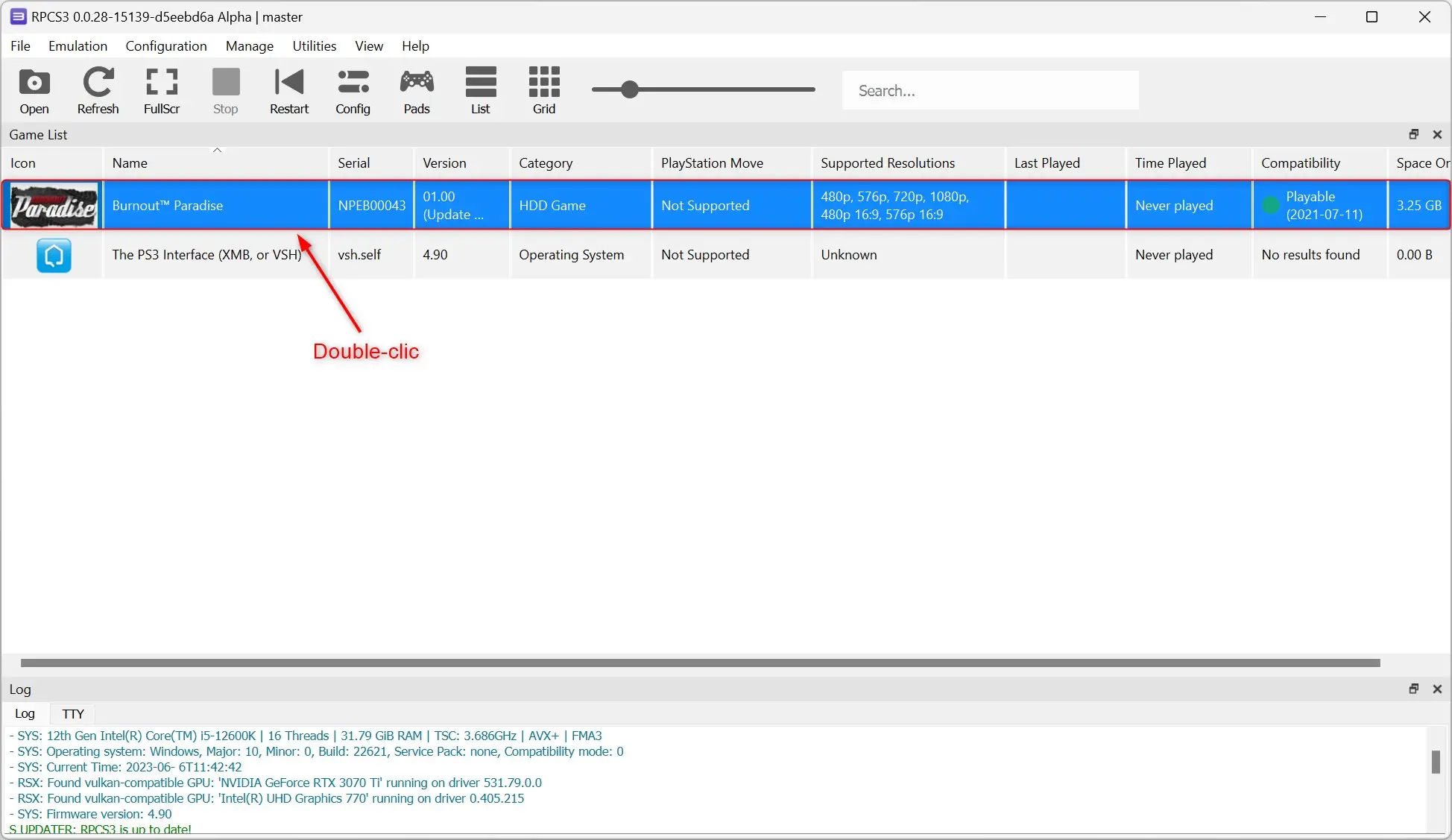 ✅ Congratulations! Now you can enjoy your PS3 games on PC with the RPCS3 emulator.
Install PS3 games in .ISO format
Double-click the PS3 game ISO file to mount it.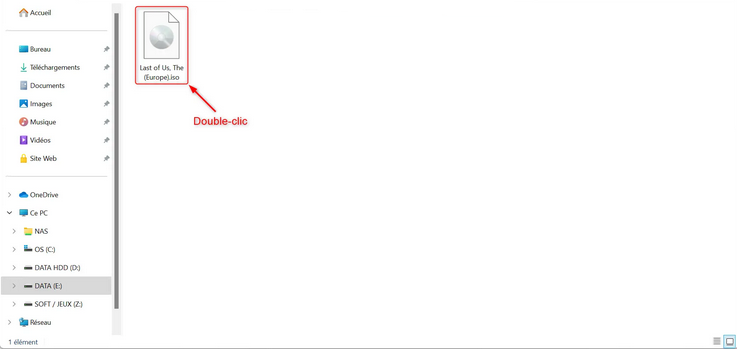 Copy all files and folders from the ISO image.
Paste the items into a folder with a name of your choice.
From the RPCS emulator, click on the " File " menu, then on " Boot Game ".
Select the folder where you placed the ISO image files, then click "Select Folder".
The game should then launch automatically. All you have to do is have fun! 😉
Dumping a PS3 Game with a PC
You can also dump PlayStation 3 discs using a Blu-ray drive, but not all Blu-ray drives will recognize a PS3 disc because of the way PS3 format discs are designed. Therefore, you need to have a Blu-ray drive that has a Mediatek chipset and a +6 read offset. Thankfully, the RPCS3 website has a list of compatible Blu-ray drives that are capable of reading PlayStation 3 format discs.
Once you have a compatible Blu-ray drive, you can execute a PS3 disc dump in a few different ways. A piece of software called Disc Dumper is the easiest way to decrypt your PS3 game disc, as it automates the process.
However, you can also use the Linux command line, provided you're comfortable with that. Alternatively, if those options won't work for you, there is a way to manually dump your discs that is more labor intensive. You can find more detailed instructions in the RPCS3 Quickstart Guide.
Game Compatibility
Full disclosure: not every single PS3 game will work without a hitch with RPCS3. While the development of the emulator is impressive and ongoing, full compatibility is a tall order. Fortunately, there are many games, both disc-based and digital, that are fully playable within RPCS3. Thankfully, the official RPCS3 website is home to a comprehensive list of compatible PS3 software.
Currently, the RPCS3 emulator supports a vast collection of 3,276 games and apps, with approximately 68% of them deemed playable. The RPCS3 team defines a game as "playable" when it can be completed with satisfactory performance and without game-breaking glitches. It's important to note that the list of playable games is constantly evolving, so it's recommended to check it regularly if your favorite game is not yet playable.
When launching a game, RPCS3 handles the emulation of the PS3 hardware, allowing you to experience all aspects of the game, including improved graphics if you have configured the appropriate settings.
However, it is worth mentioning that not all PS3 games run flawlessly on RPCS3 due to the intricacies of emulation. Some games may encounter performance issues, bugs, or glitches. Fortunately, the RPCS3 community is active and consistently working on enhancements to increase compatibility and optimize games on the emulator.
As of now, RPCS3 supports an impressive number of 2,429 PS3 games that can be run smoothly on the emulator. Examples of playable titles include 'The Last of Us,' 'Uncharted,' 'God of War III,' 'Gran Turismo 5,' 'Metal Gear Solid,' and many others. For more information about games compatible with RPCS3, it is recommended to visit the official website.
Performance and Compatibility
The performance and compatibility of PS3 games on RPCS3 can vary depending on your hardware configuration. Less demanding games may run smoothly on modest hardware setups, while more demanding games may require more powerful components for optimal performance.
The RPCS3 emulator is constantly evolving, and the developers are continuously working to improve compatibility and performance of PS3 games on the emulator. Regular updates are released to bring enhancements and fixes for issues encountered by players.
To achieve the best possible performance, it is recommended to have a modern processor with multiple physical cores and a high clock frequency. Additionally, a graphics card that is compatible with OpenGL 4.3 or higher is required for improved graphical representation of PS3 games.
Community and support
RPCS3 boasts an active community of users and developers who actively contribute their knowledge, experiences, and advice. You can participate in forums and join the RPCS3 Discord server to engage with fellow players, seek assistance, ask questions, and share your accomplishments.
The RPCS3 community serves as an excellent resource for obtaining information about new updates, enhancements in game compatibility, and tips for optimizing RPCS3 performance. It's a vibrant hub where you can connect with like-minded individuals who share a passion for PS3 emulation and gaming.
Legal Considerations
Absolutely, you are correct. The use of RPCS3 as an emulator itself is legal since it is an open-source project that does not contain any proprietary Sony code. However, downloading and using PS3 game ROMs raises legal concerns and can potentially infringe upon copyrights.
It is crucial to adhere to the copyright laws of your country and only download and use ROMs for games that you legally own. It is important to be aware of legal sources for downloading ROMs and to refrain from supporting game piracy. Respecting the rights of game developers and publishers is essential to foster a fair and sustainable gaming industry.
Conclusion
Indeed, RPCS3 provides gamers with the opportunity to revisit the captivating games of the PlayStation 3 on their PC. With its advanced features, graphical enhancements, and expanding compatibility, RPCS3 is recognized as the premier emulator for playing PS3 games on a computer.
It is vital to emphasize the importance of respecting copyright laws and ensuring that you legally own the corresponding PS3 games before acquiring and utilizing the ROMs. By adhering to these guidelines, you can fully immerse yourself in the world of PS3 games through RPCS3 and rediscover or experience the iconic titles of this legendary console.