With the rapid expansion of artificial intelligence (AI) across various industries, it can be challenging to navigate through the multitude of available tools in the market. To simplify your search, we introduce SaaS AI Tools. This online directory serves as a comprehensive resource, listing the top AI tools to enhance productivity and foster creativity through AI integration. Continue reading this article for more details.
SaaS AI Tools: Your Ultimate Directory for AI Tools
SaaS AI Tools is the brainchild of Bren Kinfa, who has dedicated the past two months to curating and consolidating a wide array of AI tools and generators into a single website. According to Bren, 'The result is an expanding collection of over 400 AI tools that will elevate your creativity and propel your business to new heights.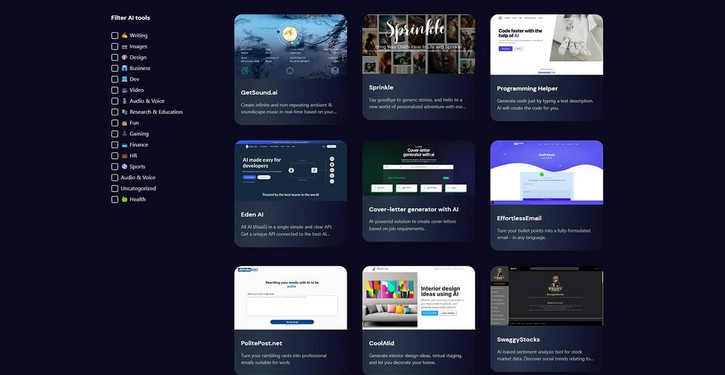 SaaS AI Tools offers a comprehensive collection of AI tools, conveniently categorized to assist you in your research endeavors. These categories include writing, images, design, business, development, video, audio and voice, research and education, games, finance, human resources, sport, and health. Each tool is accompanied by a concise description, allowing you to quickly grasp its features and benefits.
Whether you're a writer, graphic designer, developer, entrepreneur, or an individual seeking to enhance your skills, SaaS AI Tools provides a range of AI tools tailored to meet your goals.
Stay Updated with New AI Tools Every Day
SaaS AI Tools is user-friendly and regularly updated with new AI tools, ensuring users have access to the latest AI technologies and trends. This means you can find the most relevant and cutting-edge tools without searching elsewhere.
Furthermore, the website features a stream of daily news and articles covering the field of artificial intelligence, keeping you informed about the latest trends and developments in AI.
Conclusion
Unlock your productivity and creativity with the diverse array of AI tools available on SaaS AI Tools. It's an indispensable resource for harnessing the power of artificial intelligence. Visit the SaaS AI Tools website today to explore the full range of options