Music is a mixture of voices, instruments, and sounds. Imagine being able to separate each element of your favorite songs, isolating the vocals or a specific instrument. Well, that's exactly what Moseca offers: a new, completely free web application that will undoubtedly delight all the music enthusiasts and sound professionals among you. To find out more about this online tool and how it works, we invite you to continue reading this article.
Moseca: A Web Application to Separate Voice from Music for Free
Moseca is an open-source web application that leverages the power of artificial intelligence (AI) to separate up to six distinct elements (or stems) of a song. These elements include: vocals, drums, bass, guitar, piano (still in beta), and other instruments. The concept is simple: you load a song, and Moseca takes care of the rest.
Whether you're mixing beats, looking for a fun karaoke night, or just curious to see how your favorite songs can be broken down, this tool is for you.
The only downside is that, depending on the quality chosen, the application allows a separation of a maximum of 30 seconds in low quality and 15 seconds in high quality. However, to remove these limitations, you have the option of deploying a Moseca application in your personal environment, whether on Hugging Face Spaces or locally using Docker. You will find all the documentation on this subject on the GitHub platform.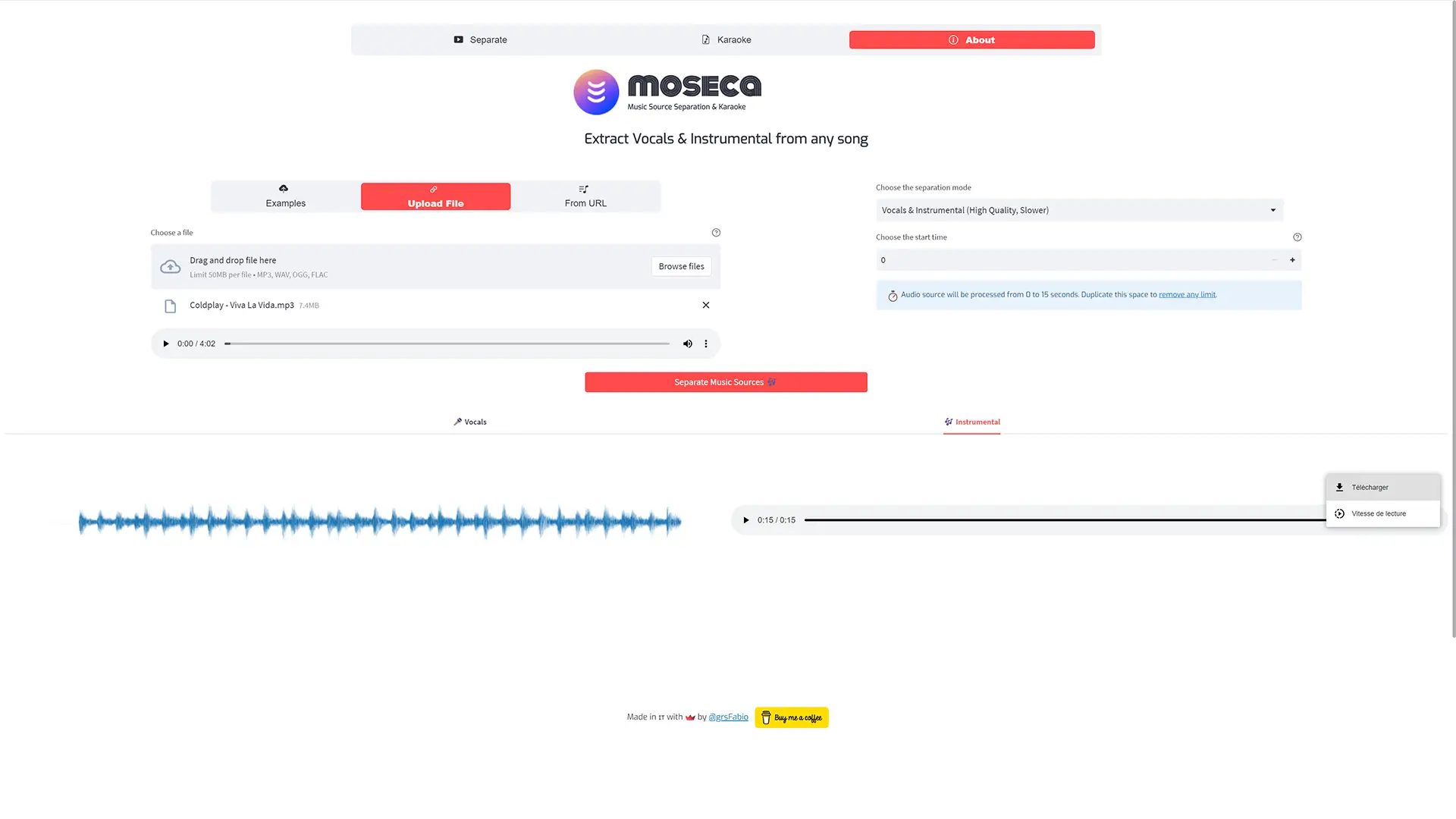 How to Use Moseca?
Using Moseca is relatively simple. To separate voices and instruments in music, follow these steps:
First, you must import your music in MP3, WAV, OGG, or FLAC format (up to 50 MB) directly from the "Upload File" tab. If you have a direct URL of the audio file, simply paste it into the "From URL" tab.
Once your song has been imported, Moseca offers you different separation modes:
Vocals and instrumentals (low quality, faster processing)
Vocals and instruments (high quality, slower processing)
Vocals, drums, bass, and others (slower processing)
Vocals, drums, bass, guitar, piano, and others (slowest processing)
Select the mode you want, then click the "Separate Music Sources" button.
Then let the power of AI do its job, which will analyze and separate each component of your song.
In no time, you have the possibility to listen separately to the voice, the guitar, or any other instrument that the application manages to identify. And of course, you can download whatever interests you in WMV format.
What You Must Remember
Moseca is a free and practical online tool for anyone looking to separate vocals and instruments from a song in just a few clicks. However, although efficient, it has its limits. If Moseca doesn't fully meet your expectations, other alternatives like AudioStrip may also be worth your attention.