As a technology enthusiast and a knowledgeable expert in computer secrets, you will undoubtedly appreciate this discovery that can prove invaluable in many situations: System Examiner. This free application is designed to swiftly generate a comprehensive report of your Windows system.
Imagine having a doctor who can instantly diagnose your computer, uncover its strengths and weaknesses, identify potential errors and issues, and update intricate details of both software and hardware components. System Examiner serves as this doctor, enabling you to diagnose Windows errors and gain insight into the specific hardware of your PC, among other features. It truly is the perfect tool for convenience stores.
Moreover, if you've ever wondered whether the second-hand computer you purchased from OCCAZ came equipped with a genuine version of Windows, System Examiner can provide you with the answer. Its responsiveness and user-friendly interface make it an invaluable asset for inventory management and inspection of used PCs.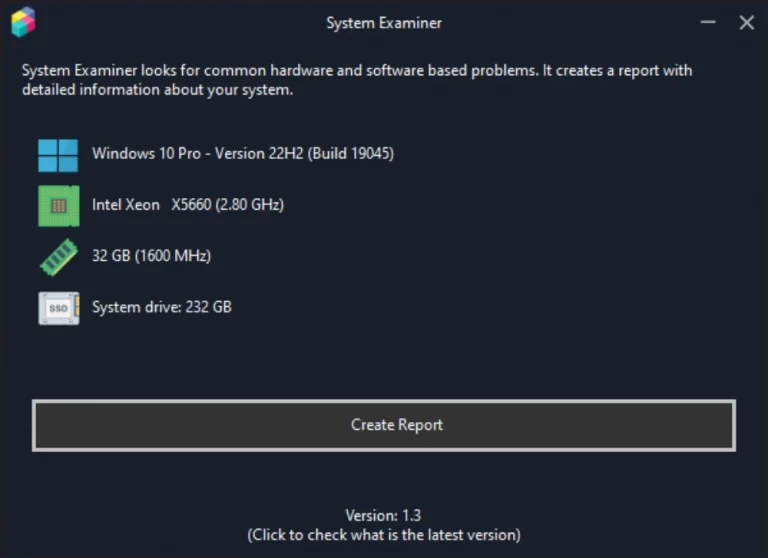 Now that your curiosity is piqued, let's delve into the details of this application. System Examiner allows you to test crucial hardware components of your computer, including the CPU, RAM, and system hard drive. It provides a comprehensive list of programs that launch automatically, along with details of installed Windows software, third-party device drivers, and system services.
The team behind System Examiner has incorporated an automation feature through command-line parameters, streamlining the experience for helpdesk professionals. Additionally, this application is compatible with Windows dark mode (because we all know how essential it is for IT professionals) and does not require administrative rights.
How to Use System Examiner?
Using System Examiner is a breeze. After downloading and installing the application, simply launch it and click on the prominent button to obtain a complete and detailed report of your system. If necessary, uninstalling System Examiner from the Control Panel is as straightforward as removing any other Windows application.
To add the cherry on top, System Examiner is also available in a portable version and can be run from the command line. For instance, to generate a report via the CLI, use the following command:
SystemExaminer.exe /AutoCreate /AutoClose /Filename=report
Don't miss out on the opportunity to be among the first to experience this remarkable tool.