As a technology enthusiast and a connoisseur of computer secrets, you'll surely appreciate this discovery that can be a lifesaver in many situations: System Examiner. This is a free application designed to provide a comprehensive report on your Windows system in the blink of an eye.
Imagine a doctor who can instantly diagnose your computer, revealing its strengths and weaknesses, identifying potential errors and problems, and updating every minute detail of installed software and hardware. System Examiner is that doctor, capable of diagnosing Windows errors and providing detailed information about your PC's hardware and much more. It's truly an ideal tool for troubleshooting.
If you've ever wondered whether the used computer you bought came with a genuine version of Windows, System Examiner can provide you with the answer. Its responsiveness and ease of use make it a valuable partner for inventorying and verifying used PCs.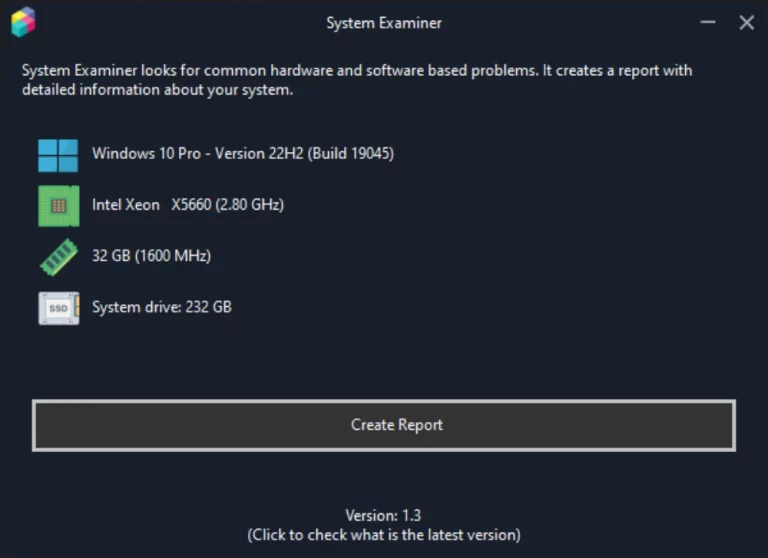 Now, let's dive into the details of this app. System Examiner allows you to test your computer's essential hardware components, such as the CPU, RAM, and hard drive. It provides an exhaustive list of programs that launch automatically, as well as information about installed Windows software, third-party device drivers, and system services.
The team behind System Examiner has integrated automation through command-line parameters to make it easier for technical support professionals. Plus, this application is compatible with Windows dark mode (because we all know that computer scientists' eyes need it) and does not require administrative rights.
Here's how to use System Examiner:
Download and install the application.
Launch it.
Click the big button to generate a complete and detailed report of your system.
If necessary, you can easily uninstall System Examiner from the Control Panel, just like any other Windows application.
And here's the icing on the cake: System Examiner is also available in a portable version and can be run from the command line. For example, to generate a report via the command line, you can use the following command:
SystemExaminer.exe /AutoCreate /AutoClose /Filename=report
Now, you can be one of the first to try out this tool. Check it out here.