When we talk about creating online forms, names like Google Forms or Typeform come to mind. But did you know that there are other lesser-known actors that are just as powerful and, what's more, free? This is the case with Tally, a platform that allows you to create a personalized online form in just a few clicks. This tool stands out for its ease of use and comprehensive functionality. Find out what makes Tally so special.
Tally: The Ideal and Free Tool for Creating an Online Form
Far from complexity and paid models, Tally offers a refreshing approach. It provides a completely free model while offering advanced features that rival market leaders. In a word, it strikes the perfect balance between ease of use and efficiency.
Accessibility is at the heart of Tally's promise. The idea is to enable the creation of forms without financial barriers, which is particularly beneficial for freelancers, startups, or associations with tight budgets.
Intuitiveness is also one of the pillars of Tally. With it, there is no need for tutorials or training. If you know how to write text, you can create an online form. The interface is fluid, and adding elements happens naturally.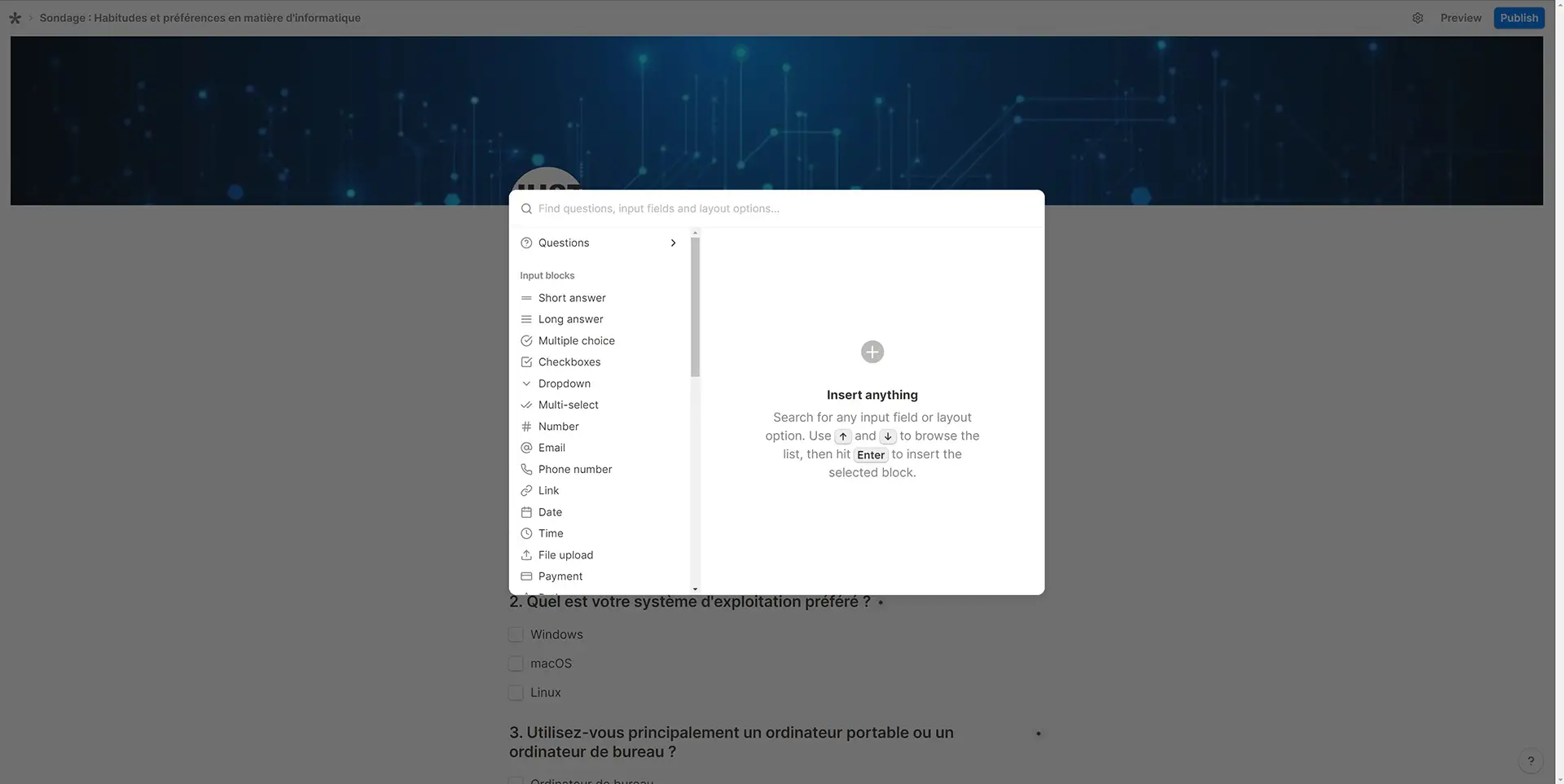 Furthermore, this tool is the result of a tight-knit team of four enthusiasts. They not only seek to innovate but also actively listen to the user community to adapt and meet their needs. Therefore, do not hesitate to share your recommendations with them.
Robust Customization Features
Despite its free model, Tally doesn't skimp on features. Its versatility is impressive. Whether it is to collect opinions, register participants for an event, or even filter applications, Tally has you covered.
The forms created can be smart and interactive. It is possible to adapt questions according to previous answers, calculate scores, or even redirect users, all with disconcerting simplicity.
On the aesthetic side, Tally offers extensive customization options. Each brand is unique, so it is essential to be able to adjust even the smallest visual detail of the form so that it aligns with its identity.
As for distributing the form online, Tally makes things easier here too. Your form can take the form of a link, be integrated directly into your website, appear as a pop-up, and more. And for those who use tools like Notion or Airtable, know that Tally integrates seamlessly with these platforms.
How to Create an Online Form?
To design your first online form on Tally, follow these steps:
Open your web browser and go to the official Tally website.
Once on the site's home page, click on the "Create a free form" button to start generating your first form.
Give your form a title, then start customizing it as you see fit: design, colors, font, logo, cover photo, etc.
To add new blocks to your form, click on the "+" icon (Insert block below) or press the "/" key on your keyboard. Select the block of your choice, then click on the "Insert" button to add it to your form.
Fill out your form as you see fit, then click on the "Preview" button to get a preview of it.
Finally, to publish your form online, click on the "Publish" button located at the top right of the window. You will then be asked to create a free account, and you will instantly obtain the URL that links to your form. All you have to do is share it with whoever you want.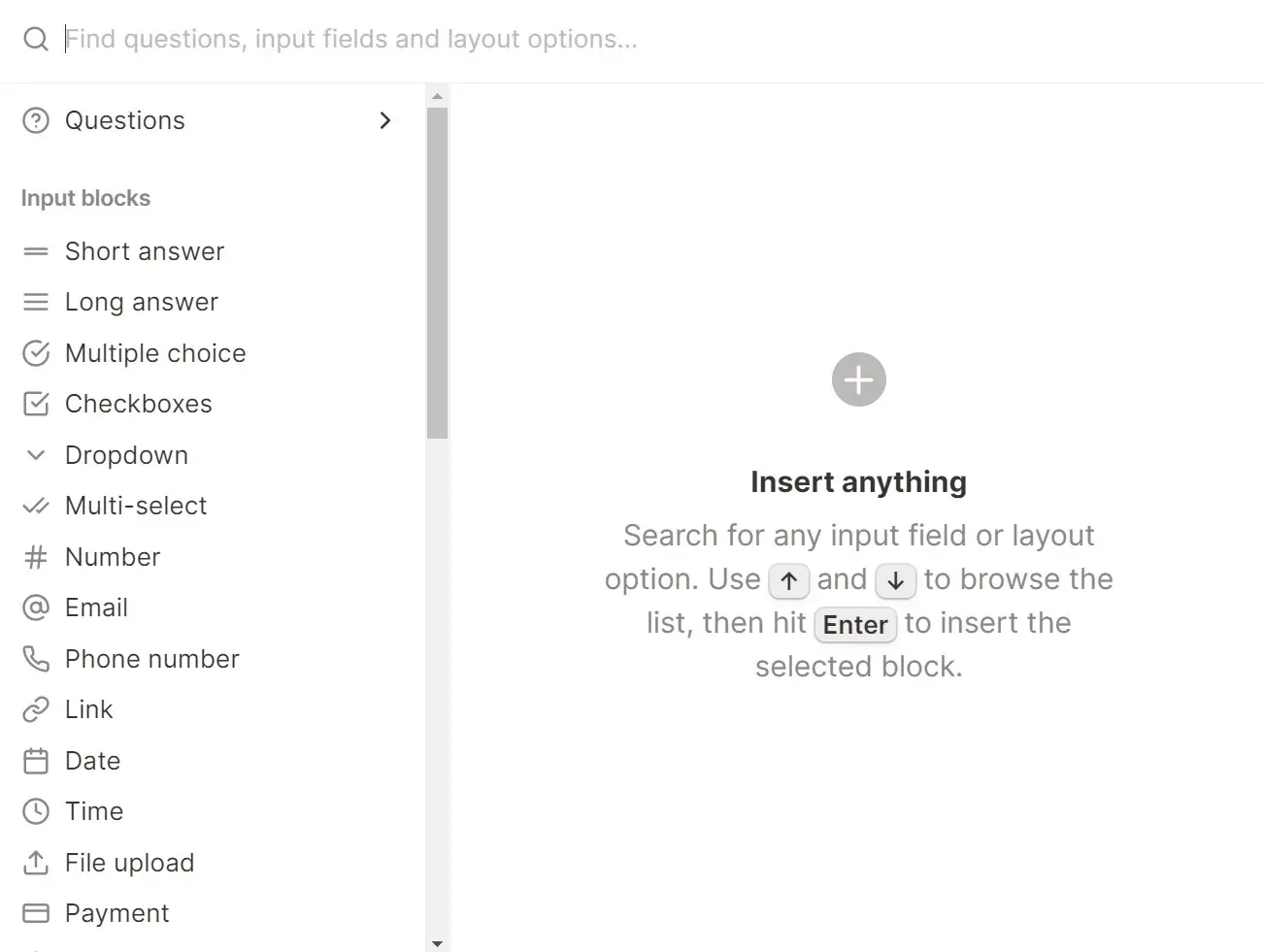 What You Must Remember
If Tally doesn't ring a bell when it comes to online forms, it's time to find out. Between ease of use, functional richness, and the generosity of the offer, it stands out as a serious alternative to Google Forms or Typeform. Discover all its potential on their official website and give some pep to your forms.