Having more than one product or affiliate link and publishing important links on your social media account are vital for establishing a strong online presence and interacting with your audience. However, for Instagram use, being limited to adding only one link to your profile or bio can be frustrating.
Fortunately, these tools for creating a link in the bio have proven to be excellent and effective in enhancing your presence on social media and sharing with your audience what you offer and what they need, and are looking for through you.
What is the Importance of the Link in the Bio?
Tools for creating links in the bio are of great importance for content creators aiming to maximize their influence on social media. These sites and landing pages enable users to combine links in the bio instead of being limited to one option. This is especially useful for sharing and promoting multiple articles, websites, or even products.
By leveraging the capabilities of link in bio tools, social media content providers can create custom landing pages featuring clickable links, simplifying the process for their followers and allowing easy access to desired content.
What are the Most Important Advantages of Using Link in Bio in Social Media Accounts?
Link in bio tools are for content creators who want to increase their online presence, visits to their websites, and promote their products.
The link tools in the bio allow you to create one easy-to-access landing page that contains multiple links, making it easy to share and promote various content and products in one place.
Using link in bio tools, you can strategically direct your audience to specific pages, such as affiliate product pages, articles from your website, or your other social media accounts.
Link in bio tools also provide analytics and tracking features for your followers' clicks, allowing you to measure the success of your links and make clear marketing decisions.
Link Tree
Linktree is considered one of the tools that is widely adopted among influencers and content providers on all platforms. It is the link in bio that enables people to conveniently display their favorite sites, social accounts, affiliate products, and more, all in one attractive place.
Linktree is distinguished by its easy-to-use interface, a set of customization options, and setting and changing backgrounds, ensuring a professional and distinctive touch for you.
Linkpop by Shopify
Similar to Linktree, the Linkpop tool offers exceptional features that include the ability to place links to your Amazon affiliate products and get the title and image of the product within seconds.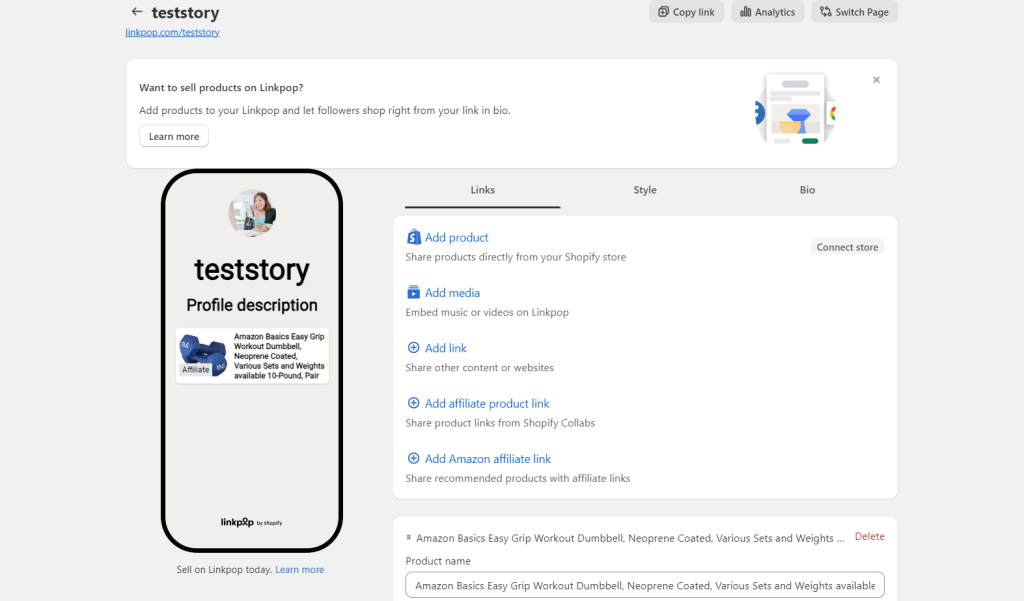 Since this link in bio tool follows the famous Shopify platform, you can display Shopify products from your store. Additionally, it offers a range of customization tools, allowing you to customize the background color or incorporate an image of your choice. These features, among others, make it an ideal choice to boost your online presence and improve your marketing efforts.
Pagecloud
The Pagecloud tool is a tool for creating a link in your bio, like Linktree, and it is a fairly new tool. It has a simple interface that enables you to include a lot of links and products to display on your landing page, and you can change the background color to add a professional and attractive touch.
Indeed, one of the most amazing features in the Pagecloud tool is the photo gallery, which allows you to insert a lot of different images and shapes that reflect your brand and your work.
Taplink.at
One of the most beautiful things about Taplink is that you will find a wide range of attractive ready-made templates specially prepared for you to create the link in your bio in many shapes and types suitable for different fields and multiple niches.
However, you can find some tools that are exclusive to paid subscribers such as adding banners, multi-page posts, etc. But the free plan is excellent and very sufficient to create a professional link in your bio to promote your products and sites.
Biosites
The Biosites tool is a beautiful free tool that follows the Squarespace platform to create landing pages and link in bio to promote your sites and links. It provides a link in bio full of beautiful features and styles, starting with pre-made templates and some wonderful styles for your background, link sections, and buttons.
Moreover, there are some other great features related to adding clickable posts from TikTok and Instagram, but these amazing extra features are allowed in the paid subscription which only costs you a few dollars as low as $3 per month!
Hope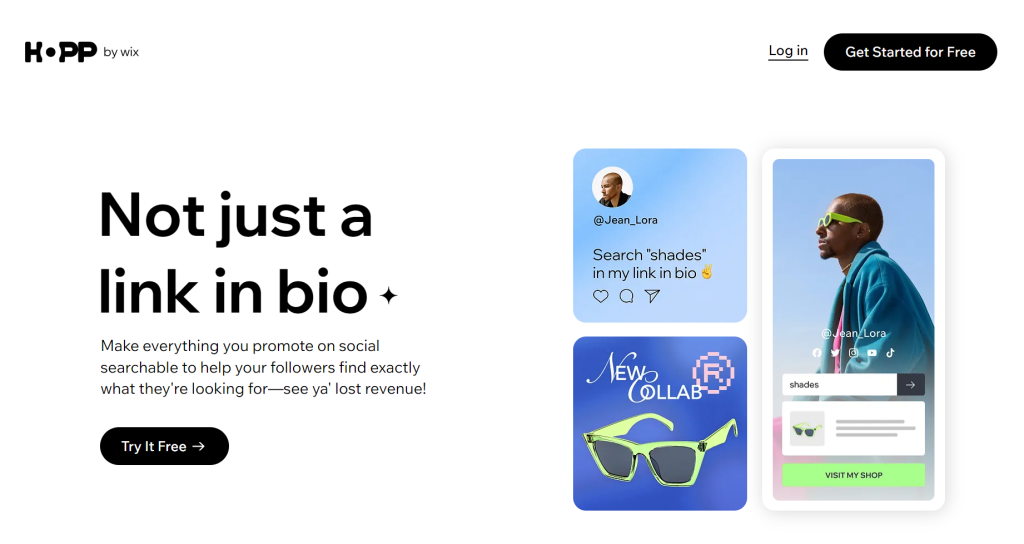 Hopp is a great tool for creating a link in bio. It is operated by wix.com. What distinguishes it from all the other free links in social media icons available is that it contains more than twenty-one social icons to add to your link in bio.
Link in bio is free. Additionally, the amazing feature of this search bar makes it easy for your audience and followers to search for what they really want within your landing page, and it's all in the free basic plan.
It contains a good variety of customization tools and some pre-made templates that cover almost everything you want to promote your products or articles in a very professional manner.
Beaconsai
Beaconsai is indeed one of the best and most beautiful bio links I have tried. It offers a wide range of customization and setup options that aren't available anywhere else, and the best part is that it doesn't cost a penny, unless you want to enjoy some extra cool features. Let's start by discussing the great free features of this beautiful tool.
First, it offers multiple button styles, including animated options with different movements. Secondly, you can also schedule your links and, in addition, add a countdown feature to create a sense of urgency for your audience. It's also worth noting the background customization tools on this landing page, as they allow you to add images or videos to improve its aesthetic appearance.
Link in bio is free. Moreover, you have the flexibility to change the style of buttons, fonts, and much more. Now, let's dive into what you can expect if you decide to upgrade your account to paid. You can link the page to your YouTube channel. This means that the link in your bio will display the most recent video uploaded to your YouTube channel, ensuring that your followers stay up to date with your content.
Additionally, you can take advantage of the AI-powered text and image generator, which is a great tool for creating eye-catching and visually appealing posts. Moreover, you will get a free premium domain for a whole year, in addition to other exciting features.
Direct.me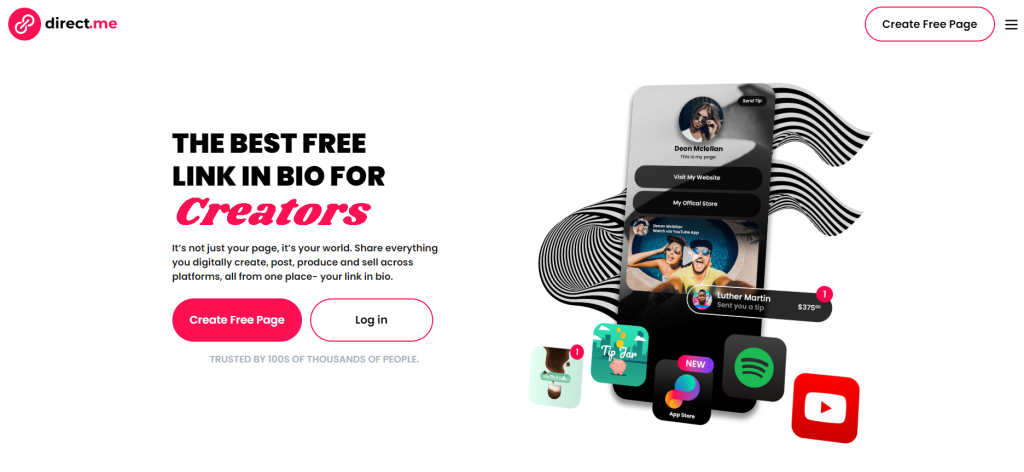 Direct.me is a really nice link builder for any social media platform and it is full of great features for free like you can link your landing page to your YouTube channel to display the latest videos posted! This creates a nice mix and always update link in your bio.
Link in bio is free. Moreover, once you add a link to any site, it captures its title and thumbnail within seconds. In addition, you will find more than 20 animation styles and animations for your buttons to be more elegant and attractive. (You will not find another platform that offers the same huge amount of these styles.)
Of course, you can customize and adjust the link in the bio as you wish, with regard to font styles, colors, and much more.
Bubble Bubble Koji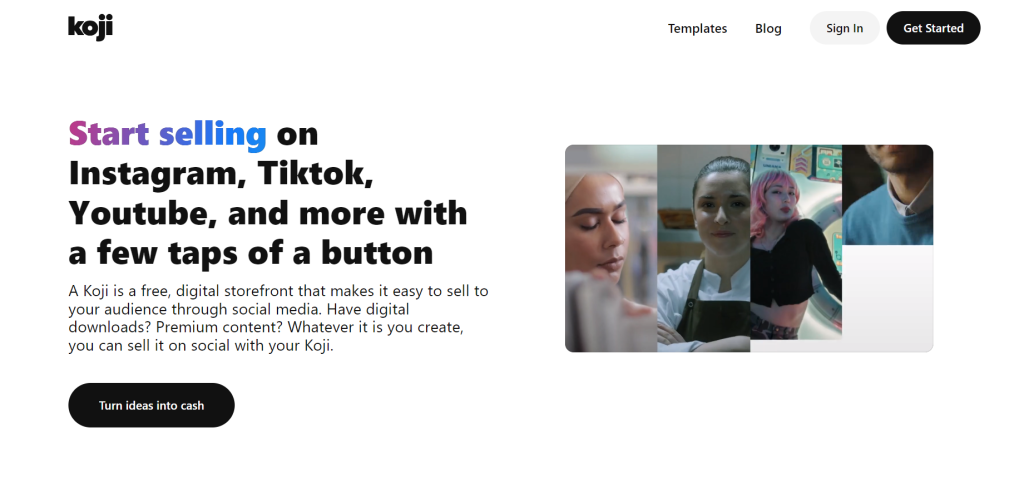 Koji offers a free online marketplace that facilitates sales to your target market easily via social media. Whether you specialize in digital products or provide exclusive content, you can effectively monetize with a custom Koji storefront on popular social media platforms.
What makes Koji distinct from all the link tools in bio is that it contains an application store that makes it easy for you to choose the appropriate template that suits your business or what you offer to your audience. With some amazing customization tools, Koji is a very powerful and reliable link in bio platform for any social media platform to build your business with your audience without any hassle at all.
Later
Definitely, Later is one of the most powerful Instagram social media marketing tools that empowers your social presence with a set of amazing features and tools that you really need in your business.
As for the link in bio, it is a great landing page, completely free, and packed with a wide range of great features to make your link in bio special and attractive.
It contains some features, such as the ability to add a featured or (pinned) post, a YouTube video, and links to other social media platforms, and what I really love is the ability to convert the link in your bio into shoppable posts from your Instagram and TikTok feeds!! This is completely free. Yes, it does not cost you a single cent to enjoy this wonderful service.
Tailwind Smart Link in Bio
There is no doubt that Tailwind is one of the most powerful tools for any creator on Pinterest and Instagram alike, as you can schedule your posts and pins in an organized manner using a lot of great tools.
As for the smart link in bio, which represents the link in your bio and is powered by Tailwind, it is another wonderful masterpiece to enhance your social presence and make your audience interact greatly with your posts.
On the page of this smart link in bio, you can convert Instagram posts into clickable posts like magic, as you integrate your favorite link into the post in question to make it appear in your link in the bio as you see in the picture. So your visitors go to the link in the bio where they can find what they are actually looking for.
The Schedule
Aschedul is a smart tool for creating a smart landing page and a link in bio like a Tailwind link. With this link in bio tool, you can turn your Instagram posts into incredibly clickable posts. In Aschedul, you will find a wide range of customization features to make your link in bio yours more persuasive and organized.
Conclusion
If you are a content creator, product owner, or work in affiliate marketing, and your presence on social media platforms requires you to share your sites, products, and everything that is valuable to the public, and of course, here comes the role of the link creation tools in the bio so that you can include more than one link directed to your followers. Whether it is websites, digital products, monthly subscriptions, donations, and so on.
Fortunately, in this article, you have learned about the best free sites that allow you to create a professional link in bio that enhances your presence on social media platforms and advertises your products and sites from one attractive place.