Streaming services have revolutionized the way we watch TV and movies. Choosing the right streaming platform can be overwhelming with so many available options. This comprehensive guide compares the six most popular services—Netflix, Hulu, Amazon Prime Video, Paramount+, Peacock, and Apple TV+—across key factors like content libraries, pricing, platforms, and extra features. Read on for an in-depth look at how these streamers stack against each other.
Content Libraries
The streaming service you choose largely depends on the TV shows and movies you want to watch. Here's how the content libraries of these major streamers compare.
Netflix
As the veteran streaming platform launched in 2007, Netflix offers an extensive content library with classic hits and original programming.
Some highlights of what you can find on Netflix include:
Netflix Originals: Stranger Things, The Crown, Bridgerton, Ozark, Squid Game, Wednesday
TV: Breaking Bad, The Office, Grey's Anatomy, Gilmore Girls
Movies: The Irishman, Marriage Story, Roma, Don't Look Up, Glass Onion
Kids & Family: Gabby's Dollhouse, Floor is Lava, Ada Twist Scientist
Netflix has invested heavily in original content, releasing around 250 Netflix Originals annually [1]. Big-budget films and series like Red Notice, The Gray Man, and Heartstopper have established Netflix as a go-to destination for buzz-worthy original programming. While Netflix has lost some major licensed titles to competitors, its diverse catalog of Netflix Originals continues to grow.
Hulu
Owned by Disney, Hulu (www.hulu.com) offers popular shows, movies, and originals, both old and new.
Top Hulu content includes:
TV: The Handmaid's Tale, How I Met Your Father, Only Murders in the Building, Atlanta
Movies: Prey, Palm Springs, Parasite, Portrait of a Lady on Fire
FX on Hulu: American Horror Story, Atlanta, What We Do in the Shadows, Archer
Kids: Bluey, Adventure Time, Gravity Falls
Classic Sitcoms: Seinfeld, Golden Girls, Family Guy, South Park
Hulu carries current episodes of hit network and cable shows the day after they air, making it a top destination for timely TV [2]. The service has also invested in acclaimed original programming through FX on Hulu. However, Hulu's movie selection is fairly limited compared to other streamers.
Amazon Prime Video
Included with an Amazon Prime subscription, Prime Video (www.primevideo.com) offers a mix of well-known shows, movies, and buzzworthy originals.
Prime Video's library includes:
Originals: The Marvelous Mrs. Maisel, The Boys, The Wheel of Time, The Lord of the Rings: The Rings of Power
Movies: The Big Sick, The Lost City, No Time to Die, Coming 2 America
TV: Downton Abbey, The Americans, Mr. Robot, House
Kids: Peppa Pig, Pokemon, If You Give a Mouse a Cookie
While not as robust as Netflix's catalog, Prime Video offers acclaimed originals and licensed titles to appeal to various audiences. It's a strong option for those already subscribed to Amazon Prime. However, those without Prime will find Prime Video's library lacking compared to cheaper services.
Paramount+
After rebranding from CBS All Access in 2021, Paramount+ (www.paramountplus.com) offers live sports, news, and content across ViacomCBS' brands [3].
Paramount+ is home to:
Originals: 1883, Mayor of Kingstown, Star Trek: Strange New Worlds
Movies: Top Gun: Maverick, Smile, The Lost City
TV: Survivor, RuPaul's Drag Race, Criminal Minds
Kids: Spongebob Squarepants, iCarly, Avatar: The Last Airbender
Live sports: NFL, UEFA Champions League
From CBS reality shows to Comedy Central hits to Paramount movies, this streamer combines robust live offerings with content from ViacomCBS' well-known TV networks and film studios. However, it noticeably lacks third-party content outside of the ViacomCBS umbrella.
Peacock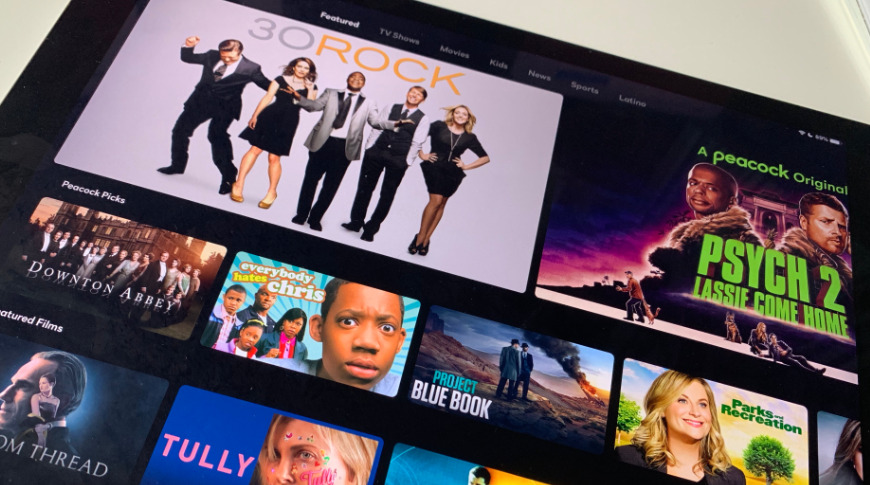 Launched in 2020, Peacock (www.peacocktv.com) is NBCUniversal's streaming home for classic sitcoms, original programming, and timely exclusives [4].
Top Peacock content includes:
Originals: Girls5eva, The Resort, Vampire Academy
TV: The Office, Saturday Night Live, Keeping Up with the Kardashians
Movies: Jurassic World Dominion, Minions: The Rise of Gru
Classic Sitcoms: Cheers, Frasier, 30 Rock
Live sports & events: Sunday Night Football, WWE
Offering a free tier with ads, Peacock is the exclusive streaming home for new NBC series and WWE events. While its original slate is still growing, Peacock offers a huge backcatalog of classic comedies and dramas. Sports fans can also catch shows like Sunday Night Football through Peacock.
Apple TV+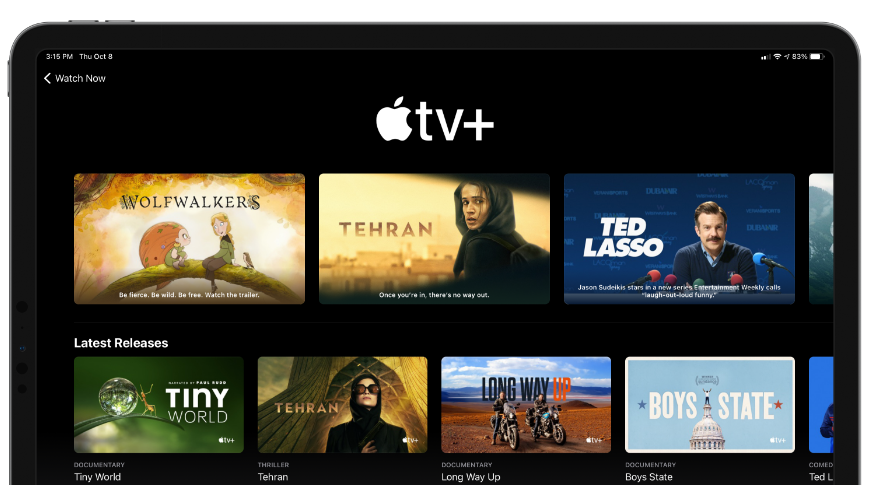 Launched in 2019, Apple TV+ (tv.apple.com) focuses solely on original programming centered on big names and cinematic quality [5].
Apple TV+ highlights include:
Original series & films: Severance, Ted Lasso, CODA, The Morning Show
Upcoming projects: Killers of the Flower Moon, Tetris, Gutsy
With a selective content strategy focused on prestige projects, Apple TV+ has quickly garnered attention for standout originals like Ted Lasso and Severance. However, the lack of a back catalog or licensed content makes its library extremely limited—especially compared to Netflix. Right now, Apple TV+ thrives on offering quality over quantity.
Pricing
Pricing can vary widely depending on the streaming service. Here's how much each platform costs for ad-free plans.
Netflix: From $6.99–$19.99 per month
Hulu: $14.99 per month
Amazon Prime Video: Included with $14.99 per month Prime membership or $8.99 per month separately
Paramount+: $9.99 per month with limited ads, $12.99 with no ads
Peacock: $4.99 per month with ads, $9.99 with no ads
Apple TV+: $6.99 per month
Netflix offers the widest range of plans to suit different budgets. Hulu and Apple TV+ fall in the middle price-wise. Paramount+ and Peacock compete on affordability with ad-supported options under $5. Amazon Prime Video looks priciest by itself but comes bundled with Prime membership perks like free shipping.
When weighing costs, also consider channel add-ons some services offer. For example, Hulu subscribers can pay to add premium channels like HBO Max or platforms like ESPN+. Paramount+ offers similar channel add-on options. Factor these costs into your decision if you want access to extra content beyond the base platform.
Supported Devices
With people streaming on various devices today, availability across platforms is key. Here is where you can access the top streaming services:
Netflix: Smart TVs, iOS/Android mobile, Roku, Chromecast, Fire TV, Blu-ray players, web browser
Hulu: Smart TVs, iOS/Android mobile, Roku, Chromecast, Fire TV, Xbox, PlayStation, web browser
Amazon Prime Video: Smart TVs, iOS/Android mobile, Roku, Chromecast, Fire TV, Blu-ray players, web browser
Paramount+: Smart TVs, iOS/Android mobile, Roku, Chromecast, Fire TV, Xbox, web browser
Peacock: Smart TVs, iOS/Android mobile, Roku, Chromecast, Fire TV, Xbox, PlayStation, web browser
Apple TV+: iOS/Android mobile, Smart TVs (via AirPlay), Roku, Fire TV, Chromecast, web browser
Netflix, Hulu, and Prime Video have near-universal device availability. Paramount+ and Peacock have also expanded across platforms. Apple TV+ has more limited support, given Apple's closed ecosystem. But all six services are accessible across the most popular streaming devices.
Streaming Quality
With 4K and HDR now mainstream, many wonder which services offer the best streaming quality. Here are the technical capabilities of each platform:
Netflix: Up to 4K HDR; Select titles in Dolby Atmos & Vision
Hulu: Up to 4K, some HDR
Amazon Prime Video: Up to 4K HDR; Select titles in Dolby Vision
Paramount+: Up to 4K, some HDR
Peacock: Up to 4K HDR
Apple TV+: Up to 4K HDR; Select titles in Dolby Vision & Atmos
Netflix and Prime Video offer the most robust support for 4K, HDR, and immersive Dolby audio. Hulu and Paramount+ stream some content in 4K but lack features like Dolby Vision. Meanwhile, Peacock and Apple TV+ offer excellent 4K HDR quality for their original programming. Overall, having a compatible 4K TV and internet speeds over 25 Mbps will deliver the best experience across these platforms.
Extra Features
Beyond just TV shows and movies, today's streaming platforms offer additional features that set them apart. Here are some of the extras and perks you'll find on top streamers.
Netflix
Offline downloads for mobile
User profiles for personalized recommendations
Behind-the-scenes extras
Interactive shows where viewers control the story (ex. Black Mirror: Bandersnatch)
Hulu
Offline viewing for mobile
Multiple streams included depending on the plan
Cloud DVR for recording live TV
Add-on channels like HBO Max, ESPN+ available
Amazon Prime Video
Offline downloads for mobile
X-ray trivia overlays and cast information
Multiple user profiles
Access to free e-books & magazines
Paramount+
Offline downloads for mobile
Live sports & news included
Cloud DVR for recording live CBS
Add-on channels like Showtime available
Peacock
Some titles available for offline download
Free streaming tier with ads
Early late-night show access at 8 PM ET
Live sports streaming
Apple TV+
Highest video quality of any streaming service
Downloads for offline viewing
Access to Apple Music is also included
Works across Apple devices (ex., from iPhone to Apple TV)
Offline downloads, multiple profiles, Dolby Vision/Atmos, and cloud DVR capabilities are some of the extras today's top streamers offer. Consider which additional features appeal to you most when picking a service.
Top Movies & Shows by Genre
We've explored these platforms' overall content libraries. Let's dive into top titles across popular genres to see which services cater to your tastes.
Drama
Netflix – The Crown, Ozark, Godless, Passing
Hulu – Only Murders in the Building, The Handmaid's Tale, Normal People
Amazon – The Marvelous Mrs. Maisel, Underground Railroad, The Underground Railroad
Paramount+ – Evil, The Good Fight, The Offer
Peacock – Bel-Air, The Resort, Dr. Death
Apple TV+ – The Morning Show, Severance, Pachinko
With acclaimed original series and licensed hits, Netflix, Hulu, and Amazon lead for dramas. Paramount+, Peacock, and Apple TV+ also house growing prestige drama slates worth checking out.
Comedy
Netflix – Unbreakable Kimmy Schmidt, Never Have I Ever, Heartstopper
Hulu – Only Murders in the Building, How I Met Your Father, It's Always Sunny in Philadelphia
Amazon – Fleabag, The Marvelous Mrs. Maisel, Upload
Paramount+ – Frasier, RuPaul's Drag Race All Stars, Inside Amy Schumer
Peacock – Girls5eva, Rutherford Falls, Saturday Night Live
Apple TV+ – Ted Lasso, Schmigadoon!, Trying
For laughs, Netflix and Hulu offer the deepest comedy benches. But don't count out standout recent sitcoms on Peacock and Apple TV+, plus classics on Paramount+.
Sci-Fi & Fantasy
Netflix – Stranger Things, The Witcher, Wednesday
Hulu – What We Do in the Shadows, Castle Rock
Amazon – The Wheel of Time, The Boys, The Lord of the Rings: The Rings of Power
Paramount+ – Star Trek: Strange New Worlds, Halo
Peacock – Vampire Academy, The Girl in the Woods
Apple TV+ – Foundation, Invasion, See
Netflix dominates for imaginative genre hits like Stranger Things, with Amazon close behind through costly epics like Lord of the Rings. But all streamers now boast a worthy sci-fi and fantasy lineup.
Reality & Talk Shows
Netflix – Love is Blind, Selling Sunset
Hulu – The Kardashians, Below Deck, 90 Day Fiance
Amazon – Lizzo's Watch Out For The Big Grrrls
Paramount+ – Big Brother, RuPaul's Drag Race All Stars, The Challenge
Peacock – The Amber Ruffin Show, Paris in Love, Real Housewives Ultimate Girls Trip
Apple TV+ – Oprah Conversation, The Problem with Jon Stewart
For buzzy reality programming, Netflix and Hulu lead. Paramount+ offers ViacomCBS mainstays like Big Brother. Peacock and Apple TV+ have fewer but compelling reality and talk options.
Kids & Family
Netflix – Ada Twist Scientist, StoryBots, Gabby's Dollhouse
Hulu – Bluey, Adventure Time, Animaniacs
Amazon – Pete the Cat, If You Give a Mouse a Cookie
Paramount+ – SpongeBob SquarePants, iCarly, Avatar: The Last Airbender
Peacock – Curious George, Where's Waldo?
Apple TV+ – Hello Jack! The Kindness Show, Stillwater
Thanks to animations like Bluey and live-action series like iCarly, Hulu, and Paramount+ lead for family-friendly programming. But Netflix and others also offer quality kids' content perfect for young streamers.
Documentaries
Netflix – Our Planet, Making a Murderer, 13th
Hulu – Fyre Fraud, Hillary
Amazon – Lucy and Desi, LulaRich
Paramount+ – The Invisible Pilot, Watergate: High Crimes in the White House
Peacock – John Wayne Gacy: Devil in Disguise, Titletown High
Apple TV+ – They Call Me Magic, The Year Earth Changed
Non-fiction programming thrives on Netflix, with its endless true crime and nature docs. Other streamers house intriguing docs as well, just in smaller amounts, given their differing content strategies.
International
Netflix – Squid Game (South Korea), Dark (Germany), Money Heist (Spain)
Hulu – Acapulco (Mexico), W. (France)
Amazon – Breathe (India), Catherine Called Birdy (Hungary)
Paramount+ – Cecilia (Argentina), Los Enviados (Paraguay)
Peacock – Irma Vep (France)
Apple TV+ – Pachinko (Korea), Slow Horses (UK)
Thanks to a global outlook, Netflix offers the most diverse collection of international titles like Squid Game. But other streamers have also expanded their international offerings in recent years.
Classic Movies
Netflix – Taxi Driver, Pulp Fiction, Hook
Hulu – Alien, Top Gun, Do the Right Thing
Amazon – Steel Magnolias, Silence of the Lambs
Paramount+ – Chinatown, Grease, Mission Impossible
Peacock – E.T. the Extra-Terrestrial, Back to the Future, Shrek
Apple TV+ – No back catalog of licensed films
For iconic films, Paramount+ naturally leads, given the Paramount studio's deep archives. Peacock and Hulu also house many classic hits. Netflix offers landmark titles, albeit fewer than some competitors with big studio backlogs.
Recent Movies
Netflix – Glass Onion: A Knives Out Mystery, Blonde, The Gray Man
Hulu – Prey, Fire Island, Palm Springs
Amazon – Coming 2 America, My Policeman, Hotel Transylvania: Transformation
Paramount+ – Top Gun: Maverick, The Lost City, Smile
Peacock – Jurassic World: Dominion, Minions: Rise of Gru
Apple TV+ – No recent theatrical films
For movies currently in theaters or recent big-screen releases, Paramount+ tops the list thanks to Paramount Pictures. Peacock also has same-year Universal films. Netflix churns out original movies at a rapid pace. And Hulu and Amazon grab plenty of recent indies and smaller films. But Apple TV+ lacks any theatrically released movies as it focuses solely on originals.
Live Sports
Netflix – No live sports
Hulu – Limited live sports like some MLB NBA games with add-ons
Amazon – Thursday Night Football, some tennis
Paramount+ – NFL, UEFA Champions League, NCAA Basketball
Peacock – Sunday Night Football, Premier League, Olympics
Apple TV+ – Friday Night Baseball (MLB)
For streaming live sports, Paramount+ and Peacock come out on top with rights to massive leagues like the NFL, EPL, and more. Amazon also airs NFL, while Apple TV+ has exclusive MLB games. Hulu and Netflix don't focus on live sports.
Live News
Netflix – No live news
Hulu – ABC News Live, Cheddar News
Amazon – No live news
Paramount+ – CBS News Network, CBS Sports HQ
Peacock – NBC News Now, Sky News
Apple TV+ – No live news
Paramount+ and Peacock lead for 24/7 live news thanks to offerings from CBS, NBC, and others. Hulu has some live news programming, but not to the same extent. Netflix, Prime, and Apple TV+ lack any live news content.
Supported Languages
Whether you want content to watch in another language or turn on subtitles, here are the languages supported on each streaming platform:
Netflix
31 available languages for subtitles & dubs [6]
Includes: Spanish, French, German, Italian, Japanese
Hulu
17 available languages for subtitles [7]
Includes: Spanish, Portuguese, Chinese, Korean
Amazon Prime Video
Subtitles: ~15 languages
Dubbed audio: 4 languages [8]
Paramount+
Subtitles and audio in 27 languages [9]
Peacock
Subtitles in 6 languages
Some Spanish language programming
Apple TV+
Subtitles & dubs in over 40 languages [10]
Includes: Spanish, Hindi, French, German, Korean
Thanks to global reach, Netflix and Apple TV+ support the most languages for subtitles and overdubs. Hulu, Paramount+, and Peacock offer fewer but still include key languages like Spanish. Prime Video lags for accessibility with limited subtitle languages available.
Recommendation Algorithms
Beyond just housing content, streaming services aim to surface titles you'll actually want to watch. Their recommendation algorithms are crucial. Here is how they compare:
Netflix
75% of viewing comes from recommendations [11]
The algorithm considers genres, actors, viewing history
Frequently refreshes homepage with new suggestions
Hulu
Personalized For You page based on viewing
Tracks favorite shows to improve suggestions
The watchlist is pre-populated with recommended shows to add
Amazon Prime Video
Homepage organizes titles into genre rows
Frequently highlights original & trending titles up top
Viewing history impacts some suggestions
Paramount+
New & noteworthy titles on the homepage
Some rows are tailored to viewing habits.
Spotlights titles from subscribed channels
Peacock
Curated channels by theme
Daily highlights on the homepage
Personalized For You recommendations based on likes
Apple TV+
The limited algorithm is given a small catalog.
Weekly highlights email
Row for suggested series on the homepage
Thanks to mountains of data, Netflix has mastered recommendations. Hulu and Peacock also surface surprisingly relevant titles. Prime Video's algorithm is more basic but evolving. Paramount+ and Apple TV+ have minimal personalization so far.
Supported Devices for Offline Viewing
Many streaming apps let you download titles to watch offline. Here are the supported devices with offline playback:
Netflix
iOS
Android
Windows 10 app [12]
Hulu
iOS
Android
Fire Tablets [13]
Amazon Prime Video
iOS
Android
Fire Tablets
Windows 10/11 app
Paramount+
Peacock
Apple TV+
Offline downloads are available across iOS and Android for most streamers. Amazon and Netflix also support offline Windows/MacOS. Apple TV+ downloads are limited to Apple devices only. Downloading for planes, road trips, or spotty WiFi makes streaming much more convenient.
User Profiles & Parental Controls
Multi-user profiles are extremely helpful to help organize recommendations and monitor what kids watch. Here is the profile and parental control support on each service:
Netflix
Up to 5 user profiles per account
Separate profile for kids with PIN controls
Hulu
Up to 6 user profiles
Kids profiles with content restrictions
Amazon Prime Video
Up to 6 user profiles per account
Kids profiles with filters for age appropriateness
Paramount+
Up to 6 user profiles
Kids' profile locks mature content
Peacock
Up to 6 user profiles
Separate kids mode with parental controls
Apple TV+
Up to 6 user profiles
No designated kids mode, just content ratings
Netflix, Hulu, Prime Video, and others allow personal profiles so everyone gets tailored suggestions. All offer dedicated kids modes with parental controls, except Apple TV+, which lacks a separate kid interface.
Streaming Tiers
Some services offer different pricing tiers based on features. Here are the plans available from top streamers:
Netflix
Basic ($6.99): SD only, 1 stream
Standard ($15.49): HD, 2 streams
Premium ($19.99): UHD, 4 streams
Hulu
With ads ($7.99): HD, 2 streams
No ads ($14.99): HD, unlimited streams
Amazon Prime Video
Included with Prime ($14.99 monthly or $139 annually)
Prime Video alone ($8.99): HD, 3 streams
Paramount+
Essential ($4.99): Some ads, HD
Premium ($9.99): Fewer ads, 4K & live sports
Peacock
Free: With ads, next-day NBC shows
Premium ($4.99): More content, some ads
Premium Plus ($9.99): All content, no ads
Apple TV+
Only one plan ($6.99): 4K HDR, 6 streams
Netflix offers the most flexibility with its pricing tiers for different features. Hulu has two main plans. Apple TV+ has a single, straightforward plan. Weighing video quality, number of simultaneous streams, and presence of ads can help choose the right tier.
Ecosystem Integration
Some streaming services are aligned with broader tech ecosystems for tighter integration:
Netflix
Teaming with major brands like Microsoft for co-promotions [14]
But not embedded into a distinct hardware ecosystem
Hulu
Owned by Disney, bundles available with Disney+/ESPN+
Works with Google Assistant
Amazon Prime Video
Completely integrated into Amazon and Alexa ecosystem
Works seamlessly with Fire TV and tablets
Paramount+
Partnerships with major platforms like Apple TV
But, not restricted to a single ecosystem
Peacock
Available on third-party devices
Partnerships with platforms like Google Assistant
Apple TV+
Exclusive to Apple ecosystem: iOS, tvOS, MacOS
Integrated with Apple services like Apple Music
Prime Video is uniquely ingrained into Fire TV, Alexa world. Apple TV+ is restricted to Apple-only devices. Meanwhile, Netflix, Hulu, and others are platform agnostic. Consider existing devices and services when choosing.
Release Schedules for New Content
For those who look forward to checking out the latest releases, the content drop schedule of each streaming service varies:
Netflix
All episodes of Netflix Original series drop at once
New licensed movies and shows are added weekly
Major releases every month to two months
Hulu
Original shows and movies debut weekly
New episodes of network series are available the next day
Regular additions each month
Amazon Prime Video
Most originals launch on a one-episode-per-week model
Movies and full seasons of shows are added regularly
Paramount+
Original series often debut on a weekly schedule
Live sports and news daily
New shows and movies monthly
Peacock
Originals typically launch complete seasons
Live events and news daily
Licensed movies and shows weekly
Apple TV+
Originals debut full seasons all at once
New Apple Originals added monthly
Binge-watchers love Netflix's full-season drops. But Hulu and Paramount+ offer more of a steady drip of fresh episodes and titles. Check release models to pick the right pacing.
Streaming Service Exclusives
Exclusive and original content can majorly affect choosing a streaming service. Here are some titles you can only find in one place:
Netflix
Stranger Things
Squid Game
The Crown
Wednesday
Hulu
Only Murders in the Building
The Handmaid's Tale
Dopesick
Amazon Prime Video
The Marvelous Mrs. Maisel
The Boys
The Lord of the Rings: The Rings of Power
Paramount+
1883
Star Trek: Strange New Worlds
Seal Team
Peacock
The Office
Sunday Night Football
Girls5eva
Apple TV+
Ted Lasso
Severance
The Morning Show
From Stranger Things to The Office, buzzy exclusives can make services stand out. Prioritize must-watch exclusives and originals in choosing a platform.
Streaming Service Bundles
To save money, consumers often bundle streaming options together. Here are some popular bundles available:
Netflix
Bundle with Microsoft services [15]
No major company bundles
Hulu
Disney bundle: Hulu, Disney+, ESPN+ for $13.99 [16]
Amazon Prime Video
Included with Amazon Prime for $14.99 monthly
Amazon Music Unlimited bundle available
Paramount+
Discount if bundled with Showtime
Peacock
$10 per month bundled with NOW in the UK
Apple TV+
Apple One bundles with other Apple services, starting at $16.95 per month [17]
Bundling Hulu with Disney+ and ESPN+ creates a powerhouse streaming trio. Amazon bundles Prime Video into a wider Prime membership. And Apple offers various Apple One media bundles. Look into money-saving streaming bundles that align with your interests.
Streaming Service Limitations
While today's top streaming platforms offer tons of pros, each also comes with certain limitations:
Netflix
No sports, news, or live TV
The quality of originals can be uneven
Loses some licensed shows to competitors
Hulu
A limited selection of movies
The original series catalog still growing
Add-ons quickly increase costs
Amazon Prime Video
Smaller content library outside Prime Originals
Confusing what's included with Prime vs. add-on channels
Paramount+
Missing mainstream originals and franchises outside ViacomCBS brands
Limited content breadth beyond CBS, Comedy Central, etc.
Peacock
Far fewer original series compared to competitors
Movie selection lacks variety, and classics
Apple TV+
Very limited library with no back catalog
Lacks adult animation, unscripted, other genres
Take note of each service's weaknesses—like Netflix's lack of live TV or Apple TV+'s miniscule library. Weigh limitations against each platform's strengths as you choose.
Which Streaming Services Offer Ads?
For commercial-free streaming, ads are a big concern. Here's the ad situation on the top streamers:
Netflix – Completely ad-free
Hulu – The entry-level plan has ads. No ads on the premium tier.
Amazon Prime Video – 100% ad-free
Paramount+ – The base plan has ads. The premium plan removes most ads.
Peacock – The free tier has ads. Paid Premium Plus removes all ads.
Apple TV+ – Ad-free
Netflix, Prime Video, and Apple TV+ guarantee completely ad-free environments. Hulu, Paramount+, and Peacock offer paid options to go ad-free or minimize ads. Consider your tolerance for interruptions when deciding.
Streaming Service Cancellation Policies
Want to comparison shop? Streaming services make it easy to test options out with flexible cancellation policies:
Netflix
Cancel anytime online
No cancellation fees
Hulu
Easy to cancel online
Stop account anytime
Amazon Prime Video
Cancel your Prime membership anytime
Video continues until membership expires
Paramount+
No contracts; cancel anytime
Stop auto-renew online
Peacock
No cancellation fees
Cancel account online
Apple TV+
No cancellation fees
Auto-renew can be disabled anytime
No long contracts or early termination fees give flexibility. You can freely sign up, test, and cancel services as you compare options. Set alerts to avoid accidental auto-renewals.
Video Quality & Internet Speed Recommendations
To stream smoothly, you'll need sufficient internet speeds. Here are ideal internet speeds for quality levels:
SD (480p)
Minimum speed: 3 Mbps
Good speed: 5+ Mbps
HD (1080p)
Minimum speed: 5 Mbps
Good speed: 10+ Mbps
4K UHD (2160p)
Minimum speed: 25 Mbps
Good speed: 50+ Mbps
4K streaming demands fast internet—ideally over 50 Mbps. With HD, shoot for 10 Mbps at least. Lower-quality SD can work with slower connections. Evaluate your internet speeds to pick the right streaming resolution.
Streaming Service Review Roundups
Still undecided? See how experts rank the top streaming platforms:
TechRadar
Netflix
Disney+
Hulu
Amazon Prime Video
HBO Max [18]
Tom's Guide
Netflix
Disney+
Hulu
Apple TV+
Amazon Prime Video [19]
Wired
Netflix
Disney+
HBO Max
Hulu
Apple TV+ [20]
CNET
Netflix
Disney+
HBO Max
Hulu
Apple TV+ [21]
The experts agree: Netflix still leads for its unmatched originals and vast library. But weigh factors like price, shows you want, and devices you own as you choose the best match.
Now that we've thoroughly compared the key streaming platforms let's dive deeper into some additional streaming topics and trends…
Pros & Cons of Live TV Streaming Services
While the main on-demand platforms get much of the buzz, live TV streaming is also massively popular. Services like YouTube TV, Hulu + Live TV, Sling TV, and others let you stream live cable channels over the internet. Here are the main advantages—and disadvantages—of these live TV streamers:
Pros
Access to live sports, news, and events from channels like ESPN, CNN, TNT, and more
Can supplement with on-demand libraries of shows and movies
Flexible packages without long contracts
Stream on many devices like mobile, web, connected TVs
Unlimited DVR storage to record shows
Cons
More expensive than on-demand-only services
Must pay for many channels you may not watch
Missing some niche channels offered on cable
Picture quality can suffer compared to cable
Subject to regional channel availability
Can lose access to channels due to contract disputes
While live TV streaming offers cable-like convenience, keep the higher costs and limitations in mind before cutting the cord completely. Evaluate channel needs carefully.
How Password-Sharing Crackdowns Are Impacting Streamers
Many streaming subscribers bend the rules and share logins beyond their household—a practice platforms increasingly aim to curtail. How are password-sharing crackdowns impacting services?
Netflix has tested adding fees for sharing [22]
Disney+ also plans paid account sharing features [23]
Services cite lost revenue, but moves frustrate some subscribers
Password-sharing bans not yet enforced widely
Impacts could include subscribers quitting, switching services
Some may opt for higher-tier individual plans
Could eventually push more toward TV bundles again
While platforms look to tighten control, password sharing remains common. The long-term effects remain to be seen as streamers balance revenue goals with subscriber experience.
How Ad-Supported Plans Are Changing Streaming
To hook cost-conscious viewers, services like Netflix and Disney+ will launch new ad-supported tiers in late 2022. What does this shift mean?
Appeals to subscribers who find ad-free plans too expensive
Potentially more ads overall as streamers embrace hybrid models
Platforms like Netflix represents major strategy shift [24]
Advertisers gain huge new streaming inventory to buy
More viewing data gathered for ad targeting
Risk of oversaturation if too many services have ads
Users may feel nickel-and-dimed by ads plus subscription fees
The impact of the streaming ad influx remains unclear. But with careful limits, it could expand access and enable freemium tiers. Ads work for Hulu and Peacock—now we'll see if other streamers can follow suit.
How Churn Rates Impact Streaming Services
To grow, streaming services can't just add new subscribers—they must reduce churn by keeping customers long-term. Here's the churn effect:
Netflix had a churn rate of around 3% in early 2022 [25]
Disney+ churns around 2-3% monthly in the U.S. [26]
Reducing churn by just 1% boosts revenues significantly
Churn hits bottom lines but also signals satisfaction
Major factors include content, user experience, price
Releasing buzzy originals helps reduce churn
Loyalty programs and bundles also discourage churn
With fierce competition, churn rates represent a vital metric for platforms. The streamers that best engage and retain subscribers will win.
Why Streaming Services Are Investing in Live Sports
With cord-cutting accelerating, sports rights have become a huge new battleground among streamers:
Live sports remain valuable in the streaming era.
But auctions drive up rights costs significantly [27]
Netflix and Prime Video dipping their toes into live sports.
Apple TV+ lands exclusive MLB rights through 2022 [28]
Peacock takes over Sunday Night Football
Paramount+ gains Champions League, NFL, more
Major focus on strategic sports investments
Snagging exclusive sports bolsters platforms against cable and rival streamers. But skyrocketing rights come at steep prices—streaming's next big bubble waiting to burst?
How Streaming Affects Awards Show Viewership
Award shows like the Oscars have faced precipitous viewership declines in the streaming era. Why the audience exodus?
Traditionally vital events for movies and shows
Viewership down by 50-60% or more since 2014 [29]
Streaming services don't rely on awards to market titles
Less urgency to watch live with reruns and clips online
Niche streamers focus on Emmys, Globes over Oscars
Declining influence of awards on viewing decisions
Questionable relevance amid diversifying entertainment
Once cultural moments, fragmenting audiences now skip award shows—further diminishing their pull while boosting streaming's rise.
Why Movie Theaters Are Struggling in the Streaming Age
With audiences flocking to home streaming options, movie theaters face growing struggles:
2021 box office plunged by over 70% from pre-pandemic 2019 [30]
Theatrical windows shrink to a few weeks before streaming.
Some studios simultaneously release films theatrically and online.
Harder for theaters to attract viewers without exclusives
Many smaller chains bankrupt during COVID-19
Rising ticket prices also deter cost-conscious consumers
In-home setups mimic theater-quality viewing
Theater owners pressure studios to protect the exclusive theatrical experience. But convenience and choice continue propelling streaming's threat. The balance of power has undeniably shifted.
How Streaming Impacts Entertainment Award Seasons
With streaming services awards hungry, they've stretched traditional awards seasons much longer each year:
Awards contenders used to launch mainly late in the year
Now, streamers release prestige projects all year [31]
Oscar and Emmy campaigns start as early as January
Earlier debuts aim to ignite buzz before crowded fall
Risk of award contender saturation if too spread out
Creates questions about what qualifies for which year
Grueling pace for voters to catch up on contenders
The never-ending awards cycle epitomizes streaming's disruption. But endless lobbying risks awards losing credibility. Will seasons contract again or remain year-round?
Advertising Opportunities With Streaming Content
The streaming ad universe is expanding rapidly. Here are key streaming ad opportunities for brands:
Pre-Roll Video Ads
Played before content, like YouTube pre-rolls
Netflix aims to run pre-roll promos before originals [32]
Branded Integration
Product placement seamlessly woven into content
Co-marketing deals like Fortnite in Hawkeye [33]
Sponsorships
Presented by integrated branding
Ex. Grey Goose sponsoring new Top Gun movie [34]
Interactive Experiences
Choose-your-own-adventures
Shoppable video
Data-Driven Targeting
Target ads using rich viewer data
Reach custom audiences like cord-cutters
Ads done right can enhance streaming. Marketers should explore creative integrations that embrace streaming's strengths.
Major Trends Shaping the Future of Streaming
Where is streaming headed next? A few pivotal trends to watch that will mold the future:
Live Sports Streaming
As broadcast rights shift from linear TV to streaming in the 2020s, major services will battle over valuable sports inventory. The winning platforms could become must-haves for many fans.
Ad-Supported Tiers
Search for services like Netflix and Disney+ to increasingly embrace hybrid models combining ads and subscriptions. With cautious limits, this could expand access and enable freemium tiers.
Consolidation
Stronger services will keep acquiring smaller platforms and absorbing their content libraries while weak ones fade. Excess choice will give way to a handful of dominant streaming giants.
Bundling
Following cable's lead, expect more discounted streaming bundles that package a few complementing services together as a discounted offering. This appeals to those aiming to reduce monthly costs.
Virtual MVPDs
Major vMVPD platforms like YouTube TV will battle traditional cable & satellite, offering comparable live channel packages delivered fully over the Internet. Their growth stands to accelerate cord cutting.
In a time of massive disruption, these pivotal shifts will shape streaming entertainment in the 2020s and beyond. The future remains unpredictable—but streaming's revolution shows no signs of slowing down.
Summary
No two platforms are exactly alike when comparing the top six streaming giants—Netflix, Hulu, Amazon Prime Video, Paramount+, Peacock, and Apple TV+. Netflix stands apart for its top-notch, original programming and vast catalog. Hulu offers the timeliest network shows and a broad content selection. Amazon Prime Video comes bundled into an Amazon Prime membership packed with perks. Paramount+ leverages ViacomCBS brands like Comedy Central and CBS for loads of content. Peacock focuses on the NBC series, old and new. And Apple TV+ offers prestige originals aligned with Apple's brand.
Consider your must-have content, preferred devices, live TV needs, number of user profiles needed, and more. Feature-to-feature matchups reveal what sets each streaming option apart. This comprehensive comparison guide matches your viewing habits to the perfect streaming service or services. The streaming arena keeps growing, so flexibly mix and match platforms to build your ideal entertainment bundle.
Sources
[1] https://twitter.com/netflix/status/1476185482361716738
[2] https://www.hulu.com/press/new-hulu-originals-doubled-in-2020/
[3] https://www.paramountplus.com/intl/
[4] https://www.thewrap.com/peacock-one-year-later-review/
[5] https://www.apple.com/newsroom/2020/09/apple-tv-surpasses-over-100-original-productions-ahead-of-apple-tv-launch-on-november-1/
[6] https://help.netflix.com/en/node/49872
[7] https://help.hulu.com/s/article/subtitle-and-closed-caption-support?language=en_US
[8] https://www.amazon.com/gp/help/customer/display.html?nodeId=201460880
[9] https://help.paramountplus.com/s/article/PD-Are-there-other-language-options-besides-English-for-Paramount-programming
[10] https://support.apple.com/en-us/HT208081
[11] https://www.fastcompany.com/40491939/how-netflixs-recommendation-engine-works
[12] https://help.netflix.com/en/node/54816
[13] https://help.hulu.com/s/article/downloads?language=en_US
[14] https://about.netflix.com/en/news/netflix-and-microsoft-partner-to-bring-you-more-entertainment-options-and-enhanced-experiences
[15] https://www.cnet.com/tech/services-and-software/netflix-microsoft-partnership-what-it-means-for-you-faq/
[16] https://help.disneyplus.com/csp?id=csp_article_content&sys_kb_id=95b201cddba941d03c0cf158bf9619f8
[17] https://www.apple.com/newsroom/2020/09/apple-one-makes-enjoying-apple-subscription-services-easier-than-ever/
[18] https://www.techradar.com/best/best-streaming-sites
[19] https://www.tomsguide.com/us/best-video-streaming-services,review-2272.html
[20] https://www.wired.com/gallery/best-streaming-services/
[21] https://www.cnet.com/tech/home-entertainment/best-live-tv-streaming-service-for-cord-cutters-youtube-tv-sling-tv-hulu-and-more-compared/
[22] https://www.theverge.com/2022/10/17/23410369/netflix-password-sharing-fees-test-dominican-republic-costa-rica-chile
[23] https://www.theverge.com/2022/8/10/23296964/disney-plus-streaming-password-sharing-fees
[24] https://www.npr.org/2022/04/19/1093287724/netflix-ads-streaming-password-sharing-subscriptions
[25] https://www.cnbc.com/2022/04/19/netflix-estimates-100-million-households-share-passwords-which-can-lead-to-churn.html
[26] https://www.fool.com/investing/2021/10/09/why-disney-stock-could-face-churn-problems/
[27] https://www.forbes.com/sites/dbloom/2021/05/25/the-great-streaming-battle-is-here-amazon-apple-lead-the-charge-on-sports-rights/?sh=2b0f1c7c6133
[28] https://www.cnbc.com/2022/03/15/apple-strikes-deal-with-mlb-to-stream-friday-night-baseball-games.html
[29] https://www.forbes.com/sites/scottmendelson/2022/03/28/oscar-ratings-plummet-57-from-2021s-record-low/?sh=4c0c666e4efe
[30] https://variety.com/2022/film/news/2021-box-office-lowest-in-decades-spider-man-no-way-home-1235140562/
[31] https://www.indiewire.com/2019/08/streaming-war-original-content-calendar-1202169491/
[32] https://variety.com/2022/digital/news/netflix-pre-roll-ads-content-1235312470/
[33] https://www.thewrap.com/hawkeye-fortnite-epic-games/
[34] https://www.hollywoodreporter.com/business/digital/top-gun-maverick-grey-goose-1235098496/