Mobvoi, a company name that may not mean anything to you, must be said to face fierce competition in the field of consumer electronics. However, smartwatch enthusiasts may have already heard of the Mobvoi TicWatch, especially since the release of the TicWatch Pro 5, the first to integrate the new Snapdragon W5+ Gen 1 chip for improved endurance and precision. Running on the Wear OS 3 operating system made by Google, known for its efficiency but high energy consumption, the addition of the Snapdragon W5+ Gen 1 suggests exciting performance. Does the TicWatch Pro 5 live up to its promises? Find the answer in this article!
Introduction to the Connected Watch TicWatch Pro 5
The TicWatch Pro 5 is the 5th generation of the TicWatch Pro, as its name suggests. Produced by the Chinese brand Mobvoi, it boasts a modern, almost high-end appearance. Primarily designed for athletes, its quality craftsmanship, waterproofness, and various sensors (compass, GPS, barometer, etc.) allow precise monitoring of various health markers, including heart and respiratory rates, step count, oxygen saturation, and caloric expenditure, in any situation.
TicWatch Pro 5: Data sheet
| | |
| --- | --- |
| Dimensions (Height × Width × Thickness) | 50,1 × 48 × 12,2 mm |
| Weight | 44,3 g |
| Materials | Stainless steel, 7000 series aluminum and high strength nylon with fiberglass |
| Screen | AMOLED with Corning Gorilla anti-fingerprint protection glass |
| Display | 1.43 inch, 466 x 466 px |
| Memory | RAM : 2 Go / ROM : 32 Go |
| System of use | Wear OS 3 by Google |
| Chip | Snapdragon W5+ Gen1 |
| Connectivity | Bluetooth 5.2, Wi-Fi 2,4 GHz |
| Sensors | Accelerometer, gyro sensor, PPG HD heart rate sensor, SpO2 sensor, skin temperature sensor, low latency body stop sensor, barometer and compass |
| NFC payments | Yes (Google Wallet) |
| Loud speaker | Oui |
| Micro | Oui |
| Battery capacity | 628 mAh |
| Compatibility | Android 8.0 and above |
| Prix | 359,99 € |
Features of the TicWatch Pro 5 Smartwatch
Design and Ergonomics
Let's delve into the details of what the TicWatch Pro 5 offers. Starting with its design, it is relatively thin (12.2 mm) yet quite imposing. The watch features a 1.43-inch screen and weighs about 44 grams, similar to the Pro 3 model. Its case is made of aluminum and stainless steel, ensuring optimal resistance. With US-MIL-STD 810H certification, the Pro 5 is built to withstand various environmental stresses such as rain, sand, ice, shock, and vibration. It is even water-resistant, meeting the 5 ATM standard.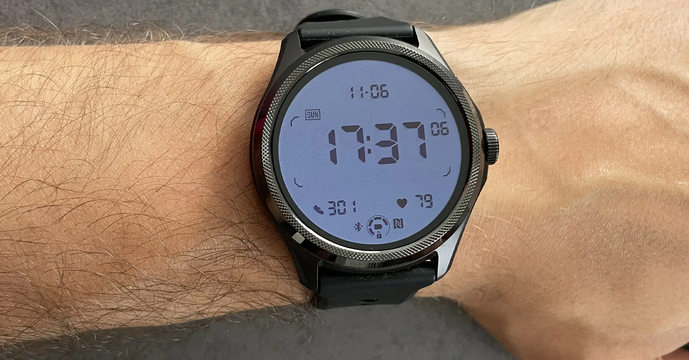 Despite its exceptional durability, the TicWatch Pro 5 maintains an aesthetic appeal. Its obsidian color combined with refined finishes gives it an almost high-end look. Perfect for outdoor activities, it is also suitable for everyday wear or professional settings. Another noteworthy feature is the addition of a rotating crown, a departure from the previous models. This trend, long adopted by Apple and Samsung in their smartwatches, enhances navigation and improves the device's ergonomics. The rotary button provides access to all installed applications, and a button in the upper right corner allows quick access to recently used applications.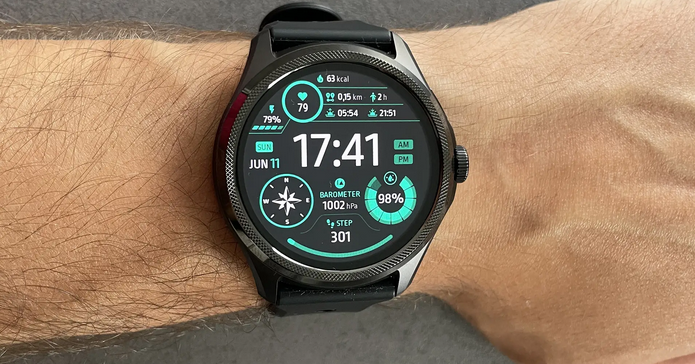 The screen is made of Corning Gorilla glass, which is resistant to fingerprints but susceptible to scratches. However, the resolution and quality of the AMOLED display are excellent.
Screen and Display
Similar to the TicWatch Pro 3, the Pro 5 incorporates a dual-screen system for improved battery life. On one side, there is the classic AMOLED screen, and on the other, a low-power monochrome display located just above. The monochrome display activates during sports activities, sleep, or when the battery level is low. It offers a choice of 18 colors, displaying basic information such as time, step count, heart rate, and can be easily switched to show heart rate, calorie expenditure, oxygen saturation, or compass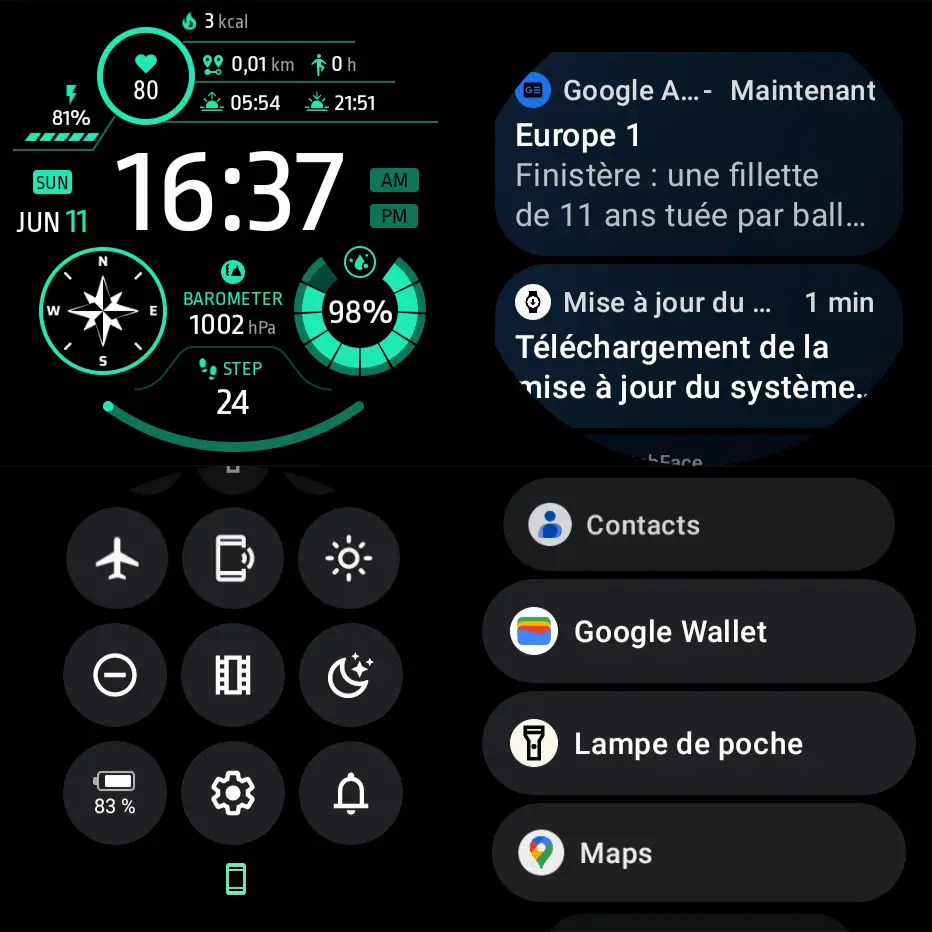 Operating System and Navigation
The TicWatch Pro 5 currently runs on Google's Wear OS operating system, providing access to a wide range of applications available on the Play Store, including popular music apps like Spotify and Amazon Music. It comes pre-installed with many Google suite applications such as Google Wallet (enabling Google Pay) and Google Maps.
The operating system offers smooth and intuitive navigation, enhanced by the performance of the brand new Snapdragon W5+ Gen1 chip. Swiping up reveals notifications , swiping down displays shortcuts, and swiping left provides access to widgets and different health cards. The rotating crown allows for seamless navigation between widgets and the ability to customize them as desired.
Performance
The TicWatch Pro 5 sets itself apart from the Pro 3 with the integration of the latest Snapdragon W5+ Gen1 processor. This processor is touted to be twice as efficient and 50% more powerful than the Snapdragon 4100+ previously used by Mobvoi. In practice, the superiority of this new chip developed by Qualcomm is evident.
During our tests, we observed no bugs or latency issues, and the watch proved to be responsive with quick application launches. The presence of Wear OS notwithstanding, the TicWatch Pro 5 delivers a pleasurable user experience.
The watch is equipped with a 628 mAh battery, providing a little over 3 days of battery life under normal use. With the "Essential" mode, the battery life can be significantly extended. In our observations, the TicWatch Pro 5 lives up to its promises, lasting between 2 and 4 days depending on the applications used, which is remarkable for a smartwatch running Wear OS.
Features Like its predecessors, the TicWatch Pro 5 offers a multitude of features. It includes a built-in speaker and microphone for taking calls. However, it lacks the Google Assistant (and other voice assistants), although the manufacturer claims that this will be addressed in a future update.
The Pro 5 is equipped with various sensors, including an accelerometer, gyro sensor, PPG HD heart rate sensor, SpO2 sensor, skin temperature sensor, and barometer. As a watch designed for outdoor use, it includes GPS capabilities that calibrate in seconds. The TicWatch Pro 5 utilizes the five most used global satellite systems, namely GPS, GLONASS, Galileo, QZSS, and Beidou, ensuring precise location tracking wherever you are.
In terms of sports and health tracking, Mobvoi offers an abundance of native applications with names like "TicOxygène," "TicExercice," "TicPouls," "TicSommeil," and "TicRespiration." While this variety of applications is well-intentioned, they can clutter navigation and unnecessarily burden the device. Some of these native apps also provide limited data. Mobvoi would benefit from centralizing these functionalities into a single application, similar to Google Fit, which can be installed as a substitute for the "Tic" apps. Nevertheless, the TicWatch Pro 5 offers a diverse range of sports options and health metrics.
Connectivity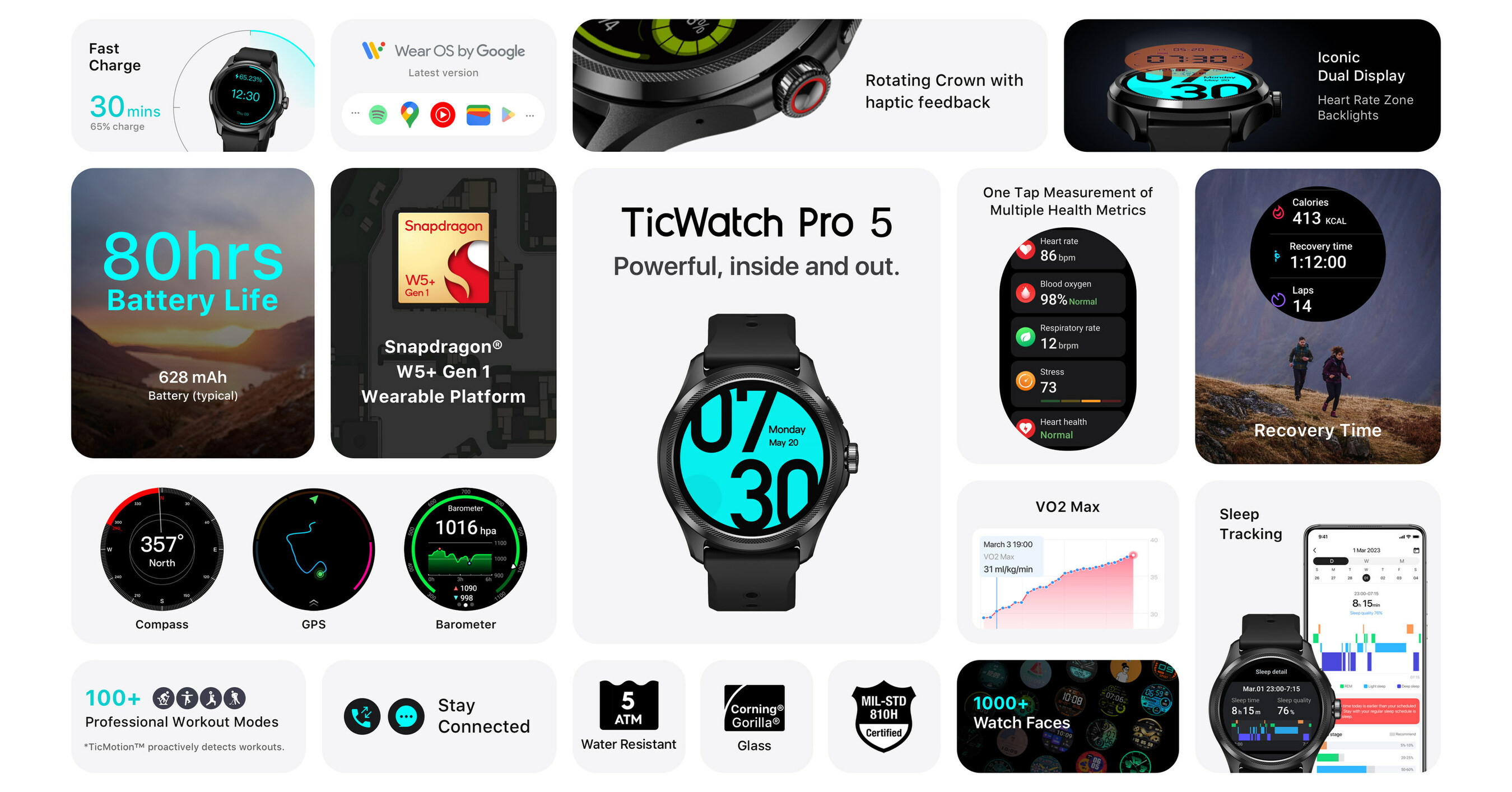 In terms of connectivity, the TicWatch Pro 5 offers basic features, limited to Bluetooth 5.2 and Wi-Fi. For charging, it requires the use of the specific Mobvoi charger designed for the Pro 5. This charger can charge the watch up to 65% in just 30 minutes, as confirmed by our tests. However, it is not compatible with other charger models. Induction charging is absent, which is a drawback for some users.
Price and Purchase Priced at €359.99, the TicWatch Pro 5 is not an entry-level smartwatch. However, it is more affordable than Samsung's Galaxy Watch 5 Pro, despite offering better performance. In terms of value for money, it is arguably the best connected watch running Wear OS. The only potential competitor would be the Oppo Watch 3, which features the same chip, but it is not yet available in France. Therefore, judgment can be reserved until its release.
Conclusion
The combination of its operating system's ergonomics and the performance of its processor positions the TicWatch Pro 5 as a leading contender among smartwatches running Wear OS. While Samsung and Apple have historically dominated the connected watch landscape, the emergence of new players like Oppo, Huawei, and Mobvoi has brought about a shift in the market. These companies are offering more competitive prices and higher quality products, much to the delight of consumers, geeks, and tech enthusiasts.
✅ The Pros
Powerful Snapdragon W5+ Gen1 chip running Wear OS
Addition of an ergonomic rotating crown
High-quality manufacturing
Battery life of over 3 days
Dual-screen functionality
Efficient fast charging
Elegant design
❌ The Cons
Native apps cannot be uninstalled
Some translation issues
Lack of induction charging
Absence of Google Assistant
Excessive number of native apps
In our opinion, the Mobvoi TicWatch Pro 5 is an excellent smartwatch. Although it is not without its flaws, such as the cumbersome native applications and the absence of voice assistants, these issues do not detract from the overall outstanding performance of this versatile watch. It offers an elegant design, ergonomic usability, practical features, and responsive functionality. Currently, no other smartwatch in the same range appears to rival it. We look forward to seeing what Samsung, Oppo, and other manufacturers have in store for future releases.
To summarize, the TicWatch Pro 5 stands out as a top-tier smartwatch, combining impressive hardware and software features at a competitive price point. With its solid performance, stylish design, and advanced functionalities, it is a compelling choice for those seeking a high-quality connected watch running Wear OS.