Are you on a mission to grow some good habits? Let a habit tracker app help you with that.
Our lives have become more fast-paced than ever before. For this reason, growing a new habit isn't easy these days. But that doesn't mean you won't be able to develop healthy habits.
There are many habit tracking apps available for your smartphone that'll guide you to grow new habits. Here, we'll share the best habit tracker apps for iOS and Android.
Best Habit Tracker Apps for Android and iOS
Habitica

Habitica is a daily habits app with RPG elements. Thus, you can gamify your habit development process and reach your goals without feeling stressed.
Whether it's about achieving New Year's resolutions, fitness goals, or back-to-school routines, this app can help. Here, you can schedule repetitive tasks until they turn into habits.
It offers various customization options and offers you virtual rewards upon your achievements. This app is available for free, but you can opt for its different subscriptions for additional features.
Download Habitica for Android and iOS
Habitify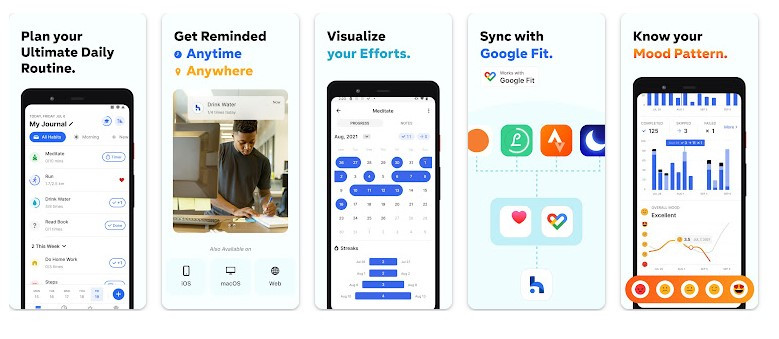 For those looking for a daily routine and habit tracker app, Habitify could be an ideal choice. It helps you focus on crucial matters and develop habits to unlock your potential.
This app lets you list down the habits that you want to grow. It also reminds you to perform the task regularly so that you can maintain the streaks without forgetting.
You can also see detailed reports on your progress and set time goals for growing habits. This is another free app that offers in-app purchases.
Download Habitify for Android and iOS
Streaks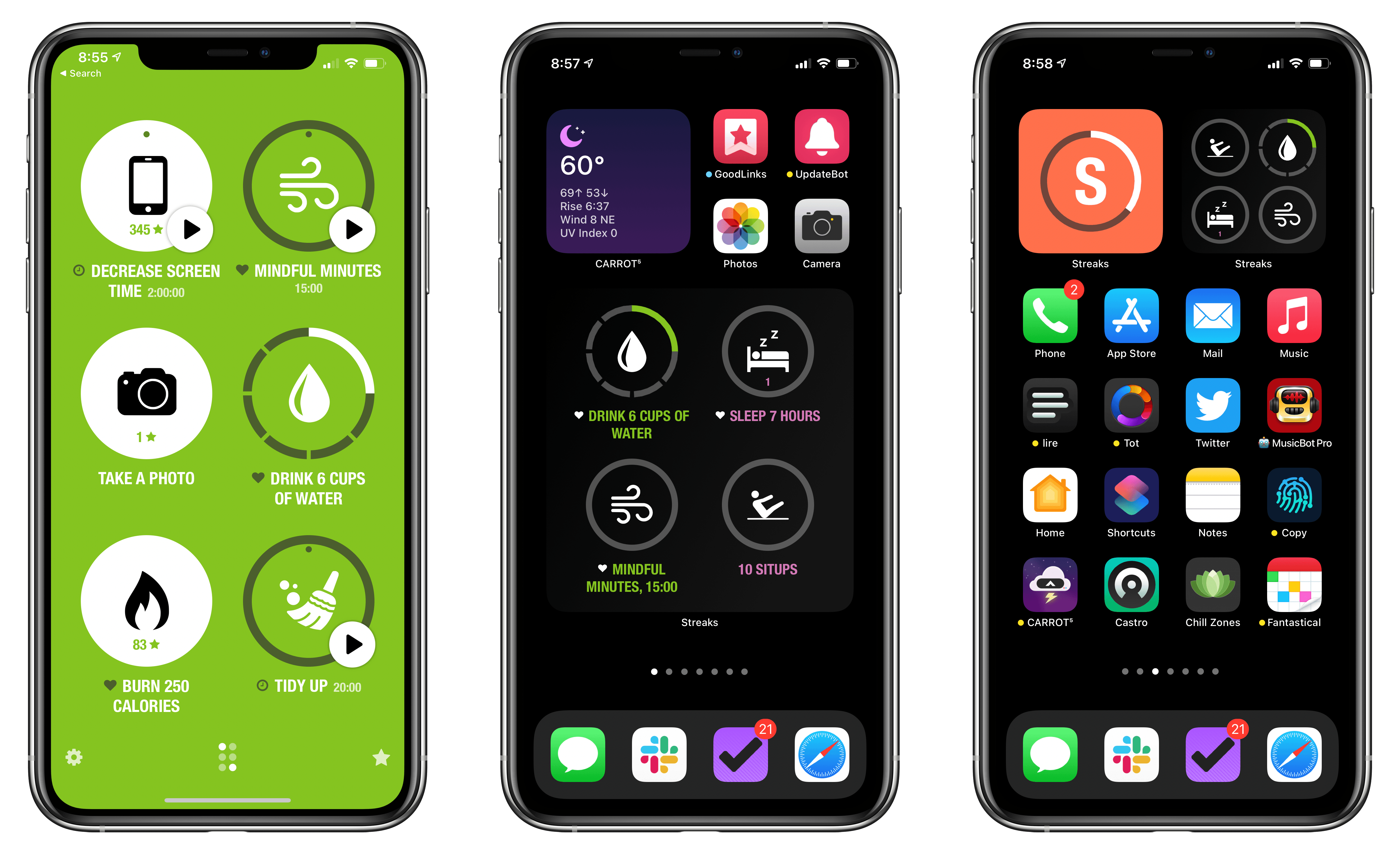 Streaks is a to-do list app that can also assist you with good habit formation. This app can help you develop 24 habits simultaneously.
If you want, you can utilize its negative tasks feature to get rid of bad habits. Besides reminding you about the tasks, the app can share your habits with other users so that they can encourage you.
Using iCloud, you can sync its data across all your Apple devices. Available in more than 20 popular languages, Streaks will cost you $4.99.
Download Streaks for iOS
HabitNow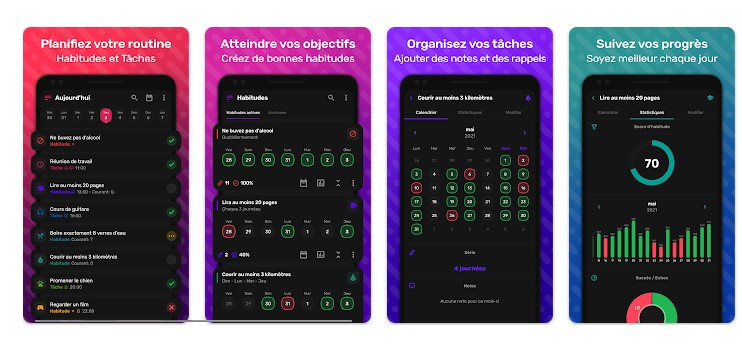 With HabitNow, Android users can maintain an organized routine to build strong habits. Define your habits here and let this app achieve your daily goals.
It lets you set alarms and notifications for regularly performing tasks until they become habits. Using different charts and statistics, you can track your performance in an advanced way.
As you reach your goals, HabitNow will reward you with medals. Moreover, its lock screen keeps your data inaccessible to others. This free habit tracker app has in-app purchase options for full features.
Download HabitNow for Android
Way of Life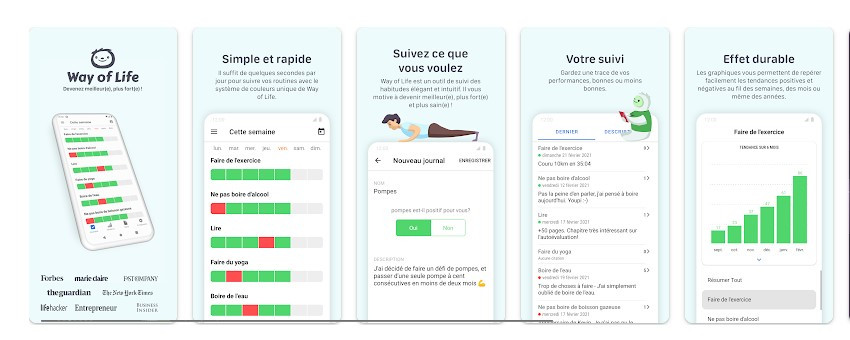 Way of Life is a daily habits app that motivates you to identify and grow your habits. This intuitive app can help you build up healthy and useful habits.
Using it, you can challenge yourself not to break any positive streak. You can opt for powerful reminders or flexible habit scheduling as your choice.
You can also learn about your habit-growing trends through pie charts and bar graphs. Its color-blind mode is also helpful for the intended user base.
While you can download it for free, you can also purchase premium subscriptions.
Download Way of Life for Android and iOS
HabitHub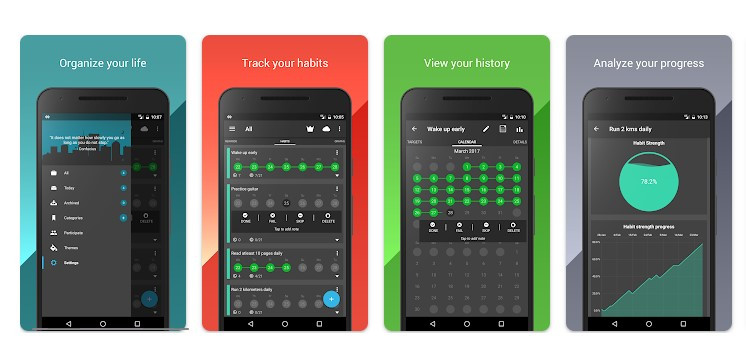 HabitHub is a powerful habit tracker app that lets you accomplish your goals. You can use it to create long streaks of days to stay motivated and keep following the habit.
It has a flexible scheduling system too, in case you don't want to be super-strict for habit formation. This app is also smartwatch ready, so you can mark the completed tasks from the watch itself.
Reminders, in-built themes, calendars, and journals are additional features of HabitHub. You can also import data from other graphs and check your activity insights through graphs. You can also make in-app purchases in this app.
Download HabitHub for Android
Done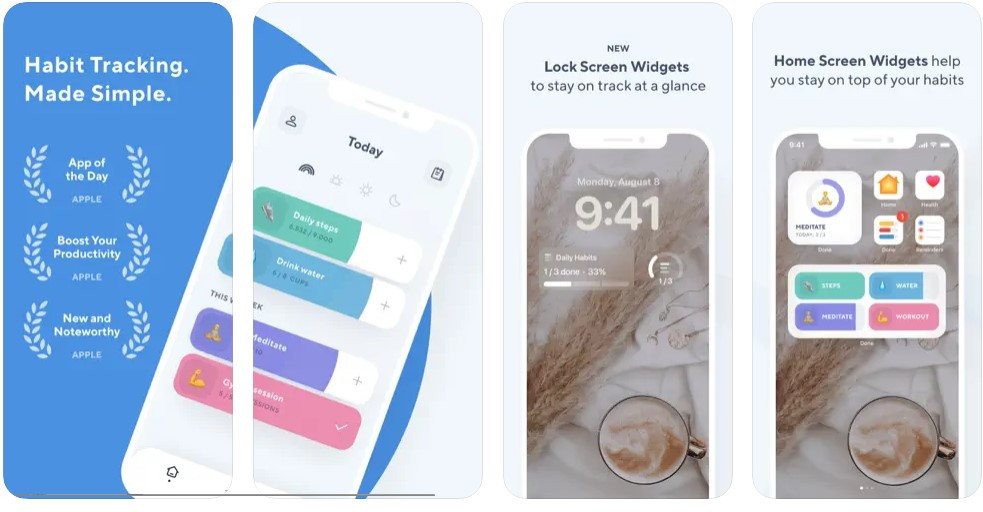 Whether you want to grow or quit a habit, you can use the Done app. It lets you set your goals, stay motivated to create long streaks, and track your progress.
You can use it to track a goal multiple times a day. It also comes with a daily journal to keep notes on your habits. For each habit, it shows multiple reminders so that you don't miss it.
You can use this habit tracker app for free or buy any premium subscriptions.
Download Done for iOS
Productive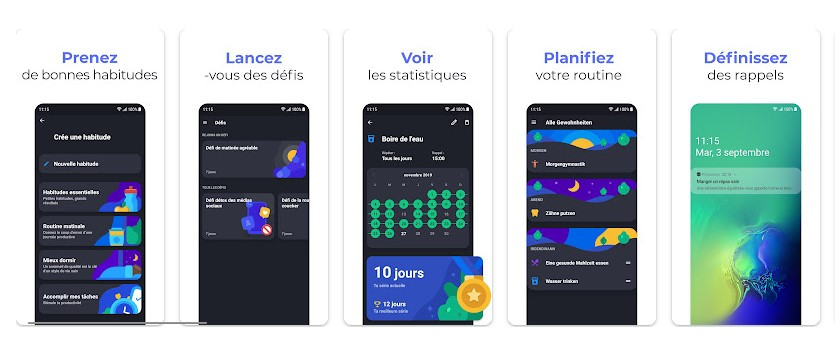 Productive offers a complete habit management facility, including options to create, stop, pause, or complete habits at your convenient time.
You can also participate in weekly challenges. This app offers complete customization of its interface. Tracking and analyzing your progress are other features you can utilize to build habit streaks.
Apart from smart notifications for reminders and motivation, Productive also offers advanced ADHD assistance for distraction management.
Download Productive for Android and iOS
Loop Habit Tracker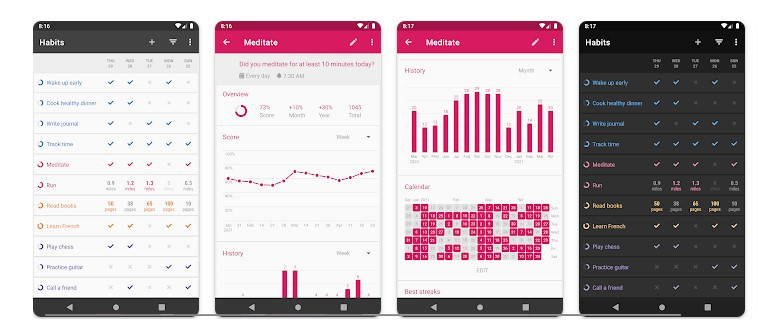 Loop Habit Tracker is ideal for developing and retaining long-term habits. This free app is open-source and offers regular reminders and insightful statistics.
If you want to achieve long-term goals, you can choose its daily habit feature or complex schedules for flexibility. This app can show you separate reminders for all habits at any designated hour of the day.
This ad-free habit tracker app works fine in offline mode as well and lets you check and snooze the tasks from the notification.
Download Loop Habit Tracker for Android
Strides

Drive your life towards a positive change by building good habits through Strides. This user-friendly and comprehensive app allows tracking habits through a streak calendar.
You can choose from its 150+ templates and use Apple Health integration for data sync. Its charts and reminders are highly useful for achieving goals.
This is a free app that comes with in-app subscription plans.
Download Strides for iOS
Conclusion
Now that you know about all the best habit tracker apps, you can easily opt for any for iPhone or Android. Tell us about your favorite app in the comment box.