Optical character recognition (OCR) is an invaluable technology that allows users to extract text from images and PDF files, making scanned documents searchable, editable, and more accessible. OCR screenshot to text tools take this a step further – they can grab text directly from computer or mobile device screenshots. Having the ability to quickly convert screenshots into usable text unlocks a world of possibilities.
Whether you need to copy text from an inaccessible PDF, grab contact info from a webpage, digitize a printed document, or simply want to be able to rapidly transfer text between apps and devices, OCR screenshot tools make it happen with just a few clicks. But with so many options on the market, it can be tough to determine which one is right for your needs. This guide will compare the top 5 leading OCR screenshot to text solutions available today, examining their key features, accuracy, supported formats, languages, pricing, and more.
1. Scanbot – Best Overall OCR Screenshot Reader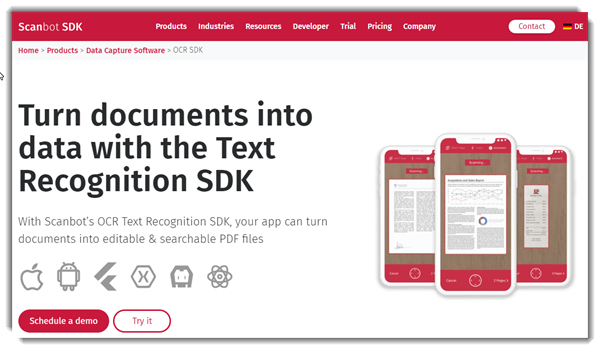 Scanbot is an award-winning mobile scanner app and SDK with advanced document capture and text recognition capabilities. The built-in OCR screenshot reader allows you to take a screenshot or import an image containing text, then extract all of that text for easy copying and sharing.
Key Features
Available as a mobile app for iOS and Android, plus a Mac app and SDK
Extracts text from mobile screenshots as well as imported images
Provides clipboard history for easy text access
Automatically detects document boundaries
Supports 27 languages for OCR
Scanbot leverages state-of-the-art optical character recognition technology to lift text directly from your device's screen. It can grab text from just about any app – ebooks, webpages, PDFs, images, social media, and more. Just tap the OCR screenshot button, crop the target area if needed, and let Scanbot work its magic.
The extracted text is made available right within the app for easy copying and sharing. Scanbot also includes a handy clipboard history, allowing you to quickly access any text grabbed previously. This makes it easy to piece together different elements from multiple screenshots.
In addition to screenshots, Scanbot can import images from your photo library or cloud storage to extract text from documents, forms, receipts, notes, and any other item containing legible text. It auto-detects document boundaries to extract full pages cleanly.
Scanbot supports 27 languages for OCR, including Chinese, Japanese, Korean, English, French, Spanish, German, and Russian. The OCR engine is highly accurate and fast. Interface languages include English, German, Spanish, French, Italian, and Dutch.
Other key features include QR code scanning, document cropping and adjustment, smart naming, password protection, iCloud and Google Drive backups, template-based data extraction, annotation tools, and more.
Scanbot is free to download and use with limited functionality. Premium subscription plans unlock the full suite of features with no ads or usage limits. Pricing starts at $5.99 monthly or $47.99 annually. Enterprise and SDK licensing options are also available.
Pros
Leading accuracy
Intuitive mobile interface
Multi-language OCR
Clipboard history
Document detection
Photo import supported
Premium features available
Cons
No desktop app
Requires subscription for full capabilities
2. Microsoft OneNote – Top Name in Note Taking
Microsoft OneNote is one of the most popular note taking and document scanning apps, with strong OCR capabilities built right in. The OneNote mobile app allows you to take screenshots, import images, and extract text for productivity on the go.
Key Features
Included with Microsoft 365 subscription
Available as mobile and desktop apps
OCR text extraction from screenshots and images
Handwriting recognition
Notes sync across devices
Microsoft account required
As a versatile note taking and document management solution, OneNote already shines when it comes to collecting information from meetings, brainstorming sessions, lectures, and research materials. The ability to grab text from screenshots makes it that much more powerful.
Simply snap a screenshot on your mobile device or open an existing image in OneNote. Then use the Insert > Text from Picture option to run OCR and identify text elements from the visual. The extracted text will be inserted into your notebook for easy access and recall later.
OneNote's optical character recognition handles fonts, formats, and layouts cleanly. You can also draw text regions if the auto-detect needs help isolating paragraphs. Images containing handwriting can be digitized using the handwriting recognition capabilities.
The extracted text is searchable within OneNote, and notes sync seamlessly across all your devices. Images and text snippets can be organized into flexible notebooks with sections, tabs, and pages. Everything remains accessible even when offline.
OneNote is included free with Microsoft 365 and Office 365 subscriptions. The mobile app is available for iOS and Android. Both mobile and desktop versions share full OCR capabilities. OneNote integrates tightly across Microsoft apps and services like Word, Outlook, Teams, and more for a streamlined workflow.
A Microsoft account is required for the best cross-platform syncing and collaboration features. However, you can still use OneNote without an account, with some limitations.
Pros
Backed by Microsoft's trusted name
Feature-rich note taking app
Available across platforms
Syncs notes automatically
Microsoft account powers collaboration
Accessible pricing through 365 subscription
Cons
Text grab limited to imported images
No screenshot text grab on desktop
Locked into Microsoft ecosystem
3. Adobe Acrobat Reader – Most Full-Featured PDF Tool
For dealing specifically with PDFs, Adobe Acrobat Reader provides desktop, mobile and cloud-based PDF editing tools with integrated OCR for text extraction.
Key Features
Leading PDF editor tool
OCR for searchable PDFs
Annotate and comment on documents
Fill and sign PDF forms
Read PDFs aloud with text-to-speech
Available on Windows, Mac, iOS and Android
As the gold standard software for working with PDF documents, Adobe Acrobat Reader excels at making scanned or image-based PDF files searchable and editable using OCR.
Within the mobile and desktop apps, you can open an image PDF, then tap or click on the Text Recognition option. Acrobat will analyze the document and extract text, layering it over the original underlying images.
The text becomes selectable, searchable, accessible for screen readers, and able to be copied or edited. Comments and annotations can be added directly to the enriched PDF file as well. You can also use Acrobat to convert image PDFs into Word documents or Excel spreadsheets thanks to the integrated OCR.
For filling out, signing or auto-filling PDF-based forms, Adobe makes the process seamless. Just open the form in Acrobat and add text, signatures, checkmarks and more with a finger or mouse. Documents can be password protected and links added for easy navigation.
The Read Out Loud feature with natural language text-to-speech is great for increased accessibility and multi-tasking on the go. Hundreds of languages are supported for OCR and interface translations.
Acrobat Reader can be downloaded for free on desktop and mobile devices. Paid Acrobat subscription plans add more premium features like editable export, batch OCR processing, cloud storage integration, e-signatures and others. Integrations with Microsoft 365, Google Workspace, and Dropbox boost productivity.
Pros
Full set of PDF manipulation tools
OCR extracts text from image PDFs
Annotate, sign and fill forms
Read documents aloud
Free Reader app available
Integrates with cloud ecosystems
Cons
Subscription required for full capabilities
Limited to PDF documents
Steep learning curve
4. Easy Screen OCR – Most Accurate Freemium Mobile Tool
Among the most accurate of the free mobile OCR screenshot reader tools, Easy Screen OCR makes text extraction from iOS and Android screenshots a breeze.
Key Features
Free mobile app
Multi-language support
No ads or subscriptions
Syncs via iCloud and Google Drive
Simple sharing options
Camera OCR mode
Easy Screen OCR sets itself apart with an ad-free, subscription-free experience without compromising on functionality. For straightforward screen text grabbing on the go, it's easy to see why it's one of the top-rated tools.
The one-tap interface allows you to snap a screenshot or import a photo and instantly extract the text with impressive accuracy. Copy or share the text in a variety of ways, or save it to the built-in clipboard manager with iCloud or Google Drive sync.
Beyond screenshots, you can also use the device camera for capturing documents, receipts, flyers, and other real-world items to digitize the text. Easy Screen OCR performs well on formatted and multilingual text materials.
Handy features like flash toggle, auto-focus, zoom, contrast adjustment, and cropping help improve camera shots in different environments for better OCR results. The text glance overlay provides instant visual feedback.
With no forced sign-ups or limited trials, what you see is what you get – a straightforward app delivering solid OCR at no cost. In-app purchases unlock advanced features like PDF creation, text reflow, dev tools, and text export.
The minimalist design isn't loaded with bells and whistles, but provides a great free option for accurate OCR in a simple, intuitive package. Easy Screen OCR supports English, Chinese, Japanese, Korean, French, Italian, German and Spanish.
Pros
Simple and intuitive interface
No ads or subscriptions
Strong multi-language OCR
iCloud and Google Drive integration
Additional features via in-app purchase
Cons
Limited formatting options
No desktop component
Camera mode could be improved
5. OCR Screen Recorder & Reader – Top Accuracy for Video Screens
As the name suggests, OCR Screen Recorder & Reader specializes in extracting text not just from screenshots, but full screen recordings. This makes it easy to capture text that unfolds dynamically over time.
Key Features
Records device screens as video
Extracts text from screen recordings
Syncs via OneDrive
Multiple interface languages
Windows application
While great for static screenshots, most OCR tools fall short when trying to capture text that changes on screen over time. OCR Screen Recorder solves that by recording entire screen sessions as video, then analyzing frame by frame to extract all text.
This opens up use cases like digitizing presentations, grabbing text from rolling demo videos, capturing chat conversations, and more. Any text displayed visually over time on a desktop, mobile or app screen can be extracted and synced for later access.
After recording any portion of your Windows, Mac or mobile device screen, OCR Screen Recorder gets to work analyzing the video with optical character recognition. You can enable text overlay on the video for a real-time glimpse of the process.
Finally, the extracted text results sync via OneDrive for seamless access across your other devices. The OCR engine boasts multi-language support for English, Chinese, Japanese, French, German, Portuguese and Spanish. Windows and Android apps are available.
You can download and use the application for free with limited usage. A premium subscription unlocks features like unlimited recordings, Microsoft Office integration, cloud storage support, multi-platform access, and more.
Overall, OCR Screen Recorder & Reader provides the most robust solution for capturing text sequences over time, filling a unique gap in the OCR screenshot tool market.
Pros
Can extract text from full screen video
Syncs with OneDrive
Good language support
Free version available
Cons
Requires subscription for full capabilities
No Mac or iOS app
Limited standalone use without OneDrive
What to Look for in an OCR Screenshot Tool
With the top options covered, what exactly should you look for when evaluating OCR screenshot to text tools for your particular needs? Here are the key factors and capabilities to consider:
Accuracy – The most important measure of any OCR tool is how accurately it extracts text, including punctuation and special characters. Look for precision-focused OCR engines.
Formats – Most support basic image files like JPG and PNG, but look for additional capabilities like PDF OCR if needed. Video-to-text can also be useful.
Interface – Well designed UIs for desktop and mobile make extracting text a breeze. Look for easy screenshot importing and text copying.
Languages – Support for other languages beyond English is crucial for global and multilingual needs. Make sure the tool covers your bases.
Platforms – If you need access across desktop and mobile, ensure apps are available on all platforms. Cloud and web access are a plus.
Text Editing – The ability to view, search and edit the extracted text is often important for tidying up the OCR results.
Pricing – Freemium models are common, with premium subscriptions unlocking advanced capabilities. Factor in long-term costs.
Integration – Support for cloud storage platforms like Google Drive and Dropbox can be handy for backup and workflow integration.
By keeping these factors in mind as you compare options, you'll be equipped to select the right OCR screenshot tool for your specific use cases and budget.
The Benefits of Converting Screenshots to Text
Extracting and converting text from device screenshots using OCR opens up valuable possibilities:
Accessibility – Enables text grabbing from previously inaccessible sources like images and video for greater inclusiveness.
Searchability – Transforms screenshots into searchable, editable, formatted text for better information management.
Efficiency -Reduces manual copying and typing by automatically extracting screenshot text for fast access.
Workflow Integration – Creates opportunities to integrate screengrabbed text into documents, notes, forms, and other workflows.
Multilingual Versatility – Provides a way to work with foreign-language screenshots that pose keyboard input challenges.
Platform Unification – Bridges the access gap across desktop, mobile and cloud for seamless text use.
OCR screenshot tools make it easy to harness text on screen, boost productivity, simplify workflows, and tap into inaccessible materials. Once text is liberated from screenshots, the possibilities are vast for how it can be leveraged in both personal and business realms.
Conclusion
As our work and interactions become increasingly digitized, having smart tools to extract text from screenshots and surfaces where copying/pasting falls short is invaluable. The 5 options covered provide top-tier solutions, whether you need accurate free mobile OCR, full PDF capabilities, seamless note taking, or dynamic screen recording and text capture.
By implementing one of these leading OCR screenshot to text tools into your workflow, you'll gain the power to:
Grab text from apps, websites, photos, PDFs and more
Maintain a searchable library of captured text
Accurately digitize documents and materials
Extract foreign language text quickly
Boost accessibility and convenience
Save time by reducing manual typing
Pull content from presentations, videos and dynamic screens
Thanks to the options now available, artifacts containing valuable text no longer have to remain locked away as inaccessible images. OCR screenshot tools mean easy extraction, editing, sharing and archiving.
The next step is to download one of these top performers and start unlocking text from screenshots to elevate the way you work and engage with digital content. With these transformative capabilities at your fingertips, you can take productivity, accessibility and digitization to the next level!
References
Scanbot – Optical Character Recognition Software. https://scanbot.io
Microsoft OneNote. https://www.microsoft.com/en-us/microsoft-365/onenote/digital-note-taking-app
Adobe Acrobat Reader. https://acrobat.adobe.com/us/en/mobile/mobile-app.html
Easy Screen OCR. https://easyscreenocr.com
OCR Screen Recorder & Reader. https://www.ocrencoder.com
What is OCR? How Optical Character Recognition Works. https://www.adobe.com/documentcloud/acrobat/hub/integrations/ocr-software-explainer.html
How to Convert a Photo to Text for Free. https://www.wikihow.com/Convert-a-Photo-to-Text-for-Free
7 Best Tools to Convert Video to Text Online. https://www.isunshare.com/video-converter/best-tools-to-convert-video-to-text-online.html
Optical character recognition. https://en.wikipedia.org/wiki/Optical_character_recognition
The beginner's guide to OCR with Tesseract, OpenCV and Python. https://nanonets.com/blog/ocr-with-tesseract/#AdvantagesofanOCRAPI