You may lose valuable data when you update your operating system, format your drive, or accidentally delete a file placed in the Trash by mistake. This can also happen if you suffer a cyberattack or download a corrupted file. You risk finding yourself in a very annoying predicament in all of these situations. If your data seems lost forever, it is possible to recover it (at least in part) using software designed for data recovery. In this article, we explain what you need to know about data recovery software and present the best options for the year 2023.
Am I guaranteed to recover all my data with software? Unfortunately, no. Apart from regularly backing up your computer, there is no guarantee of being able to recover all of your deleted data, regardless of whether the software is free or paid. When your laptop records new data, it randomly selects from its available memory blocks to store the new information. It is, therefore, possible that the blocks concerned are those in which the data you are trying to recover is located. However, don't panic. The computer will generally use the oldest free blocks before using the newly freed ones. Data recovery is, therefore, generally successful.
7 Free Data Recovery Software Below is the data recovery software we recommend for 2023. These will allow you to recover your deleted or lost files for free.
Recuva
Recuva, the easiest-to-use data recovery software Recuva, is a well-known software from the publisher Piriform Software aimed at Windows users. It is very efficient and is regularly updated to improve the user experience and keep up with developments in the Microsoft operating system.
Recuva is appreciated by users for its many features, including deep search, data analysis, and the possibility of recovering data even from an external hard drive or USB stick. Despite being free, it offers all these features, with the only limitation being a recovery ceiling of 30 to 65% of data. There is a paid version of Recuva, but it's mainly for recovering data from virtual hard drives, which the average user may not need. Recuva's interface is intuitive, and the tool is easy to use. If you are on Windows, we highly recommend testing this software.
Disk Drill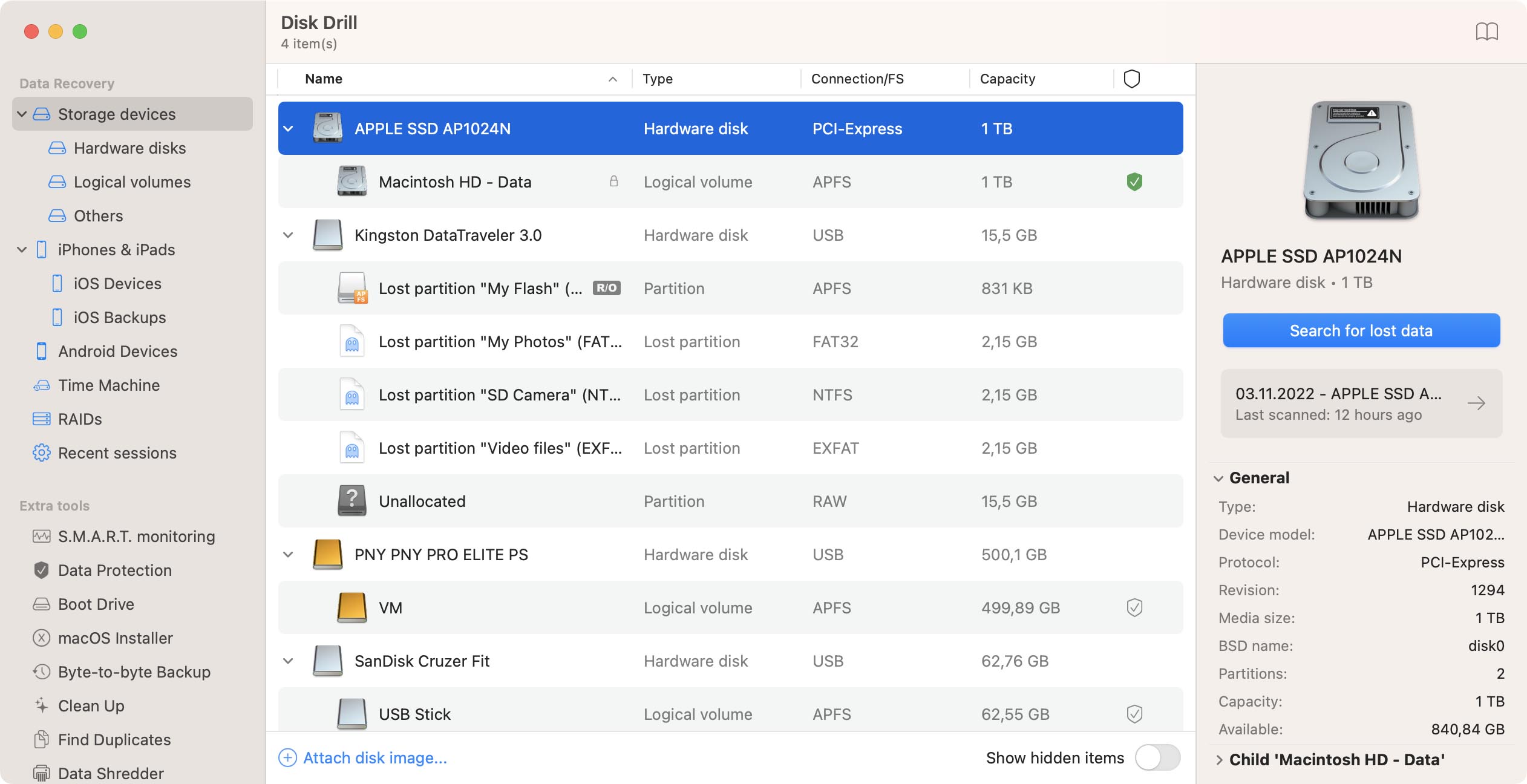 Disk Drill, an effective data recovery software Disk Drill is newer than most of its competitors but continues to receive regular updates. The free version is a demo that offers all the features of the paid versions, including recovery preview and support for all document formats, including RAW files. The only drawback of this "free" version is the limitation of its use to 500 MB of restored files, making it less suitable for recovering extensive data.
TestDisk / PhotoRec
PhotoRec is the best data recovery software. Unlike the previous two software, TestDisk and PhotoRec are entirely free and open-source solutions developed by CG Security. This means anyone can freely improve the software source code because it is freely available. This transparency is a guarantee of security.
TestDisk is a powerful data recovery software aimed at a more experienced audience. Unlike PhotoRec, it has no graphical interface, and data recovery operations are only done via the command line.
PhotoRec offers a user-friendly graphical interface in French. With this software, you can recover any file lost or deleted by mistake, including photos, videos, images, documents, and more.
In short, these two software options are generally recommended for efficiently and quickly recovering lost or deleted data on a computer, providing excellent results. TestDisk and PhotoRec are available on Windows, macOS, and Linux.
Wondershare Recoverit
Wondershare Recoverit stands out from its competitors with a clear and modern interface that is remarkably intuitive to use. This data recovery software comes in two versions: free and paid. The free version offers the same features as the paid version, with the only limitation being the inability to recover files larger than 100 MB. It is, therefore, an excellent option for simple and lightweight document recovery, such as documents or photos. Additionally, it emphasizes IT security and boasts a 95% recovery rate.
EaseUS Data Recovery Wizard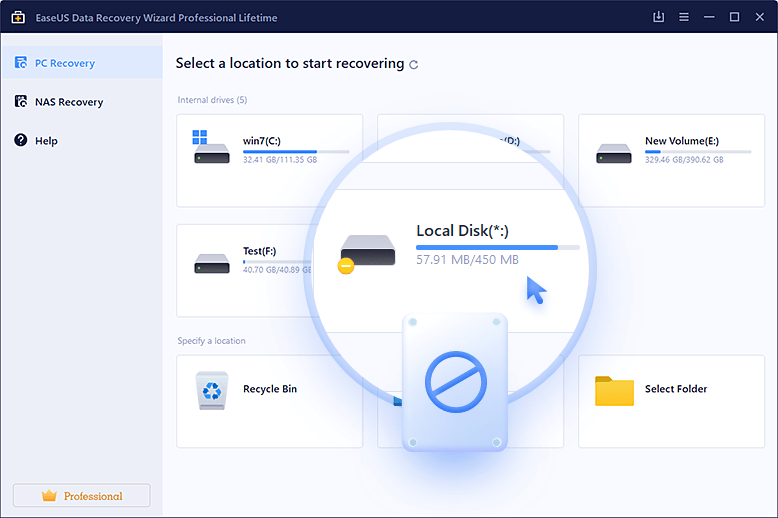 EaseUS Data Recovery Wizard is compatible with Windows and Mac, although it performs better on Mac. Currently in development, the software is still operational for restoring lost files. It is a software suite accompanied by a wizard that orchestrates data recovery. This reliable and efficient data recovery tool has a data recovery limit of 2 GB, making it ideal for recovering large documents. It allows you to restore backups lost in many ways, including deleted files, damaged hard drives, formatting, corrupted data, and more, with an exceptional recovery rate of 99.7%.
MiniTool Data Recovery
MiniTool Data Recovery Powerful, with a clear and readable interface, MiniTool Data Recovery is a good option, even if it does not have the most aesthetic interface available. This software has nevertheless proven itself among both Mac and PC users. It allows you to recover documents up to 1 GB in size, regardless of the source of their loss, and can also restore lost files on external media.
R-Studio
R-Studio is paid data recovery software with a free demo version. When you first start this tool, you can select the demo version, which offers all the features of the paid version but with a limit of 256 KB per file. It is a potent tool, operating based on complex algorithms that allow lost or deleted data to be "recreated." However, the free version is somewhat limited, so you may need to purchase it for full use.
R-Studio is compatible with Windows, Mac, and Linux and is more geared towards professional users.
How does the erasure of your data take place?
You should know that the file operating system saves your data in a set of "small boxes," which are memory locations. When you delete a file, the computer's operating system forgets the path to these boxes and incorrectly tells it that they are free of any data and can be overwritten. Thus, the data is not truly erased but only forgotten or made inaccessible.
In the case of a hard drive, the data is physically written on a metal plate, and when erased, part of this material is removed. A tiny amount of material is removed each time files are deleted. However, this erasure is not always perfect, and it is not uncommon to format (i.e., "scrape" the entire data block) several times to remove all traces of the recorded data on the hard drive.
What does data recovery software do?
Data recovery software will scan the entire part affected by the deletion and recover the blocks that do not have a path saved in the operating system. The software will then attempt to compare the blocks with each other to recreate the original files. In the case of a hard drive, the data