Surveillance cameras are crucial devices for maintaining the security of your home when you're away. Traditionally, these systems were intricate and expensive, often installed by specialized companies. Fortunately, advancements in technology have democratized video surveillance solutions, making them user-friendly and cost-effective. The market now offers a plethora of models with varying features. To assist you in determining the most suitable installation for your home, we have compiled this comprehensive guide.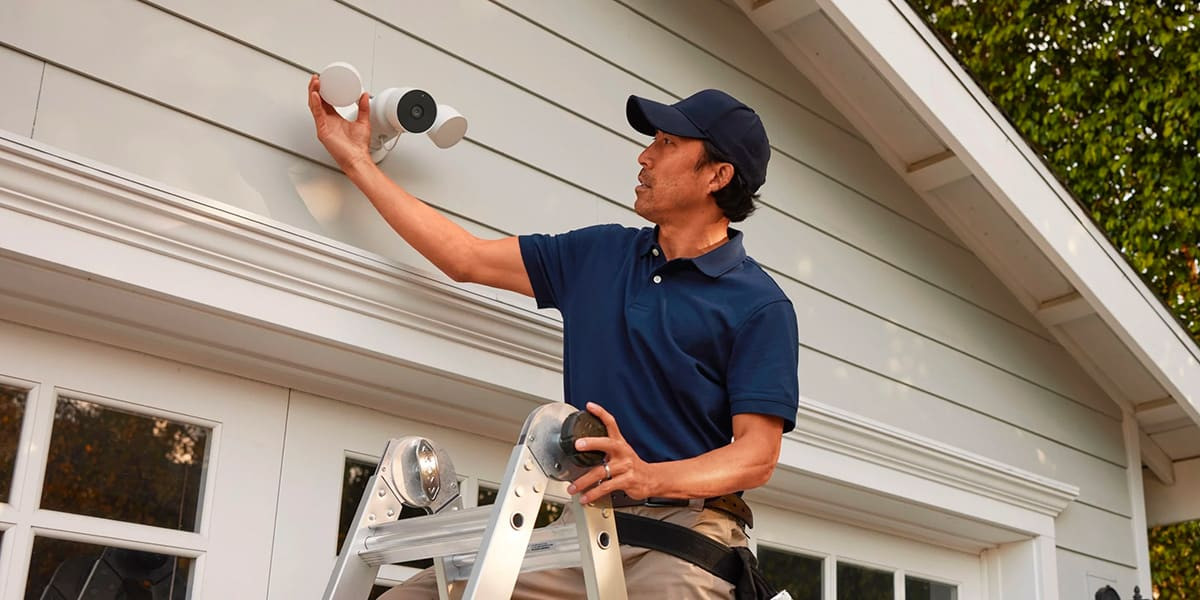 OUR SELECTION OF THE BEST OUTDOOR SURVEILLANCE CAMERAS IN 2023
New surveillance cameras designed for the general public have witnessed a decline in prices and an enhancement in features. Boasting superior day and night image quality, intelligent motion detection, and mobile notifications, the challenge lies in selecting the ideal model to fortify your security against potential intrusions. Several factors need consideration, including whether the camera is battery-powered, video sensor resolution, night vision capabilities, mobile application integration, and more.
XIAOMI MI WIRELESS OUTDOOR SECURITY CAMERA 1080P
Commencing our comparison with a model renowned for its easy installation and user-friendliness, the Mi Wireless Outdoor Security Camera 1080p operates completely wireless. This consumer camera from the Chinese brand Xiaomi has a base connecting to your home via Wi-Fi or Ethernet. Additional cameras can be purchased separately, creating a comprehensive outdoor surveillance system. Featuring a Full HD sensor with a 130° viewing angle, this camera provides extensive coverage of your outdoor space day and night. It incorporates a passive infrared system, detecting human presence up to 7 meters away. Upon detection, your smartphone receives an alert, and the camera automatically records the event. Equipped with a speaker and microphone, the camera facilitates direct communication with intruders or loved ones. With an IP65 certification, it is resistant to water and dust, and its 5700mAh battery offers approximately 3 months of autonomy based on the chosen detection sensitivity.
Pros:
Very simple wireless installation
The possibility of creating a system of 4 cameras
Local recording on a microSD card or USB key
Alexa and Google Assistant compatible
Cons:
Microphone quality too low
AC adapter required but not included
Requires the purchase of a pack with a base
EZVIZ C3X
Continuing with a technologically advanced surveillance camera, the EZVIZ C3X stands out for its exceptional day and night image quality. Its main innovation lies in color night vision, featuring a Full HD sensor and a dual-lens. The dual lens system, with one lens for brightness and another for colors, enables the reproduction of a vivid nighttime image. The camera detects the movements of people and vehicles, sending notifications to your phone. Defining critical areas in the app allows for customized alerts and activates a sound and light alarm system. Certified IP67, the EZVIZ C3X is weather-resistant and supports local storage through a microSD port or remote storage through the brand's cloud system. While it requires a wired power supply, it offers both Wi-Fi and Ethernet connectivity options.
Pros:
Color night vision
Free cloud option
Effective alarm system
Presence of an Ethernet port
Cons:
A wired power supply required
TP-LINK TAPO C310
The TP-Link Tapo C310 is affordable yet efficient and provides a compelling outdoor surveillance solution. Priced around 50 euros, it includes the essential features of a high-quality outdoor camera. Certified IP66 records ultra-high-definition videos (2304 x 1296 pixels) with a 104° viewing angle. Night vision extends up to 30 meters, and the camera alerts your phone upon detecting movement. It allows the activation of a siren and flashing lights for potential deterrent effects. Videos can be saved locally on a microSD card or remotely through the paid Tapocare cloud system. The two-way audio system, with a microphone and speaker, enhances communication.
Pros:
Good value for money
Ultra-high-definition video
Intuitive use
Port microSD
Cons:
Paid cloud storage
The two-way audio system needs improvement
Wired installation
NEST CAM WITH PROJECTOR
Google introduces the Nest Cam with a built-in projector, enhancing nighttime visibility and providing a practical lighting solution. Offering intelligent motion detection with 180° coverage, the camera distinguishes between humans, animals, and vehicles, sending relevant notifications. The built-in speaker and microphone enable real-time communication. The camera delivers HDR 1080p video quality with infrared night vision. Accessing live video and remote viewing of the video history are available via the application. However, the model has a higher price tag and lacks a built-in siren.
Pros:
Intelligent detection system
Very practical LED projector
Video quality
Cons:
High price
No built-in siren
Requires a paid cloud subscription
NETATMO SMART OUTDOOR CAMERA
Differentiating itself with a discreet design resembling a conventional lighting system, the Netatmo Smart Outdoor Camera offers a blend of aesthetics and functionality. Its 1080p video sensor provides clear images, complemented by effective infrared night vision with a range of 15 meters. Smart motion detection covers a distance of up to 20 meters and distinguishes between humans, animals, and cars. Alert-Zones feature allows defining specific areas to monitor, preventing unnecessary alerts. The camera supports local storage with a microSD card or remote storage to Dropbox or FTP. With a wired power supply requirement, it integrates seamlessly into existing lighting systems and is compatible with voice assistants.
Pros:
Neat and versatile design
Smart motion detection
Efficient LED lighting
Subscription-free storage systems
Cons:
THOMSON RHEITA 100
Similar to the Netatmo model, the Thomson Rheita 100 combines lighting and a surveillance camera, albeit with distinctive features. Its motorized rotating camera covers a horizontal viewing angle of 270° and can recognize human silhouettes, allowing real-time tracking. Equipped with a Full HD 1080p video sensor and night vision with a 25-meter range, it provides high-quality images day and night. Videos can be stored on a microSD card, and the camera includes an integrated siren. However, it lacks vertical tracking and requires a wired power supply.
Pros:
2-in-1 lighting and surveillance camera
Effective figure tracking
Integrated siren
Cons:
No vertical tracking
Wired power supply
BLINK OUTDOOR
Designed specifically for outdoor use, the Blink Outdoor is an HD surveillance camera powered by two AA lithium batteries, offering a remarkable battery life of 2 years. Weather-resistant (IP65) incorporates infrared night vision for clear images day and night. The Blink Home Monitor application allows defining motion detection zones, and notifications are sent directly to your phone. Additional features include video and two-way audio capabilities. Its wireless operation and compatibility with Alexa contribute to its ease of installation.
Pros:
Easy to install
HD camera
The features offered by the application are interesting.
Cons:
Paid cloud storage
Disappointing night vision
IS IT LEGAL TO INSTALL A SURVEILLANCE CAMERA IN YOUR HOME?
Installing an outdoor
a surveillance camera in your home is legal, requiring no special authorization. However, adherence to regulations is crucial to avoid penalties. Filming your garden is permitted, but recording public areas or your neighbors' property is prohibited. Proper camera placement is advised, accompanied by a small sign to notify visitors of potential filming.
WHERE IS THE BEST PLACE TO INSTALL YOUR OUTDOOR SURVEILLANCE CAMERA?
Strategic camera placement is vital for optimal functionality without violating privacy. Recommended at around 2.5 meters high, the camera should avoid obstruction by elements like trees. Protection from rain and direct sunlight, even with IP certification, enhances effectiveness. Ensure Wi-Fi coverage at the chosen location.
IS IT A GOOD DETERRENT SYSTEM?
Consumer surveillance cameras lack 24-hour remote monitoring but offer alternative deterrents. Smartphone notifications enable immediate personal checks, and activated sirens can deter intruders. Recorded videos serve as evidence for the potential identification of burglars.
In summary, selecting the best outdoor surveillance camera involves considering specific needs, such as installation ease, image quality, night vision, and additional features. The reviewed models present various options catering to diverse requirements and budgets.