Copilot was introduced in the latest Windows 11 update. However, Europeans theoretically cannot yet access the AI-powered assistant. Fortunately, there's a straightforward trick to enjoy it nonetheless.
Microsoft Copilot is set to elevate the Windows 11 user experience with its AI-powered capabilities designed to simplify office tasks. Due to a miscommunication, Microsoft initially led users to believe that the tool would be available on September 26 with the significant 23H2 update. Eventually, the company opted for a rollout with the Moment 4 OS update.
This update brings significant AI enhancements to various applications, including Paint, which now features practical additions such as the capture tool and Clipchamp. However, Copilot, as Microsoft points out, is currently only deployed in North America and parts of Asia and South America.
While Microsoft promises that other markets will become eligible soon, a simple trick allows European users to access Copilot right away.

How to Access Copilot in Europe on Windows 11:
1.Ensure your operating system is up-to-date. Go to Windows Update, turn on the "Receive the latest updates" switch, and click "Check for updates." Download the latest update available for Windows 11 Version 22H2 and restart your PC to complete the procedure.
2. Open the Run menu with the Windows + R shortcut or find it via the search bar.
3. Type the following command:
microsoft-edge://?ux=copilot&tcp=1&source=taskbar
A preview version of Copilot will appear on the right side of the screen.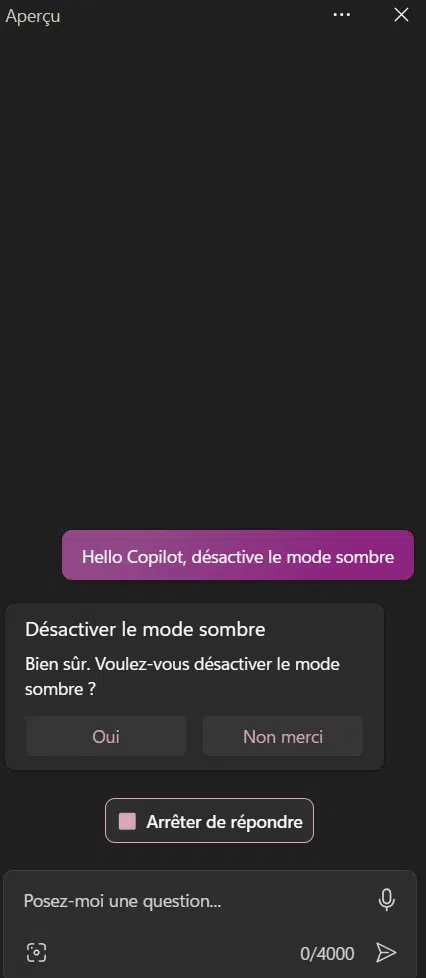 It's important to note that, at the moment, Copilot can only be accessed through this method. You won't be able to open it through the taskbar or using the upcoming Windows + C shortcut.
As a reminder, Copilot includes the Bing Chat chatbot on its interface, capable of assisting you in editorial tasks by generating text, images, and web searches. The wizard can also interact directly with the operating system and applications, offering a versatile tool for users. For example, you can instruct Copilot to perform tasks like disabling dark mode.