Apple has officially released iOS 17 to the public, marking a substantial release with many new updates. To demonstrate the expansive nature of this iOS rollout, I've written this comprehensive article meticulously exploring each new aspect. This update summarizes what I consider to be the 20 basic elements compelling enough to persuade users to upgrade from iOS 16 to 17 despite the range of critical security fixes included.
Which iPhones are compatible with iOS 17? For those acquiring any of the new iPhone 15 models, iOS 17 comes pre-installed. However, many users will be upgrading their existing iPhones to iOS 17. Wondering if your iPhone supports iOS 17? Refer to this post for details on which models are compatible with Apple's latest OS update. Generally, your iPhone should be supported if you've upgraded in the last several years. Support spans back five years to the 2018 iPhone XR, while iOS 17 discontinues support for two iPhone models: the iPhone 8 and iPhone X.
1- StandBy
StandBy Arguably the flagship feature of iOS 17, StandBy brings one of the standout features from the Apple Watch to a device with a significantly larger screen real estate. StandBy operates in conjunction with a MagSafe charger, such as the portable Belkin MagSafe Wireless Charger Pad, to deliver a novel nightstand-centric fullscreen experience in landscape mode during the charging process.
StandBy furnishes users with a quick overview of information through various first-party widgets, and developers can also create third-party widgets. The fullscreen interface is designed for distant viewing, such as on a desk or nightstand, offering users valuable information that can be easily grasped at a glance.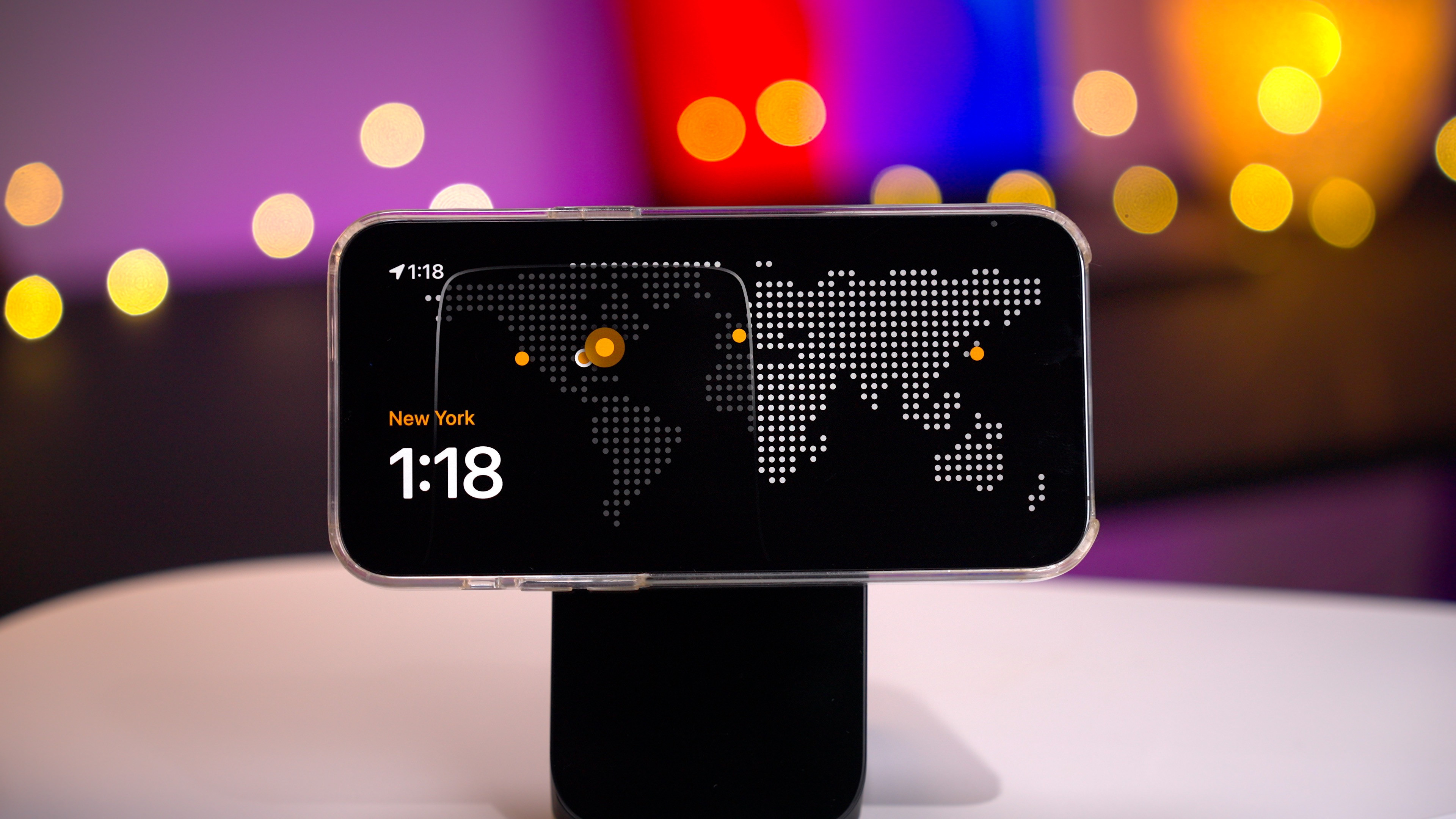 With StandBy, you have the capability to transform your iPhone into a clock for your nightstand or desktop work environment, exhibit your favorite photos, or peruse relevant information through convenient Smart Stacks widgets. StandBy takes it a step further by supporting Live Activities, enabling you to monitor real-time information in fullscreen mode from your preferred third-party apps, covering areas such as food delivery, flights, or sports scores.
I've been utilizing StandBy for several months now, and it firmly holds its place among my favorite iOS 17 features. It stands out as one of the reasons why a high-quality MagSafe wireless charging stand becomes a must-have accessory for the iPhone. The Belkin MagSafe Wireless Charger Pad is a reliable option if you're searching for a portable, discreet charger.
Discover 13 Apps with StandBy Widgets for Your iPhone running iOS 17.
With these widgets at your fingertips or on your StandBy screen, you can expect your productivity to shoot through the roof!
Cheatsheet is for the little things you never remember: hotel rooms, license plates, luggage combination, ID numbers. Write them down in Cheatsheet and then refer to them anytime in a Widget or paste them anywhere with the Custom Keyboard. No more fumbling to unlock your phone and find your notes app; Cheatsheet is as easy as looking at your lock screen, pulling up the keyboard, or glancing at your Apple Watch.
Enhance your Toggl time-tracking experience with Timery! Start your most-used timers with one click. Edit your recent time entries easily. See reports of your time tracked. With its apps, widgets, and shortcut actions, Timery brings you easy time tracking with Toggl.
Timery works on Mac, iPhone, iPad, and Apple Watch with your free or paid Toggl Track account but is made independently of Toggl.
Scrolling all day? AppBlock will help you keep distractions away. With just a few taps, you can block apps on your phone. Blocked apps cannot be opened; even their notifications won't bother you anymore. And you can block any websites or phrases in Safari, too!
Outlook lets you bring all of your email accounts and calendars in one convenient spot. Whether it's staying on top of your inbox or scheduling the next big thing, we make it easy to be your most productive, organized, and connected self.
Become a better sleeper thanks to 100 years of sleep science.
Teams in the NFL, MLB, NBA, and MLS, and many Fortune 500 companies trust Rise to help members achieve better sleep.
Peak lets you make your fitness dashboard and always stay on top with a range of widgets.
Peak gives you the ability to make your own fitness dashboard and always stay on top of it with a range of widgets.
Widgetsmith lets you personalize your home screen and lock screen like never before.
It starts with a wide collection of highly customizable widgets ranging in function from photos to date, weather, and astronomy. Each can be adjusted precisely to best fit your desired function and appearance.
This set of widgets can then be dynamically scheduled to appear on your home screen following the rules you define. For example, a particular widget could show the weather first thing in the morning, then your calendar during your work day, then switch to your Activity ring progress as you wrap up your day. This lets you take full advantage of each slot on your home screen.
iScreen – personalized home screen with various Widgets, themes, and wallpaper to make your phone screen stand out!
iScreen provides trending iOS17 widgets on your lock and home screen, including creative StandBy widgets, interactive widgets, and other 500+ widgets, making your phone more practical and fun.
You can not only keep pets and plant flowers on the Dynamic Island, set your lock screen with Interaction, Weather, Battery, Launcher, X-Panel, Text&Icon, Animation, Worker's Clock, Steps widget, etc., but also add home screen widgets such as Dynamic Panel, Photo, Scroll Album, To-do list, Countdown, Digital Clock, Calendar, Emoji Note, Fan, Air conditioner etc. to make it more fun.
In addition to widgets, iScreen also provides a variety of Themes, Wallpapers, AI creative paintings, Charging Animations, and other functions to make your phone screen more beautiful and personalized.
Stay in touch with friends & family.
Add people most important to you, set reminders, and never forget to keep up with them.
Amato was built for busy or forgetful people who want to stay in touch with friends and family. It helps them keep up these relationships by improving the awareness of their latest interactions, whether it was a call, a message, an in-person meeting, or an email.
Social Stats Widget lets you view your social media following count directly on your home screen!
Social Stats Widget does not require any login details; you only need the username of the account you want to see the followers for.
A powerful, simple, award-winning podcast player. Featured by the App Store as Editor's Choice and critically acclaimed by The Verge, TechCrunch, 9to5Mac, AppAdvice, and more.
No big company or VC funding here — Overcast is the only major podcast app written by a single person.
LookUp is an innovative English Dictionary app that combines a comprehensive English Dictionary with powerful vocabulary-building tools. The app is perfect for English Learners and Word Enthusiasts who want to build their English Vocabulary.
Your favorite sound effects are always one tap away.
Thwip is a fun and polished soundboard app for iOS and watchOS *airhorn noise* — I know "Thwip" is hard to pronounce *womp womb*, but it supports iOS 17's interactive Widgets and StandBy, the ability to import any audio file using the native File Picker and customize your boards.
2- Siri Activation and Back-to-Back Siri Requests
With iOS 17, activating Siri has become simpler; now, you can trigger it by just saying "Siri" instead of the traditional "Hey Siri." This streamlines the process of engaging the virtual assistant. This new activation method is applicable to iPhone users and can also be activated through the second-generation AirPods Pro, be it the original Lightning version or the updated version with USB-C.
To set this up, navigate to Settings → Siri & Search → Listen for, and choose the "Siri" or "Hey Siri" option. Once enabled, your iPhone will respond to either the two-word keyphrase or the single-word keyphrase for Siri activation.
Building on the streamlined Siri activation key phrase, iOS 17 introduces the ability to make back-to-back Siri requests without reusing the key phrase. For instance, you can say, "Siri, what time is it in Paris?" followed immediately by, "And what's the weather like there today?" Siri comprehends the context and provides the weather for Paris without requiring you to specify the location again. This capability significantly speeds up interactions with Siri, making it feel more natural.
3- Live Voicemail
iOS 17 brings a nostalgic touch to voicemail, reminiscent of the days when mechanical answering machines were commonplace. Live Voicemail allows you to view a live transcription of a message as it's being recorded. If it's someone you wish to talk to, tap the Accept button to pick up the call mid-message. Alternatively, you can choose not to answer and let the caller finish leaving their message. Live Voicemail conveniently places a Voicemail button directly on the incoming call screen to send the caller straight to voicemail.
Live Voicemail harmonizes with the iOS feature Silence Unknown Callers (found in Settings → Phone → Silence Unknown Callers), preventing notifications for unknown calls and directing them to voicemail. Many users will likely find Live Voicemail to be one of the most significant convenience upgrades in iOS 17.
4- FaceTime Audio/Video Messages
In call-related updates, iOS 17 introduces the ability to record video messages for missed FaceTime calls. These messages can incorporate various FaceTime video effects, including Reactions, Studio Light, and Portrait Mode. Messages are integrated into the incoming FaceTime call list and can be played back on the Apple Watch.
5- Create Live Stickers
A new feature in iOS 17, Live Stickers, allows you to generate animated stickers from Live Photos. By long-pressing on a subject in a standard photo or Live Photo, you'll find an option to create a sticker. These stickers can be accessed anywhere via the emoji button on the iOS keyboard, providing a fun and dynamic way to express yourself.
6- Interactive Widgets
Widgets have become more functional in iOS 17 as they are no longer mere links to full apps but can be interacted with directly from the Home Screen. This lets you complete tasks directly from the Reminders widget and control smart home devices without opening the full Home app. Interactivity extends to widgets appearing in StandBy, and third-party widgets can also feature interactivity.
Conclusion
iOS 17 represents a massive update with many changes and features that significantly improve the iPhone experience. IOS 17 stands out as one of my favorite updates in recent years, and my testing found it stable. What's your favorite new iOS 17 feature? Share your thoughts and opinions in the comments below.